Whether you're heading to Maryborough to check out the sites or you are travelling there for business, finding the best place to stay will be near the top of your priority list. And the Best Western Kimba Lodge Motel truly is a cut above the rest.
It is a four-star award-winning motel that will provide you with that extra piece of luxury and comfort to make your stay in Maryborough a memorable one.
The Best Western Kimba Lodge Motel is four-star rated and located in the centre of Maryborough, a 10-minute walk from the train station. It is recently renovated and has a variety of rooms with free Wi-Fi throughout. A gourmet breakfast is included and there is a range of facilities on site.
The Best Western Kimba Lodge Motel is part of the Best Western Hotel group, so you would expect it to be of a particularly high standard. And it certainly is. The motel is modern and renovated throughout, with high-quality beds and bedding, a gourmet breakfast seven days a week, free WiFi throughout the motel, and leisure facilities on site.
Some elements of the Best Western Kimba Lodge Motel are geared more towards business travellers but the motel is also popular with couples and families and there are plenty of facilities to cater to holidaymakers as well.
Best Western Kimba Lodge Motel Popular Facilities
Business travellers will appreciate the free WiFi and work desk included in their room. There are also printing, fax, and mailing services available at reception for a nominal fee so you will be able to get your work done from the motel with ease.
Breakfast is sent to your room every morning and you can order from the gourmet menu at reception.
Families and couples will appreciate the outdoor fenced pool, BBQ facilities, and the option to hire a babysitter in case the parents want a night out. The White Lion Restaurant and Bar is adjacent to the motel and serves excellent food.
You can even order it to your room if you fancy staying in instead.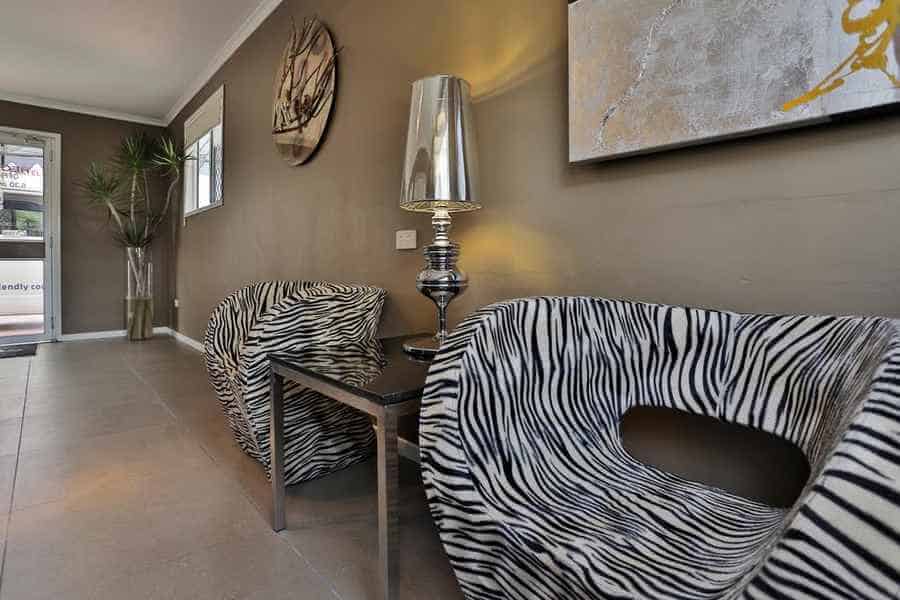 Best Western Kimba Lodge Motel Ratings
The Best Western Kimba Lodge Motel has an average rating of 4.5 out of 5 ("Excellent") on Trip Advisor and it also won a Trip Advisor Traveller's Choice Award in 2021. Reviewers were particularly impressed with the high standards of cleanliness in the rooms, how friendly and welcoming the staff are, and the quality of the beds and the bedding.
They also enjoyed their experiences dining at the White Lion next door. Some guests found the parking in the car park to be a little cramped, however, and would have preferred a restaurant on-site.
Best Western Kimba Lodge Motel Room Types
There are a variety of room types available to suit different guests' needs. All rooms at the Best Western Kimba Lodge Motel come with free wifi, housekeeping, an en-suite bathroom with a shower, air conditioning, cable or satellite television, a microwave, a toaster, an electric kettle, a minibar, and a private balcony or patio.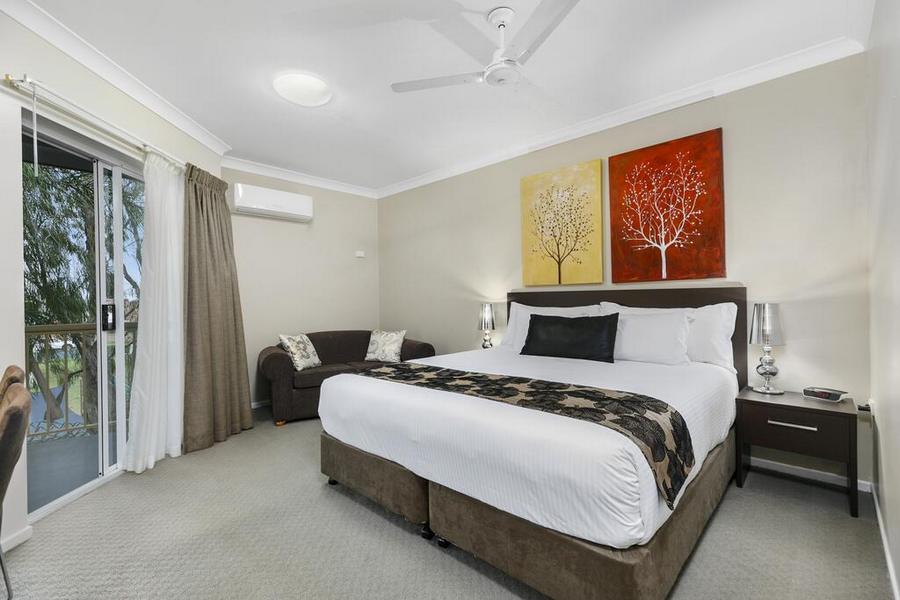 Superior Queen Room
This room will suit fit two guests and comes with a pillow-topped queen-sized bed with triple sheets, free WiFi, and a work desk suitable for a laptop.
Deluxe King Room
This room will fit two guests and comes with a large king-sized bed with premium linen and a work desk.
Superior Triple Room
This room will fit three guests and comes with a double bed and a single bed.
Interconnected Rooms
For large parties who wish to have multiple private rooms, there are interconnected rooms available.
Best Western Kimba Lodge Motel Surroundings/Location
The Best Western Kimba Lodge Motel is located at:
177 John Street
Maryborough
Queensland 4650
It is in a central and convenient location in Maryborough with plenty to see and do within walking distance. It is a five-minute walk from Mary River and a 15-minute walk from the Mary Ann Steam Engine and The Elizabeth Park Rose Garden.
Maryborough is famous for being the birthplace of Mary Poppins author, Pamela Lyndon Travers, and there are lots of Mary Poppins-related things to do in Maryborough, as well as other interesting historical sites.
Maryborough is also located near Hervey Bay and you can book tickets for excursions there and to Fraser Island at the motel's tour desk.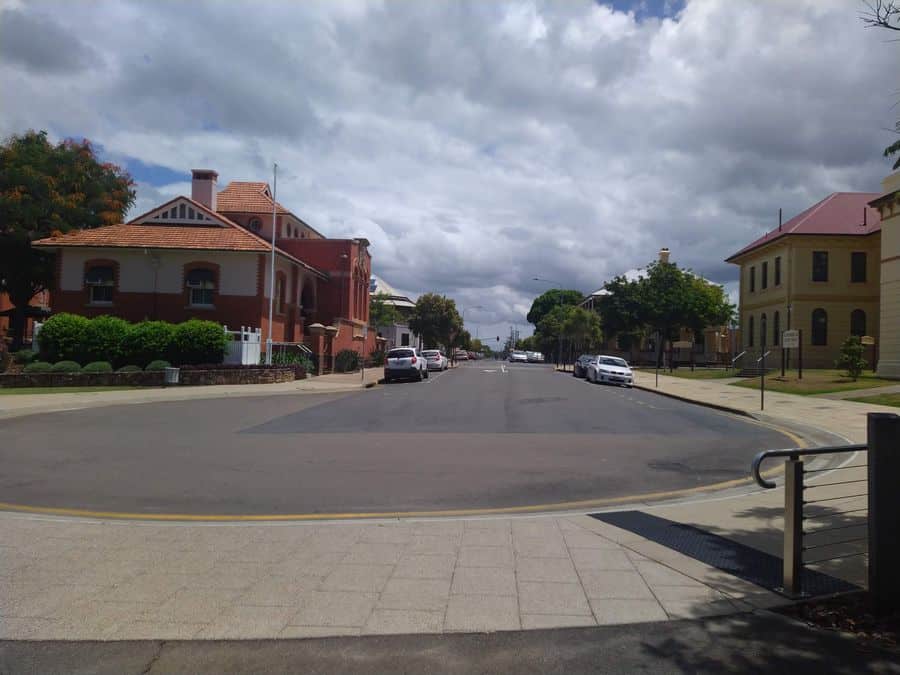 Best Western Kimba Lodge Motel Facilities
The Best Western Kimba Lodge Motel is a 100% smoke-free site. It has a 24-hour front desk with staff available to help you with your every need. Guest laundry can be done for a nominal fee and there are also printing, fax, and postal services available at reception, as well as a safe deposit box.
There is a fenced outdoor pool with loungers and beach towels available and a BBQ area for all guests to enjoy, as well as the private patios/balconies that adjoin every room.
A doctor is available on call at all times in case of medical emergencies and there are physically challenged facilities available on site. You can hire a babysitter for a fee.
A breakfast delivered to the room is available seven days a week and meals out at the White Lion next door can be charged back to the room, or they can be ordered via room service. Free parking is available in the on-site car park.
There is a tour desk that can help you to book days out from the motel.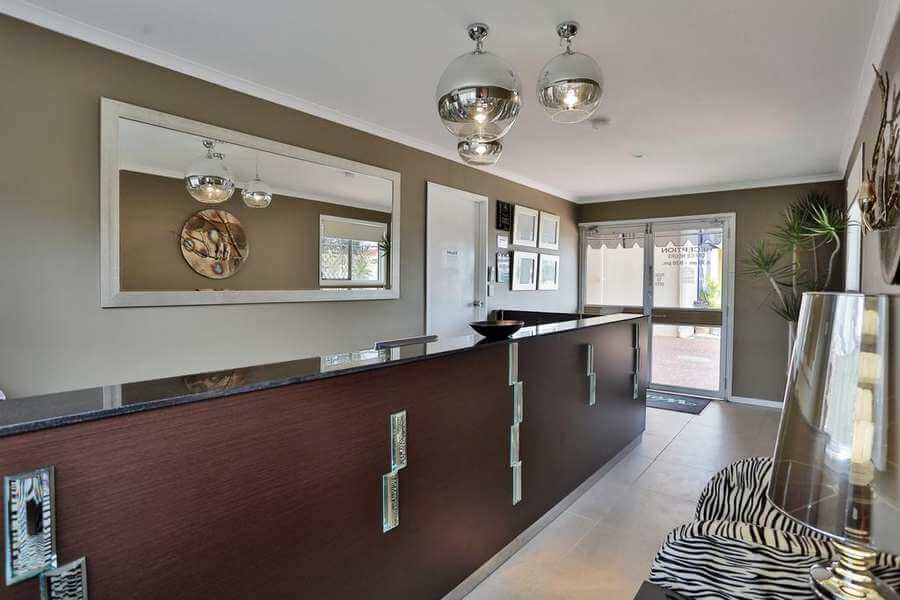 Motel Check-in and Check-out Times
Check-in at the Best Western Kimba Lodge Motel is at 14:00 and check-out is at 10:00. Express check-in and check-out are available and you can have a late check-out on request.
The Best Western Kimba Lodge Motel is four-star rated and the reasons why are pretty obvious once you take a look at the standards there. The bedding and the beds are high-quality and the cleanliness throughout the motel is spotless.
It caters well to both business travellers and sightseers with great facilities that will suit both groups. And it is in such a great location that makes it easy to get to and also easy to use as a base to explore the surrounding areas.
You will get taken care of well by the staff and they will go the extra mile whenever you need them to.
Resource Links To Products We Use And Recommend
More Recommendations For Accommodation
link to Discovery Parks Fraser Street Hervey Bay
On the Fraser Coast, Hervey Bay is an oasis of the best natural world the area has to offer. Just across the way from Fraser Island, you will also find beautiful botanical gardens, a stunning...
link to Caravan Parks Hervey Bay
One of the most iconic ways to experience Australia is by experiencing its beautiful natural surroundings. Because the country offers an abundance of stunning landscapes from coast to coast, caravan...