Do you like to travel in comfort and style? If so, when you head to Maryborough you should definitely check in at the McNevins Maryborough Motel.
This motel is all about quality and attention to detail, so you will feel right at home in one of their spacious rooms, dining in their on-site restaurant, or taking breakfast at the poolside cafe. It is also perfect for business travellers and has conference and meeting facilities.
The McNevins Maryborough Motel is a 3-star award-winning motel in the centre of Maryborough. It has an outdoor pool, restaurant, and poolside cafe, as well as conference and meeting facilities for business travellers.
There are several room styles and sizes available, all with their own car space.
The tagline for the McNevins Maryborough Motel is "Quality where it counts" and quality is definitely what you'll experience if you choose to stay here on your visit to Maryborough. It was awarded the Fraser Coast Tourism Award for "Excellence in Deluxe and Luxury Accommodation" in 2012 and 2013.
A motel doesn't have to be basic, even if you're just passing through. Why not treat yourself to a little bit of luxury?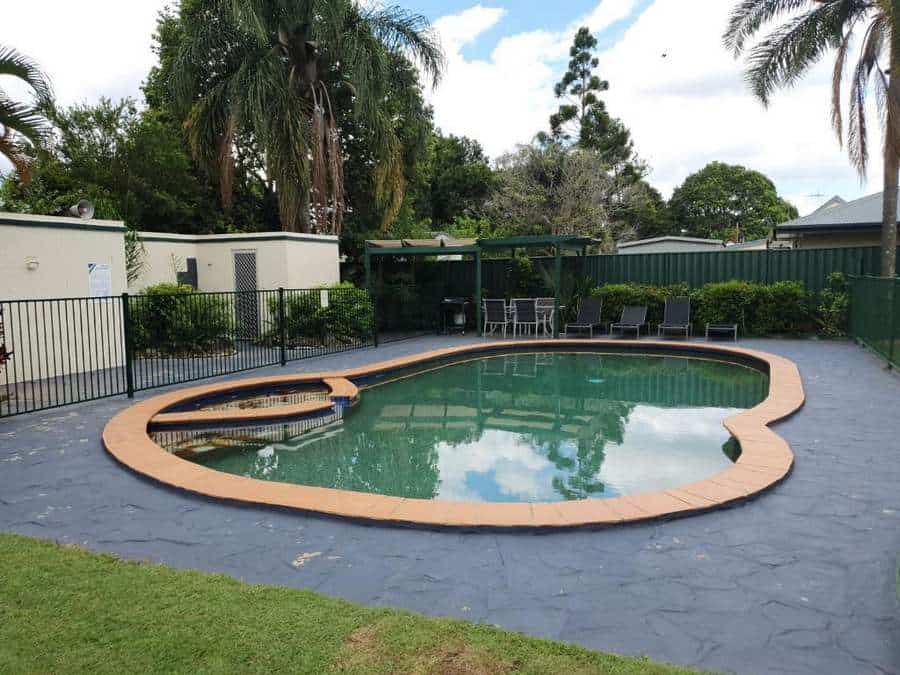 McNevins Maryborough Motel Popular Facilities
The McNevins Maryborough Motel has an outdoor fenced pool with sun loungers so you can wile away the time relaxing after a long day. There is a poolside cafe located near the pool and it is here that you can order your breakfast every morning.
The on-site licensed restaurant, "Sails", is highly rated and is open for dinner Monday to Saturday, except for public holidays. You can also have your breakfast and dinner as room service if you'd prefer to relax in your room while you eat.
For business travellers, there are conference facilities and meeting rooms with catering available.
McNevins Maryborough Motel Ratings
The McNevins Maryborough Motel has an average rating of 4 out of 5 ("very good") on Trip Advisor. Guests are impressed by the high levels of cleanliness and the fresh and modern interiors. They also love how spacious the rooms are, how quiet the air conditioning is, and how friendly and attentive the management and the staff are.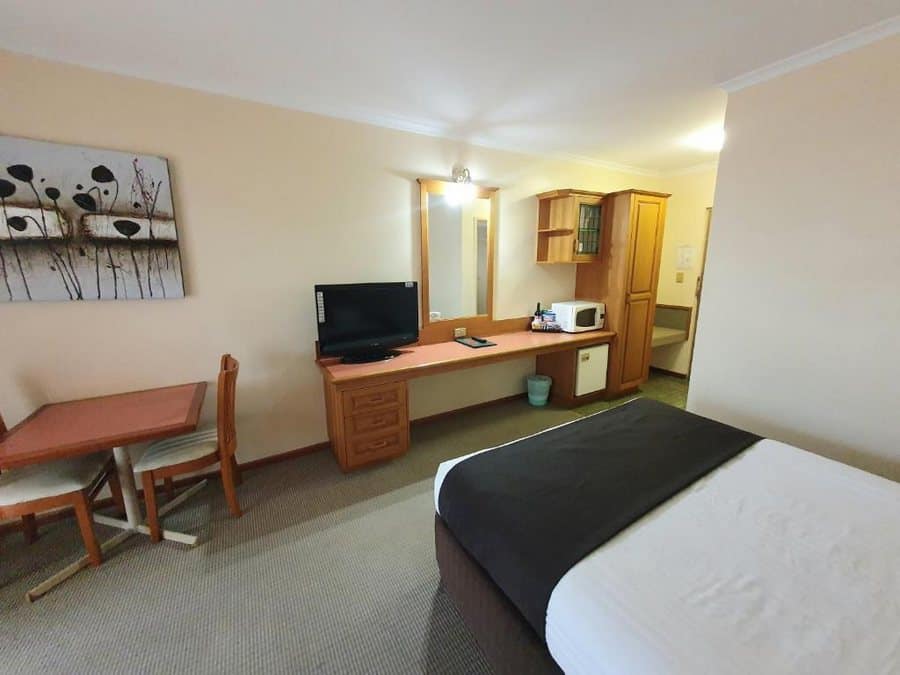 McNevins Maryborough Motel Room Types
There is a range of rooms types available at the McNevins Maryborough Motel, many of which have been recently renovated. All rooms come with:
Linen and laundry service
Iron and ironing board
Lounge area and dining settings
Free in-house movies
Kitchenette with a microwave, fridge, toaster, and tea/coffee making facilities
DVD player
Daily housekeeping services
Desk
Telephone and an alarm clock radio
Air conditioning and heating
Parking space directly in front of the room
Safe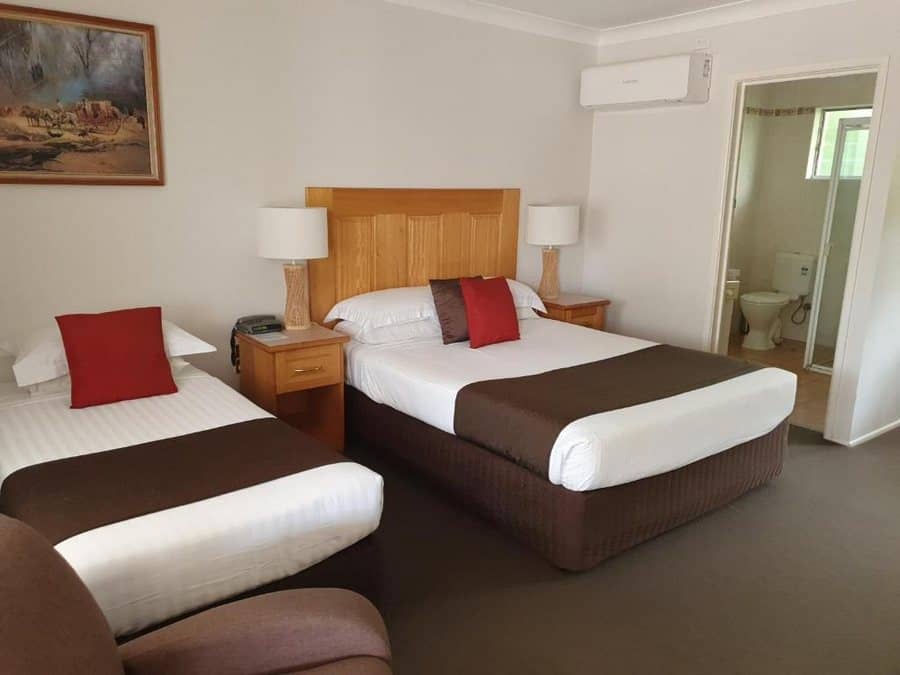 Luxurious Spa Suite
This is a luxury appointed suite. It has a separate bedroom and a sunken spa bath. The lounge room has an 80cm plasma TV and it has a fully stocked mini-bar as well as its own balcony.
Family Suites
The family suites have space for family groups. There is a separate master bedroom with a queen bed. In the lounge area, a double murphy bed can be created, as well as a single bed and a child's single bunk.
Executive King Rooms
These are recently renovated rooms with a triple-sheeted king bed and an LCD TV.
Poolside Rooms
These rooms are in a lovely poolside location with a private balcony overlooking the pool.
Deluxe Rooms
These rooms have a queen bed and a single as well as an LCD TV.
McNevins Maryborough Motel Location
The McNevins Maryborough Motel is located at:
188 John Street
Maryborough
Queensland 4650 (07) 4122 2888
The motel is in a central location and is a 10-minute walk to the centre of Maryborough. It is 450 yards from Brolga Theatre on the banks of the Mary River where there are cultural and entertainment events happening throughout the year. It is also close to some of Maryborough's beautiful parks, such as Queens Park.
There are shopping centres, restaurants, and bars, all within a short walk from the motel, so there is always plenty to do and see. And the centre of Maryborough has a range of interesting historical sites, including those related to Mary Poppins author Pamela Lyndon Travers, who was born there.
The McNevins Maryborough Motel is a good base for seeing the sites of the surrounding areas, including Hervey Bay and Fraser Island.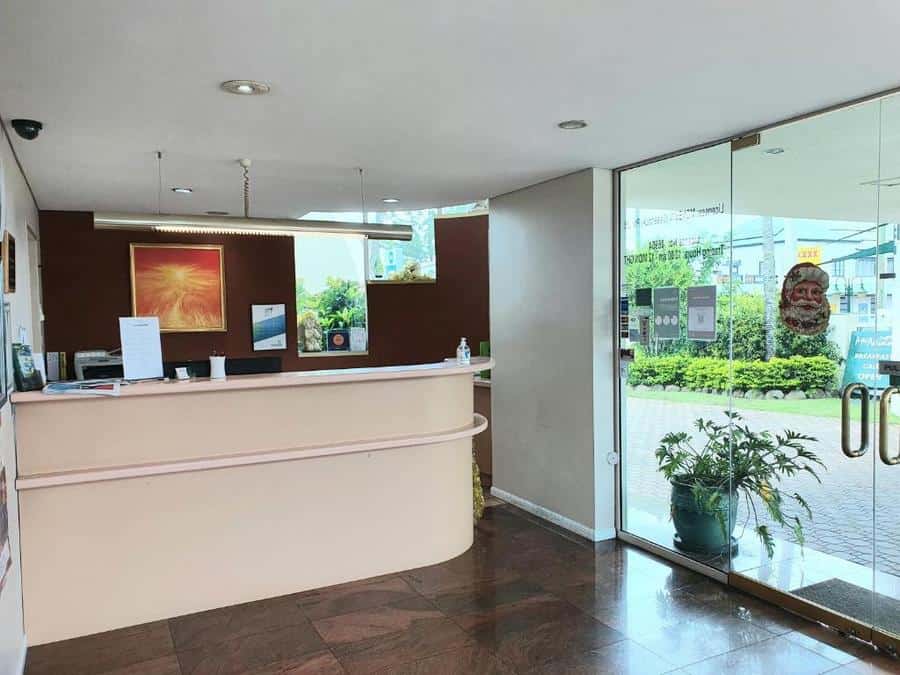 McNevins Maryborough Motel Facilities
The McNevins Maryborough Motel has a range of facilities to keep guests of all kinds comfortable. Whether you are staying in the area on business, on a family holiday, or adventuring with friends, there will be lots to make your stay perfect. These include:
Free WiFi throughout
Free Auster TV access
Kids meals on request
Room service
Off-street parking
Baggage storage
Car hire
Wine or champagne on request
Free pool
Restaurant, bar, and cafe
Currency exchange
24-hour reception desk
The motel has everything you need in one place but it is also central enough that you can easily head out exploring to see what the local area has to offer.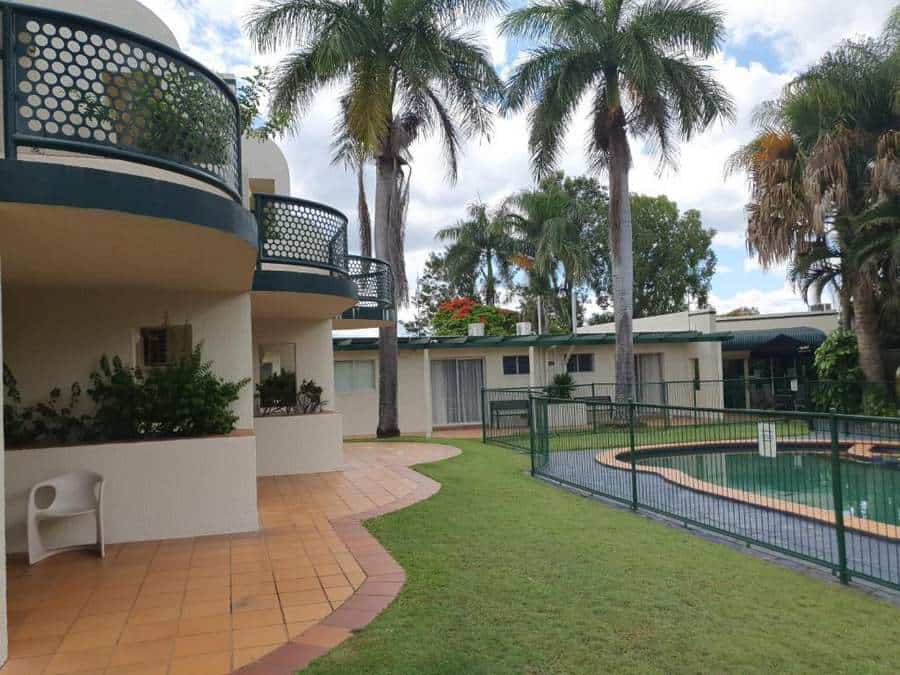 Check-in And Check-out Times
Check-in at the McNevins Maryborough Motel is between 14:00 and 20:00 and check-out is between 07:00 and 10:00. Late check-in and check-out may be available on request and express check-in and check-out is available for all guests.
The reception desk is manned 24 hours a day.
The McNevins Maryborough Motel is one of those motels that excels at providing its guests with the home-from-home comforts that they want, and it does it in style. It is easy to think of a motel as just being a clean bed to go to sleep in as you're passing through the area, but at this motel, there will be lots to make you want to linger.
Whether it's dining in the highly-rated bar and restaurant or taking breakfast gazing out at the pool, once arrive at the McNevins Maryborough Motel, you will want to take it all in.
Its central location also makes it the perfect base for exploring the local area where there is plenty to see and do.
Resource Links To Products We Use And Recommend
More Recommendations For Accommodation
link to Discovery Parks Fraser Street Hervey Bay
On the Fraser Coast, Hervey Bay is an oasis of the best natural world the area has to offer. Just across the way from Fraser Island, you will also find beautiful botanical gardens, a stunning...
link to Caravan Parks Hervey Bay
One of the most iconic ways to experience Australia is by experiencing its beautiful natural surroundings. Because the country offers an abundance of stunning landscapes from coast to coast, caravan...