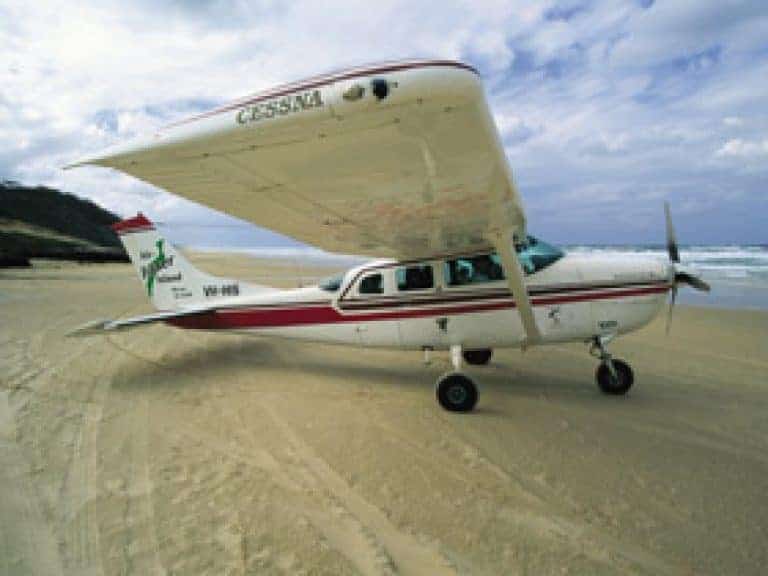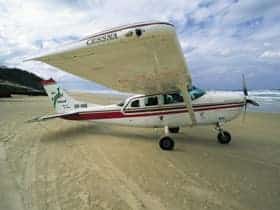 Air Fraser Island has long been recognised as one of the best tours you can go on when visiting Hervey Bay and Fraser Island. This family-owned and operated business has been running strong for many years and has chartered many visitors from around the globe on their many planes.
These air crafts were specially designed to offer large windows for viewing and to create a glide effect as you fly high in the skies.
There is nothing like viewing the magical sights of Hervey Bay and World Heritage-listed Fraser Island, from the air.
You will marvel at just how large Fraser Island really is to look at from the sky as well as be amazed as to how beautiful the oceans look from the top view.
What to Expect at Air Fraser Island Tours
Flying over Round Island and Woody Island to get to Fraser Island, you will not want to miss taking some sky view photographs while on your journey.
If you are looking to take a day away to Fraser Island, you will enjoy landing on the beautiful beaches and will be able to step out of the aircraft right onto the shores of the Island.
Upon your flight tour, you will find out much interesting information about the history of Hervey Bay and Fraser Island.
Experienced pilots will fascinate you with their vast knowledge about the area as well as point out to you some of the most interesting sights there is to see that you can not gain other than viewing from the skies.
This really is a great family day out onboard Air Fraser Island. If you are visiting the area, make this a 'must do' on your itinerary.
Children will marvel at how fun it is to come on board with a fun crew as well as gasping at the sights they will see and remember forever.
If you are looking to stay at Fraser Island for your next vacation, Air Fraser can organise all your transfers for you and take the hassle out of bookings and inquiries.
All bookings are made online at Air Fraser Island Hervey Bay

.
07 41 253 600
Resource Links To Products We Use And Recommend
More Pages On Fraser Island
link to Can You Have Camp Fires On Fraser Island?
Fraser Island is part of Great Sandy National Park. In an attempt to protect its beauty, UNESCO listed Fraser Island as a protected area. This means that some actions are limited to protecting the...
link to Big Woody Island
A World Heritage site, Big Woody Island is located between Fraser Island and Hervey Bay in amongst a cluster of other islands of the Great Sandy Straight. Often overlooked, Big Woody Island has a...