Oaks Resort & Spa Hervey Bay sets a new high-water mark for beach holiday sophistication combining the ultimate in relaxation with a relaxed sea-side village experience.
The resort draws inspiration from its ocean environment, featuring distinctive wave-like curvature in its tiered design to provide the most relaxing haven to unwind.
The resort comprises 129 self-contained one, two and three-bedroom suites and Penthouses with private balconies, offering uninterrupted views of the Great Sandy Strait and Fraser Island.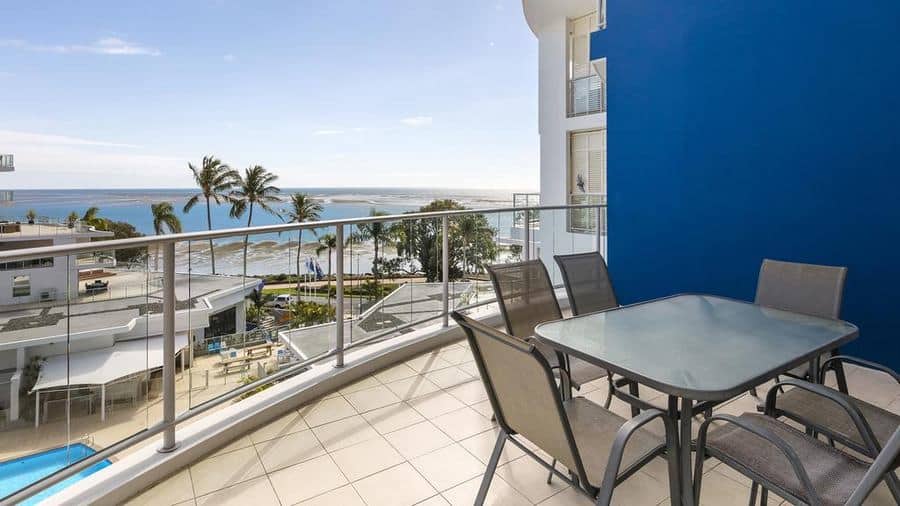 Guests will enjoy a landscaped lagoon swimming pool and lap pool and the indulgent Spa Botanica where a range of beauty therapies are available to soothe the soul.
A gourmet's paradise, the resort is also home to The Bayswater, a fine dining restaurant specialising in fresh seafood. Salt Cafe is casual, coastal cuisine at its best – the ultimate blend of delicious food, friendly staff and a vibrant, inviting atmosphere.
Salt Cafe is an oasis of calm on Hervey Bay's bustling Esplanade and boasts stunning ocean views. Nestled amidst a breathtaking wildlife haven, the resort is the ideal base for enjoying the boating, fishing and bushwalking delights of the region.
Accommodation
One Bedroom Suites: Beautiful One Bedroom Suites feature king-size beds with poolside views. Premium facilities including separate lounge and brilliant views from the balcony feature in all suites. Facilities & Rates
Two Bedroom Suites: Stunning Two Bedroom Suites feature either a king bed with two singles or 2 king-size beds. Delightful views over the pool area or Hervey Bay and stylish furnishings provide a relaxed atmosphere. Facilities & Rates
Three Bedroom Suites :
The stunning Three Bedroom Suites feature a king bed, queen bed and in the third bedroom, either king or twin beds. Each bedroom has its own ensuite bathroom. These suites provide sensational views over Hervey Bay and premium facilities. Facilities & Rates
Penthouse Suites: Penthouse Suites feature three bedrooms and beautifully furnished living areas with expansive views over Hervey Bay. The bedrooms have a king and single beds, with a crisp seaside style. Split over three levels, the Penthouse Suites offer a huge entertaining deck on the top level with its own bathroom facilities. Facilities & Rates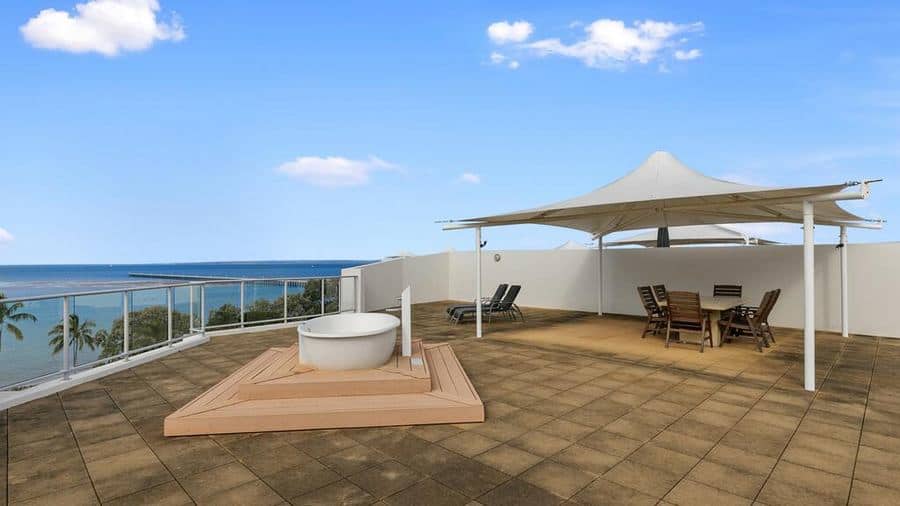 For more info on Oaks Resort & Spa follow the link below
Resource Links To Products We Use And Recommend
More Recommendations For Accommodation
link to Discovery Parks Fraser Street Hervey Bay
On the Fraser Coast, Hervey Bay is an oasis of the best natural world the area has to offer. Just across the way from Fraser Island, you will also find beautiful botanical gardens, a stunning...
link to Caravan Parks Hervey Bay
Throughout the region of Hervey Bay, there are over 20 caravan parks to choose from. All these caravan parks are slightly different from one another. Some are bigger while others are smaller in size...