Fraser Island is a hot spot for swimmers and they are attracted from all over the world. One of the most popular swimming spots on the island is the stunning Champagne Pools, where thousands of tourists come to take in a dip in the beautiful blue waters here.
In this article, we want to provide you with all the information you will need for your visit to this jaw-dropping destination.
What Are The Champagne Pools?
Beautiful Champagne Pools are made from water falling onto the volcanic rocks on the edge of the ocean, which is perfectly shaped to create a pool. As the waves come in from the sea, the water is deposited and creates an idyllic natural swimming pool.
The Champagne Pools are one of the most popular tourist spots on the entire island and it is little wonder with their unique appeal.
Not only are the natural pools perfect for swimming but they are also a prime spot to take in the vast and glorious ocean views. These little rock pools are shallow and have a sandy bottom, making them a little piece of heaven on the coast.
One of the most appealing things about the Champagne Pools is the continual flow of water into them. Each time a wave comes crashing in, the water within the pools is refreshed. This activity creates a spa-like experience for anyone in the pool and this is one of the biggest draws of coming here.
When the natural spa-like activity is seen, the pools experience a fizzing action as the sea foam settles and this is the reason that they were named in the way that they were.
Whilst these pools are extremely enjoyable and give a wonderful experience to anyone visiting them, there are a few things to keep in mind when you are here.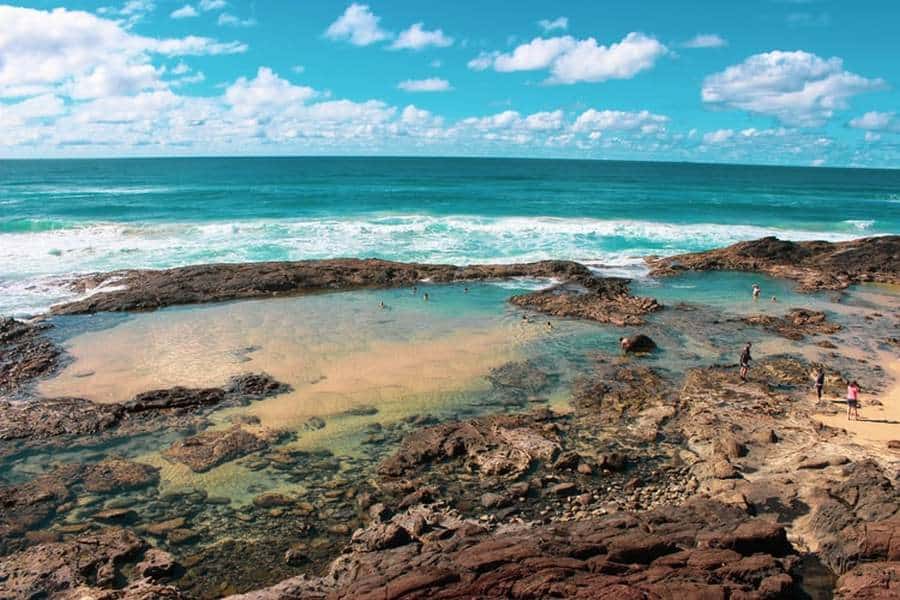 Visit Champagne Pools At Low Tide
Many people prefer to visit the Champagne Pools at low tide as they are much calmer at this time. If you are looking for a more relaxed experience then heading to the pools at low tide will ensure that you can sit back and breathe in the sea air.
Large Waves
From time to time, much larger waves can renew the pools and if you are not ready for this, it can catch you by surprise. So when at the pools, it is important to keep an eye on incoming waves and their size. Remember when you're at the beach, you should keep beach safety in mind at all times.
Volcanic Rocks
The Champagne Pools, as we mentioned, are set in amongst volcanic rock, which makes them even more stunning and adds a rugged feel to the environment. That being said, it is important that you are careful as the rocks can leave you with a scratch or two.
Whilst this is only a minor hazard, it is worth noting, especially for smaller children.
The Main Ocean
When at this location, it is essential that you do not attempt to swim in the open ocean and only stick to the pools. The reason behind this is that the current is particularly strong here and even if you are a very strong swimmer, it is highly likely that you would find yourself in hot water in this part of the sea.
Swimming in the seas surrounding Fraser Island is in fact, not allowed for many reasons including the many marine stingers here as well as a good population of sharks.
How Do I Get To The Champagne Pools?
Once on Fraser Island, you can access the Champagne Pools by heading over to the east side. The Champagne Pools are located on the 75-mile beach, one of the hotspots and favourite places to see whilst on Fraser Island.
You will find the pools in between Indian Head and Waddy Point and in order to reach them, a short drive north from Indian Head of around 2km is required. Once near the location, a short walk is then required along a boardwalk and down some stairs, at the bottom of which, the pools are found.
If you have a 4WD, you can park directly on the beach and head straight to the pools or there is a car park a little further inland which has signed walkways leading down to Champagne Pools.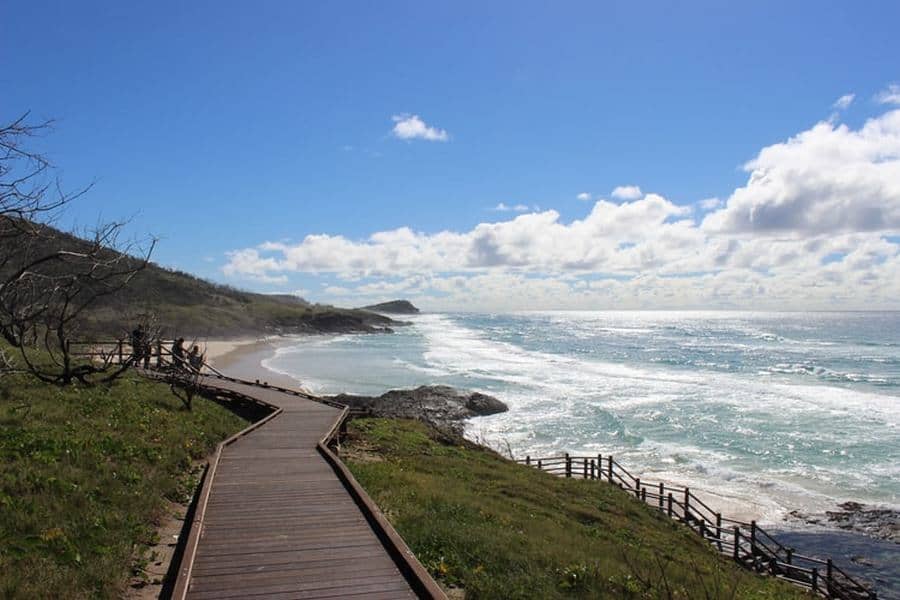 Day Tours To Champagne Pools
If you are staying on mainland Australia and wish to pay a visit to the Champagne Pools for a day, there are plenty of opportunities to do this. You will find a variety of day tours going to Fraser Island and this is ideal for those who wish to simply take a dip in the pools and head back to the mainland.
There are various kinds of day trips, some include a fully guided tour of the island. However, if you choose this option, it is worth checking that the Champagne Pools are on the itinerary.
There is also a huge range of multi-day tours to the island, which are perfect for those who want more time to spend at this location and really make the most of the chance to spend time in these amazing pools.
You may choose to take the ferry across to Fraser Island and explore on your own terms, perhaps spending an entire day at the Champagne pools, relaxing and enjoying the incredible location.
For a standard vehicle with four people, you can expect to pay around $110 for the car crossing, or you can buy a return ticket for around $180, these prices are for off peek and subject to change
Naturally Formed Pools
Whether you are looking to relax and take in the breathtaking ocean scenery and views or whether you wish to take the plunge into one of the most beautiful swimming spots in the world, a visit to the Champagne Pools will not disappoint.
These naturally formed pools are one of the main attractions on Fraser Island and are certainly something not to be missed. There is a good choice of ways to spend a day here, whether it's on a guided tour or a go it alone trip.
Swimming in the Champagne Pools, with the natural spa effect, will be an experience like no other.
Resource Links To Products We Use And Recommend
More Pages On Fraser Island
link to Can You Drive At Night On Fraser Island?
Fraser Island, located off the coast of Queensland, Australia, is a popular tourist destination and a UNESCO World Heritage Site. The island, which spans more than 120 kilometres in length and 24...
link to Are There Toilets On Fraser Island?
Fraser Island, which is a popular tourist destination in Australia. The island has a number of campsites and other facilities where visitors can use toilet facilities. There are on average around 22...