One of the most iconic ways to experience Australia is by experiencing its beautiful natural surroundings. Because the country offers an abundance of stunning landscapes from coast to coast, caravan parks are often quite popular.
Caravan parks provide guests with ample access to the great outdoors as well as some in-house amenities. A particularly popular spot in Australia for caravan parks in Hervey Bay in Queensland.
Throughout the region of Hervey Bay, there are over 20 caravan parks to choose from. All these caravan parks are slightly different from one another. Some are bigger while others are smaller in size and cozier.
No matter what size caravan park someone chooses, Hervey Bay certainly delivers on providing access to enjoying a nice camping adventure.
Google Map Of Caravan Parks In Hervey Bay
Hervey Bay Caravan Park
Hervey Bay Caravan Park is one of the more popular spots for caravan parks in the bay area. Tucked away along Margaret St in Urangan, this park has rates of $39/night for powered sites and $33/night for unpowered sites.
Some of these sites are limited, so it is always suggested that you reach out to them prior to booking to make sure your needs can be met.
Powered sites are a great choice for families or couples that still want access to things like portable TVs, mobile phones, etc. Additionally, they can power caravans that might have electric power such as lighting, etc. While they are slightly more expensive than unpowered sites, they still are a great choice.
Unpowered sites are ideal for those seeking a more traditional camping experience. They are for those wanting to pitch a tent or enjoy their caravan by lantern lighting etc. Caravan parks tend to have less unpowered sites than powered sites due to popularity, but they still hold the hearts of some who want a more authentic outdoor holiday.
Like other caravan parks, Hervey Bay Caravan Park also features cabin rentals with modern decor. These tend to go for a bit higher price because all the comforts of home are generally provided in these types of cabins. In addition to cabin rentals, this park also has a pool, camp kitchen, and much more.
Booking here long term is possible and discussing that with the park is critical to ensure availability. They can be reached at (07) 4128 9553. A 30-day maximum booking is as high as the park can be booked for at one time.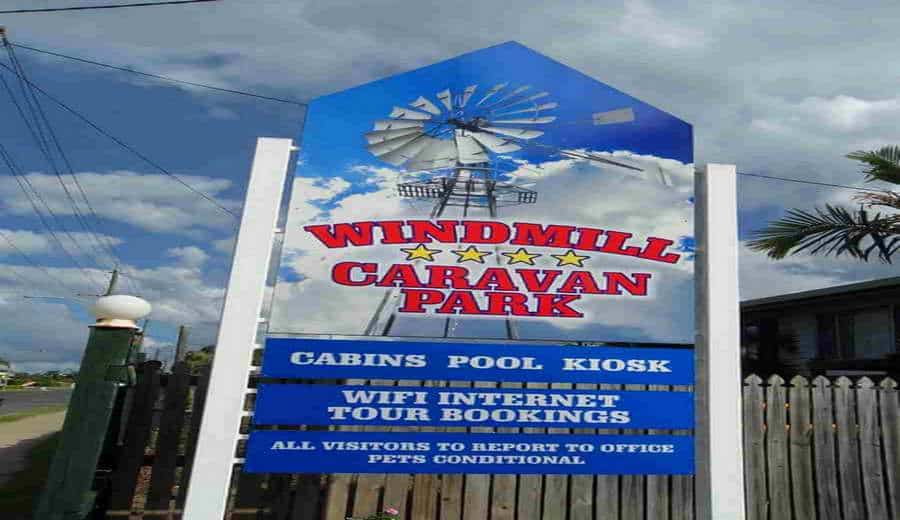 Windmill Caravan Park
Windmill Caravan Park is another park where long term stays can quite the adventure. Located on Elizabeth St in Urangan, the Windmill Caravan Park has over 30 sites that can be booked in addition to cabin rentals. Additionally, they feature grass spots for tent camping as well.
This well-rounded park has a site that suits the needs of any type of camper making it one of the more sought-out spots in the bay area.
Like other caravan parks, it features both powered and unpowered sites for caravans. Daily rates for booking these sites start at $40 and they even have weekly rates that start at $240. Once again, much like other parks, there is a 30-day max stay policy. To ensure they would have that availability, they can be reached at (07) 4128 9287.
Another big perk to this caravan park is that it is very close to the beach. Some campers prefer being close to the beach so they can go swimming or enjoy other beach-related activities. For a long term park, Windmill Caravan Park has a lot of attractive features for its guests.
Big4 Holiday Park
Big4 Holiday Park is a quiet oasis getaway for guests looking to leave the noise of the city behind. There is a relaxing pool along with powered and unpowered sites for caravans. This park takes a lot of pride in providing ample space and a tranquil setting for its visitors. There's also a camp kitchen as well as ensuite cabins on site.
The only way to obtain a price point for this park is by filling out an inquiry form on their website or reaching out to them at (07) 4128 1423. By contacting them directly, you can double-check that they actually provide long term stays for their guests as their website isn't very clear on their booking policies.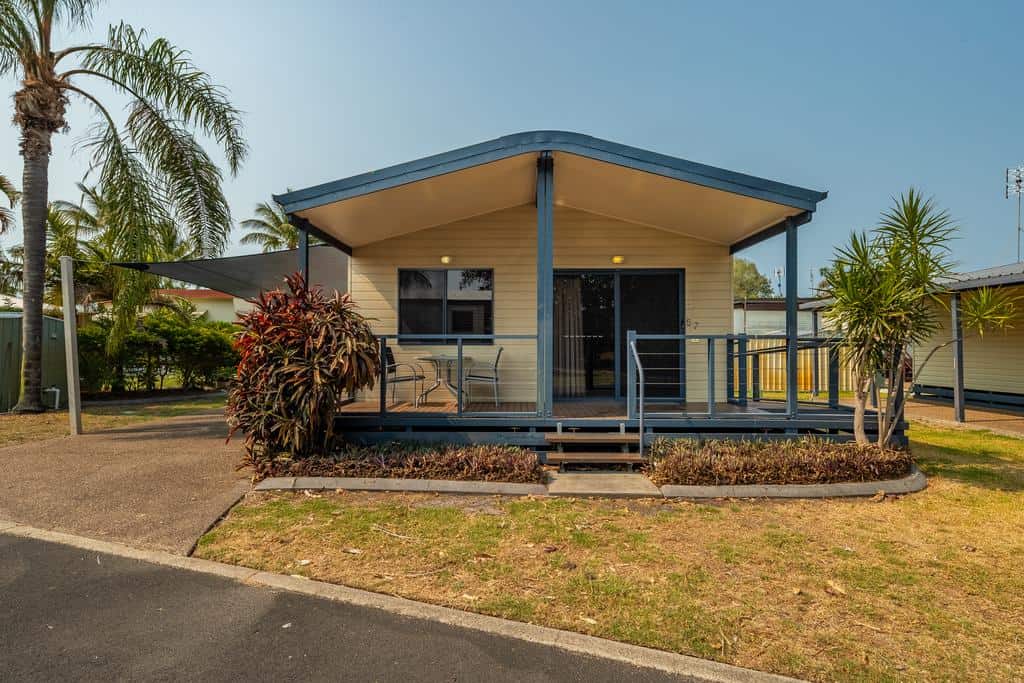 Ingenia Holidays
Along Truro Street in Torquay is Ingenia Holidays, a caravan park dedicated to a great experience for its guests. From pools to cabins to beach access, this caravan park is a true gem. At about $40-$50/night, it is a little pricier than other parks but still guarantees a good time.
It features over 30 sites that can be booked. This is a great feature because they aren't crammed together and people feel like they have their space.
To inquire about long term stays, the park should be contacted at (07) 4125 1103. Their online website allowed for more than 30 days at a time to be searched, but it is always best to know the policies a caravan park might have.
Ingenia Holidays is ideal for families as it has a variety of things to do at the park and it is centralised among shops in the Torquay area.
Harbour View Caravan Park
Harbour View Caravan Park is one of the smaller caravan parks in the Hervey Bay area. This park has powered and unpowered sites and has some of the best prices in the region. Powered sites can be booked for as low as $38/night while unpowered sites can be booked for around $30/night.
This park is right off of Miller Street, near one of the harbours just south of Urangan. For those on a budget, this is a great option for a longer-term caravan park.
Even though it doesn't have as many amenities as the other parks, Harbour View Caravan Park still has access to shoppes, eateries, and the beach isn't too far away. It is a perfect getaway for a small holiday adventure. To check for booking availability contact them by dialling 0457 054 463.
Discovery Parks Caravan Park
Discovery Parks is a chain of caravan parks that feature parks throughout Australia. The one in Hervey Bay serves as a long term park for guests who want to enjoy the great outdoors as well as some extra amenities.
Discovery Parks Caravan Park in Hervey Bay is located on Fraser Street and it has a pool, wifi, camp kitchen, bounce pillow, etc making it quite the destination for families seeking a caravan adventure.
Nightly rates for this park start at $57/night for powered sites and $66/night for ensuite powered sites. The ensuite includes extra amenities such as a private toilet. There are also tents and cabins that can be booked as well. To check for availability and choices for long term stays, they can be reached at (07) 4124 9999.
All of these caravan parks feature great amenities with pretty competitive price points. Moreover, these parks are able to be booked for longer-term stays, which is perfect for those seeking a longer holiday.
Beachfront Caravan Parks Hervey Bay
Windmill Caravan Park
Windmill Caravan Park is a long term park as well as a park being right near the beach! With its decent price points and access to the beach, Windmill Caravan Park. This park proves to be one of the more diverse places for guests as it has access to tent spots, powered and unpowered sites, and cabin rentals.
Its access to the beach is one of its biggest attractions though. It is close to the beach near the Urangan Pier.
Pier Caravan Park
Pier Caravan Park is very close to the Urangan Pier and offers guests competitive prices for nightly stays as well as stunning views of the beach and the famous historical Urangan Pier. It is the perfect combination of relaxation where guests can enjoy the beach, pier fishing, and much more.
This caravan park's nightly rates are $45/night. While it is a little more expensive, the park's access to local shops, the pier, markets and beach, and much more simply can't be beaten!
The Palms Caravan Park
The Palms is one of the area's parks that is closest to the beach. It is only 300 metres from the esplanade and beach area tucked in Torquay. It is known as one of the best pet-friendly caravan parks as well! It also features a swimming pool along with its cabins and site slabs for caravan parking.
It is one of the smaller, yet most accommodating parks in the region. It only has 5 powered slabs that can book quickly. However, due to its proximity to everything in Torquay, it is worth it!
The Palms pricing is pretty decent as well at about $40/night. The villas and cabins are obviously more out of pocket to book, but they are popular at this park as well! Their website is the best resource for booking and seeing the park's availability.
Torquay Beachfront Caravan Park
The Torquay Beachfront Caravan Park is easily the best beachfront park in Hervey Bay. It is one of the closest ones to the beach on this list making it super desirable for those wanting to be close to the sandy shoreline.
This park is located directly on the foreshore of the esplanade that winds through the Hervey Bay region. Guests can wake up every morning to the sound of rolling ocean waves and have some of the best views out of all the holiday parks in the bay area.
The park features access to nearby shops and eateries as well. Moreover, they have free bbq cook sites, laundry facilities, and more. Nightly rates for this park start at $54.50 for powered sites and $38 for unpowered sites.
It is also important to remember that the rates can increase during peak holiday seasons. This applies to any of the caravan parks on this list.
These beachfront parks all offer their own charm and appeal at decent prices. They are an idyllic way to enjoy caravan camping by the ocean!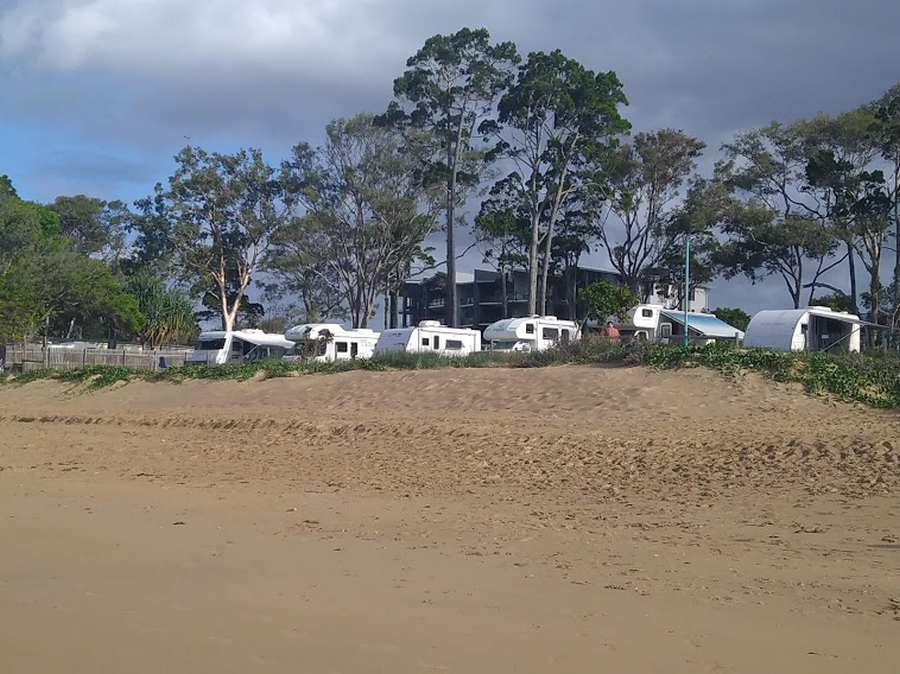 Can You Live In A Caravan Park All Year Round?
As exciting as it would be to live in a caravan park year-round, it isn't possible.
The long term parks have a 30-day maximum stay policy and other parks simply aren't large enough to accommodate families or couples staying for more than a week. This policy applies everywhere in Australia, not just in the Queensland region.
The purpose of this policy is to ensure that everyone has the opportunity to stay at the caravan parks around the country. Moreover, the policy is set in place so that people have basic access to everyday needs that aren't always found at caravan parks.
Not every park has a dumpsite which is a critical thing. People should have their primary residences set in place so they always have access to beds, showers, and toilets throughout the year.
Long Term Caravan Parks Hervey Bay
Long term caravan parks are defined as being caravan parks where you can stay for an extended period of time, as set by the individual caravan park. Below are some of the long term caravan parks in Hervey Bay, including their rates for staying.
How Long Can I Stay At A Caravan Park In Queensland?
As expressed, there is a 30-day maximum period set for caravan park stays at the long term parks. Other parks generally have a week or two stay policy. It is always imperative that you call ahead of time to discuss with the park your plans for staying so that they can advise you of the best options to suit your needs.
What Makes A Good Caravan Park?
There could be some debate on what makes a good caravan park. Is it the access to the beach? Should there be shops nearby? Ultimately, what makes a good caravan park is a park that features powered and unpowered sites for caravans to park and enjoy the outdoor surroundings.
The whole purpose of going to a caravan park is to enjoy nature at its best. This includes enjoying local weather, beaches, scenery and wildlife.
However, there are other things that make caravan parks more desirable. Some features that can be appealing are swimming pools, cabin rentals, ensuite sites, showers, gaming rooms, laundry facilities and dumpsites.
All of these features are bonus perks that really set a caravan park apart from others.
Hervey Bay is one of Queensland's top destinations for a lot of reasons. Their access to various caravan parks is one of the best things about the area! Their parks offer an idyllic way to enjoy beach views and gorgeous weather!
They offer up a bit of a true camping adventure than just staying in a basic hotel.
Resource Links To Products We Use And Recommend
More Pages On Accommodation
link to Discovery Parks Fraser Street Hervey Bay
On the Fraser Coast, Hervey Bay is an oasis of the best natural world the area has to offer. Just across the way from Fraser Island, you will also find beautiful botanical gardens, a stunning...
link to McNevins Maryborough Motel
Do you like to travel in comfort and style? If so, when you head to Maryborough you should definitely check in at the McNevins Maryborough Motel. This motel is all about quality and attention to...