Hervey Bay Weather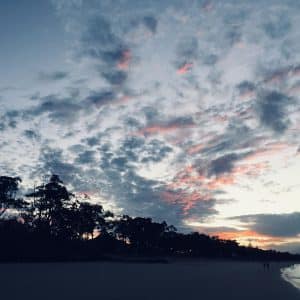 The weather in Hervey Bay is what most people who live local call pleasant all year round. The summer months between late November to late March, is of humid temperatures.
The summer time brings temperatures between the 30 – 40 degrees and the beaches are proved popular during these months, as are the local pool and water parks. The winter months fall between June and October, and bring a cooler wind to the area.
The days are renowned for being pleasant and the nights of cooler temperatures. Autumn and Spring are some of the nicest months temperature wise, in the Bay. Beautiful sunny days, with blue skies and cooler nights that are still in the late 20's in degrees.
These months still allow people to use beaches and parks without being too hot or cold. Boating proves popular in the cooler months and that including the Bay's winter months. All year round, you can be sure to enjoy the lovely temperatures of Hervey Bay.
Hervey Bay Weather Forecast
The Bay is all about a good living in one of Australia's most desirable environments prized for its laid back lifestyle, idyllic climate, state of the art facilities and incredible investment potential.
A comfortable 3.5-hour drive from Brisbane or just 40 minutes by air, and within easy reach of the Gold and Sunshine Coasts and Central Queensland, Hervey Bay offers an abundance of natural assets and a quality of life that is unsurpassed.
Each year close to half a million visitors from throughout Australia and around the globe are drawn to this sub-tropical paradise … to soak up the sun, swim in its safe waters, explore its wealth of attractions and often to stay for good, Why not go Whale watching on your stay in the Bay.
The city has truly come of age. The sleepy fishing village of old has enjoyed unprecedented population growth and transformed into a thriving, cosmopolitan centre that still retains its sunny, un spoilt charm.
Climate data for Hervey Bay Airport
Month
Jan
Feb
Mar
Apr
May
Jun
Jul
Aug
Sep
Oct
Nov
Dec
Year
Record high °C (°F)
35.2
(95.4)
34.7
(94.5)
33.7
(92.7)
31.1
(88.0)
29.6
(85.3)
27.6
(81.7)
26.1
(79.0)
28.4
(83.1)
30.1
(86.2)
33.0
(91.4)
33.8
(92.8)
36.8
(98.2)
36.8
(98.2)
Average high °C (°F)
30.0
(86.0)
30.0
(86.0)
28.9
(84.0)
26.9
(80.4)
24.1
(75.4)
21.8
(71.2)
21.6
(70.9)
22.5
(72.5)
24.7
(76.5)
26.4
(79.5)
27.9
(82.2)
29.3
(84.7)
26.2
(79.2)
Average low °C (°F)
22.0
(71.6)
22.1
(71.8)
20.5
(68.9)
17.9
(64.2)
14.0
(57.2)
11.8
(53.2)
9.9
(49.8)
10.5
(50.9)
14.2
(57.6)
17.0
(62.6)
19.0
(66.2)
21.1
(70.0)
16.7
(62.1)
Record low °C (°F)
16.0
(60.8)
16.6
(61.9)
15.6
(60.1)
7.0
(44.6)
4.0
(39.2)
1.8
(35.2)
−1.2
(29.8)
−0.1
(31.8)
2.9
(37.2)
6.8
(44.2)
9.1
(48.4)
13.4
(56.1)
−1.2
(29.8)
Average rainfall mm (inches)
160.3
(6.31)
153.1
(6.03)
131.7
(5.19)
71.7
(2.82)
97.6
(3.84)
87.5
(3.44)
49.5
(1.95)
55.0
(2.17)
38.2
(1.50)
69.0
(2.72)
66.1
(2.60)
147.1
(5.79)
1,126.8
(44.36)
Average rainy days 

(≥ 0.2mm)

12.7
12.9
17.2
16.1
17.1
16.3
12.5
8.5
8.5
7.9
10.5
11.4
151.6
Average afternoon relative humidity (%)
61
64
62
62
59
63
55
54
58
60
59
61
60