Fraser Island (300km north of Brisbane) is the largest sand island in the world, at 123km long and 22km wide. It is the only place on earth where rainforests grow out of sand dunes and it is home to the purest dingoes in Australia. It also has plenty of other wildlife, gorgeous beaches, and stunning lakes.
Fraser Island is quite wild, however, so visiting the island isn't quite as simple as your average tourist attraction. Read on for our guide on how to visit Fraser Island.
Tourists can visit Fraser Island in several different ways, Air Fraser Island offers tours departing from Sunshine Coast or Hervey Bay, Take the Manta Ray barge from Inskip Point (1 hr 40 minutes south of Hervey Bay), Or take the Fraser Island barge from River Heads (20 minutes south of Hervey Bay).
There is a lot more you need to know before you plan your trip to Fraser Island, so let's take a closer look at how to get to Fraser Island, how to explore once you're there, and what rules you'll need to know before you visit.
Fraser Island is a wonderful, wild, and rugged place to visit, but that doesn't mean that it's inaccessible. It being an island does make things slightly more complicated, because you can't just drive straight to it, but you do have a variety of options.
One thing you really need to think about first is whether you will be going it alone once you get there or whether you'll be joining a guided tour. There are, of course, pros and cons to both options, depending on what suits you best.
First of all, you'll need to get to the Fraser Coast. You can either make your own way there, or you can catch a flight. Virgin Atlantic and QantasLink operate direct flights to the area from Brisbane, Melbourne, and Sydney. From the Fraser Coast, you can travel over to Fraser Island by a few different means.

Air Fraser Island
This is a great option if you're going to be visiting Fraser Island as part of a guided tour, with a bus waiting for you at the other end, but you can also do a fly/option and hire a 4WD vehicle along with the flight. You can either get a plane from Sunshine Coast or from Hervey Bay, and you can even opt for a scenic flight option so you can get all the best views of Fraser Island.
Manta Ray Barge
The barge leaves from Inskip Point, which is at the northern edge of Rainbow Beach, about 1 hour 40 minutes south of Hervey Bay. It lands at the southern tip of Fraser Island and the journey only takes about 10 minutes. Even better, the barges are really frequent and they run from 06:00 until 17:15 every day.
Fraser Island Barge
These barges don't run as frequently as the Manta Ray barges, but they depart from only 20 minutes south of Hervey Bay at River Heads. The journey over to Fraser Island, landing at Wanggoolba Creek and Kingfisher Bay Resort, takes around 50 minutes.
So if you'd prefer to spend more time on the water and less time travelling beforehand, this is a good option for you.
How Do You Explore Fraser Island?
So you've arrived at Fraser Island. What now? Well, first of all, you'll need to find somewhere to stay. There are around 45 different campsites dotted around the island and people generally either stay at a single one and use that as their base of exploration, or they stay at a few different campsites during their visit.
If you're worried about dingoes

and/or you have small children with you, 5 of the campsites do have dingo deterrent fences.
Alternatively, you could stay at one of the hotels or guesthouses that are mostly found in Eurong or the Happy Valley, or you could stay at the Kingfisher Bay Resort.
From there, you can either join a tour or you can make your own way around the island. To drive around, a 4WD vehicle is an absolute must. Any other type of car would get badly damaged by the rough terrain. You do have the option of bringing your own or you can hire one for your visit.
You could choose the fly/drive Air Fraser Island option or you can hire one from a rental company back in Hervey Bay. It isn't really possible to drive around on the western part of the island because it is so boggy but there are plenty of drives on the east coast.
If you want to get out on foot there are some beautiful walks and hikes around the island. Some of them are short enough for you to get back before nightfall, but there are also much longer multi-day hikes that would see you staying at different campsites along the way. One of the most popular is the Fraser Great Island walk, which is about 90km long.
What Are The Rules For Visiting Fraser Island?
Before you visit Fraser Island, it is a really good idea to familiarise yourself with the rules. If you are planning to camp out while you are there, you will need to obtain a camping permit

as it is a National Park. You will also need a National Parks Vehicle Access Permit

if you are planning to drive around the island, and this includes if you are going to be using a hire vehicle.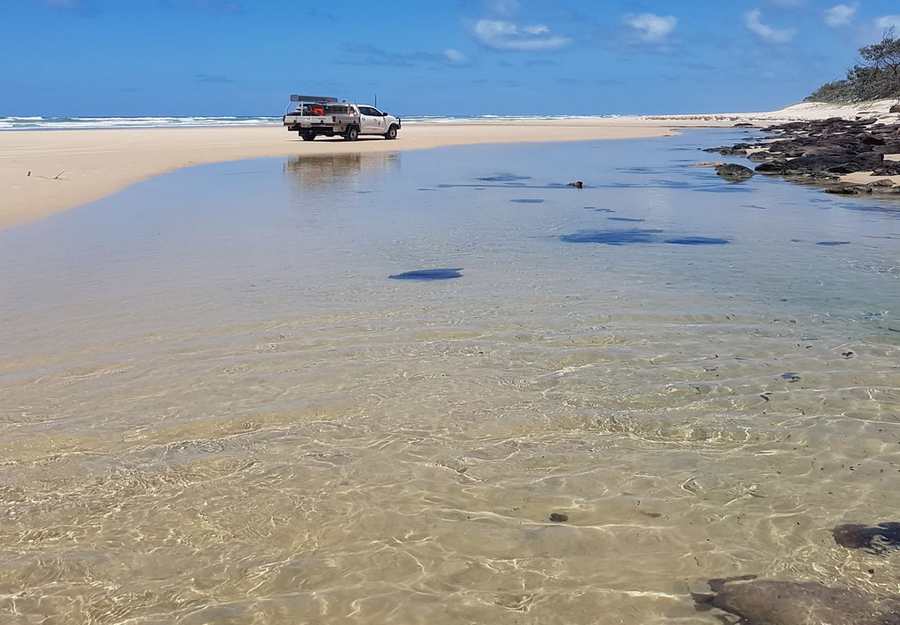 There are also some road rules to remember, including:
Always stop to help someone if they are stuck
Large buses and vehicles have right of way
Never drive off track
Give way to wildlife and pedestrians
Never drive on sand dunes
Don't drive at night
Don't drive too close to the shoreline
The Bottom Line
A visit to Fraser Island should be on everyone's bucket list. It is absolutely unique, with some of the most breathtaking scenery you will ever see. While getting there can be a little more challenging than some other destinations, there are enough options to suit everybody.
And that journey will only be the beginning of your great Fraser Island adventure!
Resource Links To Products We Use And Recommend
More Pages On Fraser Island
link to Can You Drive At Night On Fraser Island?
Fraser Island, located off the coast of Queensland, Australia, is a popular tourist destination and a UNESCO World Heritage Site. The island, which spans more than 120 kilometres in length and 24...
link to Are There Toilets On Fraser Island?
Fraser Island, which is a popular tourist destination in Australia. The island has a number of campsites and other facilities where visitors can use toilet facilities. There are on average around 22...