Australia is widely known for its beautiful landscapes, seascapes, and overall scenic views. One of the most cherished places in Australia is Lake McKenzie (Boorangoora).
This gorgeous lake is located in Queensland, Australia off the eastern coast of Australia on the world heritage listed Fraser Island (K'gari).
More specifically, it is in the Great Sandy National Park

. This stunning lake is about 1,200 metres in length, 930 metres in width, and has a surface elevation of approximately 100 metres.
This elevation makes the lake a perched dune lake. There are over 40 lakes on Fraser Island, but this lake is the most visited due to its pristine clear freshwater.
Perched dune lakes are formed when organic matter builds up and hardens into these dunes. This is what creates the elevation of the lake.
The lake is most impressive as the deepest point of it is around 6.6 metres! While its measurements are grand, the lake is certainly a place of great for exploration and admiration of naturalistic beauty.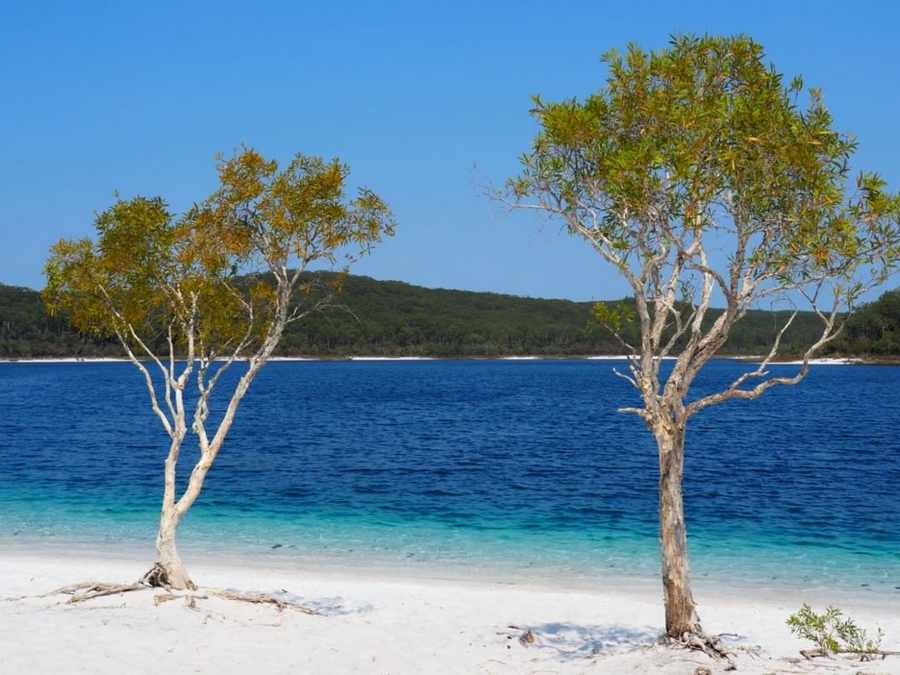 History Of Lake McKenzie
Fraser Island itself has a rich historical background and the whole island is known as the largest sand island in the world.
It was first discovered by James Cook

around 1770 and the island has been inhabited by the Aboriginal people for at least 5,000 years.
They have always called this sandy paradise island "K'gari", which means paradise. Lake McKenzie is very much a part of this history and was named by the Butchulla people.
The Butchulla people dubbed the lake "Boorangoora". They gave the lake this name because they believed that the goddess K'gari created the island and the lake when transforming into a landform.
Lake McKenzie is thought to be one of her eyes by the Butchulla people. Throughout the years, the formation of this lake and the other perched dune lakes have really added more character to Fraser Island.
Nothing is more exciting than visiting this stark and stunning lake when on the island.
The lake and the island are considered to be World Heritage sites, an honourable title for naturalistic spots to acquire!
Simply put a World Heritage site is dubbed as such because the location is considered to have extreme cultural and/or natural values that are able to be recognised by anyone worldwide.
The primary reason a location is given this particular title is to help in preserving and protecting it so that it stays a cherished part of society.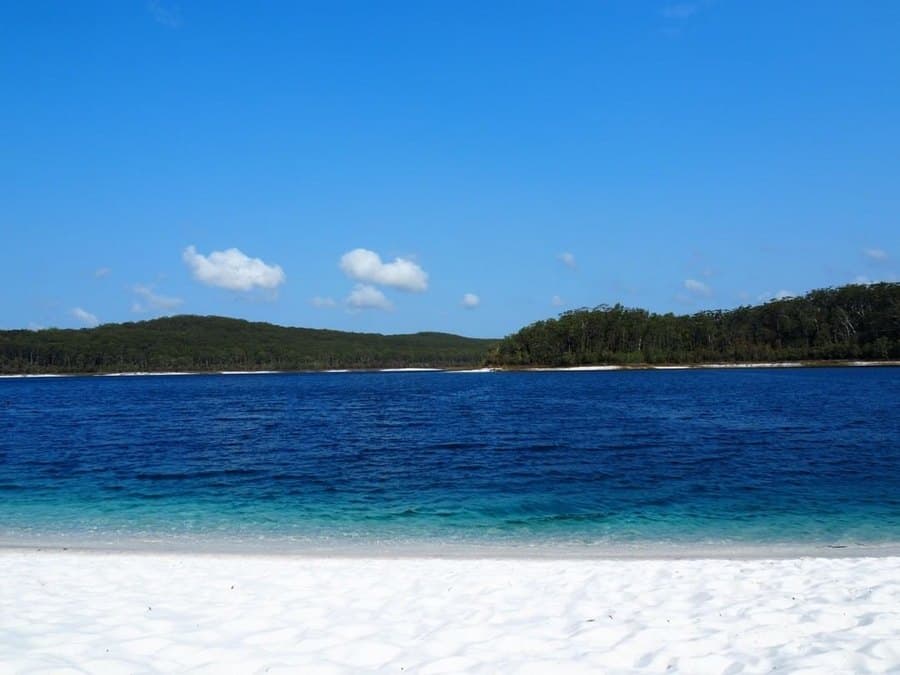 Can You Swim In Lake McKenzie?
Swimming is one of the most popular activities at Lake McKenzie it's known for swimming in luminous blue and green hue waters and crisp, fine white sands. The pure white sand comes from the silica that creates the snow-white appearance surrounding this fresh rainwater lake.
The sand is known for its exfoliating properties and the finely coarse granules will smooth skin instantly! The perched lake formation of high elevation is what gives the lake its purity and clear-cut look.
This is because the only water that enters the lake is rainwater. All of these factors contribute to the greatness of swimming in Lake McKenzie!
Another great reason to swim in the lake is that the average temperature is around 23 degrees Celcius throughout the Summer.
These perfect temperatures make for a great swimming experience!
Is Lake McKenzie A Freshwater Lake?
Lakes can vary in what type of water is contained in them. These characteristics truly define a lake's composition.
Lake McKenzie is considered to be a freshwater lake, due to the perched formation of the lake that allows only pure, unaltered rainwater to enter its crater. This unique construction has allotted Lake McKenzie to become the pinnacle of beauty as one of the purest freshwater lakes in the world.
Are There Any Fish In Lake McKenzie?
Lake McKenzie does have fish in its waters, such as Honey Blue-eye, Gobio Gobio, Ornate Rainbowfish, and Nannoperca Oxleyana. There are in fact microorganisms as well, but they do not classify as marine life. This gives Lake McKenzie its crystal clear appearance.
The majority of organic matter in the lake is at the bottom because it was used in the formation of the dune. The acidity levels of the rainwater make the lake extremely pure and mostly prevents life from surviving. The water is just entirely too pure for this to occur.
Can You Drive Or Walk To Lake McKenzie?
In order to get to Lake Mckenzie you must take a ferry to get to the island first, from there you have a choice to take a taxi that can drop you off right to the entrance of the Great Walk which will lead you to Lake McKenzie. Another option you have is to take your own 4WD vehicle and drive to one of the nearest resorts and or camping sites.
You must walk into Lake Mckenzie as vehicles are not allowed past Walkers Point Campground, which is the closest camping area to Lake McKenzie. There are several options you can both walk and drive but ultimately you will still have to take a short walk as this helps to preserve Lake McKenzie.
The only vehicles permitted on Fraser Island are 4WD vehicles. This is because the island is largely made of sand. This offroad landscape is only able to be driven with a 4WD. When taking the ferry over to the island, guests have the option to take a 4WD bus that will drive to Lake McKenzie.
The other option is to rent a 4WD vehicle to take over on the ferry and explore the island by personally driving to the lake and other locations. However, before considering this choice, it is important to note that a permit is required to drive the 4WD.
These access permits must be purchased prior to the arrival on the island and are required to be displayed on the windscreen at all times. The cost of an access permit varies depending on your needs.
Tourists or those who do not use 4WD vehicles that much will find the monthly charge as their best option. This will cost approximately $43.60 a month.
For those who are more frequent travellers, a yearly permit

can be purchased for around $218, just remember to renew it at the end of the year.
After obtaining a permit that suits your situation, it is also crucial to note that safety while driving should be practised. The sands on the island can quite the rough terrain and therefore cautious driving!
Just because safety is being implemented doesn't mean fun can't be had!
It is important to note that due to the terrain, the vehicles cannot be driven on the sands of the lake and must be parked at the car park nearby.
However, if driving a 4WD or bus isn't acceptable, it is possible to walk to Lake Mckenzie as well. There is a partially covered rainforest path to the lake and is located near a car park.
This walking path is only about 100 metres to Lake McKenzie.
For the more adventurous of people, there is a hiking path from the notorious resort, Kingfisher Bay. This trail is not overly difficult and has tons of stunning scenery along the way.
This trail is approximately 20km and will take about 6 hours to complete. The trail is considered to be a return trail, so there is an ease of access.

How To Get To Lake McKenzie
To get to Lake McKenzie, there are specific directions that can be taken. These directions are the easiest way to get to this beautiful oasis. Below are the directions that are recommended if driving a 4WD.
From 75-Mile Beach, drive from the southernmost point of Fraser Island (near where the ferries drop off guests from Inskip Point). This famous beach is the entire length of Fraser Island's eastern coast.
Drive for about 33km to the resort, Eurong.
Once at Eurong, it's time to drive inland. Near the resort, there is a one-way road to drive towards the island.
Follow this one-way road to Central Station.
From Central Station, the lake is approximately 6km away.
These directions are not only the easiest way to the lake but also give guests an opportunity to soak in other beautiful landscape scenes that Fraser Island is known for!
Read on our other page of How do you get to Fraser Island? here for more detailed info.
Google Map Of Lake McKenzie
Can You Drink The Water At Lake McKenzie?
One of the reasons people drink lake water is that they don't have access to water or for spiritual reasons, some find it healing to drink pure water. Lake McKenzie's water is drinkable, due to its purity and freshwater status, the growth of anything that would make it unsuitable is non-existent.
However, something to think about before scooping up a handful of this pristine looking water, is how it has been comprised in recent years. Growing concerns over pollutants in the water due to human use has given the water a little less appeal.
The preservation of the lake has consisted of trying to limit the amount of sunscreen and oils that people are using while swimming in the lake.
The thought of the sunscreens and oils in the water makes it less desirable to drink. However, it is still freshwater, so it is still very drinkable but use caution doing so.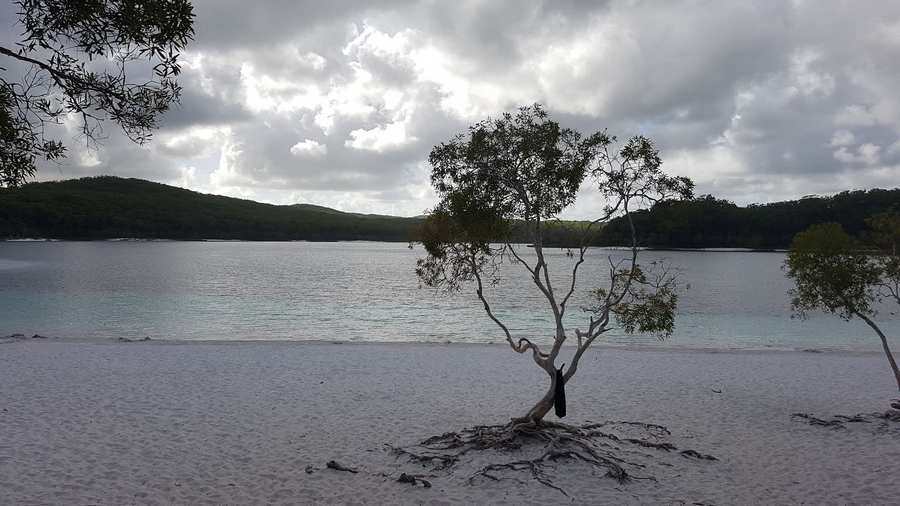 Can You Camp At Lake McKenzie?
Camping is a highly recommended way of experiencing Australia's best! The immersive nature of camping truly puts guests in a stunning landscape.
You can not camp directly at Lake McKenzie, this is to honour the land of the Butchulla People, but you can camp at Walkers Point Campground which is a very short distance away from the lake. This is the perfect spot to set up a tent and camping gear and really emerge oneself into nature.
Walker's camp is surrounded by majestic nature including some gorgeous forestry, Some of the trees guests can see while staying at this camp are bloodwood and blackbutt trees.
Just beware of dingoes and always stay alert to any and all surroundings!
Camping close to the lake is the ultimate experience as it allows for picnics around the lake and early morning scenery. This lake is a paradise for photographers and those wanting to capture this once in a lifetime trip to the lake!
However, there are other camping sites nearby that are options for visitors as well.
This includes Central Station which is only about 6km south of the lake. Central Station camping allows for small trailers and even has some small cabin facilities. These facilities include indoor toilets and sleeping areas.
There are many camping options throughout Fraser Island, however, these locations are the closest to the lake for quick access back to the lake shoreline!
Great Things About Lake McKenzie
This remarkable force of nature is quite the treat to visit. But what makes Lake McKenzie such a great place to visit? Below are some of the top reasons to visit this wonder of beauty!
Why Is Lake McKenzie So Clear?
The overall majestic nature of this lake cannot be stressed enough! Everyone's swam in swimming pools or the ocean etc, so stepping into Lake McKenzie's waters is a spectacular experience.
The colours of the lake are like a watercolour painting, shades of blue to aquamarine all melded into the shoreline. The is something truly magical about stepping into those waters and feeling the soft sand against the soles of your feet!
The sand found in Lake McKenzie is so pure and acts as its main filter keeping the rainwater in due to its organic bottom layers this, in turn, keeps the waters so clear and blue looking, overall the water found in Lake McKenzie is very clean and almost 100% clear.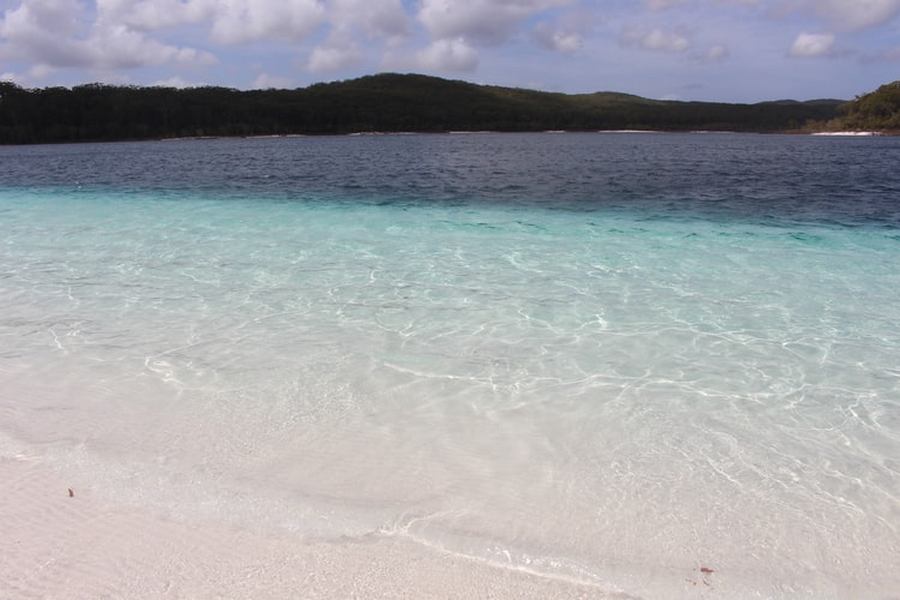 Lake McKenzie Is Bordered By A Gorgeous Forest
The lake is bordered by the Pile Valley forest and makes for great hiking and walking. Specifically, Pile Valley has a 1.8-kilometre trail surrounded by all the beautiful forestry!
Lake McKenzie Has Great Picnic Facilities
A day trip to the lake is perfect for the whole family. A day of swimming in the tranquil waters with the family isn't complete without some lunch. There are a few picnic tables dotted along the lakeside for everyone to enjoy!
There Are So Many Photographic Opportunities At Lake McKenzie
You don't have to be a seasoned photographer to get some great shots at the lake. However, if you are a professional photographer, this is the ultimate place to catch some stunning photos.
With the forest as a backdrop and the variety of colours, nowhere else is quite as special when it comes to pictures. Capturing a photo for a keepsake of the natural background is great or even snapping a candid one of a family member!
Only 4WD Vehicles Can Drive On Fraser Island
The sanded island is only accessible by 4WD and therefore makes getting to Lake McKenzie more exclusive. While it can be walked to from the car park, the cars there are 4WD vehicles.
This limits those who don't necessarily want to drive a little less of an advantage.
It is best to try and get the 4WD if possible, as that allows for the freedom to explore. However, the 4WD bus is still suitable as well.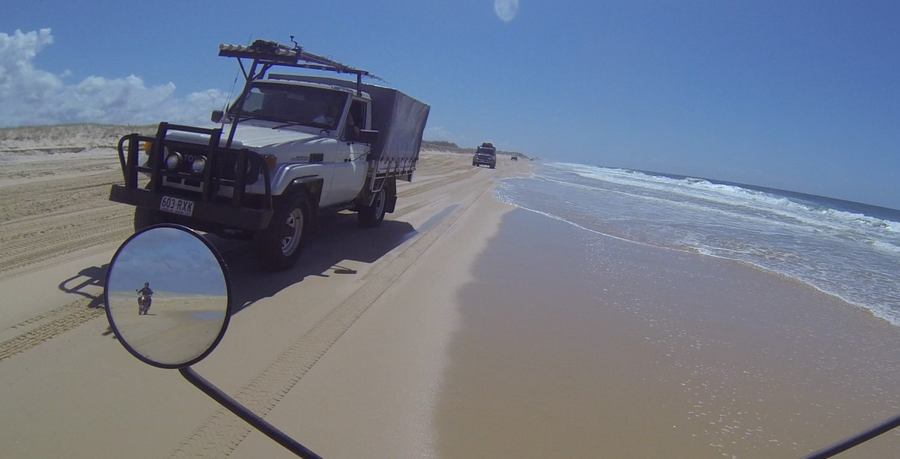 Safety Tips And When Visiting Lake McKenzie
Any trip requires a little bit of insight on what to take, and certain tips to ensure safety. Even in all its glory and beauty, the lake and the surrounding areas have certain safety precautions to keep in mind.
Below are some of the key safety tips to consider as well as some things to take!
Safety Tips:
Always be aware of your surroundings. Dingoes are a serious threat in Australia, especially on Fraser Island!
Do not attempt to feed or interact with a dingo if one is nearby.
Be cautious of the sun. While sunscreen and tanning oils are frowned upon being used at the lake( but not to say you can't use them), there are other ways to protect yourself from the sun! This includes wearing a wide-brimmed hat and wearing protective clothing like using a long-sleeved rash shirt, and sunglasses. Any way to cover the exposed skin as much as you can is crucial.
Things To Take:
Beach towels
Bathing suit or Rash Shirt and Bordies
Wide Brimmed Hat
Umbrella (for extra shade!)
Lunch, of course!
A spare set of clothing (to change into after swimming or if you decide to go for a hike or walk!)
Walking shoes
Snorkelling gear
Drinking-Water
Sun Screen (to put on after you swim not before)
Insect repellant (to put on after you swim not before)
Small Backpack or beach bag
These are just some basics and the list can be truly customized to fit the needs of the visitor. However, since vehicles cannot access the direct area of the lake, it is important to remember that whatever is brought has to be carried. Don't bring anything that you can't comfortably carry.
Things To Do At Lake McKenzie
After taking in the stark beauty of seeing the lake for the first time (or perhaps you've come back for more!), it helps to know all the great things you can do while visiting the site!
Below are some of the most fun things to do while taking a trip to Lake McKenzie!
1. Swim In The Clear Blue Waters Of Lake McKenzie
The various depths of this alluring lake make swimming for any age or level perfectly enjoyable! From the shallower ends near the shore to the deeper depths that flow into the colours, swimming in these crystal clear waters is astounding!
2. Relax On An Inflatable Bed At Lake McKenzie
Inflatables are blowup buoyant plastic accessories that can come in fun shapes and sizes. These are super portable and easily able to be brought to the lake for a relaxing day on the cool waters. They are not provided to you by the island so if you wish to do this you must bring your own.
Keep in mind some can be quite heavy to carry in and you would have to use your own hand pump to blow one up, and later deflate. But don't allow that to hinder you from bringing one if you are just camping nearby.
3. Lake McKenzie Snorkeling In The Clear Waters
While there is not any marine or plant life here, snorkelling is still a fun activity. The waters are so clear you can see quite well under the water, but why not do some underwater exploring with some snorkelling gear?
There is something quite exciting about seeing the vastness of the lake from under the surface. It is just another way to really enjoy the fascinating beauty of this perched lake!
4. Book A Tour Of The Attractions Near Lake McKenzie
There are various tours that pass through the Lake McKenzie area and take guests to other great sights to see on Fraser Island.
Some of these tours include going to Rainbow Beach, 75-mile Beach and the SS Maheno Shipwreck historical site. Going on the tour gives visitors to the lake so much to see on top of seeing the gorgeous vivid blue lake!
One particular touring company is Fraser Island Adventure Tours. This popular company is conveniently located on Lake McKenzie Road, literally only a 15-minute walk from the lake.
While they usually start at other popular locations on the island, the tours all go to Lake McKenzie as well. They offer a few different touring experiences, depending on what guests wish to see.
The first type they offer is the Adventuring tour which specifically features a trip to Lake McKenzie and starts out at the Sunshine Coast. The tour takes guests through popular spots like 75-mile Beach and then travels through the beautiful forest to the lake.
They even offer up some lunch which is some delicious Aussie Style Bush Bbq with choices like steak, fish, or even vegetarian options!
The second type of tour they provide visitors is the 4WD Tour. This exclusive tour features the bus that drives groups to Lake McKenzie and once again serves up some tasty lunch along with morning and afternoon tea available as well!
The third type of tour from Fraser Island Adventure Tours is their nature tour. These tours are more extensive and really give tourists or guests a taste of Australian nature.
This tour departs from Rainbow Beach, Fraser Island's beautiful multi-coloured sanded beach! From there, guests go quite the adventure seeing beloved spots like the Maheno Wreck, Eli Creek, coloured sand formation with over 70 beautiful colours.
Any of those tours will ensure guests see the fullest of Australia, especially when visiting (or wanting to visit) Lake McKenzie!
How Long To Stay At Lake McKenzie
How long someone chooses to stay at Lake McKenzie is purely up to them! With camping facilities nearby and the Kingfisher Bay Resort (which is about an hour and a half walk), an extended stay is absolutely possibly. Once someone swims in the clear waters, they will never want to leave.
Considering that the ferry is necessary to get to Fraser Island, it makes total sense to take full advantage of the amenities around it! There are 3-day tours available of the island as well, so booking one of those while staying close to the lake is an optimal choice!
Such a wonder of nature should be soaked up for as long as possible!
Best Times To Visit Lake McKenzie
This stunning lake is able to be visited any time of year, but there are peak times to head to its sandy shores. The best time to visit is considered to be April to October.
The reason is that during those months, it is not incredibly hot.
While the climate is subtropical, these months provide slightly cooler temperatures for any visitors. We also have a page on What is the best time of year to go to Fraser Island? this is a good guide for new visitors to Fraser Island.
Even though that is the best time to visit the lake, any trip to Lake McKenzie will be a memorable and exciting experience.
Resource Links To Products We Use And Recommend
More Pages On Fraser Island
link to Can You Drive At Night On Fraser Island?
Fraser Island, located off the coast of Queensland, Australia, is a popular tourist destination and a UNESCO World Heritage Site. The island, which spans more than 120 kilometres in length and 24...
link to Are There Toilets On Fraser Island?
Fraser Island, which is a popular tourist destination in Australia. The island has a number of campsites and other facilities where visitors can use toilet facilities. There are on average around 22...