Hervey Bay Airport
The Hervey Bay Airport was recently refurbished a few years ago due to more visitors to the area that were flying in. Also, the airport welcomed larger planes and trips to Sydney and back daily, bringing even more people to the area. With the airport becoming busier daily, it was time to update.
And update they did. Not only did the airport area become larger, but it also welcome a café, which sells gourmet sandwiches and beverages. The bar is also licensed and sells beers and wines. Coffees are second to none at this café, with expert people on board ready to make you something divine before or after your flight.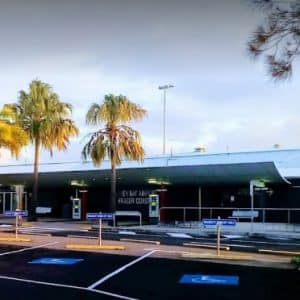 The café is open at 10am daily and there are plenty of comfortable seating for you to relax. Also located in the airport is Quintessential.It is a keepsake store. With information on food and dinning in the area of the bay for those flying into the area for the first time. The lovely staff are on board to help you with any questions you may have about Hervey Bay.
Also in the store is lovely gift ideas and tourist keepsakes for those leaving the Bay on a flight home, but wishing to buy something to keep for themselves, or for someone else. There are some fabulous ideas on offer for you to browse through.There is a ATM facility within the airport so you can access money. In the terminal you will locate internet facilities for your personal use before or after your flight. Please see staff for any help you may require for using these. Baggage trolleys are available to help you get your luggage to and from the airport.
There is amenities, with a changing area for those travelling with babies or smaller children and a tourist information desk will provide you with any extra questions you may have about where to stay or where to dine in the Bay.
If you are in need of transportation to get you to and from the airport check out our Car hire page here.