Some Of The Best Beaches In The Bay
The Hervey Bay area lines the eastern coast, or Fraser Coast Region, of Queensland. These waters are said to be some of the calmest and most desirable to venture to.
Visitors will find their beautiful sands and clear waters to be quite fantastic. These beaches often are right near local small coastal villages that are also just as charming as their beaches.
Moreover, the beaches line the esplanade, a 16km stretch of walkway lining the bay area. The esplanade is an excellent way to experience the natural beauty of the beachfront areas while still being close to the things within the cities and villages!
The beaches in Hervey Bay are most popular due to their pristine and tranquil waters. They not only make for photographic opportunities but are generally safe for water activities.
With this in mind, what are some of the beaches within the Hervey Bay area? Below are some of the more notable beaches throughout Hervey Bay!
How Many Beaches Are In Hervey Bay?
You will find many of the beaches located in Hervey Bay along the esplanade offering great views of the ocean and a place to relax and get away from the stress of day to day life.
With 16km of waterfront beaches to explore, go walking, and eating some great food, there are many things to do at the beaches found in Hervey Bay.
The total amount of beaches for Hervey Bay is 10 beaches including surrounding areas like Toogoom and Burrum Heads that are safe for swimming, walking and relaxing on your holidays.
1. Pialba Beach Front
Pialba, one of the coastal cities in Hervey Bay, is known for its beach that sits close to its caravan park. Caravan parks are huge in the bay area as they offer the perfect area for campers or RVs to set up camp right near its beach.
Not only will guests to this beach have access to one of the most popular caravan parks but also to the simple beauty of the beach itself.
Even if someone isn't staying at the caravan park, access to the beach is right off the esplanade, much like the others on this list!
Going for a stroll on the esplanade can warrant a pit stop at all the local beaches that line it!
2. Scarness Beach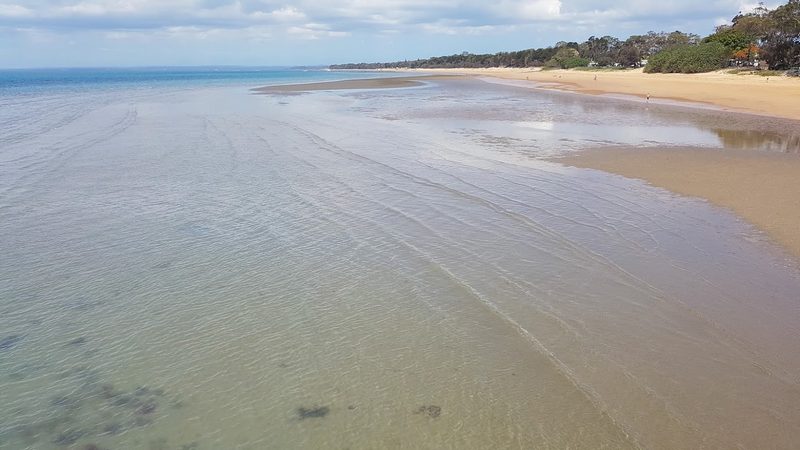 The caramel coloured sands at Scarness Beach are a sight to see, however, its waters are also calm like the other Hervey Bay area beaches.
One of the most popular reasons that the beaches in Hervey Bay are highly sought after by visitors is due to them being stinger-free. This means safe swimming, boating, jet skiing, etc.
Scarness Beach is a hot spot for a small reef system that is a gorgeous sight to see while snorkelling. Aside from snorkelling, the waters here are ideal for all other notorious beach activities.
This beach is also nearby local shops and eateries for guests to indulge in as well.
3. Torquay Beach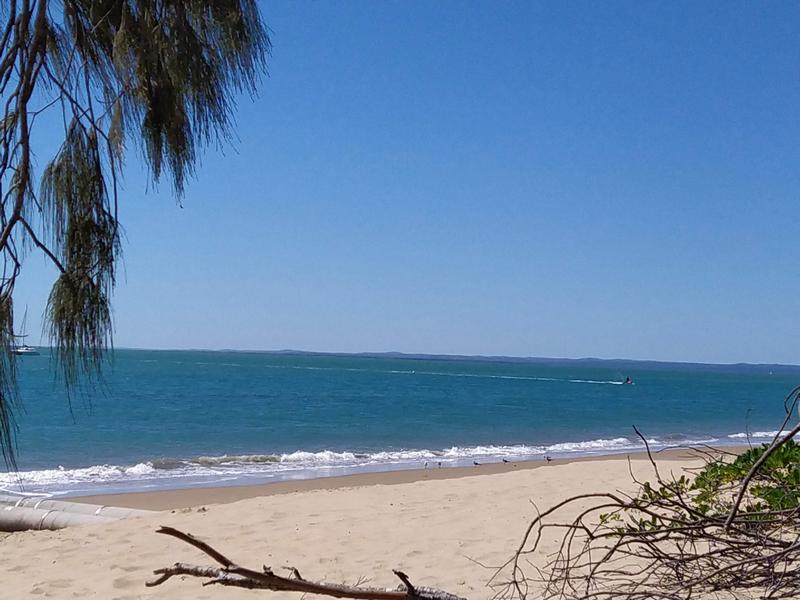 Torquay Beach isn't far from Scarness Beach and also offers its own small section of the reef for snorkelling adventures. This beach is also known as a great spot for fishers, swimmers etc.
With just about 800 metres of beach to explore, there is plenty of room for guests to enjoy this sandy area. The beach also lines the esplanade, so those looking to dart back and forth between the esplanade and the beach will find it super easy.
Torquay is also a great Hervey Bay town with various boardwalks and boutiques to explore.
4. Urangan Beach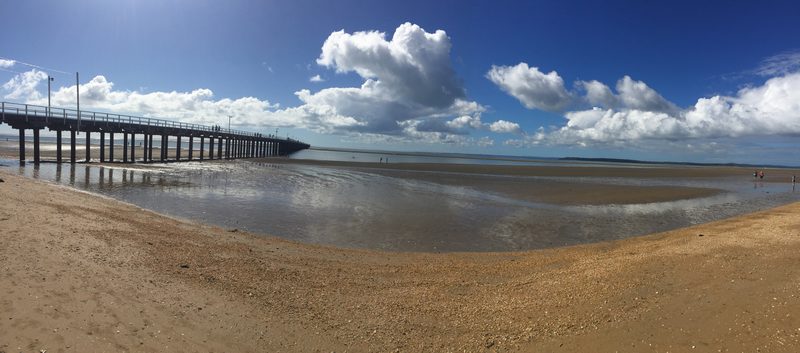 Urangan is mostly known for its historical pier that stretches about 868 metres. While this pier is a great place to visit for fishing now as well as sightings of marine life, the nearby beach is a treat as well.
The beach is north-east facing and specifically runs from the rocky area bordering Torquay Beach down to the Urangan Boat Harbour. It can be classified as two beaches and safe swimming, it's best to swim during high tide, though with caution.
While most all Hervey Bay beach areas can be safe for swimming, some are more suitable for strolls along the sand or fishing. Fishing near the harbour walls is said to be the best at this beach.
5. Point Vernon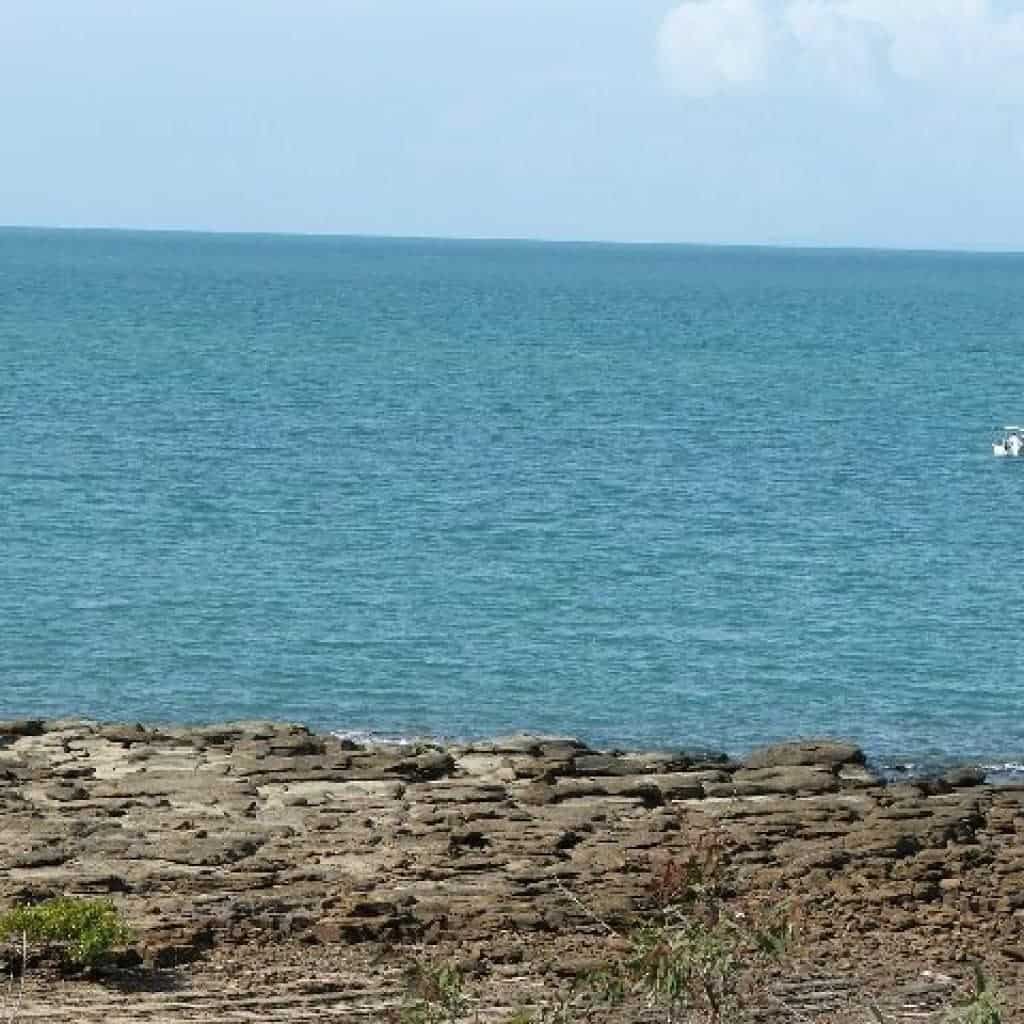 A small suburb of Hervey Bay offers more of a rocky beach area than sand. Point Vernon is well known for its great sea views and its beach fishing from the rocks. You will find many parks and BBQ areas along this beachfront area.
6. Gatakers Bay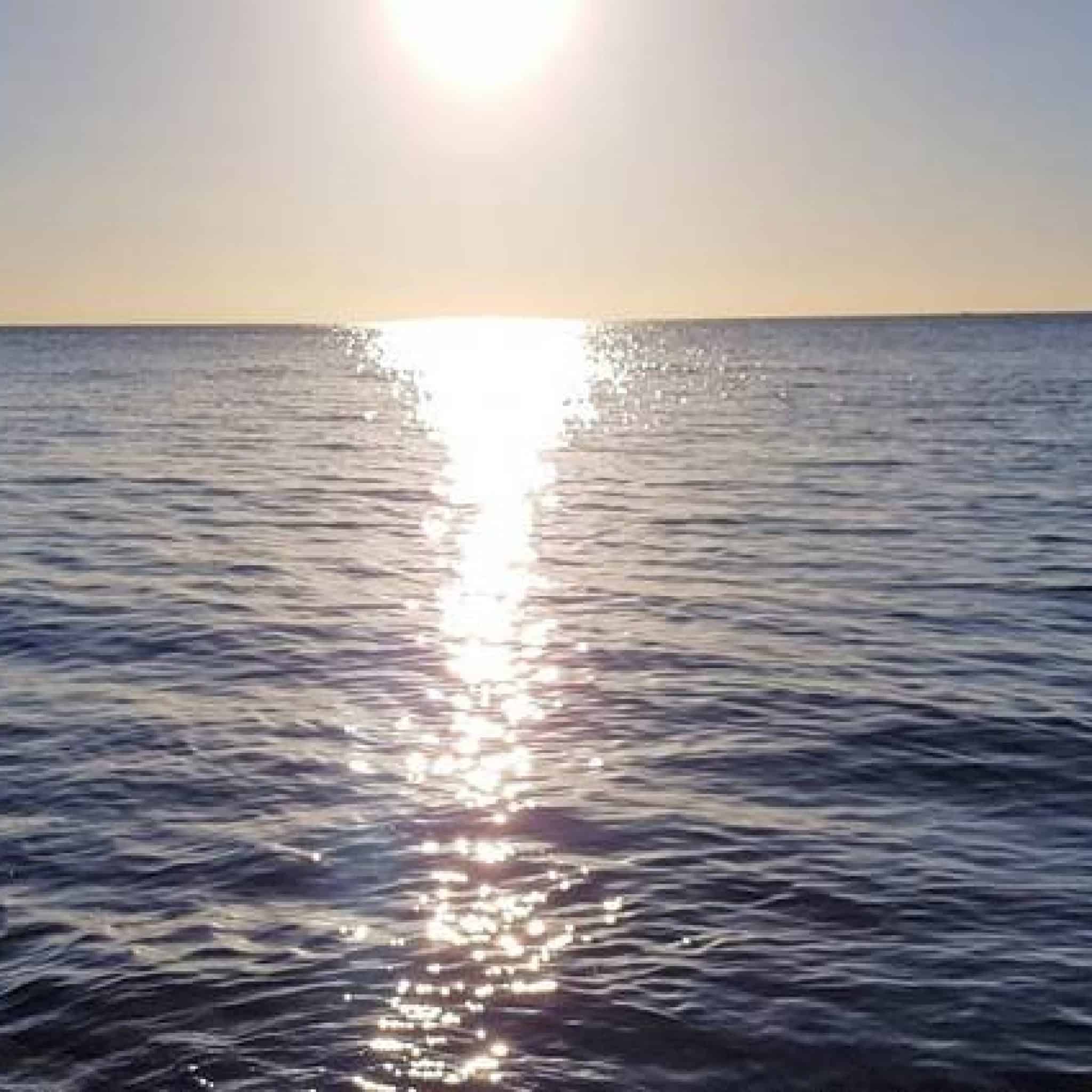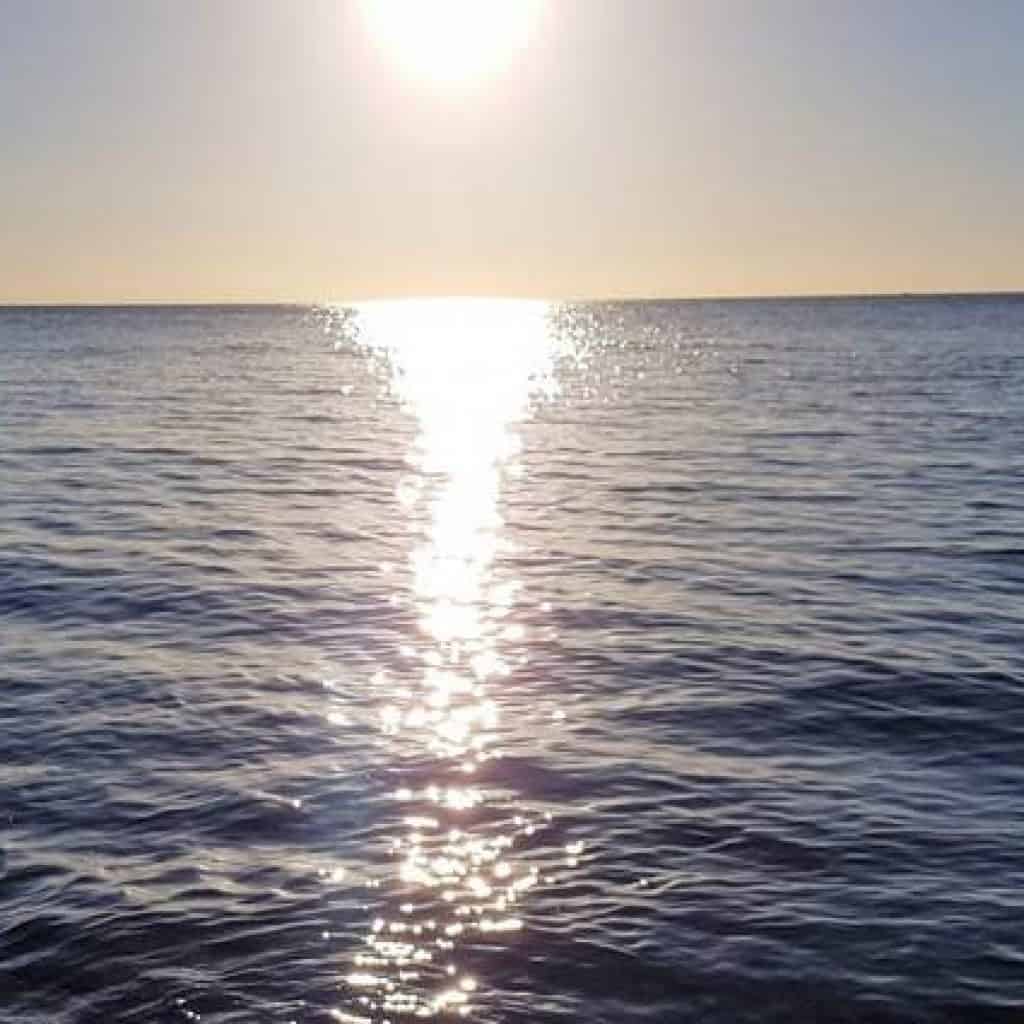 This part of the Bay offers sandy beaches mixed between rocky outcrops these rock pools make for great exploring for kids and adults alike. Gatakers Bay also has a boat ramp for the keen fisherman the waters here make for great sunsets late in the afternoon
7. Dundowran Beach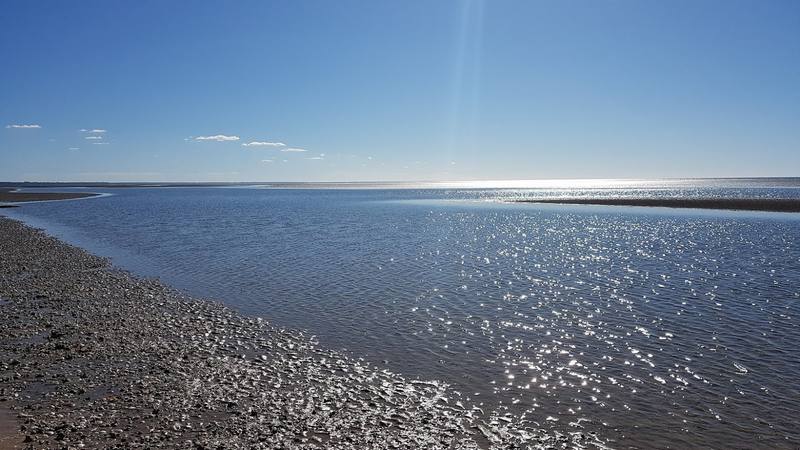 This beach is about 8km stretching between two creeks, Eli Creek and Oregan Creek. Because of its location, it is known for being a bit secluded and private which is desirable for those looking for a more personable beach experience.
Its location also draws in fishermen looking for a private catch. While is a bit outside of Hervey Bay (sitting about 5km just outside of Hervey Bay specifically), it is still considered a part of the bay area.
8. Craignish Beach
Within close proximity to Dundowran Beach, Craignish Beach is another small beach that is ideal for small strolls, picture opportunities, and fishing.
Craignish itself is a very small town and its small slice of the beach is a joy for many visitors.
Those who are at the local golf club or local eateries or pubs will be super close to the beachfront area.
Moreover, the beach is near the Eli Waters Shopping Centre. Exploring the area and this small beach is the perfect way to spend time in Craignish.
9. Toogoom Beach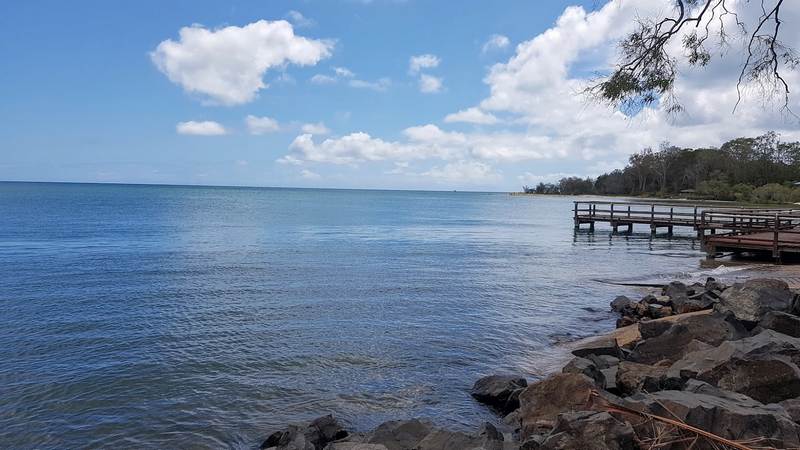 Toogoom Beach is another calm beach that is ideal for swimming or fishing for its guests. This beach sits near Beelbi Creek and stretches for approximately 7km from the creek to Oregan Creek.
While it is unpatrolled, Toogoom Beach is a swimmable beach, except for the areas near the creek mouths. Creeks are known for strong currents and can pull people under.
Swimming should be done at high tide away from these areas. Low-wave bodyboarding is also possible as well as fishing.
Those visiting Toogoom Beach will also find themselves near wild birds and the local beachfront restaurant, Goodys on the Beach.
The restaurant is known for its fresh seafood and various takeaway items. Those exploring the area will find the restaurant to be a great lunch spot!
10. Burrum Heads Beach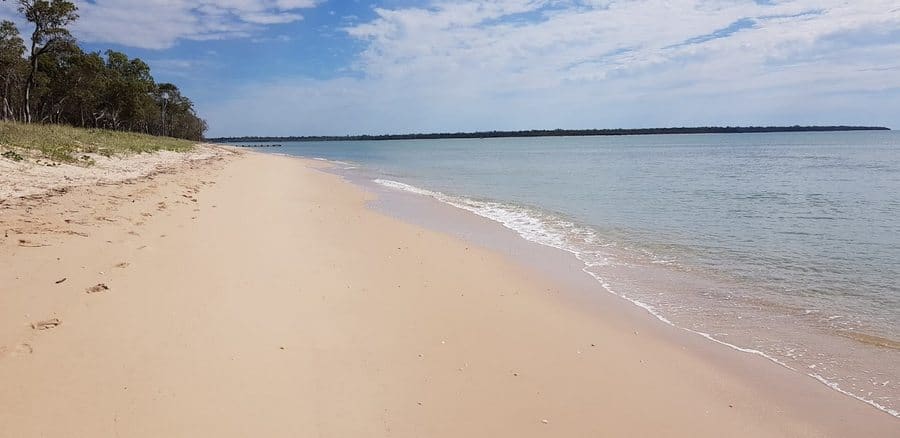 This small beach town is roughly 20 minutes from Hervey Bay here you will find some amazing beaches with practically no one around. Burrum Heads is also well known for its fishing and boating with many choosing to stay at the local caravan park right on the beachfront.
Google Map Of Hervey Bay Beaches
Can You Drive On The Beach At Hervey Bay?
With over 16km of pristine beaches, you might be thinking I just can't wait to drive on these beaches right? Unfortunately, that does not happen in Hervey Bay as the beaches here are protected by the local council.
There are a total of 10 beaches in Hervey Bay including the surrounding areas of Burrum Heads and Toogoom, but as a general rule driving on these beaches is not allowed due to the safety of the public beachgoers and the foreshore environment.
So Much More Than Just The Beach
The variety of beaches in the Hervey Bay area is such a treat for visitors and residents alike. With calm waters to swim, fish, or partake in other notorious beach activities, the beaches are more than just beaches.
They are hubs for enjoying Hervey Bay at its best. Moreover, these beaches are gateways to the coastal villages that they sit near. From shops, hotels, caravan parks, shopping centres etc., there is simply so much to do while at the beaches in Hervey Bay.
The beaches in the Bay Area are also known for being safe to swim in. The reasoning behind this can be attributed to the waters being protected by being close to the world-famous Fraser Island, a world heritage listing that is naturally protected as well.
The stinger-free waters in Hervey Bay are yet another attractive reason to visit the beaches.
The waters in the bay also attract humpback whales in July. Humpback whales make a stop during their migration to frolic in the calm waters in the Fraser Coast Region.
There are boating tours that offer guests a prime view of these creatures, which is another perk to the beach areas and waters around the bay area.
Hervey Bay Beach Water Temperatures
The water temperatures on the beaches off of the Hervey Bay coast will vary depending on the season.
Mostly, the waters are comfortable year-round but on average, they are 27 degrees Celsius in winter, 25 degrees Celsius in spring, 19 degrees Celsius in summer, and about 23 degrees Celsius in autumn.
The temperatures are not much different, making the beaches great to visit year-round.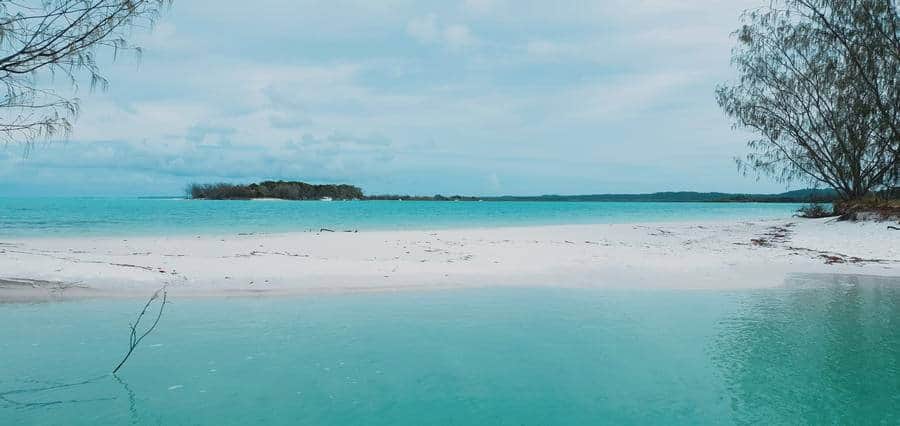 Where Can I Swim In Hervey Bay?
Between the coastal villages and towns to visit, the beaches are another great way to enjoy Hervey Bay. However, as expressed before, the esplanade stretches along with these areas as well.
The esplanade directly runs from the Urangan area up to the northeast to Point Vernon. The esplanade is a walkway that separates the beachfront from the coastal villages and cities.
It is a great way to soak in the natural beauty of the beaches and the local culture as well. The esplanade is also popular among those who want to exercise with spectacular views of the beach along the way!
While the beaches listed above are mostly unpatrolled, they can still be enjoyed for swimming. It is important to stay alert on unpatrolled beaches. While there aren't stingers in the water, practising some caution is always suggested.
Swimming with caution is recommended as well as staying alert. No matter what, the beaches in the Hervey Bay area are an exclusive way to enjoy pristine waters, prime fishing opportunities, and more!
With villages to visit and small reef systems to snorkel in, there is simply a lot to do. Aside from these things, the beaches in Hervey Bay can offer some spottings of marine life as well.
Quite Beaches Of Hervey Bay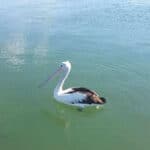 This includes some tropical fish, sea turtles, humpbacks (of course, since it's the whale watching capital of the world!), and various seashells. Seashells should only be collected where allowed.
Seashells are protected parts of some beach areas in Australia, as they are an essential part of the ecosystems.
While the spotting of marine life isn't always guaranteed, it can be possible, which makes the experience at the beaches in Hervey Bay even more exclusive!
Visiting Hervey Bay is an adventure in itself, but visiting its beaches is even more of a treat. Not only are they relaxing in some areas but also exciting as well for those looking to fish, boat, or swim.
Resource Links To Products We Use And Recommend
More Pages On Things To Do
link to What Is The Best Time Of Day To Go Snorkeling?
Are you ready to plan your next snorkeling trip? In that case, you must be wondering when is the right time to go - read this article to find out! Snorkeling can be a fun and rewarding experience,...
link to What Is The Best Day To Rent A Car?
Renting a car can be expensive. Between service fees and general charges, the price can really rack up. Even what day a rental car is picked up can save a few bucks. However, knowing some general...