Australia is often known for its coastal paradises and white-sanded beach fronts. However, there is more beauty to Australia that doesn't include beaches, islands, or marine life.
One of those areas includes Biggenden, Queensland. Located in the North Burnett region of Queensland, Biggenden is a rural area that is nestled between mountainous cliffs and stunning naturalistic landscapes.
This stark beauty is a quiet and relaxing way to enjoy a different kind of beauty that is in Australia.
Biggenden is a good way inland from some notable coastal areas. It is said to be about 282 kilometres from Brisbane, 117 kilometres from Hervey Bay, and about 98 kilometres from Bundaberg.
Because of its more mainland location, Biggenden is known for its farming lands (including cows and pigs along with crops), and timber logging. This quiet, rural area is known to only have a population of around 900.
While it is a relatively small town, Biggenden is about 219 kilometres square in size. Moreover, Biggenden is a crucial part of Australian history.
This town is said to have been established near 1889. In those days, the town was known for being a service centre, specifically during the gold rush times.
With a rich history and strong farming lands, Biggenden, Queensland is truly a unique town in Australia.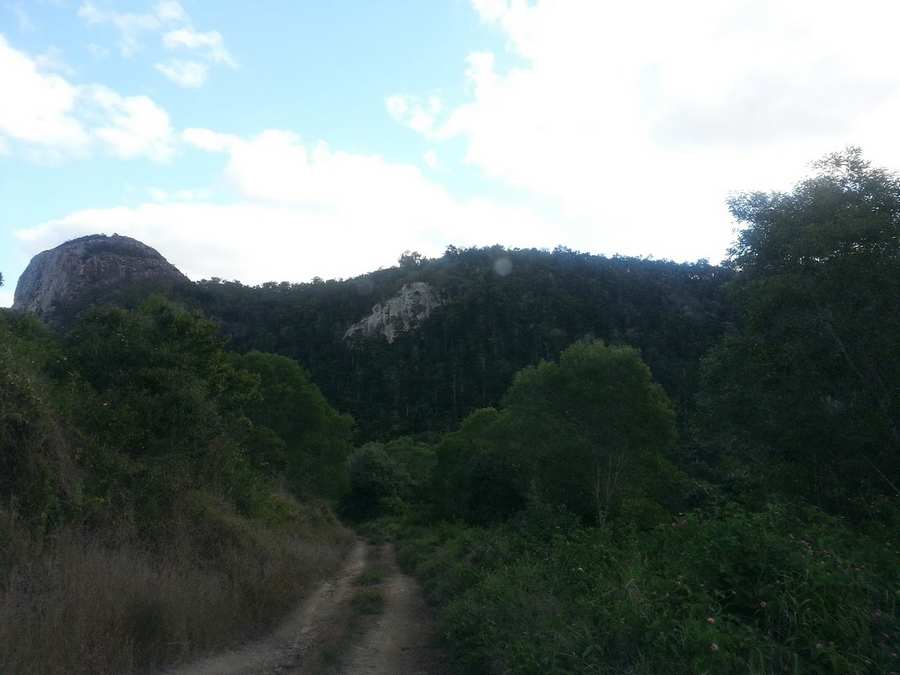 Biggenden History And Facts
Even though it is known as a farming town, Biggenden has so much more to offer those looking to visit or learn more about the town. Farming is a well-known part of the town, but perhaps even more interesting is that it is a mining town.
The mine in Biggenden is said to be running to this day and were first founded somewhere in 1888.
Gold and bismuth deposits were exclusively extracted from the mines between the years 1890 and 1912. As the mining extraction continued, gold was the primary mineral found here.
Through further discovery, bismuth also became a pretty common mineral found in the mining area. In 1934, the area was named the "Mount Biggenden Bismuth Mine". The mining area is specifically about 8 kilometres outside of town.
After its renaming, the mine was also referred to as the "Biggenden Deposit" as over the years, other things were discovered while mining in the area.
But what exactly has been found at the mine? Below are the top deposits that have been found in the mine over the years!
Google Map Of Biggenden
Minerals Found In Biggenden Deposit
Gold
Bismuth
Magnetite
Fluorite
Galena
Quartz
Pyrite
These are just some of the minerals that have been extracted from the deposit. There are said to be over 60 valid minerals discovered in this area. The mining in Biggenden has certainly been a critical part of the historic aspect of the town.
Especially during the gold rush era around the town.
While mining and farming are iconic identifiers for Biggenden, Queensland, this majestic rural town is also known for things like its large rose sculpture, named Biggenden Rose.
This rose sculpture was added as a centrepiece to the town in 2016 after a rose festival. It is located along Edward Street in the town. Edward Street is also home to the artwork of the metal art sculpture of "The Pioneer".
Specifically, it is in Beiers Park and was erected to honour the first settlers to the town that formed the footing of timbering, farming and mining.
Biggenden has a lot packed into a little town. Moreover, its historical museum (founded in 1980) is a central part of the town that preserves any and all historical aspects pertaining to the town.
This keeps its historical past available for viewing and learning. While its surrounding land contributes to being emerged in Biggenden's history, the museum is another great way to dig into this town's deeply rooted history!
Another great spot to check out while in Biggenden is the Chowey Bridge

. This historical bridge is about 18 kilometres away and a 19-minute drive from Biggenden. It is known for being a railway bridge.
What makes this an iconic bridge to see is its architecture. The bridge is identified by its large lower arch and pillared arched openings along the top of this arch. This unique bridge is not only beautiful but another great aspect of the region's history.
Camping In Biggenden
Because of its idyllic placement among mountainous scenery, camping in Biggenden. Queensland is highly desired. It is a more rustic, naturalistic, and nature emerged experience.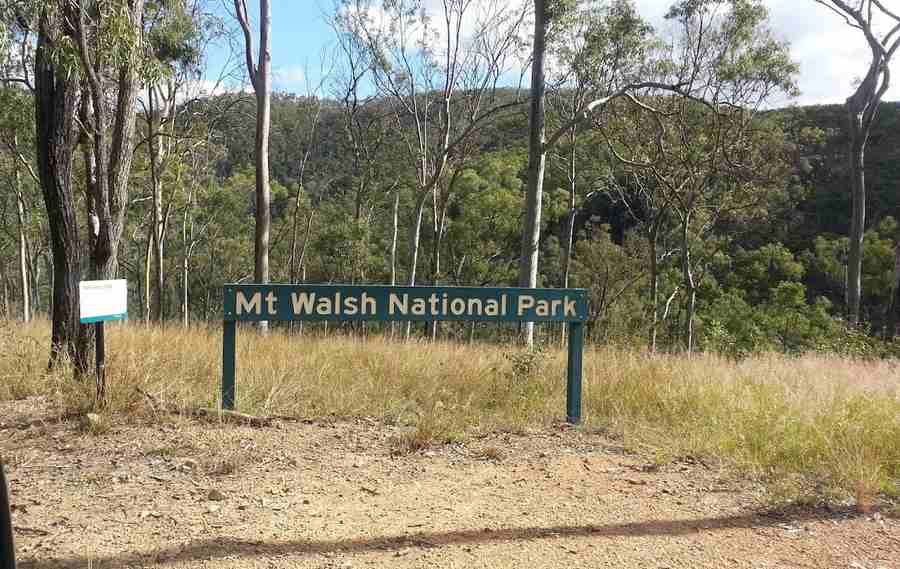 The town is also very close to Mount Walsh

, which is a gorgeous mountain in the area. There are two main camping options for Biggenden, the Mount Walsh National Park (also called Biggenden National Park) and the Mountain View Caravan Park. Both are great options for enjoying the great outdoors around Biggenden.
The Mountain View Caravan Park is a popular area to set up camp. Caravaning is a popular way to camp around Australia and is usually associated with coastal towns. However, caravaning can take place in areas more inland like Biggenden.
Mountain View Caravan Park is a spacious 3-acre site with over 30 powered slab sites, self-contained cabins, and unpowered slab sites. This gives guests plenty of options to unwind and relax while being surrounded by rugged mountain views.
This popular spot is also known as being a central point to visiting all the notorious areas like the Chowey Bridge, the national park, etc. It even offers a free camp kitchen dinner during its peak season.
Mount Walsh National Park (also known as Biggenden National Park) is another great choice for camping around Biggenden. Camping in the national park is one of the most rustic camping experiences that someone can have in this area of Australia.
There are no amenities and camping is considered to be "bush-camping" which is camping among the natural setting of the park. Moreover, the terrain and conditions are considered rugged and untamed.
This type of camping should only be attempted by those who can camp in these types of conditions. Guests should contact the ranger in charge to ensure the areas that are best for camping.
Camping in the national park requires camping permits that must be attached to the tents at the campsite. The reasoning behind checking with the ranger in charge of specific bush camping locations is due to certain areas being prohibited from camping.
All bush-camping areas will be accessible by walking. There is no camping permitted within the limits of the summit of Mt Walsh and the areas around the Waterfall Creek and its rock pools. This is done to preserve the natural conditions of the area as well as for the safety purposes of campers.
Biggenden National Park
Biggenden National Park

, or the Mount Walsh National Park, is one of the most beautiful natural parks in Australia. The park is rugged and full of plenty of places to explore.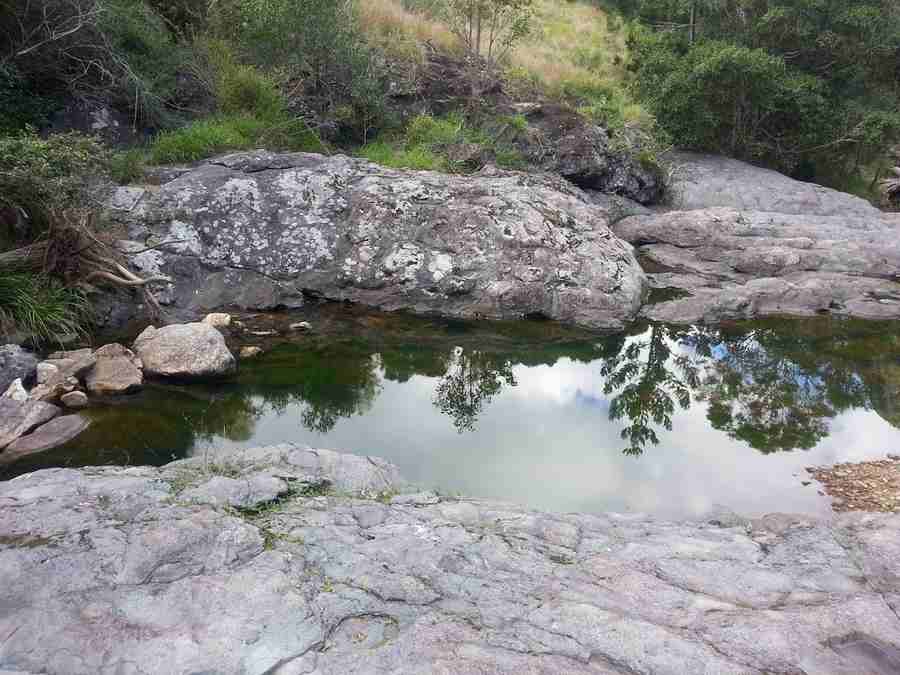 While Mount Walsh is its natural adventure, the national park has some key points to visit as well. These include the Mount Walsh day-use area, walking trails, rock pools and the Coongarra Rock section.
The park is a wonderful blend of vegetation, granite rocks, mountainous views, and of course wildlife!
The Mount Walsh day-use area is a family-friendly area with sheltered picnic areas and scenic views all around, including mountainous views.
It is important to note that this area only has water that must be treated before drinking. It is also required (as it is in other parts of the park and mountain) to clean any and all rubbish that is generated by visitors.
The walking trails in the park are perfect for those looking to explore the rainforest trees and be surrounded by the overall beauty of the park. The trails vary in degree when it comes to the experience of the walker.
Certain bush-walking experience is necessary. This essentially means having enough water, proper clothing and shoes, and perhaps a compass to navigate these tracks.
Another track option is the Rock Pool Track which takes approximately an hour to complete. This track will set guests on the track passing the infamous rock pools of the park!
The rock pools in the park are easily accessibly by a car during drier weather and a gorgeous natural phenomenon. They are often called the "Mt Walsh Utopia Rock Pools".
These rock pools do require 4WD for closer access, however, the walk there is not that horrible and the walking track leads to the area known as the rock pools.
Surrounding by running water into the large open pool area, formed by rock formations is stunning to witness first-hand. They feature cool, clear waters and the area where water rushes into the pools can be used as a slide.
It is important to know that the rocks can be slippery and some areas may be deeper than others, so take all precautions to be aware of the surroundings!
Another great aspect of the Biggenden National Park is the Coongarra Rock section. This area is only accessible by 4WD and is quite a sight to see.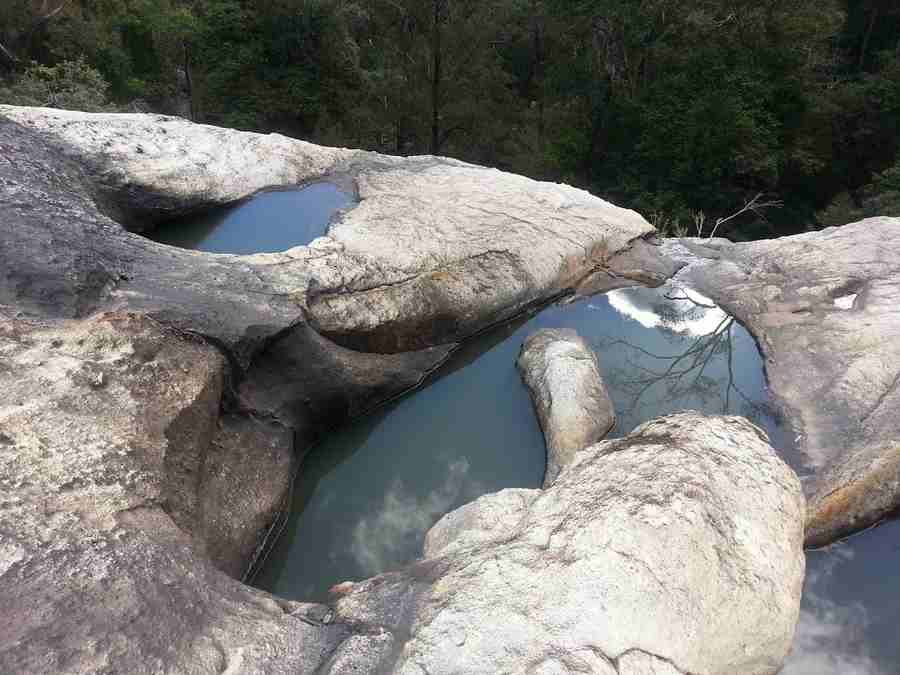 This rock is said to be about 500 meters high and is great for snapping photos. Those who truly enjoy 4WD in rugged areas of Australia will find this section of the park to be most exciting!
The wildlife that can be experienced at the park is what brings Biggenden National Park full circle for visitors. While the park itself is a natural beauty to see, the wildlife is absolutely a wholesome experience to visit.
But what kind of wildlife can be seen at this rural national park? Below are some wildlife creatures to possibly catch a sighting of!
Biggenden National Park Wildlife
Wonga pigeons
White-throated treecreepers
Swamp wallabies
Red-necked wallabies
Powerful owls
Grey goshawk
Other wildlife can be found in the park, however, these are said to be the most spotted creatures. Always practise safety measures if coming into contact with things like dingoes or wallabies.
Being alert is the number one way to ensure nothing happens. Staying calm and not provoking any wildlife is another key tip.
Mt Walsh Biggenden
Biggenden, Queensland is known for quite a lot of beauty and historical contributions to Australia. However, Mt Walsh is a notable mountain in the area.
When visiting the Biggenden National Park, it is possible to explore Mt Walsh. However, only those in good physical condition and who experience rock scrambling are suggested to partake in this activity. This ensures the safest experience is had by all.
Mt Walsh has a summit walk to reach the top. From there, the view is indescribable, only guests should know it is truly breathtaking. The summit route walk takes approximately 3 hours and once again is only suggested for those in good physical condition.
The last part of the walk to reach the summit peak of the mountainous area is where hand-over-hand climbing (or rock scrambling) is required. This track starts the base within the Biggenden National Park and scales upwards to give access to one of the most idyllic summits in the area.
The elevation of the mountain is said to be around 681 metres. However, the summit portion (or accessible part of the mountain) is said to sit around 462 metres of climbing.
It is well worth the trip up the mountain! When doing anything in nature, there are always precautions to consider. When it comes to scaling this mountain for its once-in-a-lifetime views, there are certainly some suggestions for a safe time!
Below are some things to watch out for for a safe trip during the summit walk.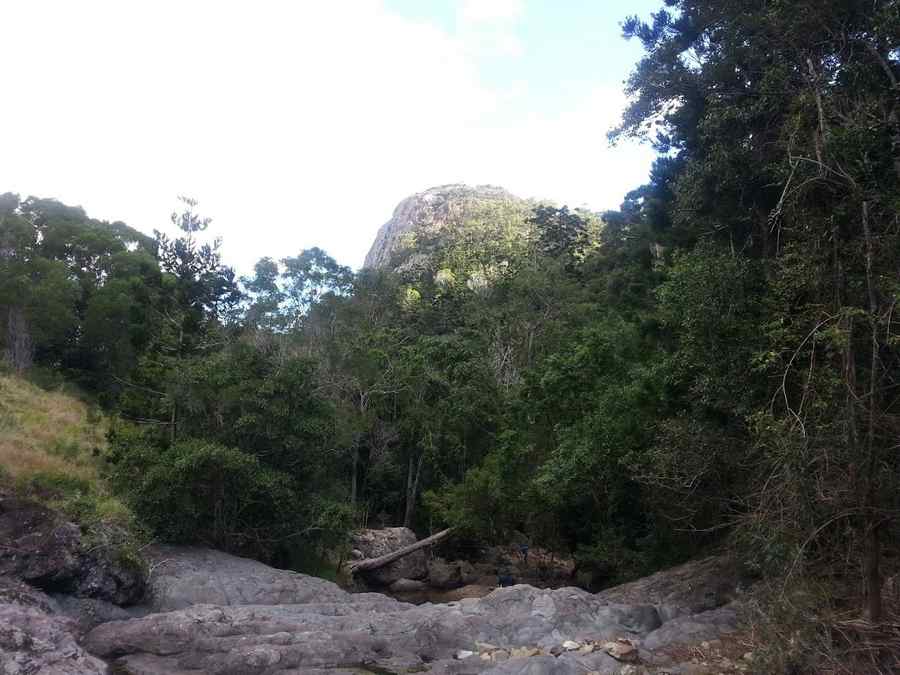 Tips For A Safe Summit Walk
Heat exposure – both from hot rocks on the mountain and the sunlight in general. Water should always be taken!
Rock debris – loose rocks can chip off any part of the mountain. A watchful eye can ensure no injuries happen.
Jagged rocks – this can pertain to steep and unstable rock areas.
Narrow areas – the mountain can have narrow areas including drop off cliff areas.
Slippery rocks – rainy conditions means the rocks will be unsafe to scale.
Mist or Cloud – mist and clouds can create poor visibility among the mountain!
Anyone looking to enjoy the summit of Mt Walsh should consider these possible unsafe situations and keep watchful eyes out while on the summit walk.
Whether someone wants to camp in Biggenden, see the mountain summit or enjoy all the historical aspects of this rural town, Biggenden, Queensland is the place to be.
It is the perfect area for those wanting an experience in Australia that might not include any beaches or island areas. Everyone has a different taste in their adventuring experiences and Biggenden provides ample beauty and exploration for those people!
Resource Links To Products We Use And Recommend
More Pages On Other Areas