Throughout the world, sports play an important part in many communities. Sports are an exciting way to get exercise, be a part of a communal team, and enjoy participating in something fun.
Sports precincts are a popular way to provide ample space and access to fields or courts so that a community can play or compete in the sports they engage in.
This is particularly true for Hervey Bay, a part of the Fraser Coast Region in Queensland, Australia.
The Hervey Bay Sports Precinct is also known as the "Fraser Coast Sports and Recreation Precinct". The facility is an amazing addition to the Hervey Bay community and supports local sporting enthusiasts by providing space for matches, events, and more.
With just over 60 hectares, the precinct proves to be suitable for a variety of sporting events.
The precinct opened its doors to the public in February 2019, so it is definitely still a newer facility to the community. Even still, in its short time since opening, the precinct has attracted people of all ages seeking a space to enjoy some of their favourite sporting games.
Hervey Bay Sports Precinct Features
The precinct is known as a "multi-stage" facility due to the fact that it features space for a variety of sports. These sports include hockey, Oztag, Soccer, AFL, rugby, netball, tennis, and touch football. Currently, its stage 1 facility offers space for netball, Oztag, and soccer.
There are 8 netball courts that are up to par with Australian requirements for this sport. Additionally, the netball courts have special acrylic non-slip court surfaces for more functional playtime.
There are also 2 premium soccer fields as well as 2 standard playing fields. All four of these fields meet FIFA specifications for playtime. Oztag utilises 3 soccer fields which equate to 6 standard oztag playing fields.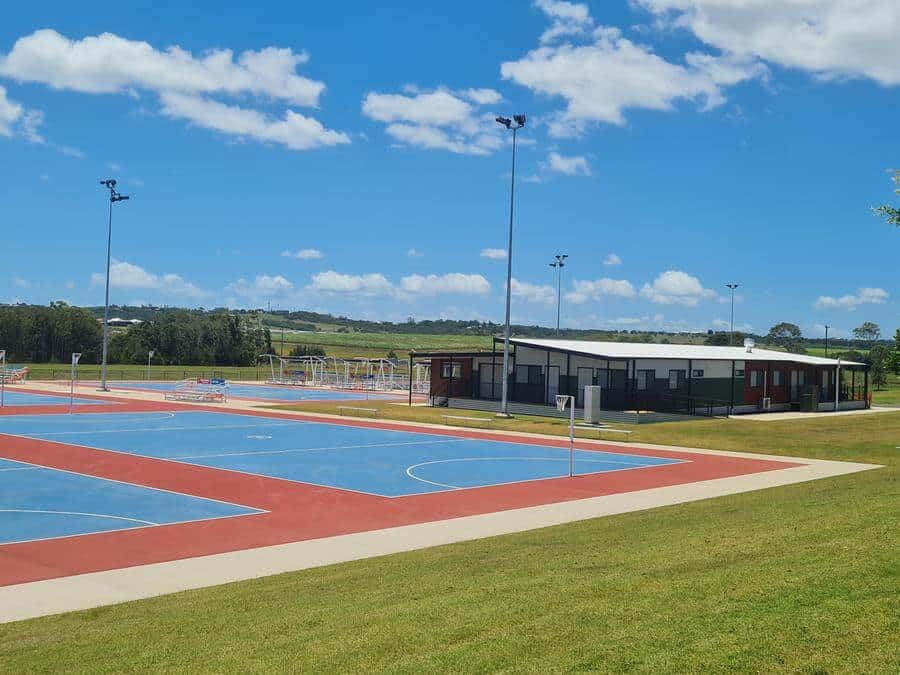 As the facility continues to grow, more fields and sports will become readily available. However, netball, soccer, and Oztag have been quite popular among the locals and visitors. In addition to the playing fields and courts, there are two lux clubhouse facilities for changing, etc.
In December 2021, the precinct proposed adding pump tracks to the facility. These pump tracks are designed to create a different type of workout space. This is achieved by riding the track of circuit rollers that feature banks and turns that require momentum through up and down body movements.
These unique tracks will certainly add a bit of edge to the Hervey Bay Sports Precinct.
The pump tracks will have three levels to suit all levels of experience including beginners, intermediate, and experienced riders. For now, the local council is still deciding the best location for the pump tracks within the overall plan of the precinct.
It is said that 2022 will bring forth that decision in the new master plan for the precinct. You can view the master plan here

.
The council is also proposing pump tracks just outside of the precinct area in Maryborough as well. Once again, it is all still in the proposal stage but the council is seeking space potentially in ANZAC Park and Brendan Hansen Park.
Both parks in Maryborough would be a great spot for the addition of these unique pump tracks.
The council is excited to hear from locals about which park they feel would best suit the pump tracks.
Either way, the pump tracks will bring excitement to the Hervey Bay Sports Precinct as well as the Maryborough area, providing that the community approves and it officially gets passed through the council for a green light to start construction.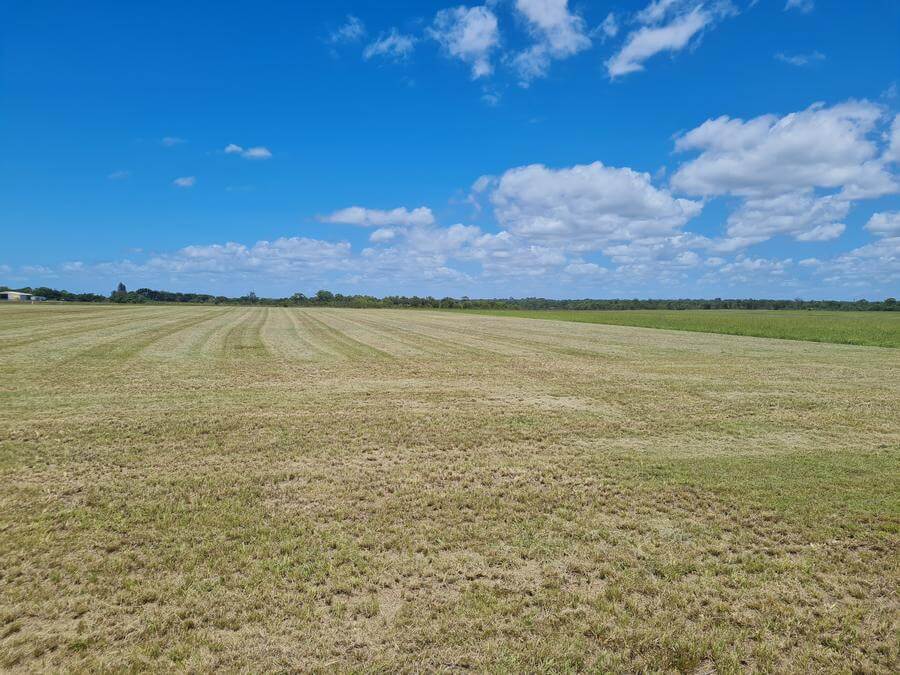 Hervey Bay Sports Precinct Details
Below are the address, hours of operation, and phone contact for the Hervey Bay Sports Precinct (Fraser Coast Sports and Recreation Precinct).
Google Map Of Sports Precinct
Hervey Bay Sports Precinct Address
Corner of Woods Rd and Road 477 Nikenbah, QLD
Phone 1300 79 49 29
More specifically, there is road access via Maryborough/Hervey Bay Rd, Woods Rd, Main Street, Booral, and Chapel Roads.
All these roads can access the facility. Another point of access to reach the location is by mobility corridor constructed for pedestrian and cycle access.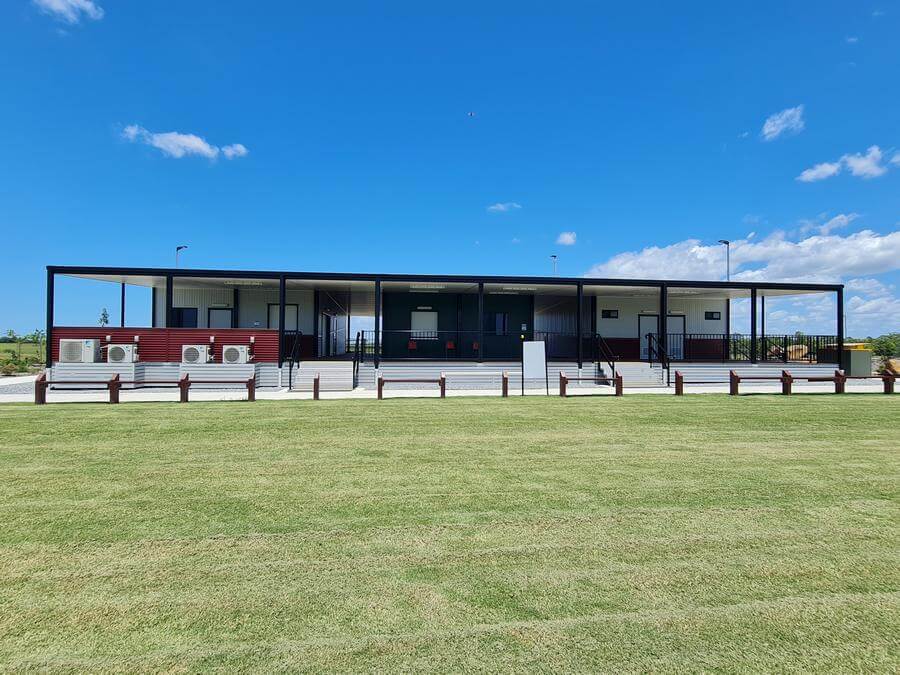 Hervey Bay Sports Precinct Hours
The hours for the precinct are Monday – Friday from 8:15 a.m. to 4:30 p.m. and are closed Saturday and Sunday.
Hervey Bay Sports Precinct Phone Contact
The phone number for the precinct is 1300 79 49 29. This number directly reaches out to the Council Sports and Recreation Officer for the precinct. It is best to only reach out to this number during regular business hours.
The location of the Hervey Bay Sports Precinct is quite convenient for people directly in Hervey Bay as well as those in surrounding areas. The precinct is only around 10 minutes from the main section of Hervey Bay and only around 20 minutes away from Maryborough.
How To Book The Fields Or Hire The Courts?
The fields and courts must be booked prior to use. Moreover, for those seeking to use the fields and courts for events, outside of the designated points of contact, contact must be made directly with the Council Sports and Recreation Officer at the 1300 79 49 29 phone number.
For booking of the fields and courts through the specially leased tenants of those areas, below are the points of contact for making those arrangements.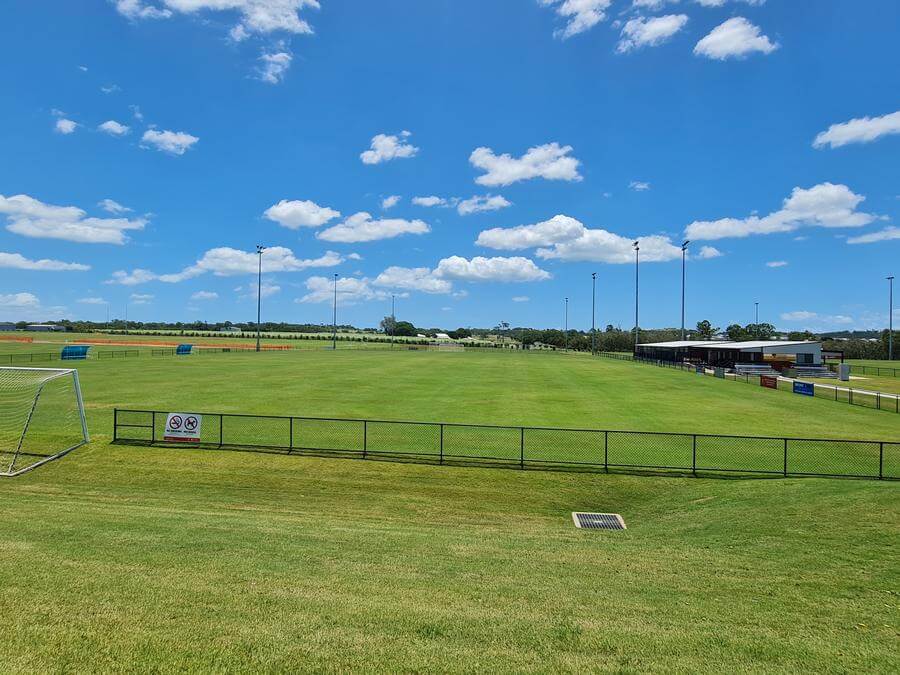 Booking Or Hiring The Courts At Hervey Bay Sports Precinct
Football Hervey Bay – [email protected]
Netball Hervey Bay – [email protected]
Oztag Hervey Bay – [email protected]
These separate points of contact help keep the communication lines more streamlined and efficient. Each department can assist in booking the spaces within the precinct. Prospective bookings should be made in advance with respect to others seeking out the use of the precinct as well.
Hervey Bay and its surrounding area are well-known for not being overdeveloped with industry and maintaining a lot of its natural beauty.
However, the development of spaces like the sports precinct is an excellent way to bring together a community and really place a focal point on staying active and engaged within sports.
It is also good to know that the Hervey Bay Sports Precinct intends to expand to provide even more sports and events to its locals and visitors.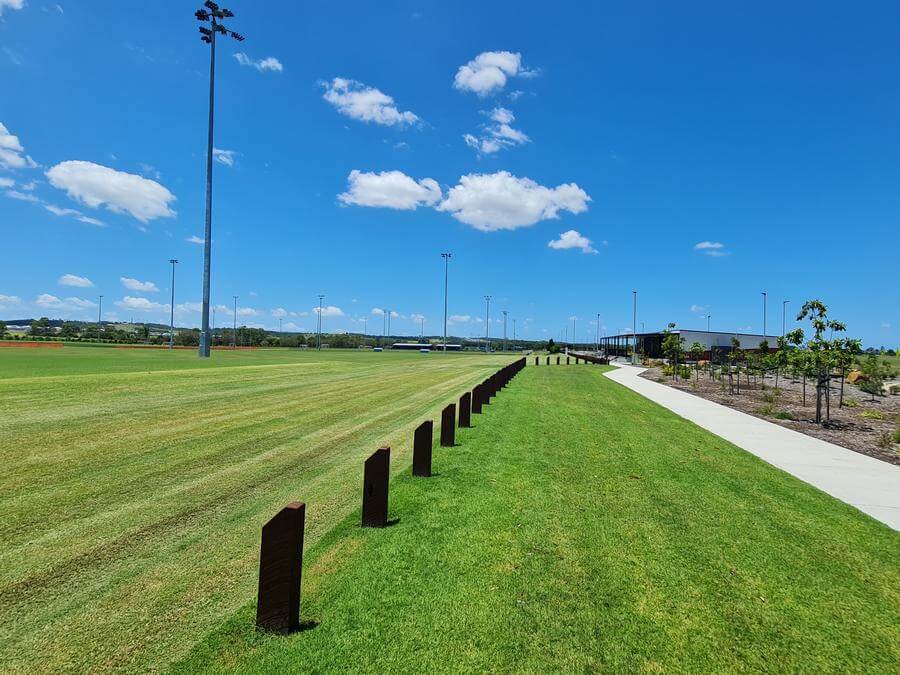 Resource Links To Products We Use And Recommend
More Pages On Hervey Bay
link to Sunset Cruise In The Great Sandy Marine Park
The Sunset Cruise Great Sandy Marine Park has a lot to offer, from stunning scenery to a range of wildlife and marine life. Here are some of the things you can expect to experience on a sunset cruise...
link to Is Hervey Bay Full Of Old People?
Hervey Bay is a popular retirement destination and has a higher proportion of older residents than some other cities in Australia. However, it is important to note that Hervey Bay is a diverse...