Australia is one of the world's most iconic places to live or visit. It is a stunning reminder of how beautiful and natural parts of the world can still be, even in this day of modern technology. Some places in Australia are very remote and getting mobile phone coverage can be difficult.
While we certainly don't want to be on social media sites while we are out in nature, as we should be enjoying the natural surroundings, mobile phones are still a vital part of being in nature.
Mobile phones provide a way to contact emergency services if they are needed. Moreover, they also provide a way to contact loved ones if there is a problem.
Some wilderness areas of Australia do not have coverage at all (like some spots on K'gari Island) while other spots have acceptable coverage. It is critical to know where coverage might or might not be so that people can be prepared when planning a trip!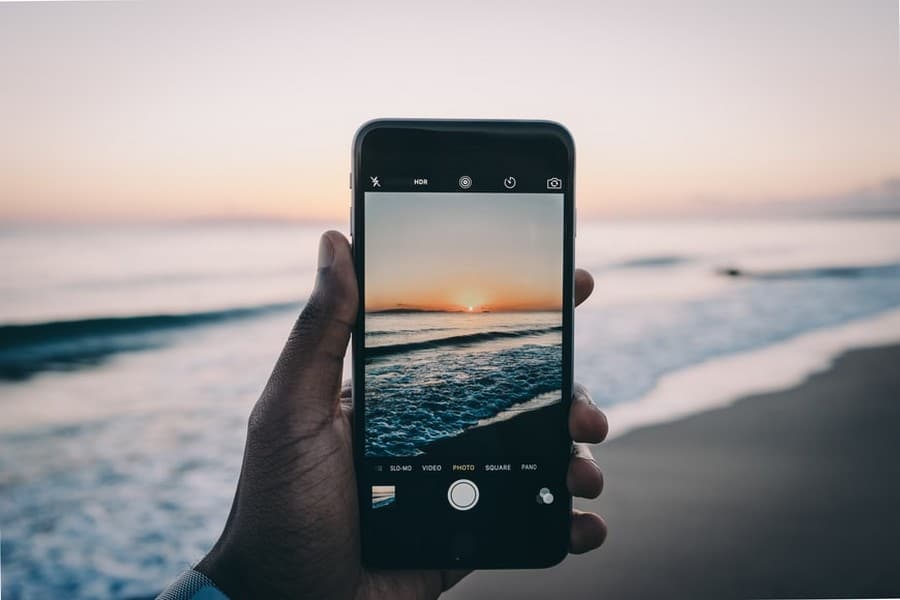 Double Island Point is a headland area just north of Noosa and tucked in the Cooloola region of the Great Sandy National Park along the eastern coastline of Queensland Australia. But is there phone reception here?
Phone reception on Double Island Point is hit or miss with the area largely not having that great of coverage. The area is also known for not having much internet access as well. But this isn't to say that coverage isn't possible. The main 3 mobile phone companies do not have a lot of coverage here.
Optus Coverage At Double Island Point
Optus is a mobile company that strives to provide the best in 5G and 4G phone reception to Australians and visitors. When it comes to Double Island Point, Optus coverage isn't terribly great but possible to obtain. Their 5G service is not available, however, 4G mobile service reception can be picked up around the area.
The mobile coverage

can drop as low as 3G service, which is still suitable for reaching out in case of an emergency. There are no internet services available in the area with Optus coverage.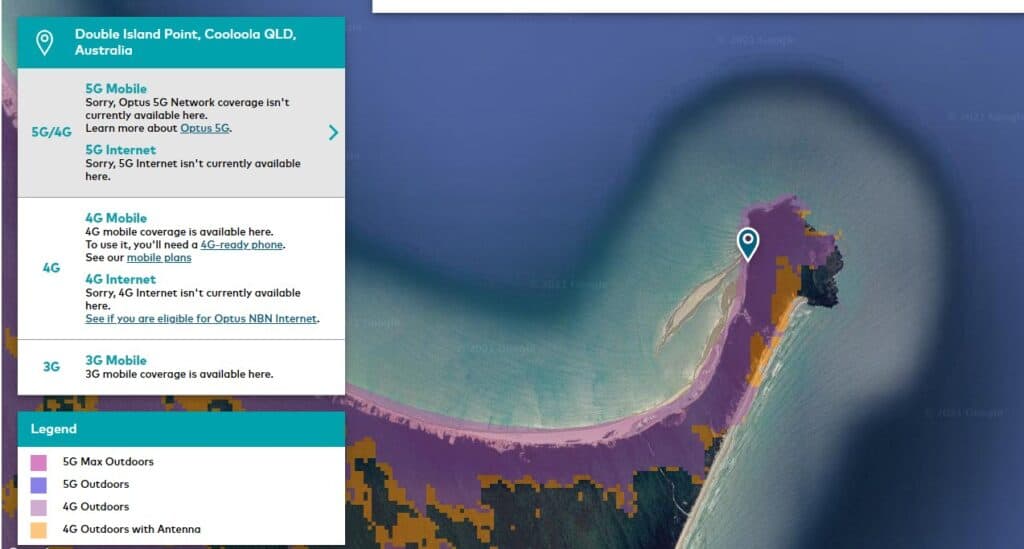 Vodafone Coverage At Double Island Point
Vodafone is another popular mobile company in Australia that aims to provide 5G service where possible as well as lower options such as 4G and 3G mobile service. Vodafone offers 4G outdoor coverage at Double Island Point. This is the best coverage

from this carrier and it does not offer any 5G services.
The eastern portion of Double Island Point has no service at all from Vodafone, so users so try to stay within the western portion of the point and more inland.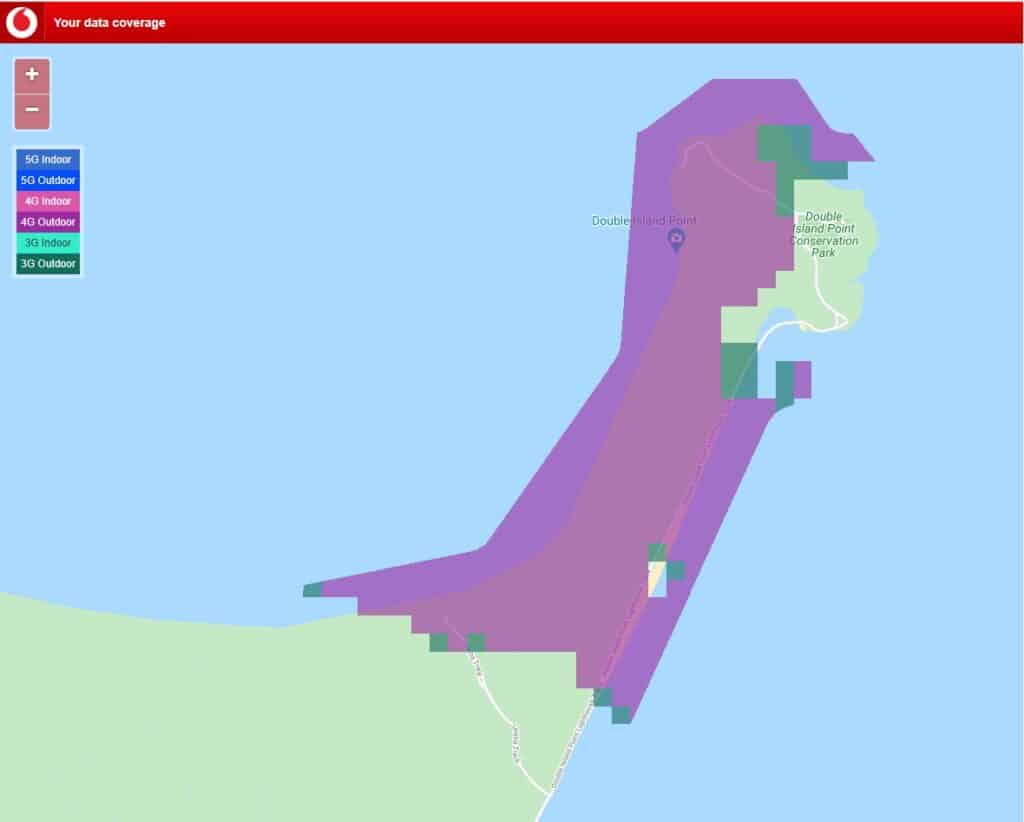 Telstra Coverage At Double Island Point
Telstra is quite possibly the most preferred mobile service in Australia. In fact, this mobile company is said to have 99.4% coverage in the country. But how good is the reception at Double Island Point?
Despite being Australia's largest mobile network, their coverage map

isn't as defined as some other carrier's coverage maps. Other coverage maps allow users to zoom in directly to Double Island Point whereas Telstra's coverage map lumps Noosa Heads and that section of the eastern coast as one large green lump.
Because of this, it is difficult to tell what kind of service Telstra might have at Double Island Point. However, using the map as general guidance, 4G mobile service might be found within the Double Island Point region.
It is important to note that visitors shouldn't solely rely on that being definitive that service will be found. As with all the mobile carriers, the coverage here could be spotty and some mobile users could get lucky.
Telstra's coverage map might not be a good indicator if there is service at Double Island Point or not, however, this mobile company does offer what is called a "Network Coverage Extension".
These devices are an excellent option for trips to more rural areas as they can "extend" the mobile coverage in a more rural or isolated area. But how do they work exactly? Below is a little more information on Telstra's network coverage extension devices.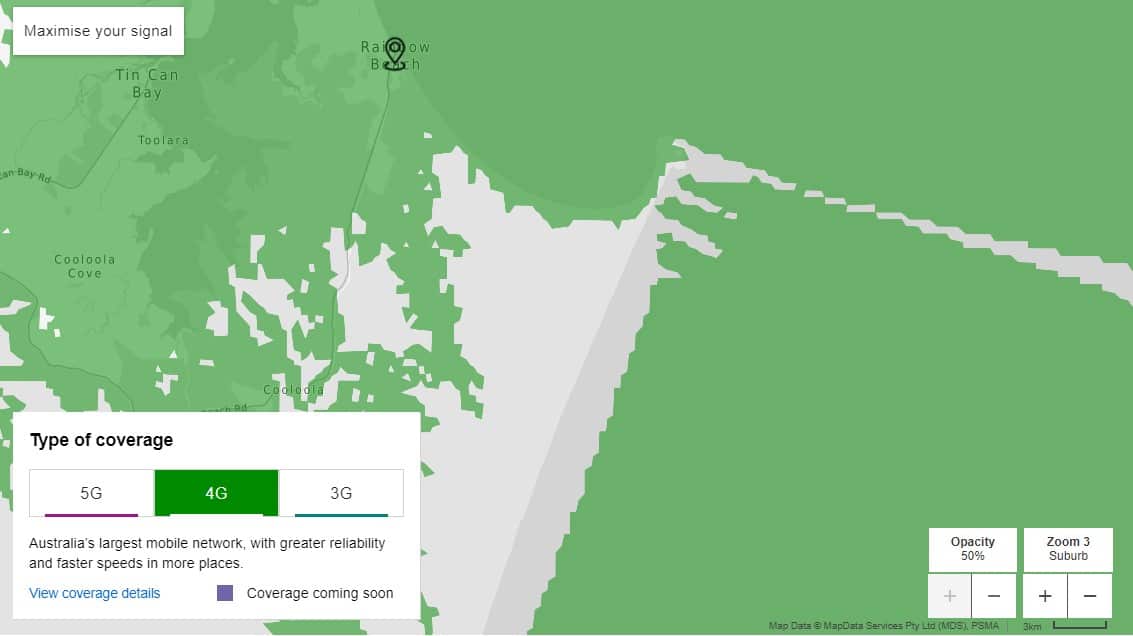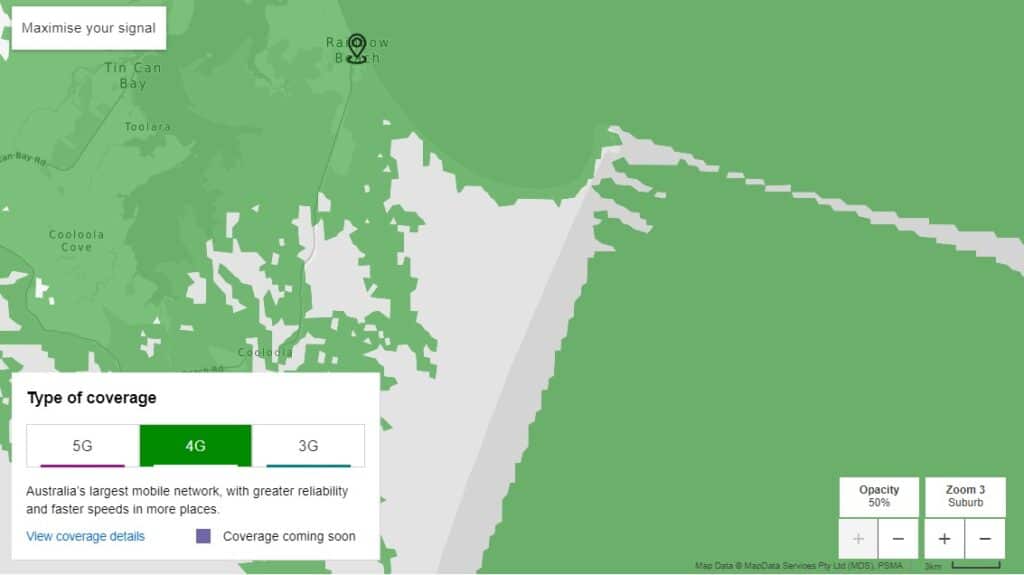 Telstra's Network Coverage Extension Devices
Telstra offers two types of network coverage extension devices. The first one is known as the Telstra Mobile Smart Antenna and the second one is known as Telstra Go. These devices work in the same way in that they duplicate the mobile signal that is in the area. By doing this, the signal is strengthened.
These devices have been tested and approved for use in more rural areas. While they might not provide 5 bars of mobile service, they can create a signal strong enough to reach out for help if needed.
The major difference between Telstra's extension devices and similar products from other mobile carriers is that it can help general mobile signals. Optus, for example, does offer a "wifi booster" product. However, this product is reliant on the mobile user already having access to Wifi connections that aren't present at Double Island Point.
Because of this difference, Telstra's devices are worth trying for those headed to the Double Island Point region (provided they have Telstra service). It never hurts to attempt to gain more signal when in an area that might have compromised mobile reception.
All in all, all three of the top Australian mobile phone coverage carriers can warrant some phone reception at Double Island Point.
Although, visitors shouldn't have high hopes of having access to social media sites and lengthy phone chats. Experiencing the great Australian outdoors and all its beauty is something best done without a phone being glued to someone's eyeballs.
The primary purpose a phone should have when venturing into the vast natural beauty of Double Island Point (and anywhere in Australia!) is for emergency contact and picture taking.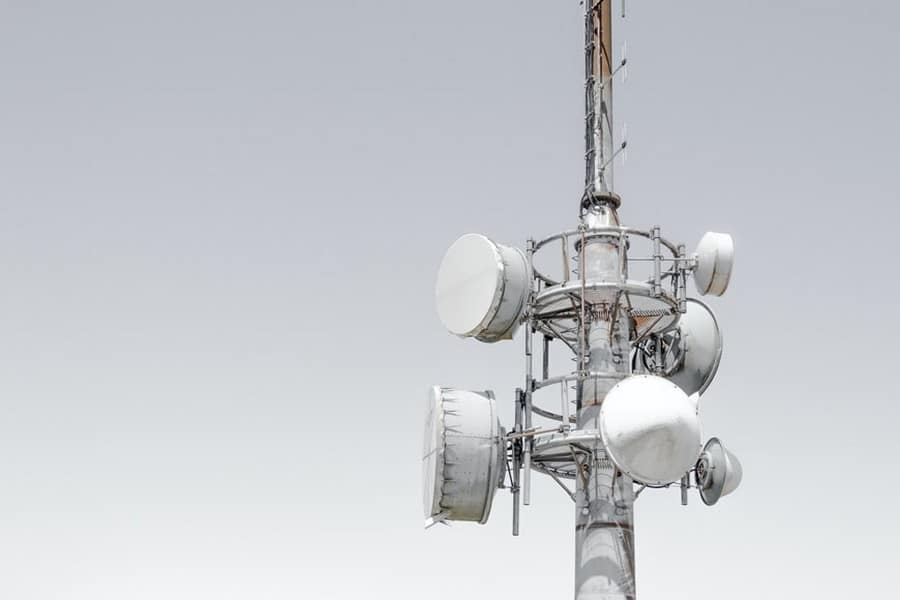 Are Satellite Phones An Option?
An alternative to traditional mobile phones in rural areas of Australia includes the use of a satellite phone. Satellite phones rely on the transmission of phone connections via satellite pinging rather than pinging off of local cell tower sites. These types of phones can be useful in situations where a mobile phone may not be practical.
Double Island Point is a little isolated but it certainly isn't as remote as other parts of Australia. A great example would be K'gari Island which is the world's largest sand island located just off the eastern coast of the Hervey Bay region. The western coast of the island has basically no cell reception. Because of this, visitors often consider using satellite phones.
A satellite phone could be an option for visitors to Double Island Point, however, they wouldn't be completely necessary. There are plenty of surrounding areas to venture to gain access to phone reception. Ideally, you should never travel alone if it can be helped and you should attempt to have access to a mobile in the best way possible for emergency situations.
Double Island Point is an idyllic headland that really submerges visitors into the natural beauty of Australia. Getting phone reception can be tricky but it isn't next to impossible and there are some outlets to ensure you have access to a mobile phone if needed!
Resource Links To Products We Use And Recommend
More Pages On Other Areas