Rainbow Beach is a quaint Queensland, Australia town in the Gympie Region of the state. With only a population of around 1,249, it is known as being a small close-knit community.
Even though it is a more rural area of the Gympie Region

, Rainbow Beach is popular among visitors. This is due to its pristine and beautiful stretch of beach.
The beach at Rainbow Beach is an impressive 23km long running from Inskip Point in a southern direction towards Double Island Point.
Every section of the beach is truly amazing but the most southern part of the beach is the most impressive. This is due to the large sand dunes that have coloured sand.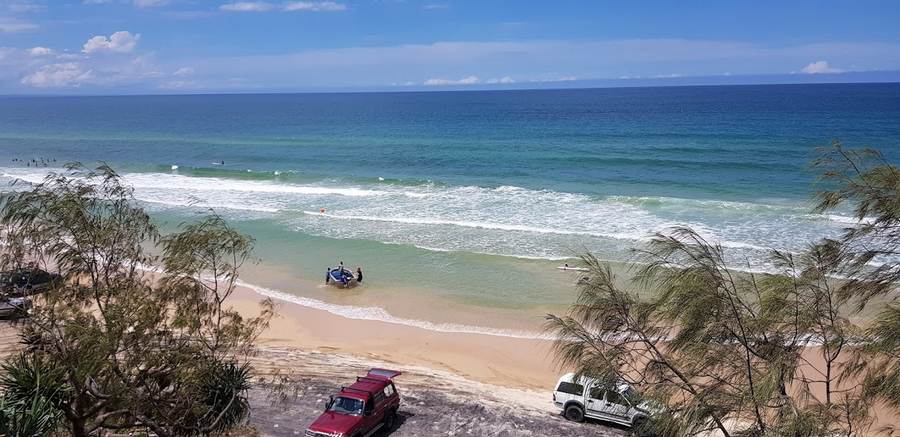 While the sands are certainly the biggest attraction to Rainbow Beach, people flock to its shorelines for other reasons as well. This is especially true about surfing!
Surfing is a beloved beach activity that is enjoyed all throughout the world. Australia is known for various popular surf spots, especially along the eastern coast of Queensland. This is because these areas experience the right conditions for surfing.
Not all areas of Queensland or Australia are suitable for surfing. Sometimes the water is too turbulent or the water doesn't have high enough waves for surfers to ride. When it comes to Rainbow Beach, good surfing is possible! Surfing heavily relies on the right conditions for the perfect wave.
The weather and wind have to be just right to bring in the waves that will really be perfect for surfing.
With its large size, Rainbow Beach has lots of areas to consider for various beach activities like fishing, swimming, or surfing. While there is surf at Rainbow Beach, not all of the 23km has the optimal surfing conditions that are needed.
Is Surfing Safe At Rainbow Beach?
Surfing at Rainbow Beach is safe for the most part. Since the beach is larger in size, each section of the beach experiences different currents and tides that roll in from the ocean.
The most turbulent sections of Rainbow Beach are considered to be the central and northern sections. These portions of the beach are known for stronger rip tides and deep rip channels.
Swimming isn't suggested in these areas either. It is much easier to play it safe and not try to trek the waters in these sections.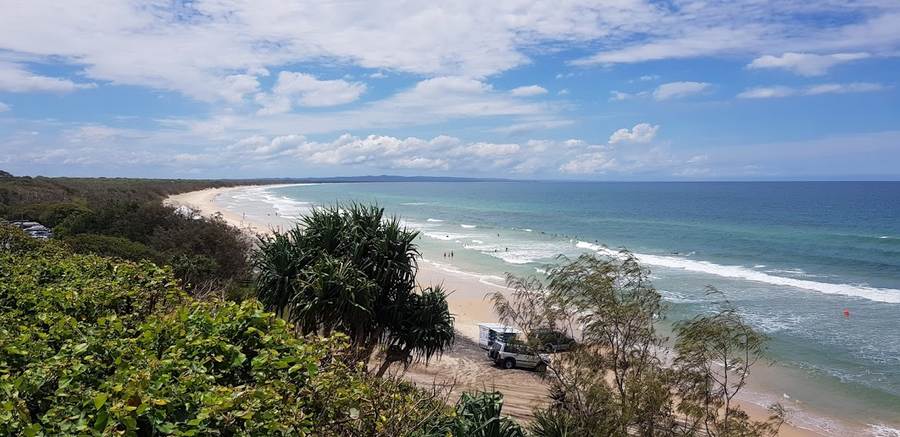 Considering how large the beach is, it is easy for visitors to avoid the northern and central parts when it comes to surfing or swimming.
There are plenty of other parts of the beach to explore that would be suitable to attempt swimming and surfing. Additionally, the main part of the beach is patrolled, which is a huge advantage.
As with any beach, especially in Australia, visitors should never go alone and everyone should always be alert of any incoming dangerous currents. This helps to ensure that everyone stays safe.
Even though only the northern and central parts of Rainbow Beach are known for strong currents, the ocean is unpredictable. It is always moving and being affected by nature's weather.
With this in mind, staying alert even in areas where it looks safe is always the best course of action.
Some daring individuals could still consider entering the waters at the northern and central parts of the beach, but all-in-all it isn't a good idea.
Whether it is in those areas or another area of the beach, visitors should always be cautious.
Best Rainbow Beach Surf Spots
While surfers might find ideal surfing spots speckled along the 23km stretch of sandy shoreline, the best surfing at Rainbow Beach is near Double Island Point to the south of the coastal town. The water here is considered truly ideal for surfing.
In fact, this particular area of the beach is known for having surf lessons

.
This is because of the near-perfect conditions and because this area of the beach has a long point break as well as more consistent waves.
These surf lessons are specifically operated by Epic Ocean Adventures

and they guarantee a great experience for any level of surfer. They feature one-on-one lessons to really retain focus on one client at a time.
The consistent, beautiful waves at this part of the beach are suitable for beginners or advanced surfers. The highly qualified surf instructors are full of knowledge for any surfer!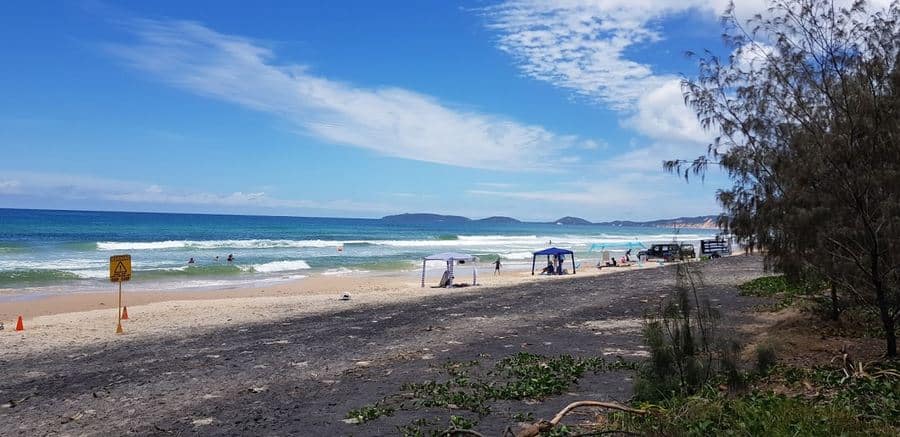 Double Island Point not only has the best waves on all of Rainbow Beach but its exclusive location really makes the experience feel special. The surfing spot has a genuine isolated feel which enriches the overall surfing experience.
Beginners will feel like they have more privacy in learning to surf. Alternatively, advanced surfers will have plenty of space to ride a wave as well as peace and quiet to relax and focus.
Rainbow Beach Surf Cam
Surf cams are a trendy way to watch various surfing locations all over the world. Generally, they are live stream videos of notorious surf beaches.
These cams are not only interesting to watch but can provide important information to surfers prior to heading out to try and catch a wave. Rainbow Beach has one of these surf cams that is associated with and operated by coastalwatch.com

.
This website showcases live cam highlights from Rainbow Beach and provides a live stream of the current conditions at the best surfing spots in Rainbow Beach.
The website also has information on current tide heights, speed, direction, and weather reports. Having all of this information in one central location is a handy tool to help surfers prior to going out to the beach.
The weather, tide information, and general surf forecast is constantly updated. This ensures that visitors to the website are getting the most current and accurate information.
So not only is the website great for viewing the live cam of the rolling waves at Rainbow Beach but it keeps people in the loop on the most up-to-date forecasts related to surfing conditions.
Rainbow Beach might be known for its red, orange, and yellow-tinted sands but it is also known for its prime surfing conditions near Double Island Point.
This is just another reason why Rainbow Beach is an idyllic slice of paradise for its guests and residents!
Resource Links To Products We Use And Recommend
More Pages On Other Areas