Exploring Hervey Bay in Queensland, Australia is truly exciting for both travellers and residents alike. This specific area is full of beautiful scenery, stunning and calm beaches, wildlife, historical sites, and more.
This paradise of adventure specifically sits on the Fraser Coast Region of Queensland, which is the eastern coast of the mainland facing the famous Fraser Island.
Anyone in the area can expect to be treated to these exceptional adventures as well as a bit of local culture as well!
One of the most beloved spots throughout the Hervey Bay area includes the esplanade. An esplanade is an area that sits between beach shorelines and local villages. Other parts of Australia have esplanades, but Hervey Bay is considered one of the most favoured!
Esplanades are usually walking tracks designed to give guests access to fresh sea air, sights of the ocean, sights of local towns or villages, various flora, and other landscapes, as well as access to restaurants, accommodation, etc.
Hervey Bay's Esplanade goes above and beyond in creating the perfect atmosphere for its guests!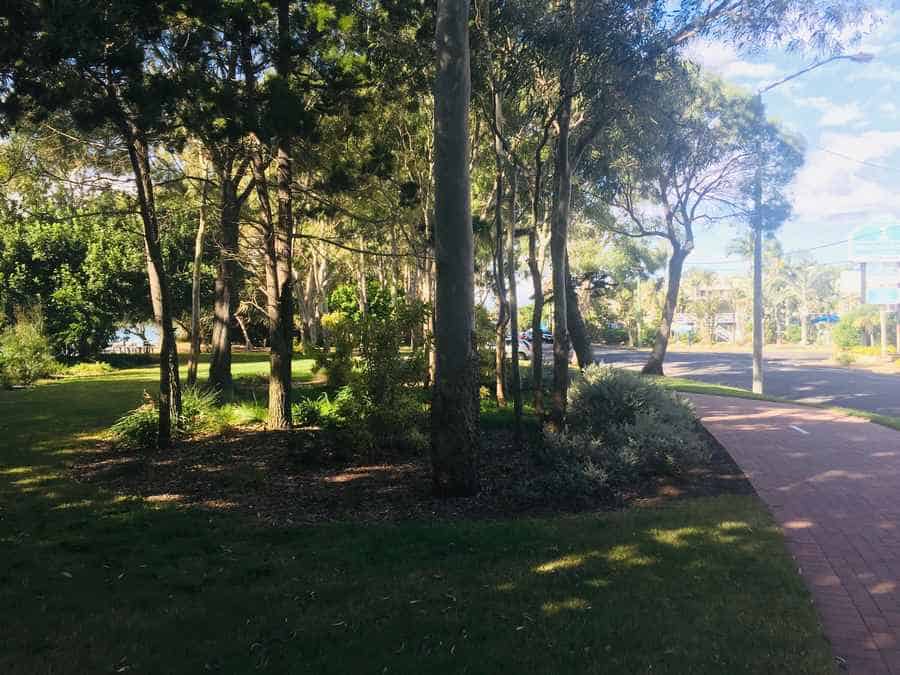 While there is plenty to do on the esplanade in Hervey Bay, one of the biggest attractions of the site is its overall size. The Hervey Bay Esplanade stretches an impressive 17km from Urangan to the northwest ending around Point Vernon.
Between these two localities, there is so much to see and do that it is no wonder that the esplanade is a popular spot! The area is lined with various beach foreshore areas including plants and trees, making its overall landscape a treat to experience as well.
Moreover, the esplanade serves as a walking track gateway between these two towns as well as everything that is found along the way!
Google Map Of Hervey Bay Esplanade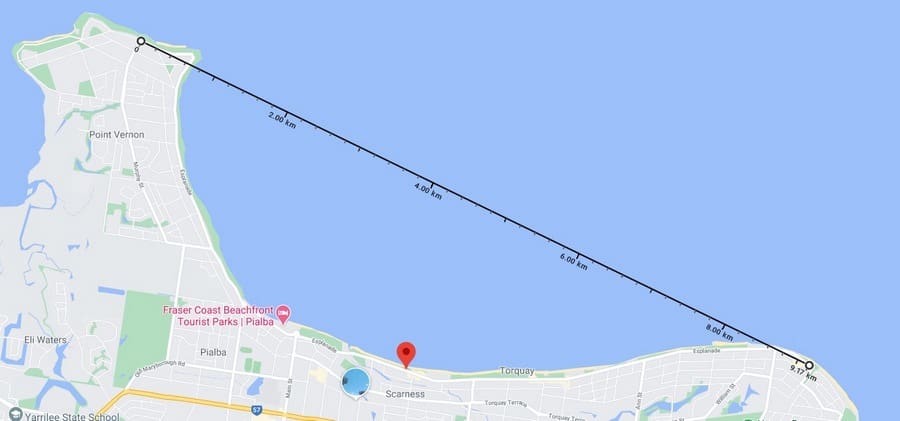 How Long Is The Hervey Bay Esplanade?
Along the 17-kilometre stretch, called The Esplanade you will find 12 Parks, 10 BBQ areas, 5 Cafes located along the walking path. The Esplanade overlooks the beaches of Point Vernon, along with the other suburbs of Pialba, Scarness, Torquay, Shelly Beach and ends at the Urangan Boat Harbour.
With all of this great pathway to travel along, there is plenty to see and do along this great beachfront stretch! Why not try a nice walk or jog along the Esplanade in the morning it's a great way to start the day!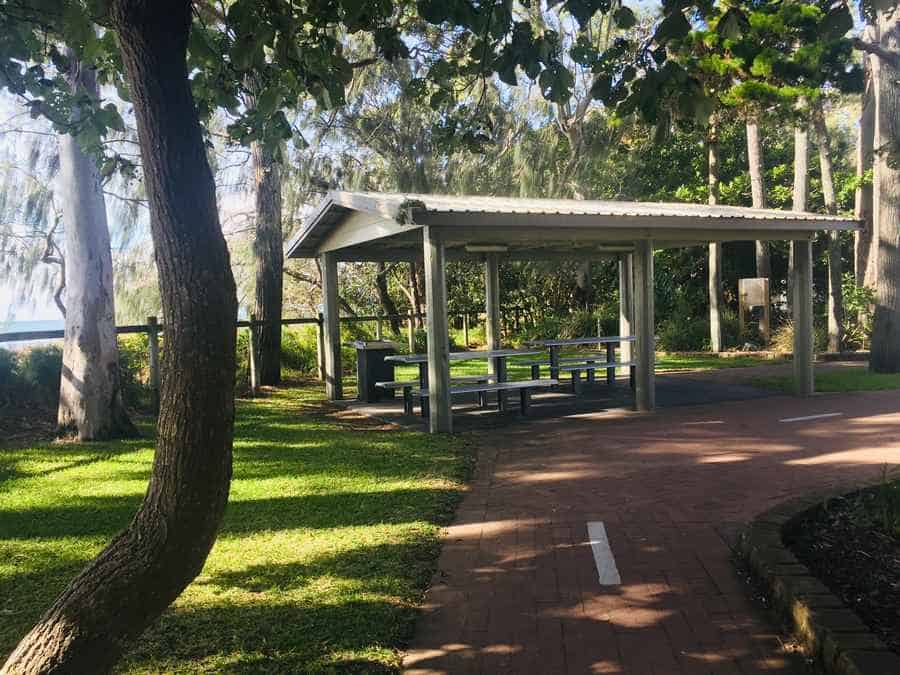 Things To Do On The Esplanade
With such an extensive stretch of walking track to explore, there is a lot to do while checking it out. The esplanade is suitable for anyone of any age group and is perfect for families, singles, or couples!
Below are the top things to do while visiting the Hervey Bay Esplanade!
Popular Things To Do On The Esplanade
1. Exercise On The Work Out Equipment
Exercise is the top thing that people enjoy doing along the esplanade. Considering its length, there is plenty of distance to travel for a decent workout!
From jogging, walking, and cycling exercising is a great way to utilise the esplanade. Whether it is an evening or morning workout, the esplanade is accessible for those looking to burn some calories!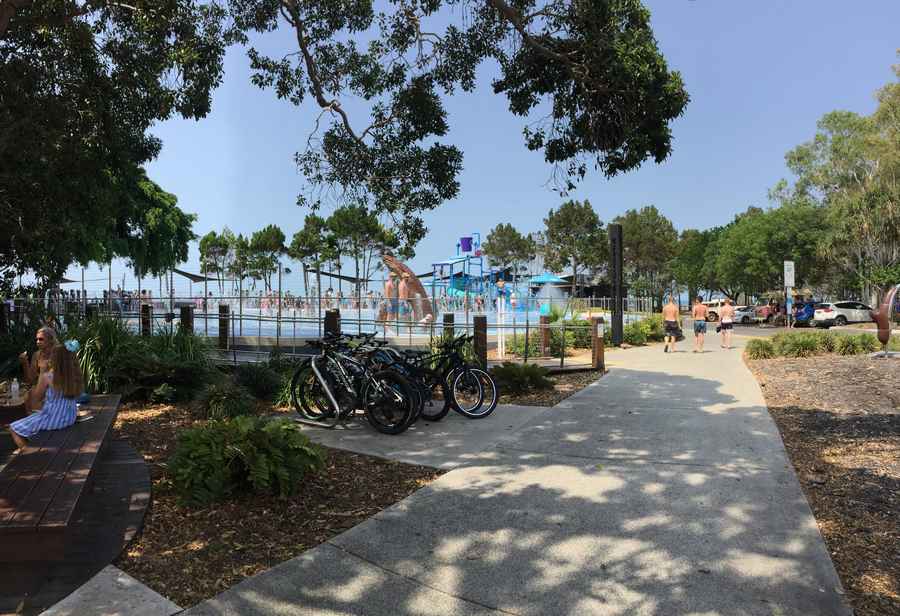 2. Walking Along The 14km Pathway
Sure, walking is part of exercising, but not all walking is for exercise. Taking a walk along the esplanade can be more of a casual stroll. This ensures that guests can soak up all the scenery.
From bustling local town areas, waves rolling into the beach shorelines, ocean horizons, wildlife like birds, etc. It is all a beautiful sight to see while moving from town to town along the long stretch of track.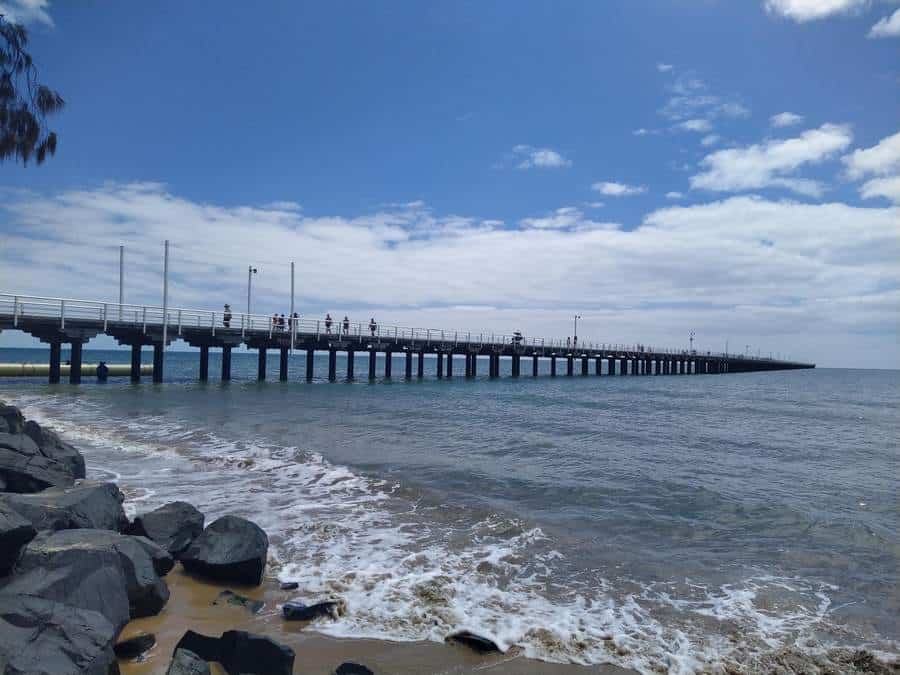 3. Take Photos Of The Beach, Piers And Jetty
Capturing some exclusive pictures along the esplanade is an iconic way to enjoy the esplanade. From the landscape to the ocean views to the towns speckled along the esplanade, photography can get some great shots!
This is particularly true at sunset or sunrise when stark colours will be splashed against the sky!

4. Grab A Bite To Eat At Popular Restaurants
All throughout the esplanade in Hervey Bay are various restaurants and cafes. The choices are practically limitless making the decision a little difficult, yet exciting all the same!
These eateries give way to delicious foods that include some local tastes in Hervey Bay!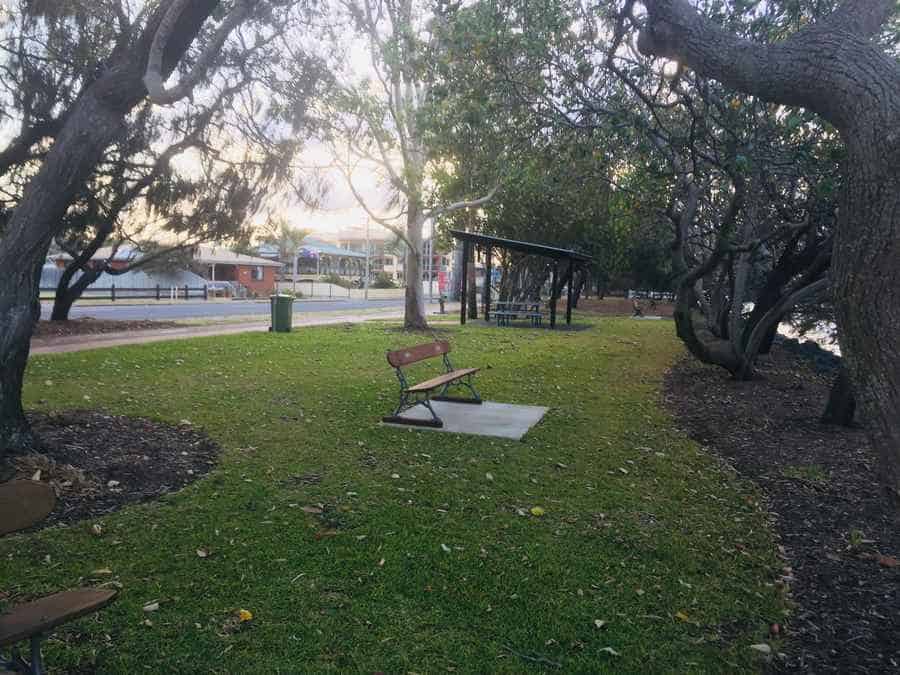 5. Visit The Parks Have A Picnic
There are many small park areas along the esplanade. Some of these parks include BBQ areas, picnic tables, and playgrounds for children.
Nothing beats taking a rest from exploring the esplanade than at one of these park areas.
Specifically, Point Vernon, at the end of the esplanade has a great picnic area available for guests.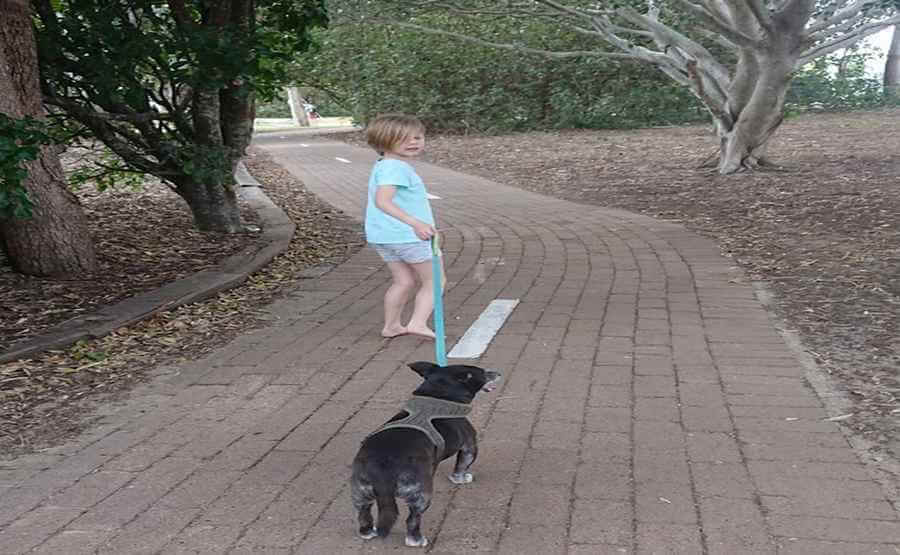 6. Take A Dog For A Walk
Walking isn't just for humans! Man's best friend can enjoy the esplanade as well. There is plenty for pups to engage in and see while trotting along the track.
They will enjoy it just as much as their owners! It is important to always be prepared to clean up after a dog while taking them for a walk. This is not only respectful to other people but helps keep the area clean!
Near the end of the esplanade, in Point Vernon, is a dog off-leash area. This area is specifically at Alpin Street near Pines Park.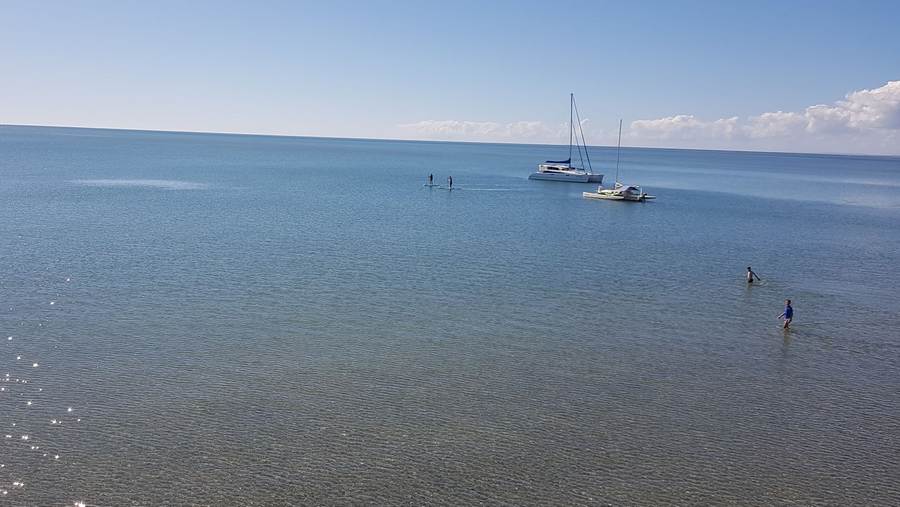 7. Go To The Beach Swim In The Ocean
One of the greatest things about the esplanade is that is located parallel to all the beachfront areas of the coastline. This makes heading to the beach super easy while on the esplanade.
Various beaches are located off of the esplanade and some are perfect for fishing, swimming, or simply walking along the shoreline. No matter what, visiting the beach areas is a great way to enjoy the esplanade.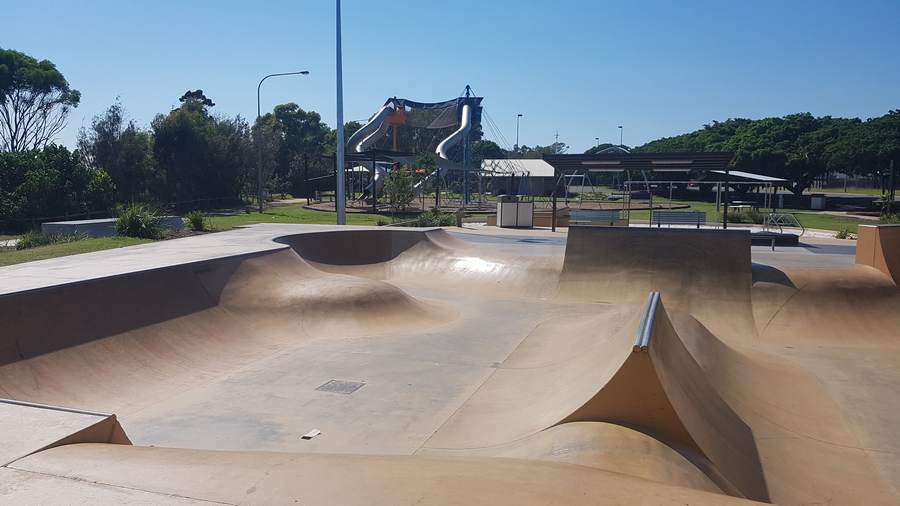 8. Check Out The Skateside Outdoor Park
Skateside is a new addition to the Hervey Bay Esplanade! Skateside opened to the public in September of 2019 and is quite a unique addition to the Esplanade.
This concrete area is a skating facility for skateboards or BMX bikes. It allows for those skating or riding along the esplanade to stop for some fun!
Kids or adults who know how to do the various tricks within the concrete bowl area are encouraged to have a blast at this location!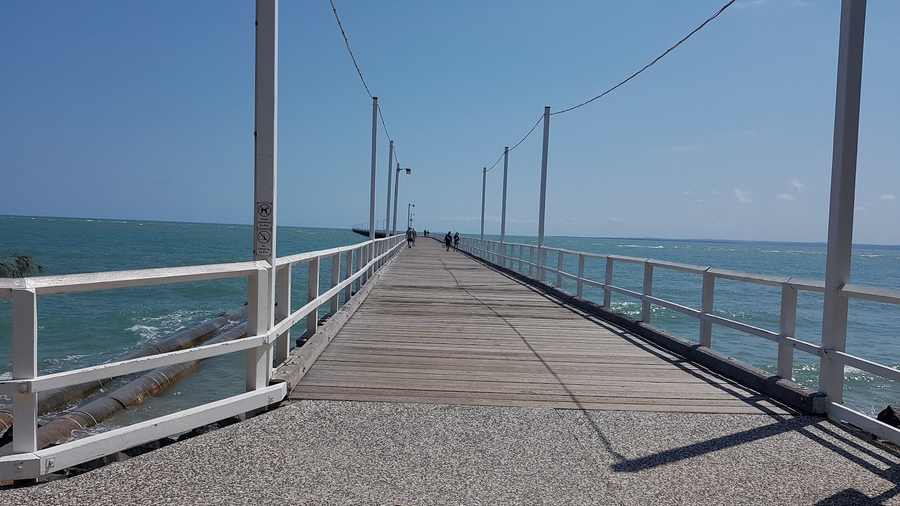 9. Visit The Urangan Pier And Try Fishing
The Urangan Pier is a popular fishing pier near the esplanade. This historical pier started out in the early 1900s as a means to export sugar, timber, and coal.
Over the years, residents have fought to preserve the pier and today, only about 868m of it still stands.
While it doesn't export goods anymore, it is a fantastic place to get a panoramic view of the ocean, fish, or simply soak in all the scenery and possibly see some marine life in the waters below it!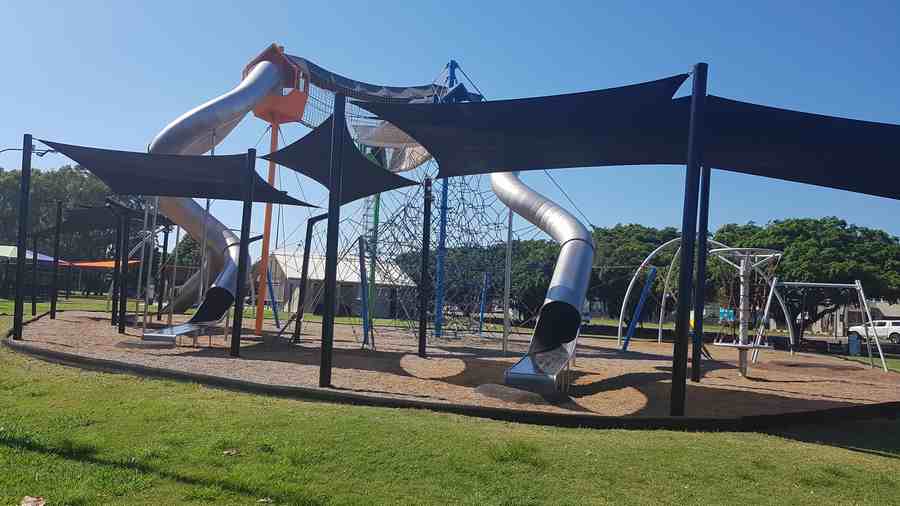 10. Visit the All Abilities Playgrounds
Playgrounds aren't just for children! This special playground near Pialba and opposite the esplanade is a grand adventure for people of all ages!
Featuring large slides, a man-built shipwreck to explore, a maze, and swings there is plenty to explore here! This playground particularly helps people stay active and playful!
Where To Eat On The Esplanade
Perhaps one of the most exciting things to do while visiting a new place is to check out the local foods! There are plenty of restaurants tucked along the esplanade for guests to explore.
Whether someone is craving seafood, pizza, or something else…there's a little taste of everything along the esplanade! Below are the top places to consider checking out for a bit to eat!
Top Restaurants Along The Hervey Bay Esplanade
Whale Bay Asian Cuisine
Just off the esplanade near the Marina in Urangan is the Whale Bay Asian Cuisine. This beautifully decorated restaurant features classic Asian food items like honey chicken, Mongolian beef, prawns, Asian-fusion curries, tofu dishes and so much more!
Those looking for some delicious Asian foods will find this location a real treat.
Address: Buccaneer Dr, Urangan QLD 4655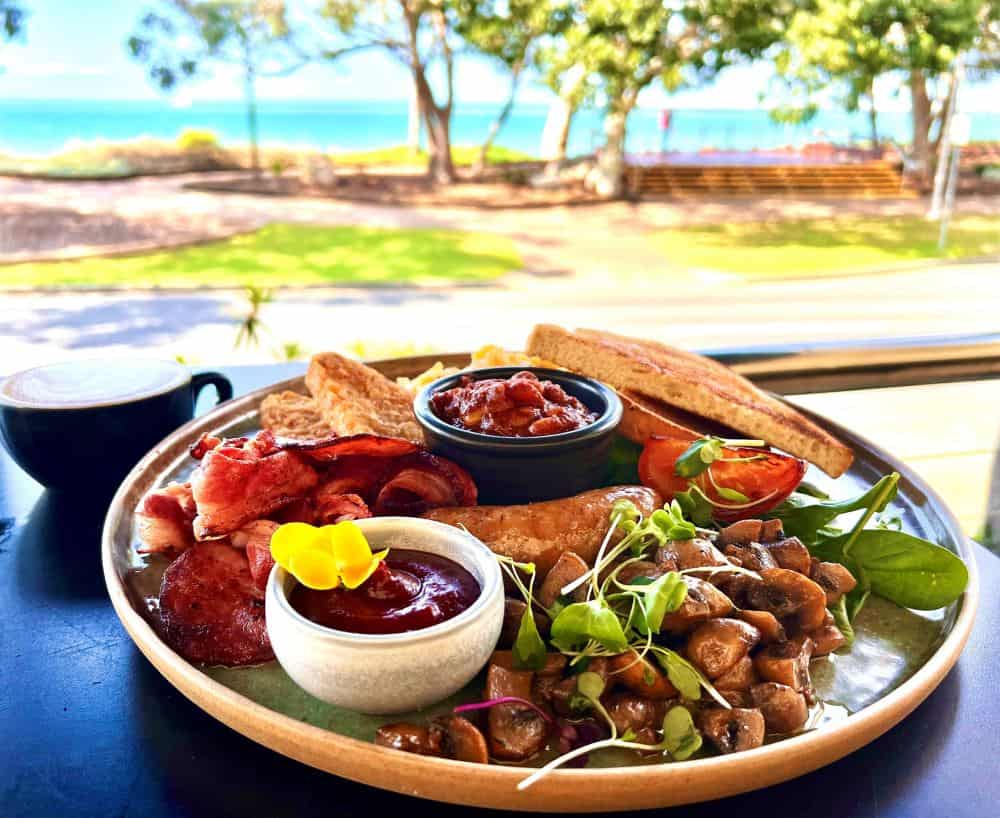 Salt Cafe Urangan
This laid-back cafe has brekkie and lunch options as well as coffees, teas, macchiatos and more. Their brekkie menu features pancakes, eggs benedict, and vegetarian breakfasts with mushrooms, just to name a few.
Their lunch menu is stuffed with things like prawn pasta, fresh fish of the day and housemade burgers featuring prawn, chicken, or even vegetarian varieties.
No matter if someone is seeking a quick bite, something new, or something more upscale, there is plenty along the esplanade. These are just some of the few to consider visiting but overall, the stretch between Urangan to Point Vernon will showcase lots of other tasty choices!
Address 569 Esplanade, Urangan QLD 4655
Best Beaches To Visit On The Esplanade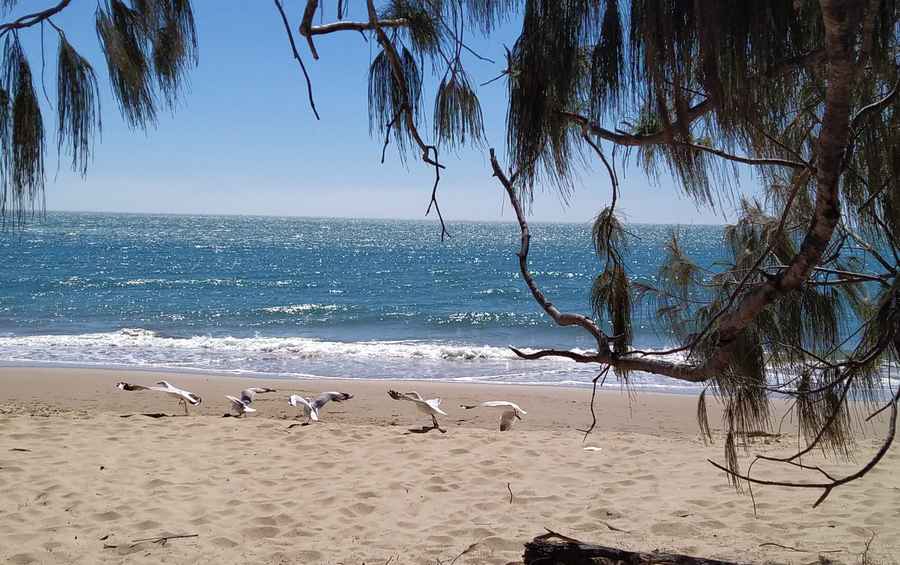 Australia has over 10,000 documented beaches

, however, some of the best ones are right in Hervey Bay. From fishing to swimming to simply walking on the shorelines, there's a beach area for everyone.
Below are the top beaches off of the esplanade to consider checking out!
Best Beaches On The Esplanade In Hervey Bay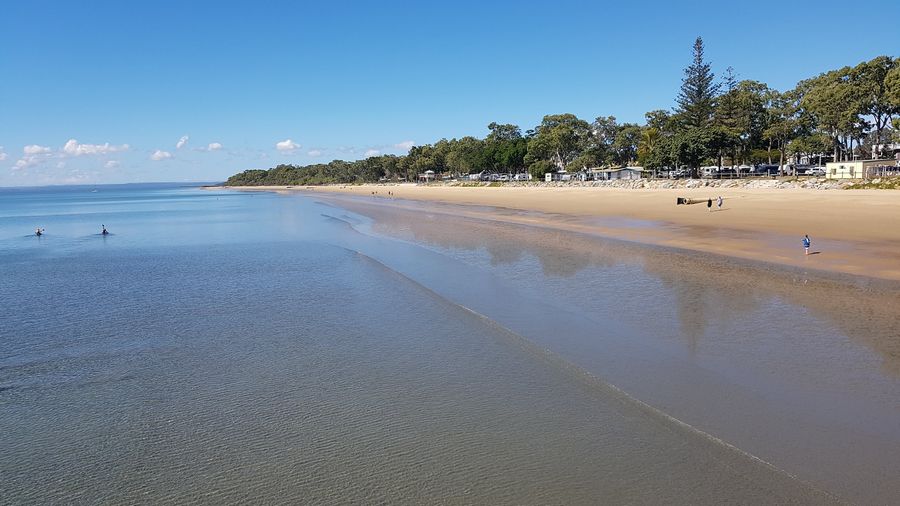 Torquay Beach
Located near the Torquay/Scarness area, this beachfront is popular among those staying at the nearby caravan parks.
Torquay Beach is about 6km in length. It is a huge fishing beach and is considered a relatively safe beach. It is patrolled from September through to May, so any swimming that occurs should be done cautiously and only from mid-tide to high tide.
Moreover, the beach is popular among standup paddleboarders as well! Boating is popular off this beach there is a boat ramp nearby!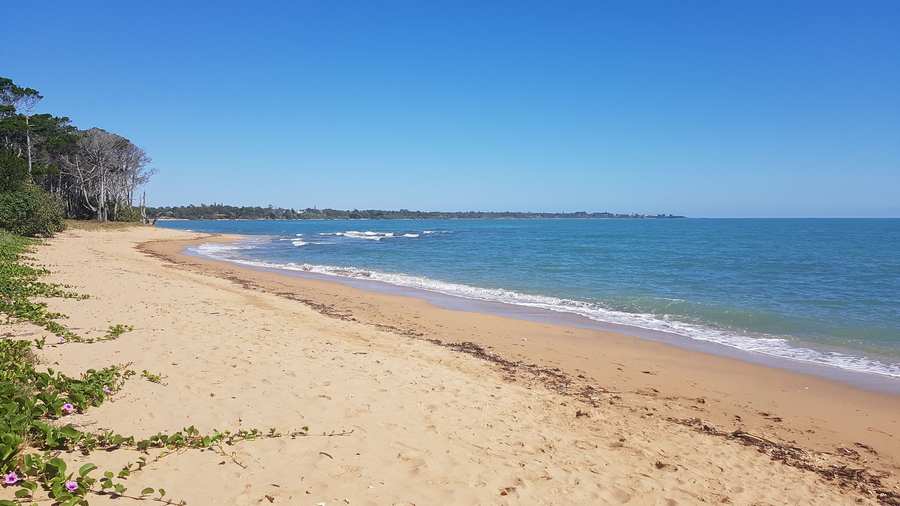 Pialba Beach
High-tide swimming is a great way to enjoy this beach! Located near Pialba right off the esplanade, Pialba beach stretches about 1km long.
Fishing here isn't as great as it is at Torquay Beach because there are a few tidal flats. Even still, the beach is beautiful for walks! It is also unpatrolled, so swimming here should be done with a partner!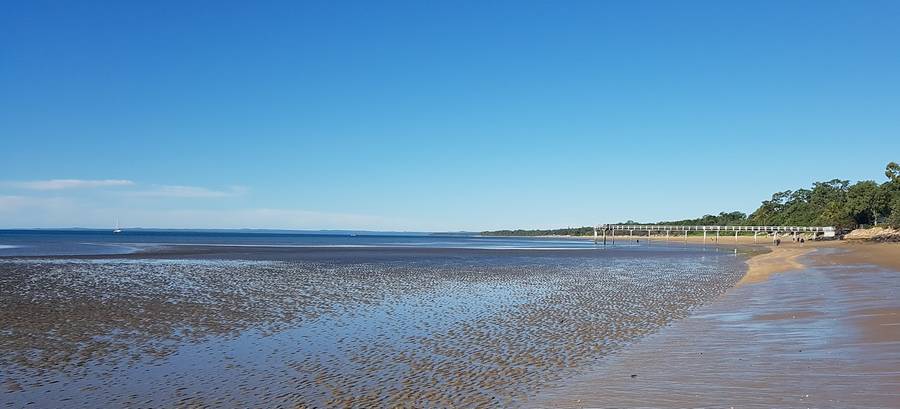 Scarness Beach
The calm beaches at Scarness have so much to offer just a short walk from the park, and of course, you can also wet a line while the family enjoys the safe beaches. If you feel like getting out on the water, you can hire a sailboat, or even go on a fishing charter.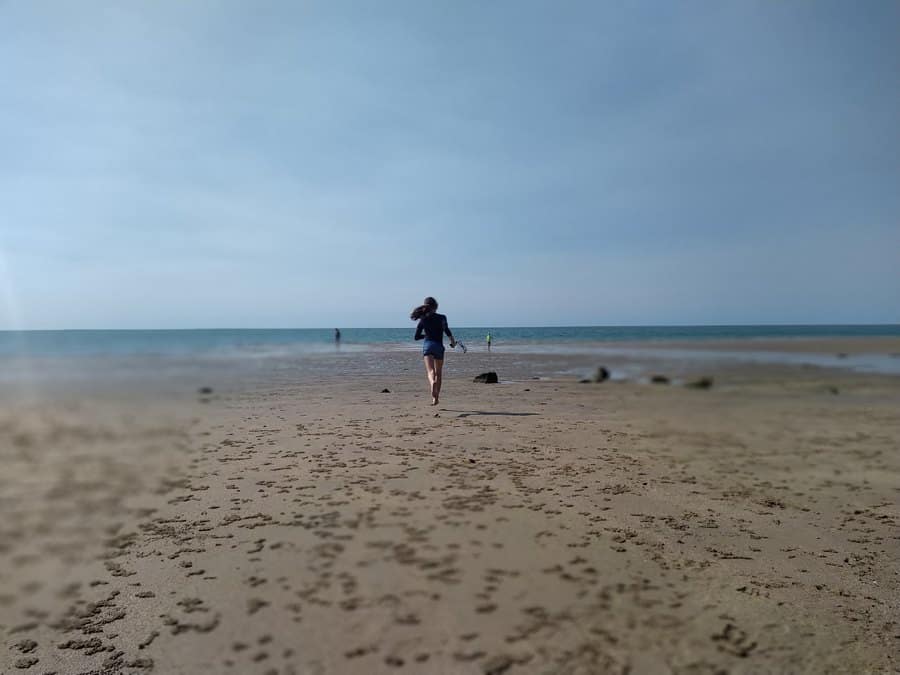 Urangan Beach
The Urangan Beach is near the boat harbour and there is access to two beach areas for this section. It does experience strong currents so swimming is only suggested at high tide and only when there's someone else present.
This is also due to the beach being unpatrolled. Overall though, the Urangan Beach provides iconic seaside views! The Urangan pier is nearby as well for a lovely walk and a breathtaking sunset and sunrise views.
Point Vernon Beaches
Point Vernon has a cluster of 5 low-energy beaches that stretch about 1.5km in length. These beaches aren't known for their fishing, but they are known for their views of the foreshore and high-tide swimming.
Once again, this beach is not patrolled, so any swimming should be done with caution. Do keep in mind the rocks that line these beaches as there are many rock oysters in the area.
These beaches present the best views of the wide, open ocean as well as swimming, boating, and fishing!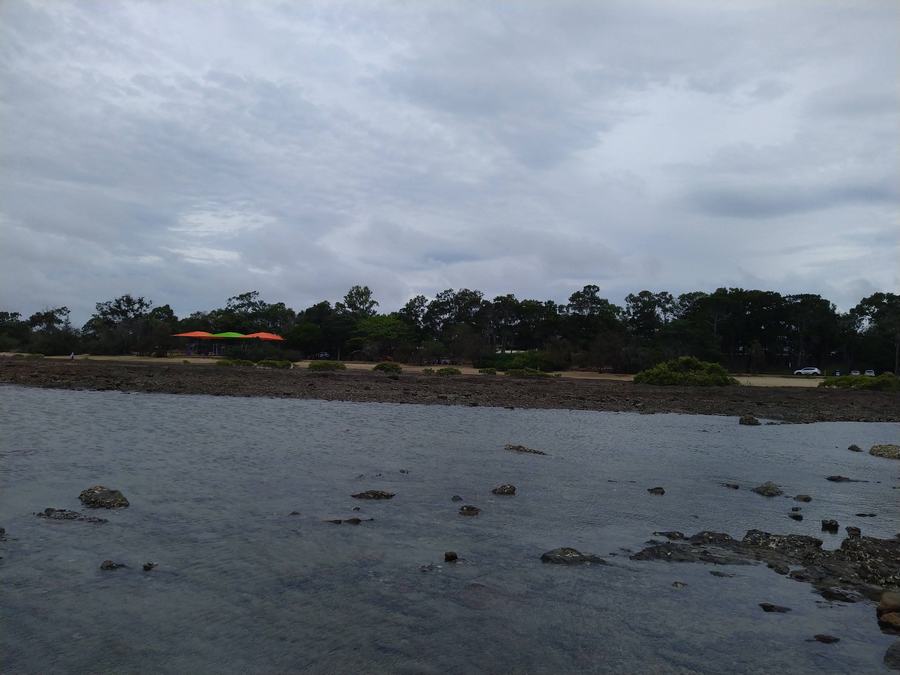 Driving On The Esplanade
The esplanade is wonderful for driving along many of the locals choose to go for a Sunday cruise and stop for fish and chips at the beach. Pull into Maddigans for some of the best fish and chips in town.
There are various car parks speckled along the esplanade where guests can park their cars.
These car parks give guests access to any point of the esplanade throughout the 14-17km stretch between Urangan and Point Vernon.
Those who would want to start walking on the esplanade from Point Vernon could park at that point and head southeast towards Urangan and vice versa.
Access To Boat Ramps On The Esplanade
Boating is a huge activity in the Hervey Bay area. Having access to boat ramps is an important part of enjoying all the pristine waters in the Bay Area.
The Esplanade has boat ramp access not too far off from the Esplanade. Point Vernon has two locations, one at Gataker's Bay Foreshore between the reserve and a local restaurant called Gataker's Landing.
The other location is off of Aplin St.
Another great boat ramp is near Torquay opposite 425 Charlton Esplanade (The esplanade is also known as Charlton Esplanade). Torquay Beach is one of the more popular beaches along the esplanade so this boat ramp is just as popular.
Specifically, this boat ramp is located next to Ernie Organ Park.
Pedestrian Walkways And Bike Path On The Esplanade
Walking along the esplanade is one of the best ways to enjoy the esplanade. Pedestrian walkways exist throughout the esplanade to and from the beach foreshore areas to the esplanade itself.
When it comes to bike paths, there are specific areas for cycling as well. One of these includes the Foreshore Shared Path, which runs the entire length of the esplanade from Urangan to Point Vernon.
This could be considered part of the esplanade and this separate cycling path helps keep the esplanade open for those walking along it as well.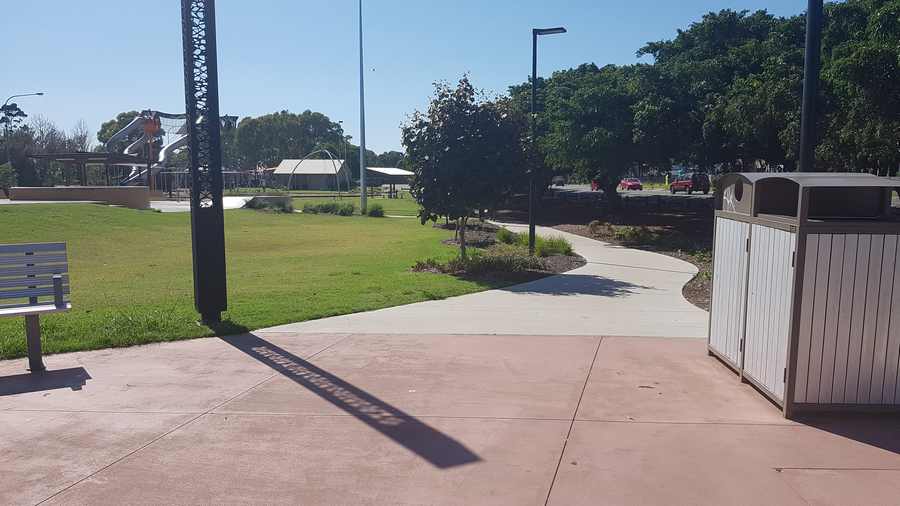 This shared pathway for cycling has specific portions known to be favoured by cyclists. Some portions take around 40 minutes to cycle to and from (like Pialba to Point Vernon) while others are short distances, yet still scenic with the foreshore as a surrounding area.
Moreover, this shared pathway features exercise equipment that can be used as well. This includes a sit-up bench, stepper, and rowing machine. There are even group workout classes that have been known to take place along the esplanade!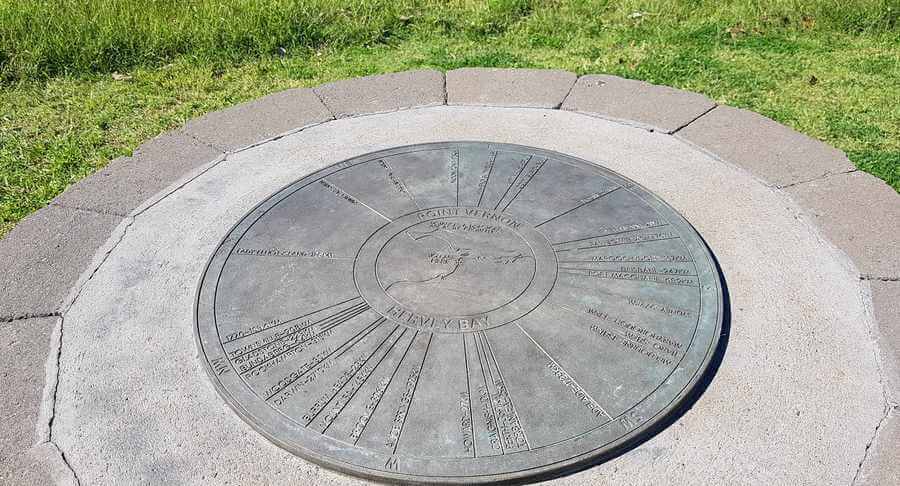 The Esplanade in Hervey Bay offers its guests full access to many great things. With great food, exciting scenery, bike paths, towns to explore, and great places to stay, there is so much to experience here!
Any visitor to the area will it an exciting way to explore the Hervey Bay area!
Resource Links To Products We Use And Recommend
More Pages On Hervey Bay
link to Sunset Cruise In The Great Sandy Marine Park
The Sunset Cruise Great Sandy Marine Park has a lot to offer, from stunning scenery to a range of wildlife and marine life. Here are some of the things you can expect to experience on a sunset cruise...
link to Is Hervey Bay Full Of Old People?
Hervey Bay is a popular retirement destination and has a higher proportion of older residents than some other cities in Australia. However, it is important to note that Hervey Bay is a diverse...