Hervey Bay in Queensland Australia is one of the most iconic places to watch humpback whales. In fact, the area is so popular for its whale-watching, it is known as the whale-watching capital of the world! Every year, people flock to this eastern coast area to witness these magnificent creatures.
One of the best ways to see the humpbacks is by tour boat. Whale-watching tours give guests an upfront seat to witness the humpbacks in their natural environment.
There are plenty of tours to choose from, but which one is the best? Below are some of the best whale-watching tours to consider when visiting Hervey Bay during whale season!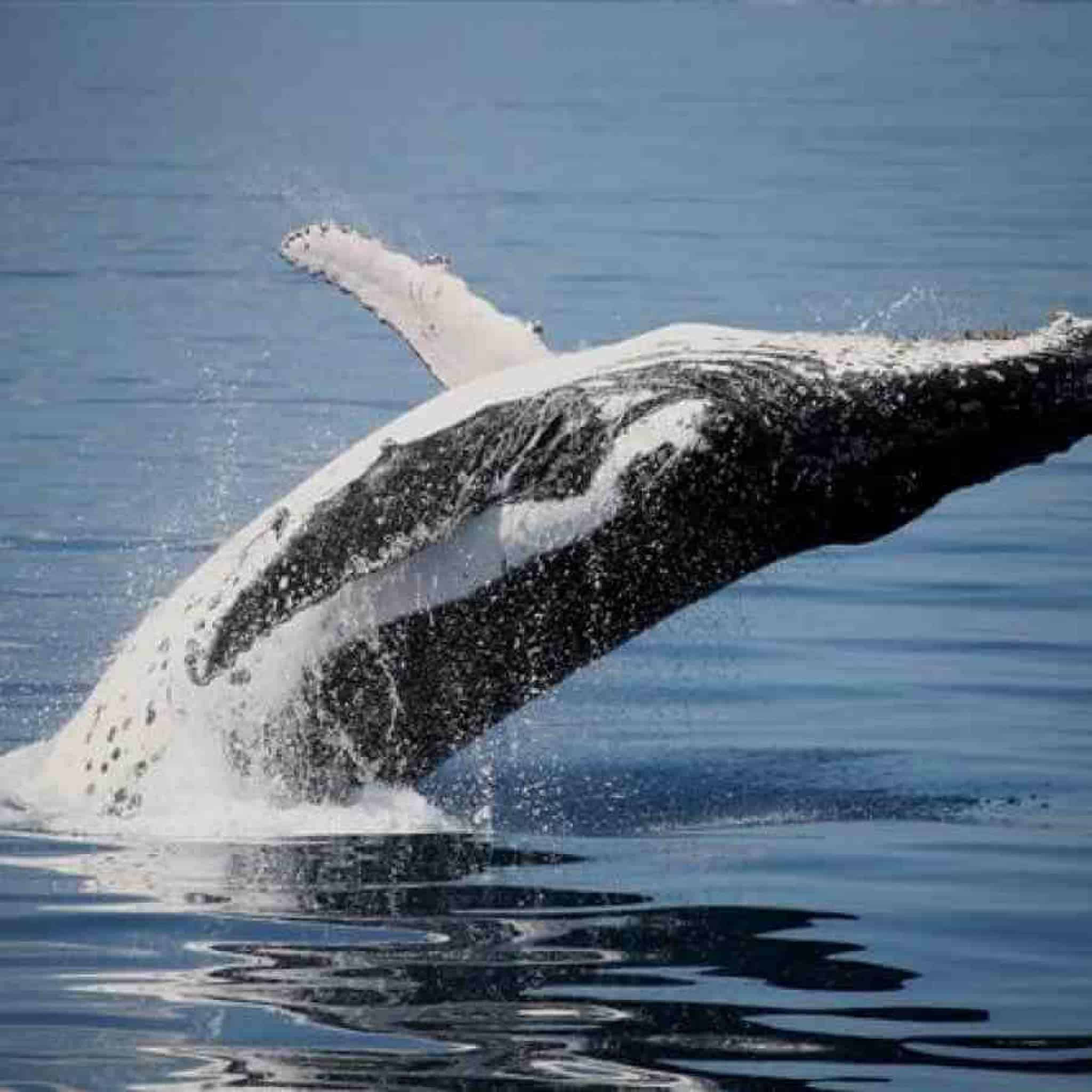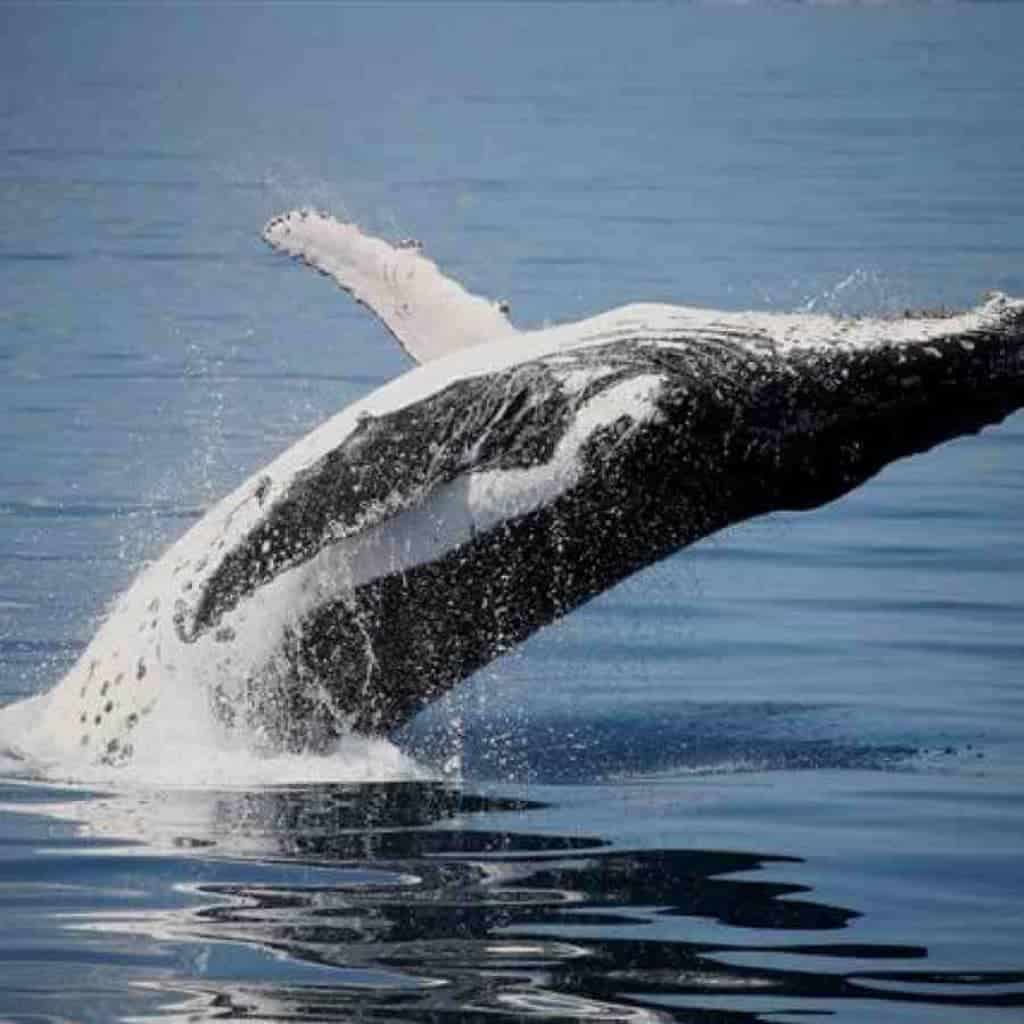 1. Spirit Of Hervey Bay
Spirit Of Hervey Bay

is one of the top-rated whale-watching tours in the area. This tour features a boat with 6 viewing decks which gives ample room for guests to keep an eye out for the humpback whales. Their boat even has an underwater viewing area which makes for a truly unique experience.
With such an impressive boat, it is easy to see why people choose this tour. There are multiple ways to see the whales splashing about in the open ocean!
Tours start as early as the third week in July which is just the start of the whale watching season. In addition to an impressive boat, the Spirit of Hervey Bay tour has a hydrophone where guests can hear the whales, free wi-fi, and air conditioning. These features make the boat and the tour interesting and comfortable at the same time.
This tour offers guests a choice of morning or afternoon half-day tours. The morning tours operate from 8:30 a.m to 1 p.m. while the afternoon tours operate from 1:30 p.m. to 5:30 p.m. Both options run for about a 4-hour duration.
Each option also has its own price points as well. It tends to be a little cheaper to go on the afternoon tours but, overall, the price ranges are affordable. Below are the price points for this tour!
| | | |
| --- | --- | --- |
| Price Points For Morning Tour | | |
| Adults – $120 | Senior Citizens – $110 | Students (15-17 years old) – $110 |
| Children (4-14 years old) – $65 | Family (2 adults and 2 children) – $330 | Children under 4 – Included in the ticket price for other accompanying persons |
| Price Points For Afternoon Tour | | |
| Adults – $110 | Senior Citizens – $100 | Students (15-17 years old) – $100 |
| Children (4-14 years old) – $65 | Family (2 adults and 2 children) – $310 | Children under 4 – Included in the ticket price for other accompanying persons |
All tours come with complimentary tea and refunds if no whales are spotted during the journey. These tours depart from Whale Bay Marina and Buccaneer Drive Urangan Harbour and generally operates from July to late October.
For over 30 years, Spirit Of The Bay has been providing local residents and tourists with a remarkable experience in seeing the infamous Hervey Bay Humpbacks.
2. Hervey Bay Whale Watch And Charters
The Hervey Bay Whale Watch and Charters proudly holds the title of being the first to give visitors to the area an up-close look at the humpback whales. This boating tour company was the pioneer in setting a trend for people to witness nature at its best.
Seeing these massive creatures explore the waters of Hervey Bay is a truly incredible experience. They are naturally curious marine animals that love to splash, jump, and glide through the water. There simply is nothing more exciting than seeing this in a front-row seat.
The Hervey Bay Whale Watch and Charters offers 5 impressive tour options. These include morning and afternoon tours, whale-watching with lunch on Fraser Island, whale-watching and exploring Fraser Island Trails, and swimming with the whales. Each tour offers something truly unique for guests. Below are the key features of each tour type!
Morning Whale Watching Tours
The morning tours take guests on a wide-spread cruise past the Great Sandy Strait islands and up the western coast of Fraser Island. This half-day tour starts at 7 a.m. and provides guests with a light breakfast, including tea and coffee options.
As with the Spirit Of Hervey Bay, there's a hydrophone to listen to the whales which makes the experience even more memorable. The tour also stops at Kingfisher Bay Resort giving guests the opportunity to grab a delicious lunch before heading back.
Prices for the morning tour are as follows: Adults – $105, Senior Citizens – $95, Children (4-14 years old) – $60, Families ' $310-360 (depending on the size of the family). These prices are competitive with other tours in the area!
Afternoon Whale Watching Tours
The major difference between morning and afternoon tours is the scenery! Afternoon tours operate between 1 and 5 p.m. which provides guests with gorgeous views of the sunset. There's nothing quite like ending a beautiful day watching the whales with a sunset on the horizon.
Other than that, the tour is basically the same as the morning tour, and that even includes the prices. Some other tours upcharge customers for afternoon cruises, but not this one!
Whale Watching With Lunch On Fraser Island
This tour choice sets Hervey Bay Whale Watch and Charters apart from other touring options. This is because this is the only tour where the vessel, Quick Cat II, stops at Kingfisher Bay Resort on Fraser Island. Guests can pay a little extra (about an extra $30-35 per person of regular admission prices) to enjoy an afternoon at Kingfisher Bay Resort.
Choosing this option allows guests to indulge with lunch at the Sand Bar & Bistro at the resort. Guests can also relax at the pool, head out on a trail, go paddleboarding, and more. It is important to note that guests choosing this tour will not be returning on the whale-watching tour boat.
Returning to the mainland must be done via barge departures. These departures are at 2:30 p.m. and 5 p.m. The price of the whale-watching tour admission includes a return barge fare.
Whale Watching And Exploring Fraser Island Trails
This touring package is a little bit more expensive because it includes a half-day whale tour and a full-day guided 4WD bus tour of Fraser Island on another day. This inclusive package gives guests access to not only remarkable whale-watching but also Fraser Island which is a world heritage sand island known for its stark beauty and unique scenery.
For those wishing to experience the beauty of both activities, this package is ideal. Prices are $330 for adults and seniors and $215 for children. Family prices range from $1100-1300. Considering the inclusions, the price points are well worth it!
Swimming With The Whales In Hervey Bay
The Hervey Bay Whale Watch and Charters really sets itself apart from other tours in the area with its swim with the whale experience. This one-of-a-kind event allows guests to plunge into the waters right alongside the whales and experienced staff.
Humpbacks aren't known to be aggressive and are often considered gentle giants. While they aren't a direct threat, they are still wild animals so the "swim" isn't literally a side-by-side experience, rather it is an opportunity to be in the waters much closer than seeing them on the boats.
With this experience, guests have the opportunity to really be a part of the whale's playtime in the waters. While this is a truly unique experience, it is important to note that it isn't a guarantee. The weather conditions have to be right to ensure a safe time for everyone.
Due to this, swimming with the whales cannot be purchased ahead of time. It is a spur-of-the-moment purchase that is available when the right conditions are available. Perhaps this makes the event even more exciting. The price is an additional $100 and guests should bring swimmers and a change of clothes.
All of these options make The Hervey Bay Whale Watch and Charters an excellent choice for those wanting to see the humpbacks!
3. Freedom Whale Watch
Freedom Whale Watch is a tour that prides itself in offering guests a luxurious time on the water looking for whales. Their 58-foot catamaran features flat-screen TVs, modern furnishings, and deluxe sound systems. Additionally, there are 3 viewing decks for spotting whales and most tours include tea and lunch offerings.
This 3/4 day tour departs from the Sandy Straits marina and includes travel transfers as well as the lunch provided onboard the catamaran. Lunch includes basics like deli meats, hot chicken, salads, etc, and a typical buffet menu.
Freedom Whale Watch strives to ensure every guest has an exceptional time, especially if the whales don't make a direct appearance. With comfortable accommodations, guests can simply enjoy a day on the water with or without the whales.
The price point for Freed Whale Watch tours is comparable to other choices on this list. Adults are $150 per person, Senior Citizens (or other concessions) are $130, Children are $100, and Families range from $450-500.
4. Whalesong Whale Watch Tours
Whalesong Whale Watching tours are known for their eco-friendly boats. Moreover, they have extended morning and afternoon cruises, making them an excellent choice for those wanting to see just a bit more.
Morning cruises are about 5 hours in length while the afternoon cruises are for about 4.5 hours to ensure guests get to see the sunset. Either choice really makes patrons feel like they're getting a little more for their money!
The tour also includes commentary on whales and other local marine life (including sea turtles, dugongs, and Fraser Island facts). While other tours do have commentary, Whalesong is known for its extensive and educational commentaries that make their tours a real treat.
Other cruise inclusions include multi-level viewing decks that are extra-wide and spacious, lower capacity meaning a more private feel to the atmosphere, bar and snacks, lunch options, hydrophone, and wheelchair accessible levels.
Prices for the Whalesong Watch Tours are as follows: Adults are $130, Concessions are $120, Teens (15-17) are $95, Children are $70, and Families range from $360-400.
5. Blue Dolphin Marine Tours
Blue Dolphin Marine Tours offers a wide range of tours for its guests. From champagne sunsets to eco-sailing

, there is something for everyone. However, their whale-watching tours are a popular choice among all their options. From July to October, guests can enjoy a full-day tour.
Blue Dolphin, believe in giving visitors more time on the water to have a better chance at seeing whales enjoying the Hervey Bay waters. That means more time to see the whales splashing and slapping their fins as well as jumping and gliding through the waters.
This tour has inclusions like buffet lunch, morning and afternoon tea, complimentary beverages, courtesy pickup, and drop-off. The features of the tour include an in-water viewing platform, a maximum of 24 guests (so no overcrowding), and modern furnishings, just to name a few.
The full-day tours start around 7:15 a.m. when boarding occurs and lasts until about 4 p.m.
All of these tours are stunning ways to not only see the humpback whales but also the beautiful open waters of Hervey Bay!
Resource Links To Products We Use And Recommend
More Pages On Whales