To say that Tin Can Bay is known for its fishing is a bit of an understatement. It is a magnet for fishermen and women and the sheer variety of fish that you can catch there means that you will never have a dull day's fishing.
Whether you want to fish on land, boat fishing, kayak fishing, or whether you prefer to bait or lure fish, there is a place for you at Tin Can Bay. Let's take a look at the best fishing spots so that you can make the most of your visit to Tin Can Bay.
There are several popular places to fish at Tin Can Bay. There are several creeks, ledges, and rocks within the bay itself, as well as beach fishing. Some of the more popular locations around Tin Can Bay to fish are Crab Creek, Teebar Ledge, Bird Rock, and along the reefs.
If you're looking for the perfect place to plan your next Queensland fishing trip, Tin Can Bay should be right up there at the top of your list. There are so many places for you to fish and you are going to come across a huge variety of species.
Tin Can Bay is situated between Hervey Bay and Gympie and it is a haven for all sorts of fish species. People flock from miles around to spend some time fishing here and there is something for every style.
On the outskirts, there are also Inskip Point, Double Island Point, and Rainbow Beach. Offshore fishing can also yield good results. If you are planning a trip to hit all of these places to go fishing, it's best to book your accommodation in Tin Can Bay as there's so much more on offer in this small but busy town.
Land Fishing In Tin Can Bay
If you prefer land fishing, there are lots of options for you within the Tin Can Bay Inlet. Some of the most popular spots would be the creeks, especially Crab Creek. But beyond that, there are also lots of ledges dotted about, such as Searys and Teebar, which are great spots.
Inskip Point is another popular land fishing spot where you can access the Great Sandy Strait Inlet and you can also fish off the rocks at Double Island Point.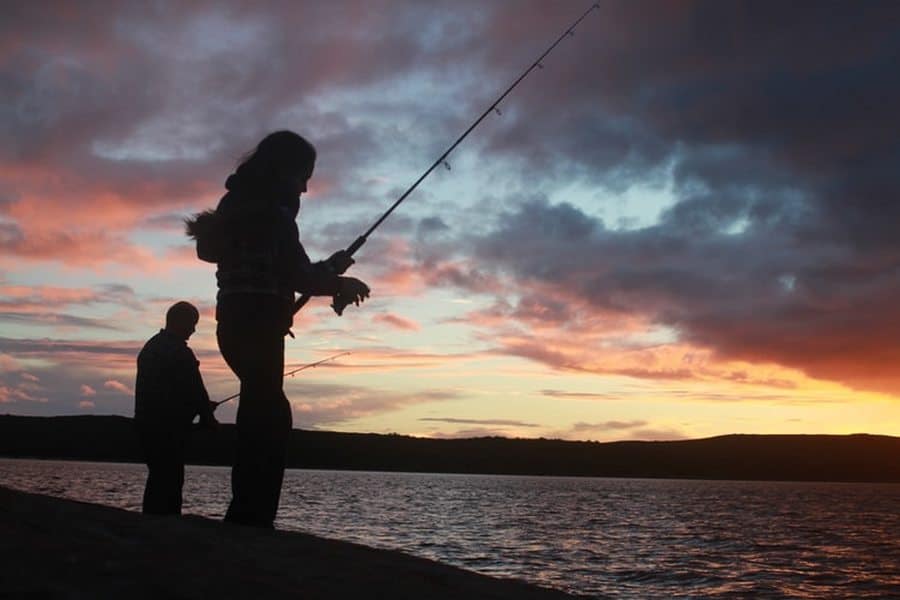 Beach Fishing In Tin Can Bay
Rainbow Beach, between Inskip Point and Double Island Point, is a really popular spot for beach fishing (although you can land fish here as well), and the beaches within Tin Can Bay are also a good choice.
Boat And Kayak Fishing Around Tin Can Bay
There are plenty of launching points for boat and kayak fishing in and around Tin Can Bay. You can launch from within the inlet itself or from Inskip or Double Island Point. Double Island Point is only accessible via four-wheel-drive so you should definitely make sure that you're prepared before you head here.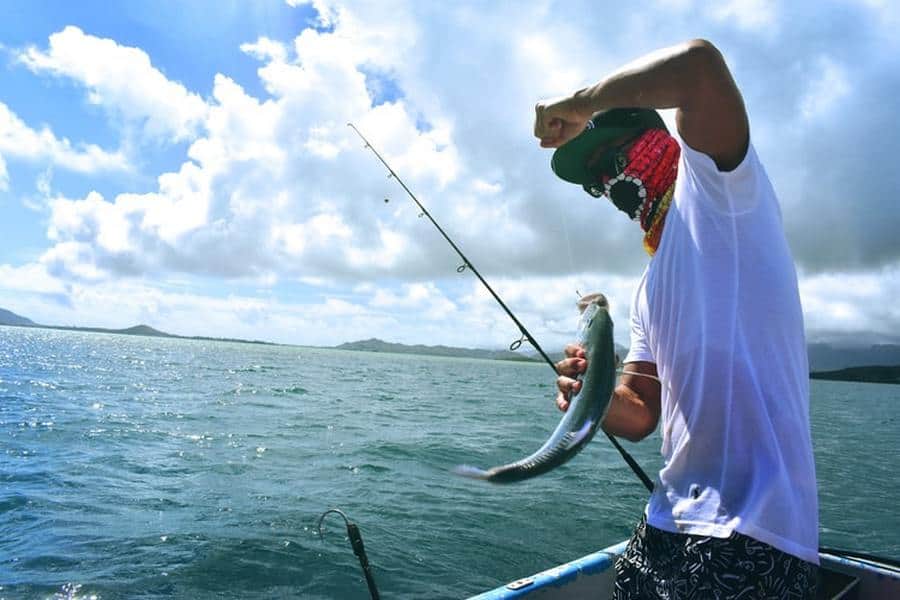 Where Can I Catch Squid In Tin Can Bay?
The best way to catch squid in Tin Can Bay is to get out into the water in a boat or kayak. You should look in the shallows right next to the deeper channels at low tide. Squid like to keep in the shadows so you will need to have a keen eye, and they are also quite easily scared off by people's presence so it is a good idea to turn your motor off as you approach.
Your perseverance will pay off if you manage to get one.
Can You Catch Prawns At Tin Can Bay?
If you're looking to catch a great Sunday feed of prawns, then looking to soak some pots in the creek is going to be your best chance. Usually placed at the mouth of the creek or lower ends is ideal. You can also place some pots along the banks near the mangroves or where there is a slow-moving current.
Be mindful that if it has been raining over the weekend or through the week placing at the mouth of the creek will be your best chance for catching prawns in Tin Can Bay. This is due to the creek getting flushed out by rain into the sea.
What Fish Can You Catch At Tin Can Bay?
What fish can't you catch at Tin Can Bay? You are really spoiled for choice there. Of course, the type of fish you are liable to catch will depend on where you're fishing from, the type of fishing that you are doing, and the time of year.
Around Creeks, Rocks, And Ledges
There are plenty of spots within the Tin Can Bay inlet, some of which are more heavily visited than others. If you fancy having a little tour around and trying some different ones out, you should be able to find a good mix of fish.
Varying your tactics is also a good idea, so a lot of people use a mix of bait and lure fishing. There are too many spots to mention everyone here, but here are some examples of the type of fish you might expect at some of the more popular ones:
Crab Creek – here you can find mainly bream, whiting, and flathead off the sand flats, especially at high tide. You can also find Moses perch, trevally, mangrove jack, pike, and cod.
Teebar ledge – tusk fish, sweetlip, and cod.
Bird Rock – cod, jack, bream, and flathead.
Reefs – tailor, school mackerel, trevally, and tuna.
Try Fishing At Inskip Point
This is an active area, with lots of fish passing through the Sandy Strait. You can fish here in a variety of ways, including from the beach or from a boat, using fly fishing, trolling, bottom bashing, or spinning.
You can find:
flathead
bream
mackerel
squid
swordfish
tuna
tailor
Fishing At Double Island Point
There are a variety of different types of fish here, depending on the type of fishing you will be doing.
Land fishing – jewfish, tailor, snappers, bream, trevally, tuna, mackerel, and cobia.
Beach fishing at Rainbow Beach– in the summer, bream, wiring, tarwhine, and dart. In the winter, you can also find tailor and flathead.
Boat/kayak fishing – tailor, mackerel, giant trevally, as well as sweetlip, snapper, cobia, jewfish, mackerel, yellowtail kingfish, trout, and red angler.
Offshore Fishing At Tin Can Bay
There are lots of opportunities for getting out into the open water to do some fishing, and you won't be disappointed. It is often a good idea to get out at dawn or dusk because these are the times when the fish are most active. You can find plenty of snappers and if you go a bit further out towards Fraser Island, you can find some red emperor.
You can also find tuskies, blackall, pearl perch, grass emperor, and snappers.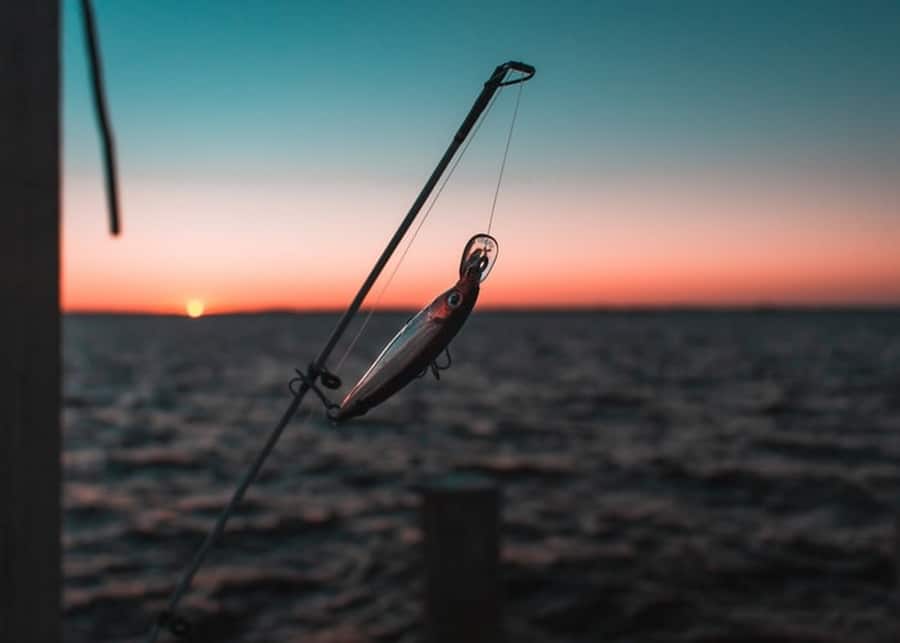 The Bottom Line
Fishing is big at Tin Can Bay. There are fishing clubs and fishing enthusiasts everywhere, so if you're looking to meet some like-minded people, this is the place to go.
And it doesn't really matter what style of fishing you favour, because you can take part in just about any type you like at Tin Can Bay and still be fairly certain of getting some good catches.
Resource Links To Products We Use And Recommend
More Pages On Fishing
link to Are There Stonefish In Hervey Bay?
The stonefish, scientifically known as Synanceia, is renowned for its incredible camouflage and potent venom. It is often considered one of the most venomous fish in the world. This venomous...
link to 9 Best Baits For Australian Salmon
Loved for their delicious, oily flesh, Australian salmon are a prized catch for many anglers. And while they can be caught using various techniques, baits are often the most effective. But which...