There are several ways you can get to beautiful Fraser Island and one is by road. Travelling northbound via vehicle from Queensland's capital city of Brisbane you are looking at approximately a 3 to 4-hour drive to reach the whale capital of Australia, Hervey Bay.
This drive is a relatively scenic route with many towns in between to pass through that have some pretty iconic historical meanings to the state of Queensland and the countrywide.
To get to Fraser Island once you're in the city of Hervey Bay, you simply take a 50-minute ferry ride from River Heads boat ramp. If you're taking a 4WD over to Fraser Island you can also leave from Inskip Point located in Rainbow Beach, The ferry leaves daily for day trips to Kingfisher Bay.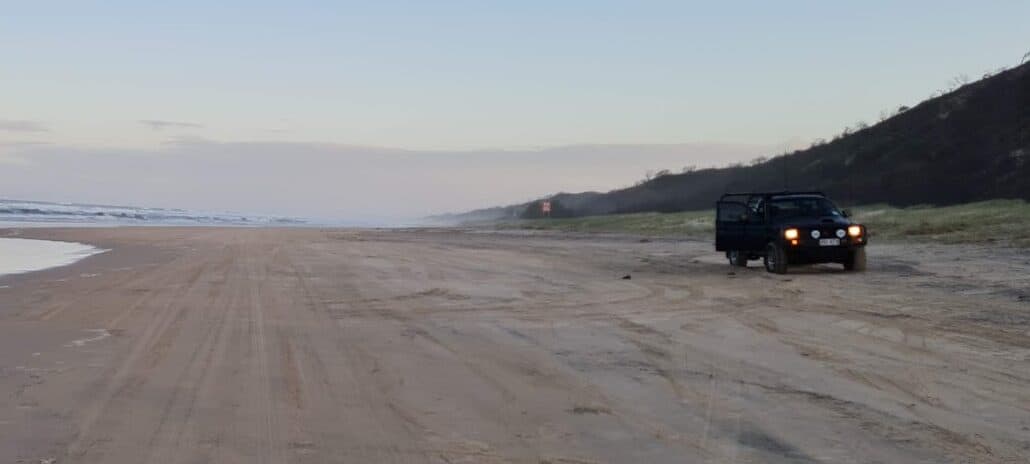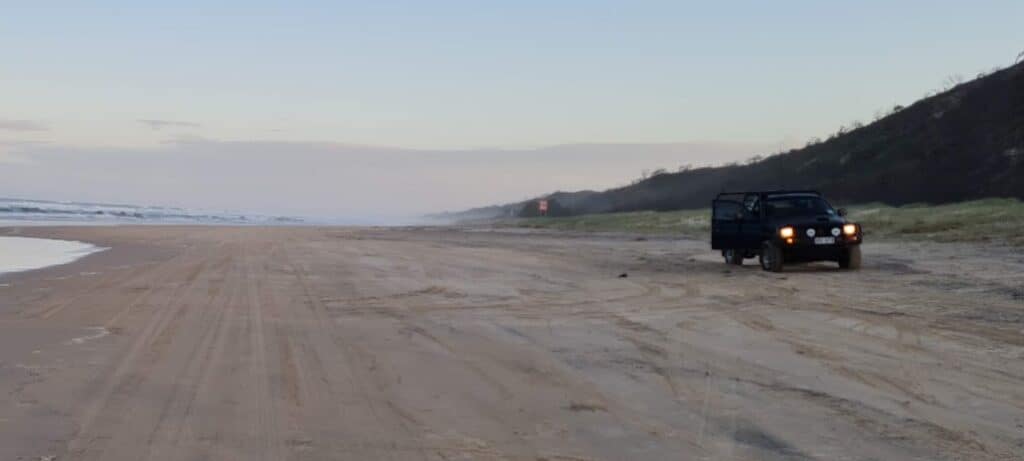 Can You Drive To Fraser Island?
Once you get to Hervey Bay you are now only a short 50-minute boat or ferry ride to your destination of the magical Fraser Island and if your chosen vehicle is a 4WD you can book it on the barge service and tour the island in the comfort of your very own vehicle.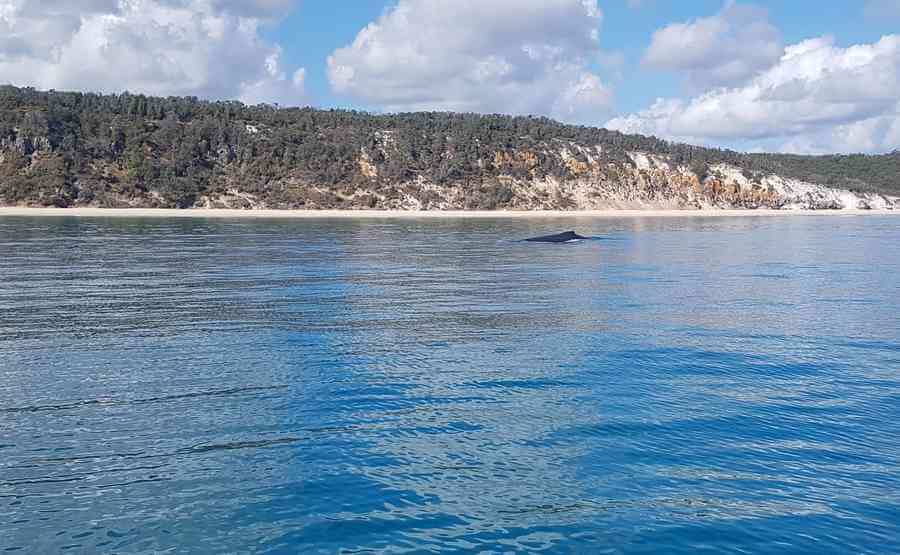 Can You Take A Boat To Fraser Island?
Professional boating enthusiasts really love choosing this option as a way of visiting Fraser Island.
You will often see many larger boats and vessels anchored approximately 150 meters offshore of the island as they use smaller inflatable rafts to come ashore daily.
You could hire one and take a boat to Fraser Island.
These boating experts travel from as far as down south to arrive on Fraser Island and moor nearby to not only enjoy what Fraser Island has on offer but also to explore the popular Great Sandy Straits waters for fishing and other recreational activities.
Water skiing, jet skiing and sightseeing the Hervey Bay landscape from the waters are some of the more popular ways visitors enjoy travelling by boat and maximising these experiences.
Travelling up the coastline is quite a mesmerising way to take in the travel time this takes to arrive up in south-east Queensland from departing points such as Sydney or Noosa.
You will, however, need to plan for extra time to travel within your trip planning and obviously this mode of transport to Fraser Island isn't for the non-experienced but for those who are fully experienced in boating.
What a fantastic way to enjoy a peaceful, planned trip to Fraser Island this method of transportation gives you the chance to explore in pure bliss and also opts as a way of accommodation for some who prefer to sleep on their vessels or boats by night.
With so much to see and do and with a ready-to-go boat, the skies really are the limit to what you can achieve in sightseeing.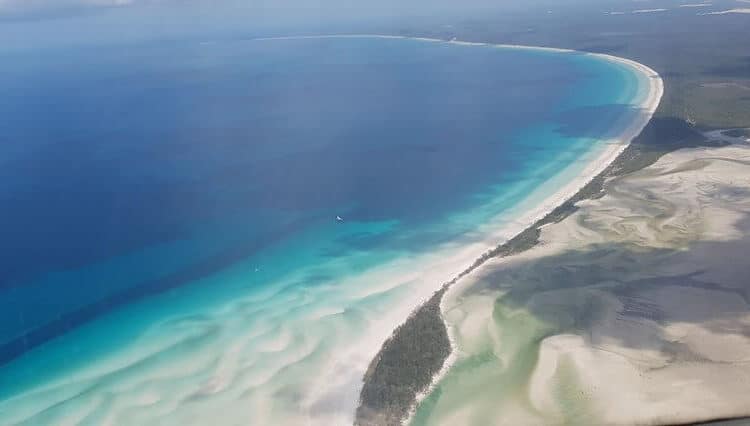 Can You Fly By Plane To Fraser Island?
One of the most time-savvy ways people enjoy travelling to stunning Hervey Bay is via plane.
This may seem like a missed opportunity to some as obviously you fully bypass the scenic towns there are when you hit the open road and drive, however, for some, this is their first option or only option.
Bear in mind also that the overview from flying above the region is quite spectacular and many revels in being able to see Hervey Bay and Fraser Island from this perspective.
The Hervey Bay airport has expanded over the years and the once minimal offerings of flight transfers that were on offer are now covering a much larger audience with some direct flights to Brisbane, the state of Queensland's capital city and to Sydney, the state of New South Whale's capital city.
Both of these hot spot cities boast major domestic, national and international flights, which means if you are flying from overseas to either Sydney or Brisbane, you can book a direct flight to the Hervey Bay airport.
Once you have arrived in Hervey Bay flights leave daily to Fraser Island via Air Fraser, some flights are also available from Sunshine Coast Airport.
Be sure to plan out your trip to Fraser Island, many months ahead you can read about What is the best time of year to go to Fraser Island here, it has many answers to common questions.
Now you are in beautiful Hervey Bay where you can now book your once-in-a-lifetime trip to the majestic Fraser Island.
Choose to travel over to Fraser Island and book a ranger-guided tour to take you around or hire a 4WD locally or at Kingfisher Bay Resort where you can explore the island for the required length of time you are visiting.


Getting To Fraser Island By Train
Hervey Bay is so fortunate to have linkages to the Queensland Rail service

.
This facility has become increasingly popular over the years with many people of all ages and from all parts of the country and abroad using this service as a means of transportation as the rail service opened up their routes to some of the most remarkable places in Australia has to showcase.
Hervey Bay is just one of those amazing destinations with Fraser Island right on its doorstep across the short boat ride waters and many use the tilt train service to travel from right across Australia to visit the world heritage listed golden sands.
Some of the best attributes the tilt train offers you in their newly refurbished trains are spacious, comfortable, high-back seating for added privacy.
This is a really inviting sight when you board the tilt train. Gone are the days of low-buck seating where you feel like you are travelling with so many others and introducing these new high-back, comfortable seating is a major drawcard to people wishing to travel this method.
Once seated you will find headphones provided and several stations of music for all styles available for your enjoyment.
This also is a pleasant discovery as many people choose to travel rail for the peace and quiet, scenic routes that await you off-road that you most definitely don't see any other way of transportation.
Once onboard and travelling, you will have a staff member approach asking if you would like anything from the menu that is provided within your seating allocation.
Complimentary coffee or tea is also available upon boarding with a one-use pass and if you opt to not order any hot or cold meals from the onboard menu.
There is an opportunity to walk through the train to the train restaurant/cafe area where you will find plenty of booth-style seating with exquisite window views of the scenery passing you by as you order from the main counter a variety of foods including cold beverages, extra coffee or tea, packets of chips, cakes, biscuits, nuts and a variety of seasonal fruits.
Breakfast, lunch and dinner are available for those who are travelling during those meal times and there really is such a huge selection available to suit most people and those with any food allergies.
Toilet and shower facilities are available in each cabin for your convenience with disability rails to support those who require them.
Once you arrive in the Wide Bay area, which is a cluster of towns that create this zone, you will arrive in Maryborough West. This is just outside of Maryborough and approximately 30 minutes from your chosen destination of Hervey Bay.
From here, you will depart your train, ensuring all carry-on luggage is either removed by yourself or checked through to Hervey Bay by your bus driver who awaits you a few short meters from where you depart.
This pleasant bus ride in comfort and air-conditioning and with toilet facilities will take approximately 50 minutes as one stopover in the town of Maryborough at the bus depot to collect any paying customers who may be travelling to Hervey Bay from there as part of the journey.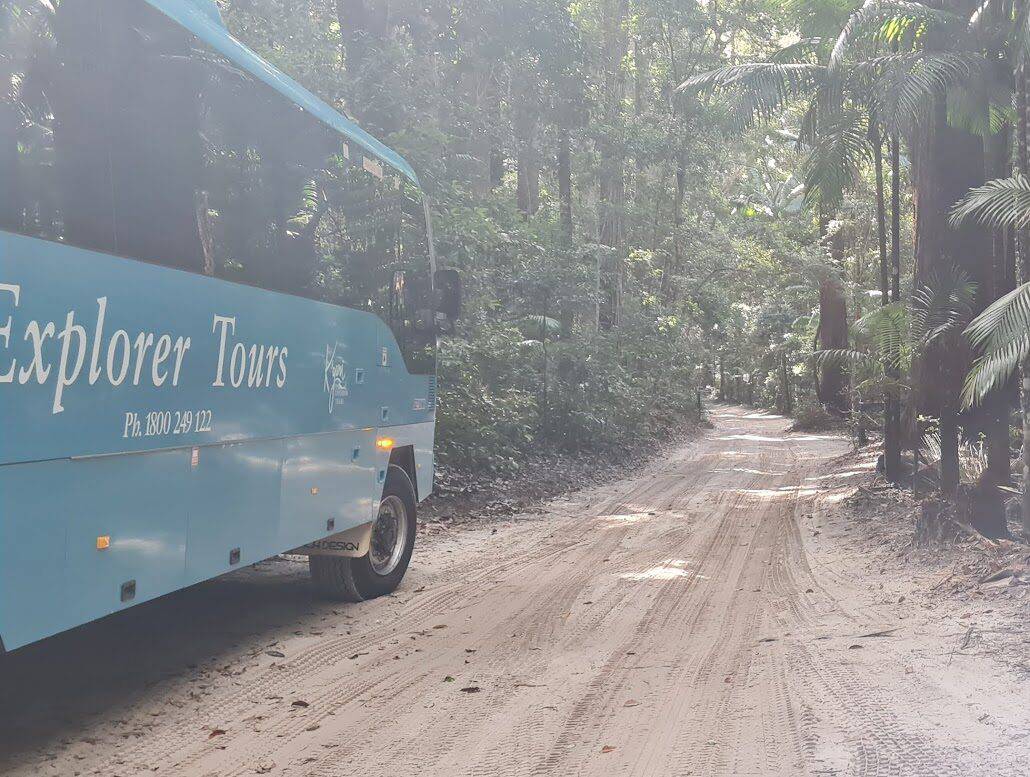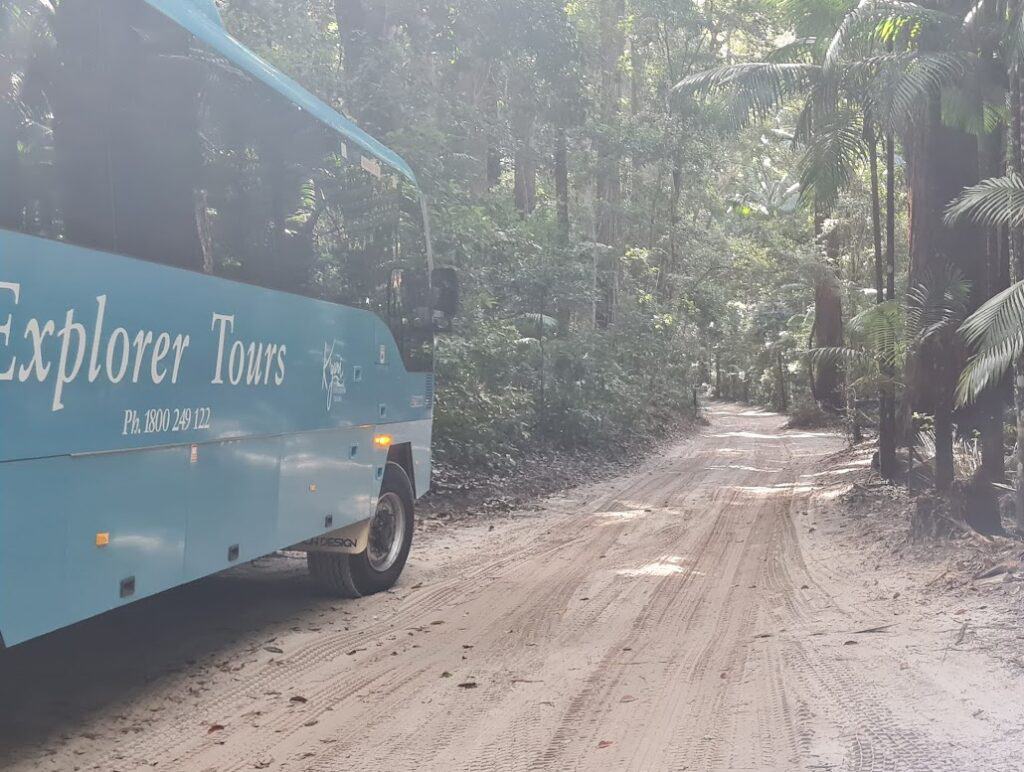 Bus Trip To Fraser Island
Buses have been a favourite way to transport people to Hervey Bay for centuries.
Hervey Bay boasts one of the most well-loved services in the southeast of Queensland with the friendliest team hosting your trip with a colourful array of knowledge of the region you are visiting and the wealth of knowledge they provide is really to be commended.
You can expect to sit in full comfort, find toilet facilities onboard and tune in to one of the chosen movies provided on the overhead TV screens built into the bus.
Food is permitted on the bus and drinks are generally kept to the thumb rule of the beverage must have a screw-top lid.
Please be mindful of any rubbish after you are finished with your food and beverages and remove them when your bus comes to a stop at any roadhouse destination that is pre-planned within your booking.
If you are on a long bus ride to Hervey Bay, as mentioned above, the bus service already pre-plans roadhouse stops for all passengers who wish to vacate the bus, stretch their legs, or grab a bite to eat from the major outlets provided.
You will generally be given a time by your bus driver to be back at the bus and this is imperative you stick to this time frame as your bus driver is not responsible for reminding or searching for bus passengers if they are not back at the bus at departure time.
Depending on where you are travelling by bus from, you can expect any trip to have to add on length of time.
For example, if you were to make a booking with the bus service to travel from Brisbane, Queensland's major capital city, this generally takes between 3 and 4 hours maximum to drive by vehicle.
However, when you travel by bus, this becomes slightly longer around 5 to 6 hours as the driver will make many stops along the way at all the towns throughout to collect more passengers who are also travelling in the same direction as yourself.
Another reason this takes slightly longer than driving yourself is due to the pit stops that the bus driver will make for your convenience to eat and stretch those legs from sitting for so long.
This may seem like a negative, but rest assured it is actually a positive as you get to really take in some of the highlights of your journey along the way to Hervey Bay and it makes for a great opportunity to photograph some of the truly scenic places your eyes will be seeing for the first time.
As you can see, there are literally so many ways you can travel to the world heritage listed and much-loved Fraser Island.
Hervey Bay is so blessed to be able to provide as many links of transportation as possible to make this choice easy for visitors who are planning on visiting the region Hervey Bay, together with Fraser Island extends a huge welcome to all who visit or are planning to.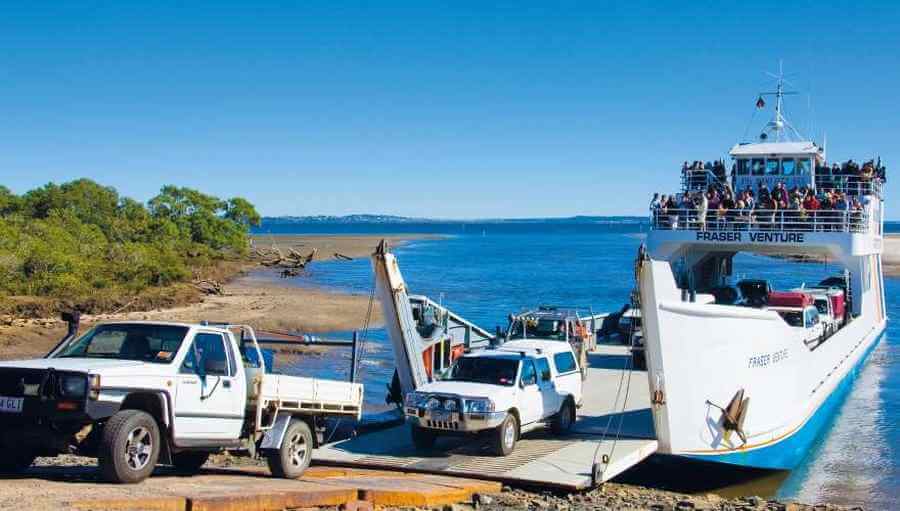 Getting On The Island
Four-wheel drive barges leave daily, from River Heads and Inskip Point please note that (Inskip Point) is not located in Hervey Bay. High-clearance four-wheel drive is needed to access Fraser Island.
Google Map Of Fraser Island
You may also walk on as a passenger. You will also find many commercial tours that leave from Brisbane, Sunshine Coast, Rainbow Beach and Hervey Bay.
Over the vast years, the landscape has formed into one of the best places to camp and fish in the world, with its unmatched landscapes and clear freshwater lakes.
Come and see what all the fuss is about as you relax, unwind, enjoy and frolic in the crystal waters that draw so many to our little slice of paradise each and every year.
Resource Links To Products We Use And Recommend
More Pages On Fraser Island
link to Can You Drive At Night On Fraser Island?
Fraser Island, located off the coast of Queensland, Australia, is a popular tourist destination and a UNESCO World Heritage Site. The island, which spans more than 120 kilometres in length and 24...
link to Are There Toilets On Fraser Island?
Fraser Island, which is a popular tourist destination in Australia. The island has a number of campsites and other facilities where visitors can use toilet facilities. There are on average around 22...