There are many things to do and explore on Fraser Island and its scenic landscape. You will be amazed by the beauty of Lake McKenzie (a freshwater lake), delighted to see the Maheno (one of the islands legendary shipwrecks) and The Pinnacles (coloured sands), all these and more.
Below we have listed the 20 of the top things to do and visit while on Fraser Island to help you better book your vacation. Whether you choose to take the ferry over and stay for the day or planning a longer trip these are our top recommended places to see.
1. Go Boating Or Fishing Off Of Fraser Island
Considering that many of these accommodations are located beachside, fishing is something to absolutely partake in! Fraser Island and the Fraser Coastline on mainland Australia is well known for their peak fishing spots!
All levels of fishermen are welcome to tackle the waters for a relaxing day of fishing or even a more competitive approach for obtaining a great catch!
You can fish right off the beaches of Fraser Island, but please take note that some beaches can have large surf and strong currents so please stay safe if fishing in these areas.
For recreational fishing, you do not need a permit for private fishing on the Island, but you still must make sure you follow the rules on fishing bag and fish size limits. Check the rules and regulations when fishing on Fraser Island.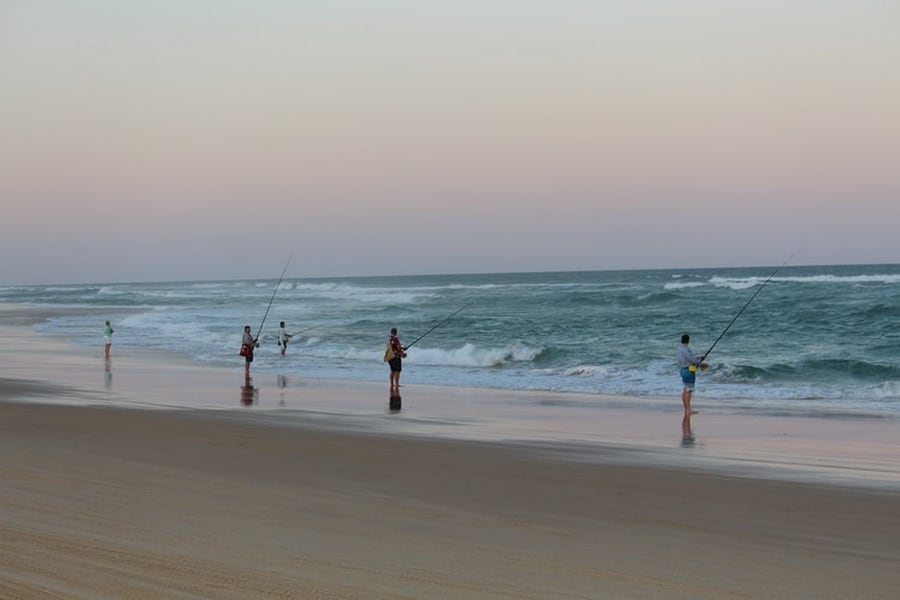 Watch out for the sea life below the waters, there are a few rules to follow if you have your boat in the water. In all of the signed areas, you must follow the rules and keep the speed at a slow pace.
The Island has areas marked as go-slow zones to keep impact to any turtles or dugongs to a minimum. Follow boating tips when you are in designated areas.
2. Visit Lake McKenzie And Other Fresh Water Lakes
Lake McKenzie is absolutely stunning and should be on every guest's list of places to visit! It is a freshwater lake that is a prime swimming location. It is also surrounded by the Great Sandy National Park, giving guests the opportunity to explore everything around it as well!
Lake McKenzie is clearly one of the most spoken about lakes on Fraser Island and it's clear to see why, but many overlook or are unaware of the many other lakes on Fraser Island. Listed below are the Lakes on Fraser Island and should be considered for your next trip to Fraser Island.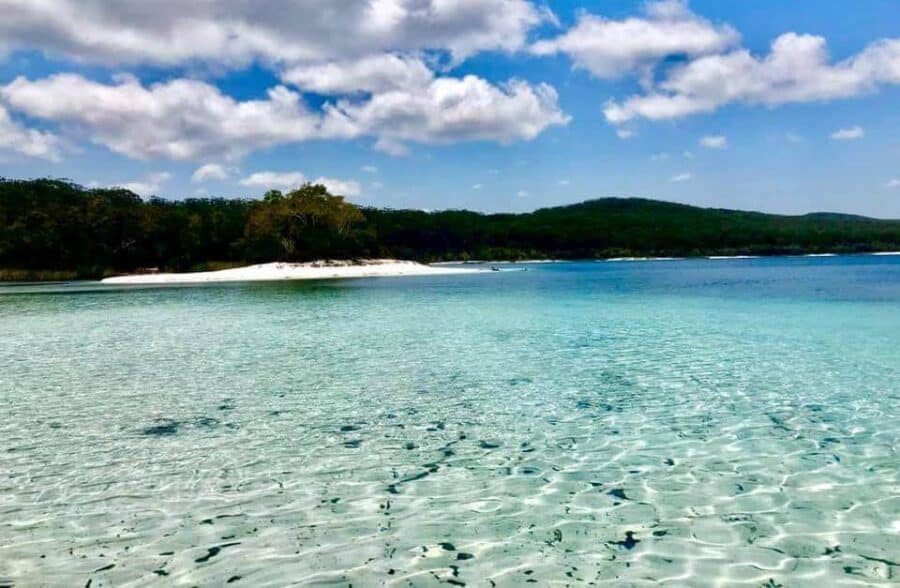 Lake Wabby is home to a giant sand-blow and is considered the deepest lake on the island. The island's deepest lake is rich in fish and surrounded by ancient melaleucas. Not only is it great for swimming, but the view of the sand-blow is a plus as well! Lake Wabby and its sand dunes are not to be used for rolling or sliding down as spinal injuries can happen.
Lake Allom it's known for its turtles and surrounding forest area. Located right next to the rain forest you can cool off in this shady hollow, watch for the freshwater turtles from the platform, but please keep in mind no feeding of the turtles is allowed.
Lake Boomanjin which is almost 200 hectares, it's claimed to be the biggest water lake in the world.
Ocean Lake is home to many types of water birds, you can watch them in the reeds and other parts of the nearby lake. Close by you will also see Banksia trees and Melaleuca woodlands.
Lake Bowarrady is surrounded by rainforest, including eucalyptus trees as well as wallum banksia heathlands. Because of its surroundings, the lake has tannin-coloured water. It sits 120 metres above sea level.
The Basin is a lake that isn't as large as some of the others on Fraser Island but is known to be as deep as 8 metres. Even though the size of the lake is smaller, it is still a perched lake.
Lake Birrabeen is the second most popular lake to visit on Fraser Island, it too is a perched lake and is known for its pure clean water and is favoured for its swimming opportunities.
Please follow these few safety tips while swimming at the lakes, for the safety of not only you but those around you and the ecosystem on Fraser Island. Never let children in the water alone. Although the water is clear the depth of the water is a danger.
No diving in the water, quite a few injuries have taken place from doing so. Take UV rated shirts it's advisable not to use sunscreen in the lakes for pollution purposes.
3. Four-Wheel Driving Around Fraser Island
The beaches on the Island are only to be used by high clearance four-wheel drives, and it's best to use low range. Before you drive on the sand put it in 4×4 and if you need to lock your hubs in please do so.
Watch for all road signs, just as you would on the road, the same rules apply for Queensland roads as they do here on the beach.
Most of the walking tracks and Islands scenic features can be accessed from these drives, All camper trailers have to be of high clearance and suit the four-wheel-drive that's going to tow them.
Fraser Island does not suit caravans so please do not bring them or other trailers. Road conditions can change at any time.
After long periods of dry spells, or a lot of rain you will experience some difficulties travelling on the Island tracks. Please check on the beaches or the condition of the road before you travel.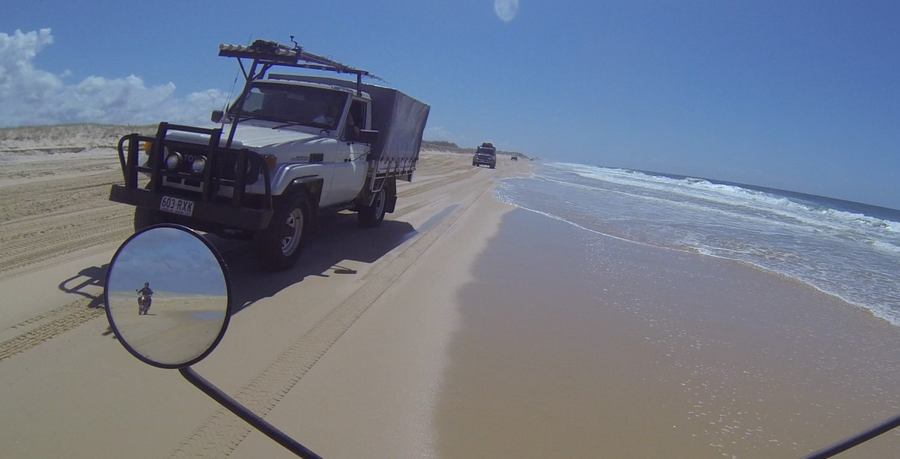 4. Try Out Fraser Island Bushwalking
One of the best ways to see the Island up close is on the walking tracks. With many tracks to choose from starting with the boardwalks in the rain forest, short walks around the lakes or treks to the sand blows. Some of the walks that you can explore are:
Beerillbee Trail
Boardwalk at Wangoolba Creek
Lake Wabby
The Cathedrals on Fraser are coloured sands named because they resemble European cathedrals. These cliffs have been eroded away due to the wind and the rain blowing in off the Pacific Ocean into colourful spires and peaks. The colouration is a result of iron oxide staining and the colours – red, brown, yellow and orange – are spectacular.
The Corrigin Sand Blow is only about 1.5km inland and is a spectacular sight to behold. These amazing formations of sand are mother's nature own artwork. They are created by ferocious winds that blow sand inland from the ocean's shoreline. They are truly magical to see!
If you are up for a much longer walk you could always try the 90km Fraser Island Great Walk

, it has many campsites along the way for the great camp out experience. You will see the untouched landscape and vast natural beauty along the Great Walk.
While the entire 90km Great Walk can take from 6 to 8 days to do, there are many short walks featuring from just half a day to the longer full-day treks. To walk the Great Walk track you will need a topographic map and compass to do the whole 90km trek.
The Fraser Island Great Walk starts at the historic sand miners camp at Dilli Village and provides a continuous walking track with facilities from Dilli Village north to Happy Valley.
Central Station is where many walkers leave to start their walk, in the rain forest using the Wanggoolba Creek boardwalk, also see the Basin Lake and visit Pile Valley.
Pile Valley was a site at which some of the tallest and largest trees on Fraser Island and grow up to 70 metres high, the huge Satinay trees are home to many birds and other wildlife on the island.
Considering that the rainforest environment is a large portion of Fraser Island, it's essential to visit it! Central Station campsite is a splendid place to camp and enjoy all the beauty of the rainforest.
The rain forest is full of so much wildlife and plant life that really breathtaking for guests to experience! Spend some time looking at the sights of Fraser Island and you will love the parks features. Only walk on the tracks, do not head off the formal walking areas or the main roads.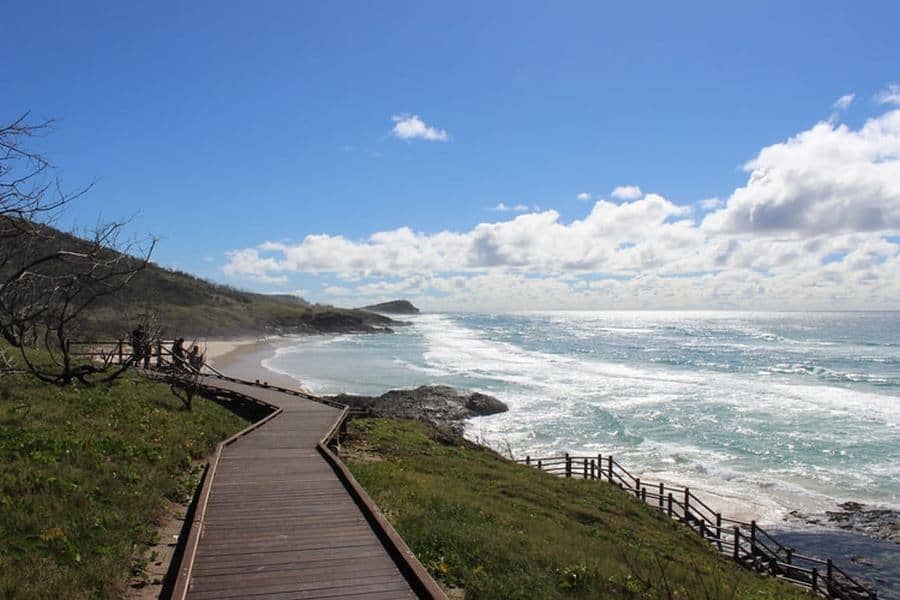 5. Catch A Great View At Indian Head
This little historical lookout spot was given its namesake by James Cook back around the late 1700s. There is much to see from the lookout, especially turtles, but even sharks can be seen here as well! It is a vantage point for seascape views too!
Indian Head is definitely not one place you want to miss, located on the tip of Fraser Island and along 75-Mile beach sits a vantage viewing point like no other.
So many great opportunities are to be had here whether you are an amateur photographer or have been in the trade for a while. There are simply so many breathtaking views to see from Indian Head.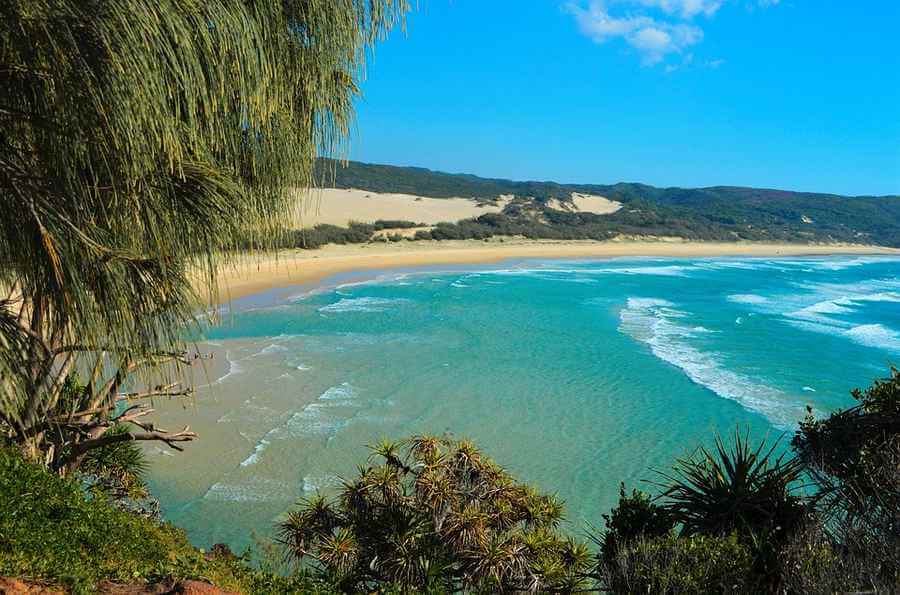 6. Visit Central Station Fraser Island
Central Station is tucked away amongst the rainforests of Fraser Island and is much loved by all who live there and visit. Central station gives you views of what makes Fraser Island so beautiful and unique. The rainforests of Central station is believed to have been growing for thousands of years out of the sand dunes.
Central Station, formerly a logging camp back in the early 1920s. Logging was outlawed, and the site is now one of Fraser Island's popular tourist information centre and camping ground. Complete with showers, picnic areas and toilets, you can pitch your tent among the beautiful tall hoop pines and amazing wildlife in the national park.
The wildlife is abundant here and many come to explore it by walking the difficult 10.5km trek that takes around 4.5 hours to walk, so if you're an avid hiker this is definitely something that should be on your bucket list. It is advised that only experienced hikers do this trek due to its rated a Grade 4 in difficulty.
7. The Maheno Shipwreck On Fraser Island
75-Mile Beach is famous for its beautiful sands, but ultimately, the Maheno Wreck is the star attraction. After thirty years of service in Australian waters the Maheno, a huge cruise vessel, was being towed to Japan as scrap when it hit cyclonic conditions off the coast and was washed ashore on the 9th July 1935.
The past 60 years of waves and weathering have reduced this once huge vessel to a rusting skeleton but it is still an imposing landmark.
The skeleton of a ship is a rich historical piece and draws attention from all guests as it's truly amazing to see in person. It makes for a great picture opportunity as well. Although the Maheno has deteriorated over the years, every single year it makes the wreck that much more beautiful to photograph.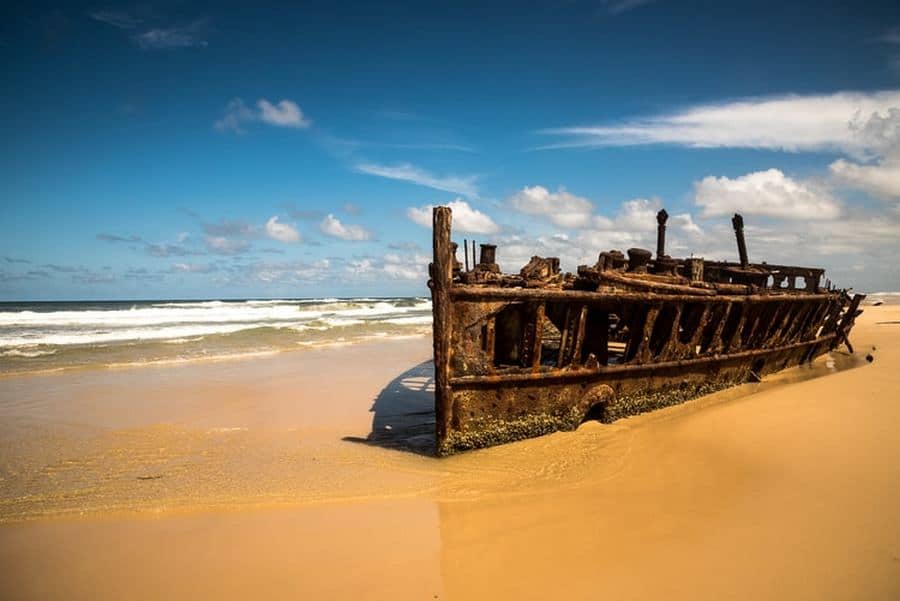 8. Champagne Pools Of Fraser Island
The Champagne Pools are located between Indian Head and Waddy Point and is a very popular destination to stop at while driving along 75-Mile beach. It's known for its clear volcanic rock pools, the best time to visit the pools is during low tide to truly be able to experience why it's so popular amongst tourists.
A great place to take a dip, consisting of two pools to take a swim in. One large pool and one smaller pool. Take advantage of the pools to their fullest and bring along a pair of goggles to view below and catch a glimpse of any sea life that may inhabit the pools.
Take a dip or grab a tan at the well-visited Champagne Pools (pictured below). The Champagne pools are situated near Indian Head.
There are timber walking tracks and steps to enable easier access. The Champagne Pools are a natural rock formation that causes the tides to form rock pools. Their beautiful crystal clear look has earned them their name.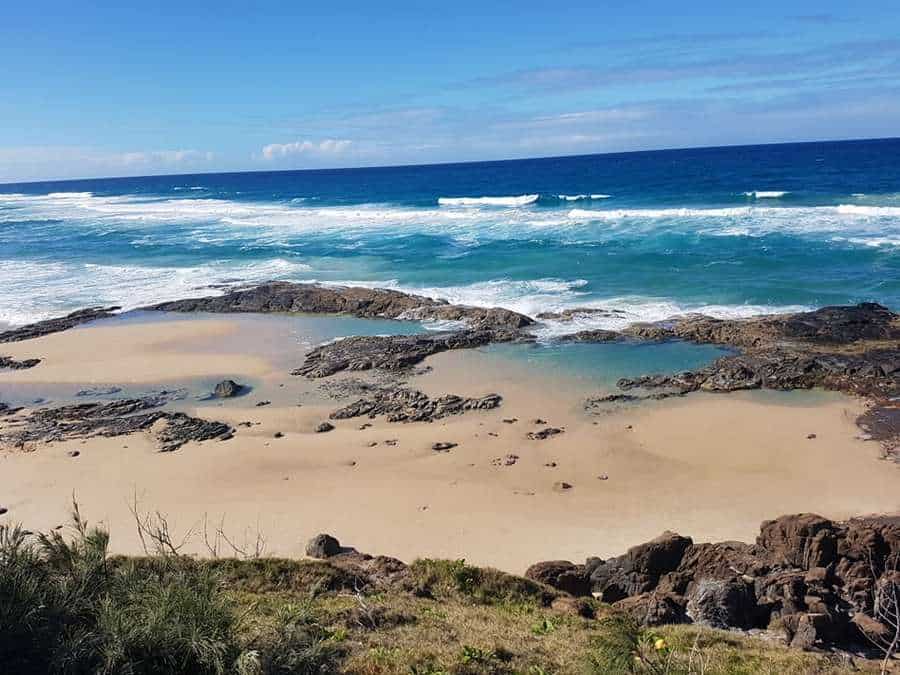 9. Float Down Eli Creek Fraser Island
Eli Creek is iconic for grabbing a floaty or your swimmers and taking a float down the creek and allow the current to carry you. This freshwater creek flows along the banks and right out to the beaches, it's a natural flowing creek. It's a great spot to cool off and have a picnic along the banks of the creek.
While at the creek take a chance to check out the abundance of wildlife here, there are plenty of signs along the boardwalk at Eli creek to advise you of what type of wildlife you may see.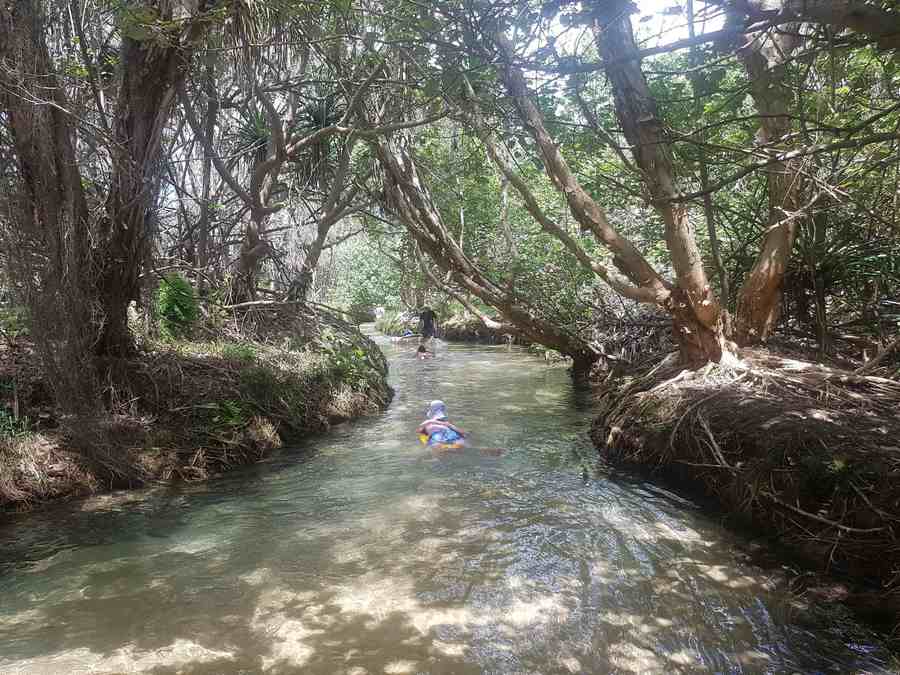 10. Fraser Island Sand Blows
Wungul Sandblow is a natural sand blow that offers the best coastline viewing from its dune crest.
Binngih Sandblow (Waddy Point) here you will see views of the famous lighthouse at Sandy Cape on K'Gari Fraser Island, Also Marloo Bay and Waddy Point.
Stonetool Sandblow located off the eastern beach of Fraser Island was aptly named after the aboriginal artifacts that were found in the area. It rises over 125 metres above sea level and stretches as far as 2km inland.
Hammerstone Sandblow(Lake Wabby) located on the trek to Lake Wabby lies this sand blow, there is no sand sledding or rolling down this blow aloud, however, don't let that deter you from checking out the incredible views.
Kirrar Sandblow(Rainbow Gorge) is located approximately 17 kilometres from Eurong on the Eastern side of Fraser Island. To get to it you have to take the 200-meter walk through Rainbow Gorge. On this particular sand blow, you can see the rippling effect o9on the sand that comes from the wind.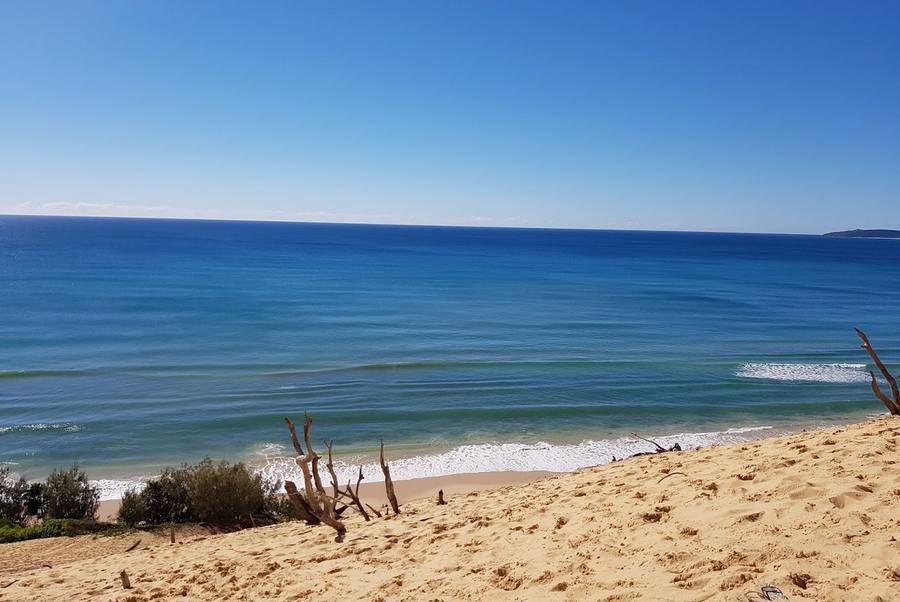 11. Have A Picnic On Fraser Island
You will find many day areas on the Island have picnic benches, drinking water at the locations is not always the best so it's better to bring your own, toilets are also found in most of the picnic areas.
Some offer the use of sheds for shelter, barbecues for cooking, plus sinks for washing your dishes. This is because some are also designated camping areas. Click here

is a full list of all the recreation areas that can be used.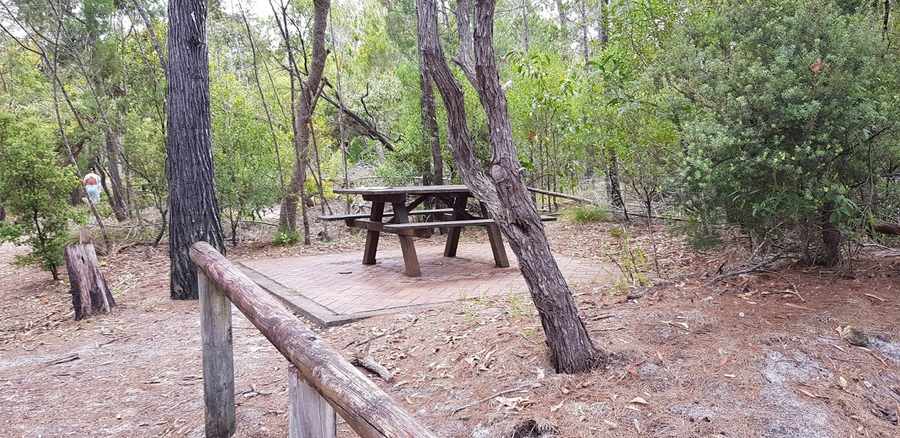 12. Take A Guided Tour Of The Islands
There are many tour operators you will find they offer everything from one day tours, up to 2-7 day tours ( more info coming soon), There are many tours also available if you're staying at Rainbow Beach or for all Fraser Island Accommodation click to go to our accommodation page for Fraser Island.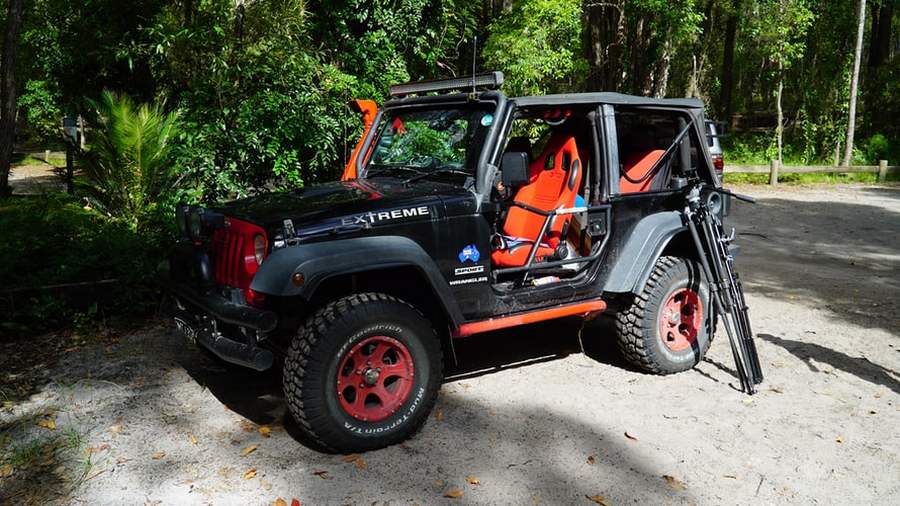 13. Explore The Fraser Island Rainforest
Fraser Islands rainforests are truly unique in the way that it's one of not only being the worlds largest sand island but that the rainforest itself grows right out of the sand. This makes it truly a magnificent sight to see for all that travel here.
A great way to experience the rainforest is by taking a guided tour through the forest to learn all about its natural wonders. Also if you are lucky enough to stay at Kingfisher Bay Resort they offer a ranger-guided night walk.
Fraser Islands Rainforest is filled with an abundance of wildlife and over 350 species of birds can be found here.
Along the beaches, you can see dotterels, pied oystercatchers, pelicans, tern and gulls while overhead skies are prowled by magnificent birds of prey – brahminy kites, white-breasted sea eagles, ospreys and peregrine falcons.
The island's heathlands are home to one of Australia's rarest birds – the ground parrot, as well as honey-eaters, kingfishers and cockatoos. The lakes and wetlands are the habitats of curlews, jabirus and brolgas.
Not only that but the fruit bats use the rainforest as a source of food and fresh water every single day and you can see them travelling out just before 6 o'clock.
Over thousands of years, nutrients have gradually been stockpiled with plants harnessing tiny amounts of windblown elements and capturing and recycling nutrients from decaying trees and shrubs. This tedious process has resulted in a stunning array of plant life.
The rain forests are so so dense in some places that light does not penetrate their canopy. Many of the tall rain forest trees are festooned with huge crows nest ferns and staghorn which the early foresters saved from felled trees and brought to the area.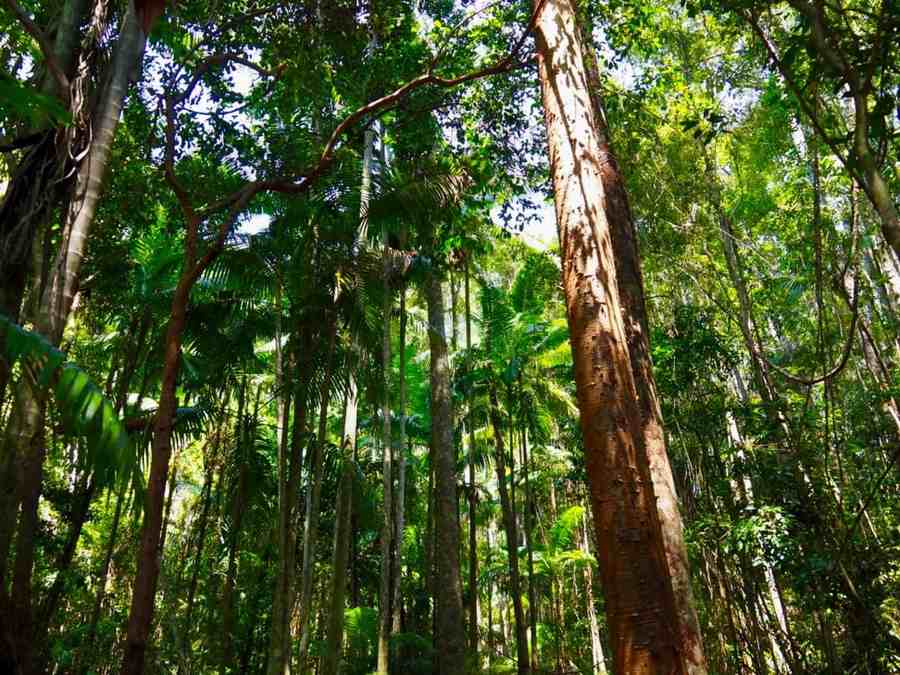 14. Go Camping On Fraser Island
If you'd like to extend your adventure further than a day on Fraser Island, then we highly recommend taking a camping trip to Fraser Island. There are many safe areas to camp on Fraser Island regardless of the threat of dingo attacks, the council is working hard to put up better fencing to protect the thousands of people that visit every year.
The ideal time to spend camping on Fraser Island is between 3-5 days, this allows you to fully experience what there is to offer on Fraser Island. A full list of camping spots can be found on our camping page.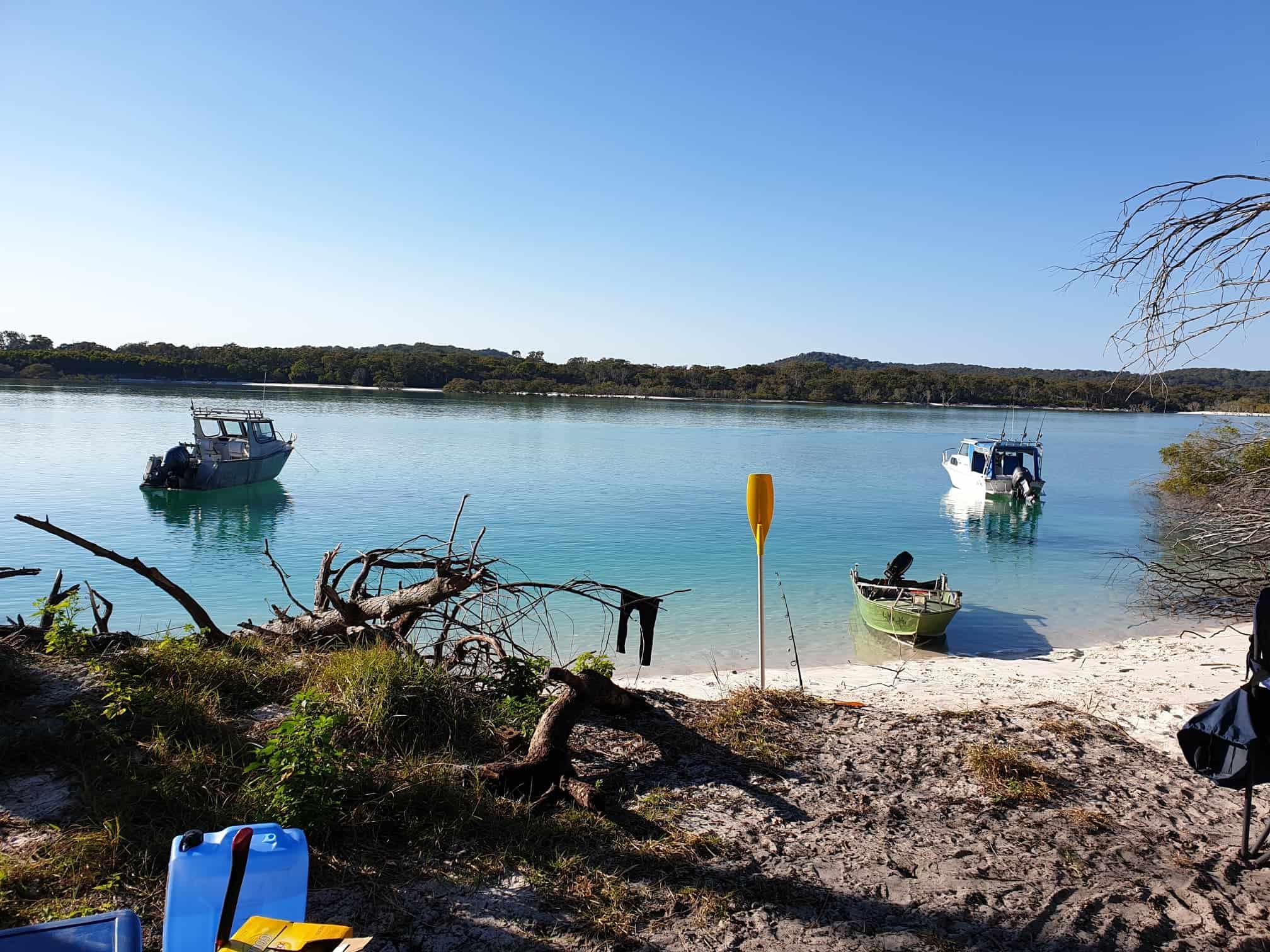 15. Fraser Islands' 75 Mile Beach
The name says it all, 75 miles of sand to drive on, known as the sand highway on Fraser Island. There is no better experience than taking your 4wd vehicle out for a drive on the sand as your vehicle feels as if it's floating on the water driving down this massive stretch of sand.
There are several places to camp all along this stretch of beach, or just cast a line out, and if you're truly lucky to see the wildlife, whether it be the whales or dingoes your sure to see something to remember Fraser Island by.
This sand highway is the road to all the sights that you can see on Fraser Island, such as Eli Creek, Champagne Pools, The Maheno Shipwreck, Entrance to the Great walk, Eurong Resort, The sand blows, Indian Head, The Pinnacles and Waddy Point Headland.
So it's no wonder thousands upon thousands of people visit every single year. This makes Fraser Island a top tourist attraction.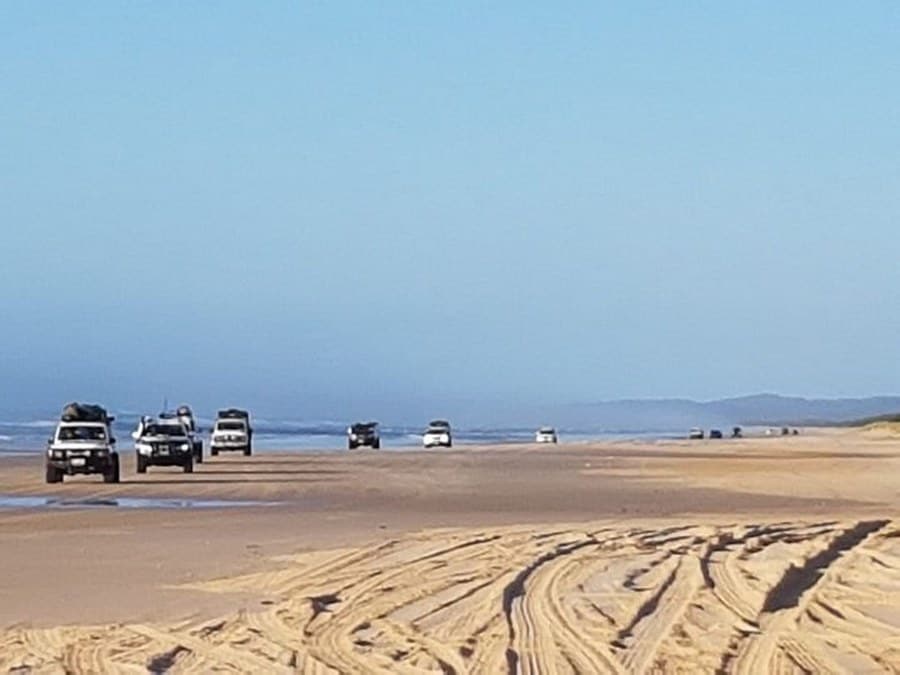 16. Fraser Islands Wildlife
As mentioned before Fraser island is home to many different species of animals. Whether it be the famous dingoes or home to the migrating humpback whales. You will truly be able to see some type of wildlife that lives here on the island.
Some of the many other species include but are not limited to, echidnas, lace monitors, 350 different species of birds, rainbow fish, tailor, kingfishers, hummingbirds, white-bellied sea eagle, sharks, dolphins, dugongs, sea turtles(loggerhead and green sea turtles), as well as many other sea creatures.
So on your next visit to Fraser Island keep your eyes peeled for the that many species of wildlife that live here and call Fraser Island home.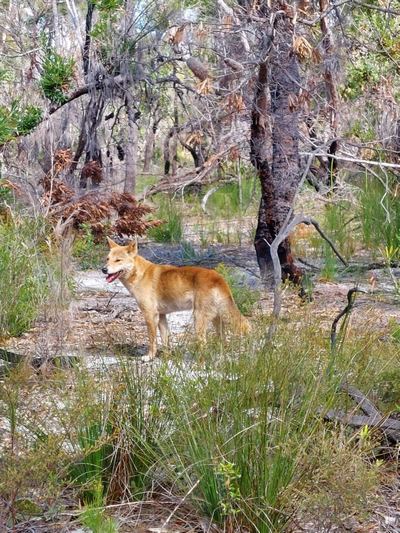 17. Check Out The Pinnacles On Fraser Island
These are arguably the best sculptured coloured sands on Fraser Island, although the colours are more subdued than the Cathedrals. The size of the cliff faces is a reminder of how large the sand dunes on the island are.
Check out the amazing formations of sand known as The Pinnacles(The Coloured Sands) on Fraser Island, these formations allow you to see the layers of sand that form the island, with a variety of colours. There are over 72 different colours within the pinnacles.
The Pinnacles are considered to be a sand dune and are not permitted to be climbed on. They are located on the Eastern side of Fraser Island, about 20 km south of Indian Heads and 3 km north of the Maheno Shipwreck.
They are most definitely a sight to see and not one to miss, so as you're driving along the 75 Mile beach keep your eye for them and snap a shot of these incredible sand dune formations.
18. Fraser Island Has Several Watersport Oppotunities
If you're the adventurous type and want to really enjoy the water around and on Fraser Island, then taking the avenue of watersports could be just the ticket. Whether you fancy a bit of kayaking, Stand up paddleboarding, jet skiing, boating, raft riding, then all these opportunities are right at your fingertips.
There are many different tours you can book through below that will allow you to take on any of these adventures. Or if you going over to camp or stay at one of the many resorts you can also bring your own gear. Although we do advise you to make yourself aware of the dangers at hand on Fraser Island.
When taking on any water sports you must be aware of the wildlife and sealife dangers as well as knowing there are no nets to keep out unwelcome visitors or lifeguards on duty. So you enter the water at your own risk.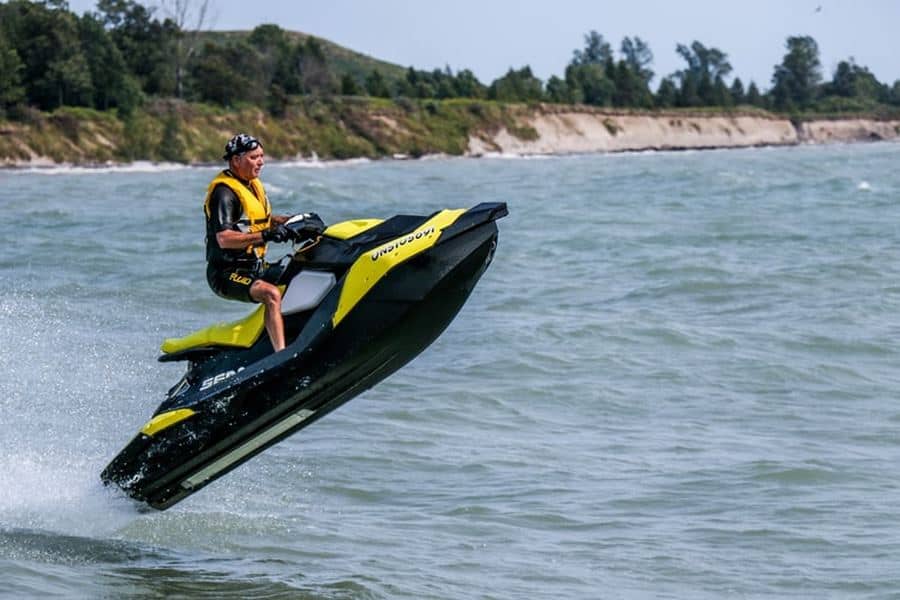 19. Go Out Whale Watching
Now, this is one adventure you definitely don't want to miss out on while on Fraser Island, is the once in a lifetime opportunity to see the Humpback whales that come to Hervey Bay and Fraser Island to give birth to their young. This is an experience that can be enjoyed by all ages and will have them talking about it for years to come.
With so many different companies that operate yearly to take you out to see this great sight and at affordable prices it's definitely not one to miss. You of course can also take out your own boat if you so choose, but be sure to keep the safety of the whales in mind, as you never know where they will pop up around you.
If you do spot the whales with your own craft be sure to turn off your engine or go into idle so that your prop does not injure the whales. The whales can be quite curious and most times you find they will come up quite close to check you out.
Tours to see these magnificent creatures can be booked below by clicking on the button.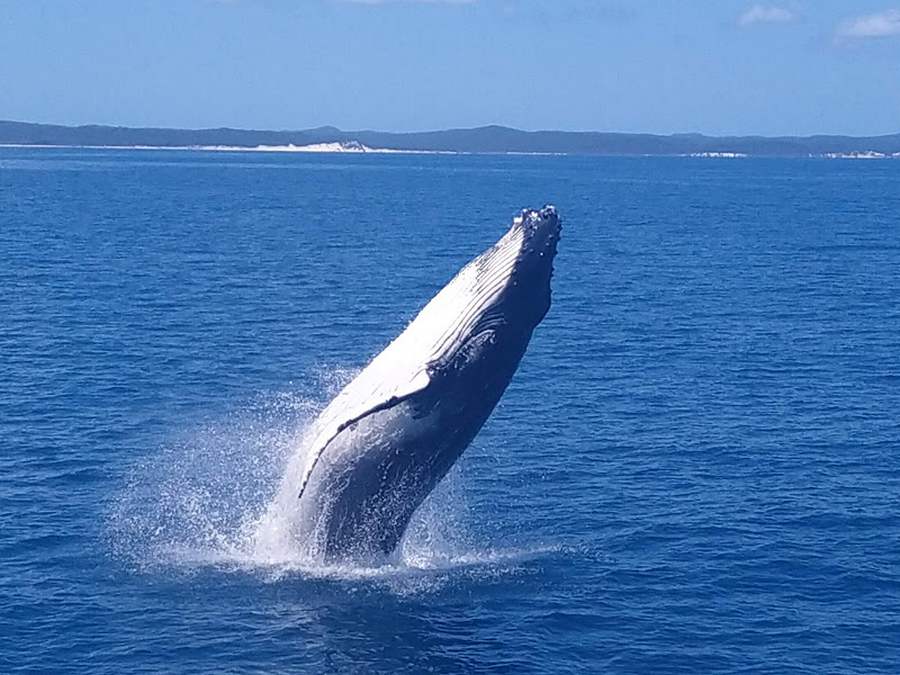 20. Check Out The Activites At Kingfisher Bay Resort
Kingfisher Bay Resort is a very popular place for many people to take a day trip to go visit, not only for the beach and bushwalk that is around the resort but for the many activities it has to offer.
It's best to check out their things to do page for a full list of activities that they offer but to name a few they have archery, a bush tucker experience, Segway Adventures, and a Ranger Guided Nightwalk Tour.
All of these are incredible choices and a unique way to explore and see Fraser Island from a different view. Whether it's to get in touch with the bushtucker that the aboriginals still today eat and prepare and to learn of the history, or to see Fraser Island at night and all the nocturnal animals that are out and about.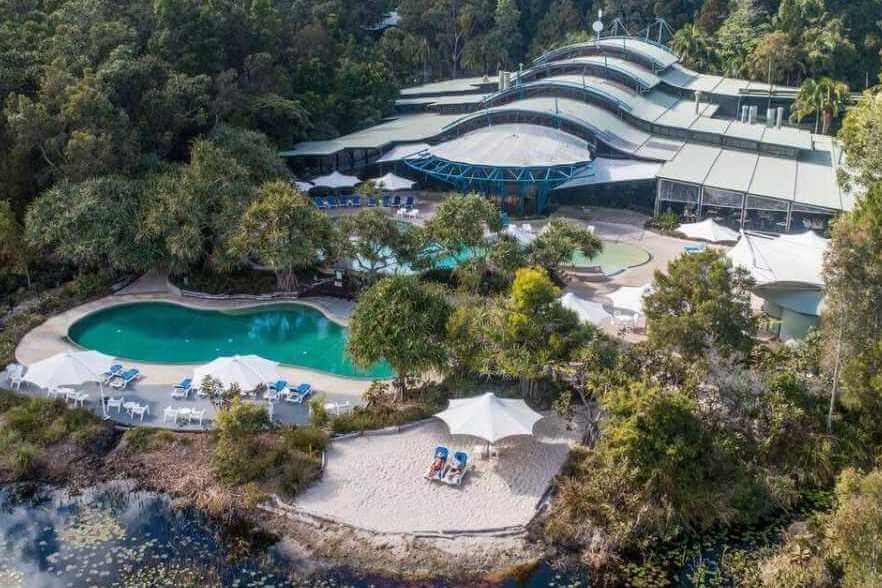 Whatever you choose to do to make your experience on Fraser Island the best it can be, it's obvious to see there are so many opportunities at hand. For everyone who visits Fraser Island, many call it the best adventure they've been on in their lives and you will find many will make multiple trips to come back.
More Maps of Fraser Island
Resource Links To Products We Use And Recommend
More Pages On Fraser Island