Whale Watching Guidelines in Hervey Bay Marine Park
Under the current whale watching guidelines boat skippers are obliged by law:
not to approach within 100m (110 yds) of any whale.
not to approach within 300m (330 yds) if three or more other
vessels are within 300m of that whale.
not to approach a whale head-on,
not to herd or chase or otherwise prevent the free movement
of whales, and
not to separate a group of whales or to come between a mother
and its calf.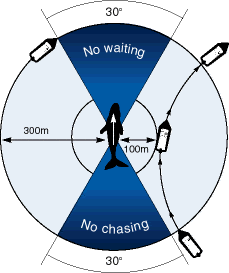 Within 300m of a whale, a boat skipper shall:
manoeuvre constantly at less than four knots,
avoid any sudden changes of direction,
allow motors to idle before stopping and raise outboards,
idle motors before moving off slowly until 300m away, and
abandon contact at any sign of a whale becoming disturbed or
alarmed.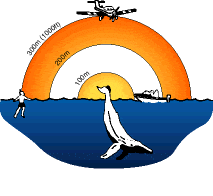 In addition
Swimmers and divers shall not approach within 300m (1000 feet)
of a whale.
You must not attempt to feed whales or to throw rubbish into
the water in the vicinity of whales.
Aircraft must stay above 300m (1000ft) over whales.
A helicopter cannot be used for whale watching.
Pleasure craft Whale Watching Guidelines
Skippers and passengers on pleasure craft must also observe the regulations. Signs prominently displaying the regulations are located at harbours and boat ramps.
Venturing into Hervey Bay is for experienced skippers with local knowledge.
Boats must be seaworthy and be equipped for open water passages. Carry additional fuel, water and food. Wathumba Creek estuary provides limited shelter in an emergency.
Northern Fraser Island is a remote area without facilities and with few visitors.
Skippers should maintain radio contact with Hervey Bay Air Sea Rescue (call sign VMR466) or Bundaberg Air Sea Rescue (Burnett Heads) VMR488.
Listening to channel 68 on the VHF marine band may direct you to whale pods.
For further information
Environmental Protection Agency
Cnr Alice and Lennox Streets
PO Box 101
MARYBOROUGH QLD 4650
Telephone (07) 4123 7100
Resource Links To Products We Use And Recommend
More Pages On Whales