Before moving on to fishing spots, first, let us look at a couple of legal points on fishing in Queensland.
Do I Need A License To fish In Queensland?
You do not need a fishing license if you fish in tidal waters. However, if you catch fish by particular dams, you will need to purchase a " Permit."
Is There A Maximum Legal Limit To The Number I Can Catch?
It will depend on which species of fish you are talking about. Have a look at the Ministry of Agriculture and Fisheries website

.
1. Hull River/Mission Beach
Hull river is a National Park 1275 km north of Brisbane. Mission Beach, which was once an Aboriginal Mission in the early 1900s, became the place that we now call Mission beach.
Those intending to fish in the river from a boat will typically use the Hull River Boat Ramp. The facilities at the ramp are excellent, but there are reports of a large crocodile seen on the Hull River boat ramp.
It is missing one leg but is still a danger. It has also been seen 100 metres up from the ramp. The boat ramp is not overcrowded as there are alternative ramps.
Fishing in the Hull River presents several challenges. The water can be very shallow, and there is the risk of getting your boat grounded. Locals recommend that you head downstream from the boat ramp to a straight section just before the joining of the north and south hulls. You will probably find a few small Barra and a lot of Jacks.
If you are heading to the mouth, keep well to the left as there and then once you pass the intersection switch to the right.
Talk to locals at the boat ramp for more information but watch for the Crocs!.
2. Machans Beach
Most people will know that Cairns offers outstanding deep-sea fishing opportunities, but what is often overlooked is that there are also great places to fish within the Net free Zone.
Many of these fishing spots are accessible by land, so a boat is not necessary. Fish seem to congregate around the Cairn headlands, and you will find many lovely white beaches from where you can catch almost everything ranging from barramundi to whiting.
Machans Beach is very close to the Barron River mouth. If you fish around the mouth of the river, you will find that the fishing is good for both salmon and massive barramundi. It is not just the bits next to the river mouth but the entire beach that is worth fishing.
3. Noosa River
The higher reaches of the Noosa River is a popular destination for visitors who come to camp, canoe and fish. You will find it teeming with wild bass, and you will also catch mangrove jacks. The water is brackish. It is not a place where you will find lots of other people fishing so if you like tranquillity this is the place to find it.
Some campgrounds line the river if you want to extend your stay, but remember you will need a legal permit from the National Park to camp. You can reach by motorboat up to about 22 km of the river. After that, you will need to switch to a canoe or electric-powered boat.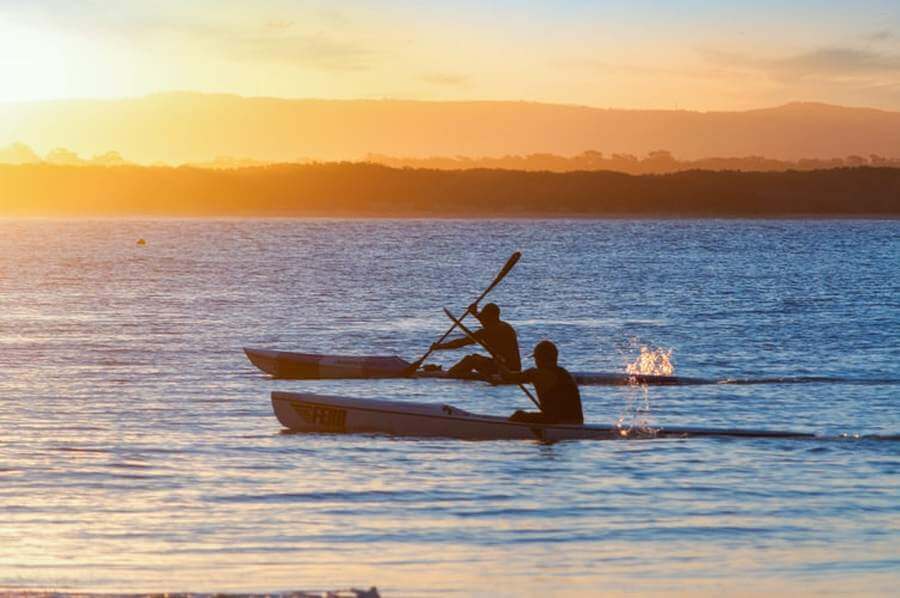 4. Snapper Rocks
Snapper Rocks is a sheltered location with low tides. It is said to be one of the best beach fishing locations in Queensland. Fish between Rainbow Bay and Point Danger and you will catch bonito, tailor and tuna.
There is a better selection of fish if you take a walk up to the Sand Jetty, where you will catch bream, dart, whiting, and flathead.
The biggest problem with Snapper Rocks is that there are just so many surfers and it is not safe to fish in those circumstances. Most of the sand at the base of Snapper Rocks has now been washed away, allowing the waves to break on the rocks, which means that the water is quite deep not far out.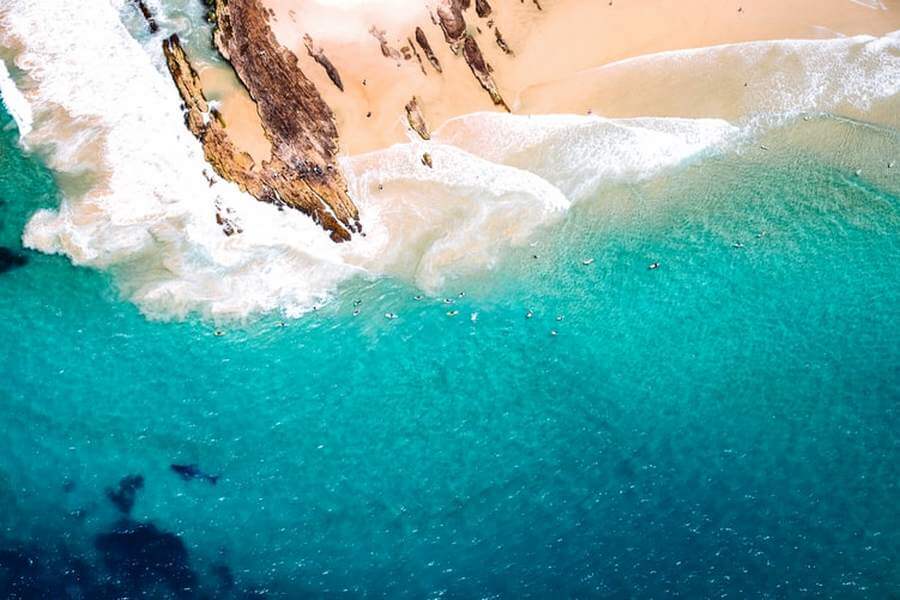 Where To Catch Different Species Of Fish In Queensland
| | |
| --- | --- |
| 1. Deep-Sea: Sweet Lip, Coral Trout, Red Emporer | 2. Beach: Whiting and Flathead |
| 3. River: Flathead, whiting, and bream | 4. Reef: Spanish Mackerel, Coral Trout |
| 5. Creek or estuary: Mangrove Jack, Barramundi, Salmon, Fingermark | 6. Islands: Mangrove Jack, Coral Trout |
| 7. Dam: Barramundi, Sooty Grunter, Sleepy Cod | 8. Land-Based: Trevally, Mackerel, Tuna, Black King |
5. Holloway Beach
Holloways Beach is a growing coastal suburb of Cairns. The beach there has a lifeguard for most of the year, and there is a boat ramp at Richters creek. There are reports of Crocodiles at the boat ramp, and a warning sign urges caution. Saltwater crocodiles are very aggressive and should not be taken lightly.
The outlet from Thomatis Creek feeds Holloway Beach. And is an excellent spot for salmon and barramundi. You can use regular estuary fishing gear when fishing here. This beach is very much a highway for both fish and bait. This beach can suddenly be scorching so be prepared.
Blue Salmon
These fish are also sometimes called Blue threadfin. They are a close relative of the Golden Threadfin. They often weigh in the range of one to three kilograms. These are 100% saltwater fish and are most common on the flats during the dry season.
6. Wellington Point Jetty
Twenty-two kilometres southeast of Brisbane you will find the Wellington Point Jetty. It is a trendy spot for fishing, and you will catch flathead and bream all year round. In the colder months, you may also be lucky enough to catch white snapper.
If it's not working for you at the jetty, it is possible to walk to king island at low tide.
7. Brisbane River
The Brisbane River is the longest one in South-East Queensland, flowing through the city of Brisbane. The river is a tidal estuary as far as the Mount Crosby weir.
You will find a wide range of fish in the Brisbane River. The best places to try are Cameron Rocks Reserve, Gateway Bridge, and Hornibrook bridge. Watch out for: snapper, tuna, sweetlip bream, flathead, salmon, cod, jewfish, mangrove jack and tailor
There is a reasonably large population of bull sharks there have been four recorded shark deaths in the river since 1862.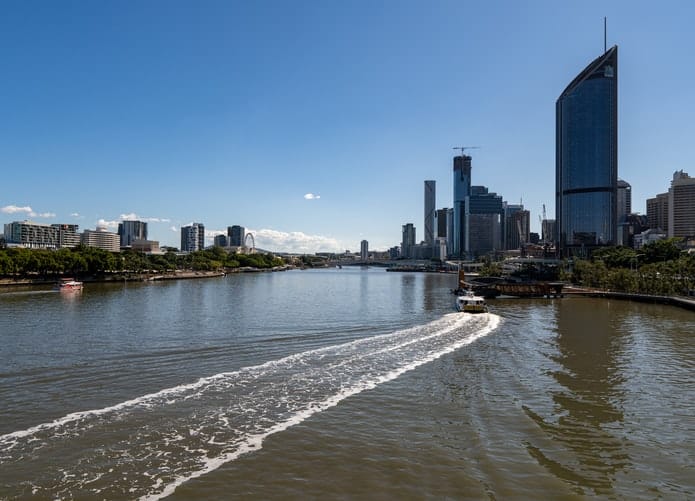 8. Cairns Marina
Cairns is a regional city located in Northern Queensland. It is located in the tropics. The climate has two seasons, wet and dry.
If you are looking for barramundi, they prefer warm water, so the wet season is the best season to go after them.
Marlin spawns during the period September to December, and that is the optimum time to fish for them.
Trevally and Queenfish tend to bite the best dry season. Their favourite places are near the river mouths, and even a little upstream as well.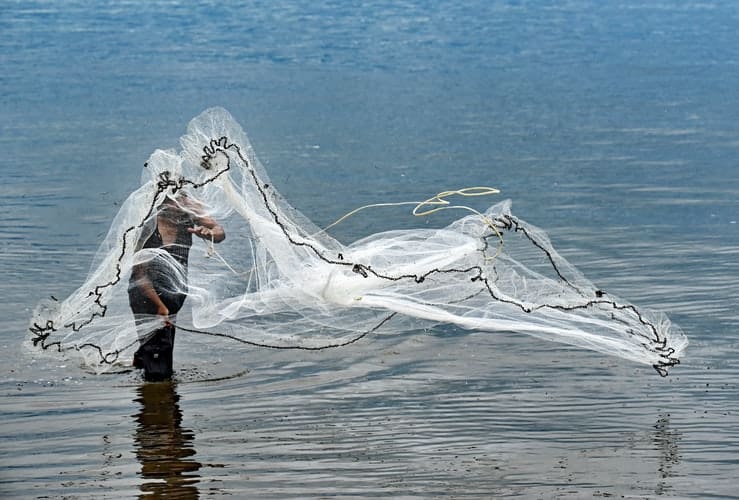 The central location for fishing in Cairns Marina is on the seaward side of the Marlin Marina Jetty. It has built a reputation for being a particularly good spot. The fishing area is just a short walk past the helipad and esplanade Lagoon.
The secured fishing area is open between 7 am in the morning and 9 pm at night. As a central location, it is very near to the following facilities.
| | |
| --- | --- |
| BBQ | Coffee |
| Fish & Chips | Licensed Bar |
| Picnic Area | Toilets |
| Disabled Access | |
You can find fishing tackle stores throughout Cairns, ranging from small family stores to large superstores.
Queenfish
If flyfishing on the flats you will come across specimens that range between one and ten kilograms. The best place to look, are freshwater rivers, islands offshore, and of course, reefs.
On the flats, smaller Queenfish are quite possibly the easiest fish to catch with flies. Larger samples are much harder.
9. Toogoom Beach
This is a growing satellite town some 20 minutes from Hervey Bay. Toogoom means "Resting Place", and that is still applicable today. Beelbi Creek and its Mangroves when put together make a very appealing place to fish.
As with most places, the best way of getting success is talking to a local about what is biting and where. The best bait to use is Yabbies.
Toogoom's Beelbi Creek is a great place to fish, and you can launch your boat from the ramp next to Goody's Restaurant at the end of Toogoom road. As you head upstream, the Mangroves begin to thicken, and the water starts to circle the tree trunks.
You will see thousands of Yabby holes. In the warmer months, you could catch some slapper whiting. If you intend to fish here regularly, you may consider becoming a member of the local Toogoom Fishing Club.
To get to Toogoom Beach: From the Bruce Highway take the Torbanlea exit and then follow the signs. Be careful; there is a sharp left onto the Old Toogoom Road.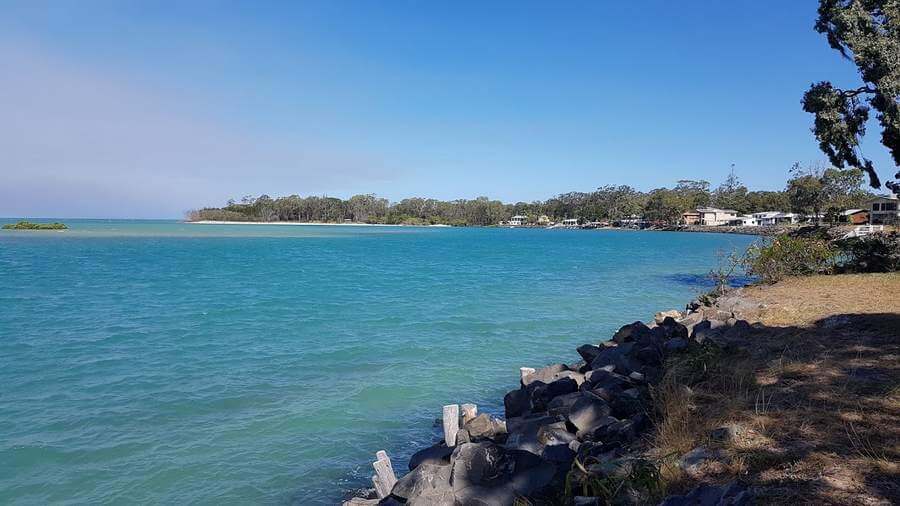 10. Port of Brisbane Fishing
The port is a popular spot for both land-based and boat fishing. When the tide is turning a great place is the deep water under the Port bridge. You are most likely to find a Mangrove Jack, Jewfish or Bream at this location.
If fishing by boat, check out the port regulations.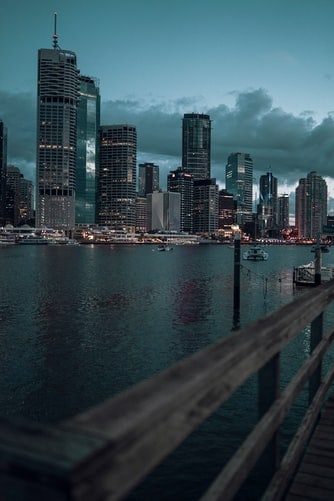 Final Thoughts
Remember, you are not alone fishing in Queensland. 642,000 Queenslanders have recreational fishing as a hobby. Those 642,000 people have a total shoreline of 6,000 kilometres in Queensland.
About 45% of Queenslanders own a boat, but 50% of all fishing in Queensland is done from the shore.
The total catch in Queensland is 13.3 million fish annually, and the three most commonly caught fish are Yellowfin Bream, Sand Whiting, and Trumpeter whiting.
Resource Links To Products We Use And Recommend
More Pages on Queensland
link to Is Gold Coast A Good Place To Live?
From coast to coast, Australia has some of the most beautiful places to live. Some areas are more sought-after than others. This is due to a number of reasons, but particularly because of the...
link to Can You Swim In The Brisbane River?
Brisbane is a bustling city in Queensland, Australia that is full of things to do and explore. In fact, Brisbane is the capital of Queensland and is considered one of the most populated areas of...