If you are visiting Hervey Bay and want to make the most of the local nightlife, there are plenty of places to go. With great places to eat and many lively bars and pubs, you will not be disappointed with the choices here.
Why not take a night walk along the beautiful Urangan Pier and see the waters of Hervey Bay glisten from the lights hitting the water, plus the sounds of the waves hitting the beach it's a must-do experience.
Or head down to the boat harbour and sit next to the rock walk and just take in the views of the water overlooking Fraser Island at night.
Dining Out At Night In Hervey Bay
Whether you are looking for a family-friendly eatery with home-cooked food or a more high-end restaurant, Hervey Bay will have something to meet your needs.
There are many beautiful beach-side bars and restaurants, giving you the opportunity to take in the beautiful Queensland seascapes whilst enjoying a great meal.
Family-Friendly Places To Eat At Night
If you are spending an evening out with the family, especially if you have children, you are going to want to find a place to eat that will provide an atmosphere and a menu to fit with your group. Hervey Bay has some great places for this.
El Puerto Brazilian BBQ Restaurant – If you are looking for a flavoursome evening meal in an atmosphere that is friendly and welcoming then the El Puerto Brazilian BBQ Restaurant is the place to go. The restaurant offers a range of skewered meats and seafood which are all cooked in an open wood-fired oven, giving the food its signature taste. The restaurant has received many amazing reviews and is ideal for families.
Santini Pizza E Cucina – If your family are Italian food lovers, then an evening meal here is ideal. The pizza is made with a traditional recipe, making it appear as though it came straight out of Italy and the spacious dining area is great for those with children.
The Hervey Bay RSL – With its own kid's club and great meals you can't go past a meal at the RSL.
Grown-Up Places To Eat At Night
For those who are looking to find somewhere a little more mature for their evening meal, there are many options to choose from. From seafood to pasta, meat to vegetables, Hervey Bay has a great choice.
Cafe Tapas – This quaint looking, brightly lit cafe is perfect for a romantic evening out or as a place to meet with friends. The basic tapas menu is complemented by an excellent cocktail menu and this is all served in a cheery environment with friendly staff. The decor here is also something that is definitely worth seeing!
Aegean Waters French Restaurant – Nothing says elegance like a French restaurant, and so if you are looking for a special evening meal, Aegean waters will not let you down. Experience traditional French dishes such as Filet Mignon and Escargot complemented by one of the delicious wines on offer here. This is a place for a dining experience not just an evening meal and comes highly recommended by many of its patrons.
The Beach House Hotel – The hotel houses a popular restaurant and bar and often gets very busy during the evenings, showing how great it really is. There is a bistro menu and an excellent selection of alcoholic drinks, including a wonderful cocktail menu.
Pubs And Nightlife Of Hervey Bay
No nightlife experience would be complete without trying out one of the many bars and clubs that Hervey Bay is home to. Whether you are looking for an upbeat evening of dancing or a quiet bar where you can relax and chat, there is something for everyone.
While you are in Hervey Bay you will see there is not a lot of nightlife, mainly there is just a handful of pubs and clubs open to have a quiet drink and enjoy a night out with friends or family.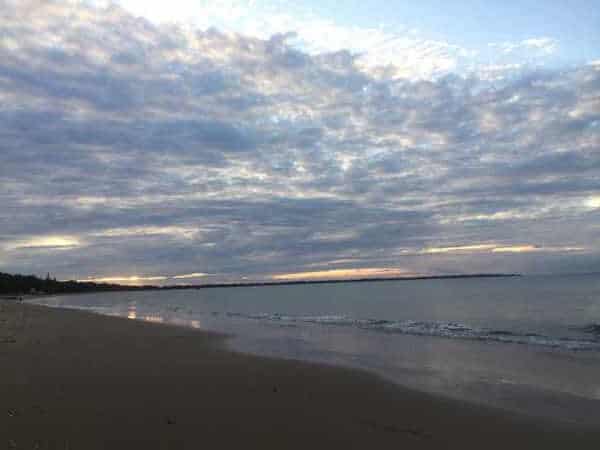 Out On The Town In Hervey Bay At Night
If you are out on the town in Hervey Bay at night, there are a wealth of great places to eat, drink or dance the night away.
No matter whether you are spending the evening out with family or friends, alone or as a couple, the bars, restaurants and pubs here truly come alive at night and deliver an evening out that you won't forget in a hurry.
Resource Links To Products We Use And Recommend
More Pages On Hervey Bay
link to Sunset Cruise In The Great Sandy Marine Park
The Sunset Cruise Great Sandy Marine Park has a lot to offer, from stunning scenery to a range of wildlife and marine life. Here are some of the things you can expect to experience on a sunset cruise...
link to Is Hervey Bay Full Of Old People?
Hervey Bay is a popular retirement destination and has a higher proportion of older residents than some other cities in Australia. However, it is important to note that Hervey Bay is a diverse...