Embarking on a fun holiday to Hervey Bay in Queensland, Australia is quite the adventure! Hervey Bay is a fantastic area along the eastern coastline of Australia where people flock to see the gorgeous beaches, idyllic islands, and a variety of other things.
Because the area is so popular, guests need to have a lot of options for accommodation. After all, accommodation is the second most important thing when it comes to planning a holiday trip (the first thing being the actual destination!).
The best way to appropriately plan for a holiday is to know what types of accommodation choices are within a destination. Hervey Bay is speckled with a diverse amount of lodging!
Accommodation Mantra Hervey Bay
When it comes to lodging in Hervey Bay, there are quite a few choices to mull over. One of these choices includes the Mantra.
This multi-storey hotel faces right into the Hervey Bay area waters which provide spectacular views of the open waters.
The hotel strives to provide a number of quality facilities to engage its guests. With a variety of facilities and a great view, the Mantra proves to be a promising pick for lodging!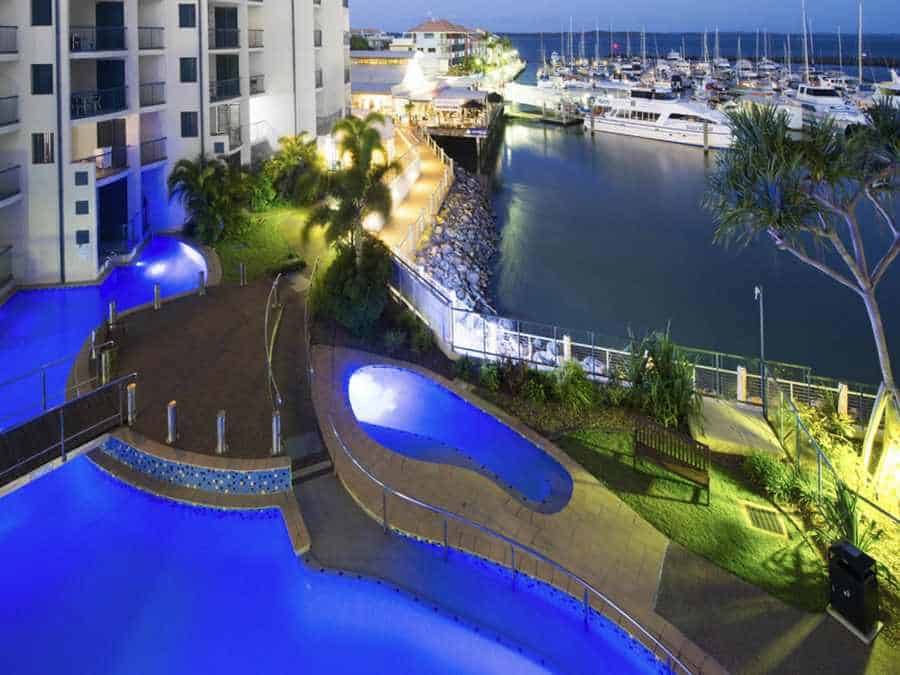 Popular Facilities
2 outdoor pools – Most hotels or resorts only have one swimming pool, however, at the Mantra, there are two! These large pools ensure guests have plenty of space to enjoy splashing around. Moreover, a portion of the pool has a swim-up deck that is really favoured by guests!
Sauna – Saunas are a rare facility at a lot of hotels. This facility really puts Mantra above other locations in the area. Saunas are a fantastic way to unwind and treat oneself to a relaxing evening in the warmth of the sauna.
Fitness centre – Fitness centres are another semi-rare facility in some hotels. Certain hotels, like the Mantra, that have them are a real treat. Fitness centres provide guests with the opportunity to maintain exercise schedules!
Meeting rooms – Most lodging choices will only have 1 meeting room (or none at all!) and this location has 3 meeting rooms. For companies that need a space to conduct business, the Mantra caters with access to these rooms.
Ratings
Star ratings are given to hotels and other types of accommodation to help showcase their ability to provide quality facilities to their guests. The star rating is not about the quantity at all.
It reflects how much comfort and luxuriousness a guest is getting for their stay. Most star ratings range from 1 star to 5 stars, with 5 stars being the highest rating. The Mantra currently holds a 4-star rating is considered pretty good!
Aside from the overall star rating, guest reviews can be used as a means of scoping out the atmosphere of a hotel as well. While guest ratings should be taken with common sense in mind, they can still provide some insight.
On Google, the Mantra has rated an impressive 4.1 stars out of 5 stars with over 900 reviews. Most guests compliment the location's fitness centre and overall location as being the biggest perks.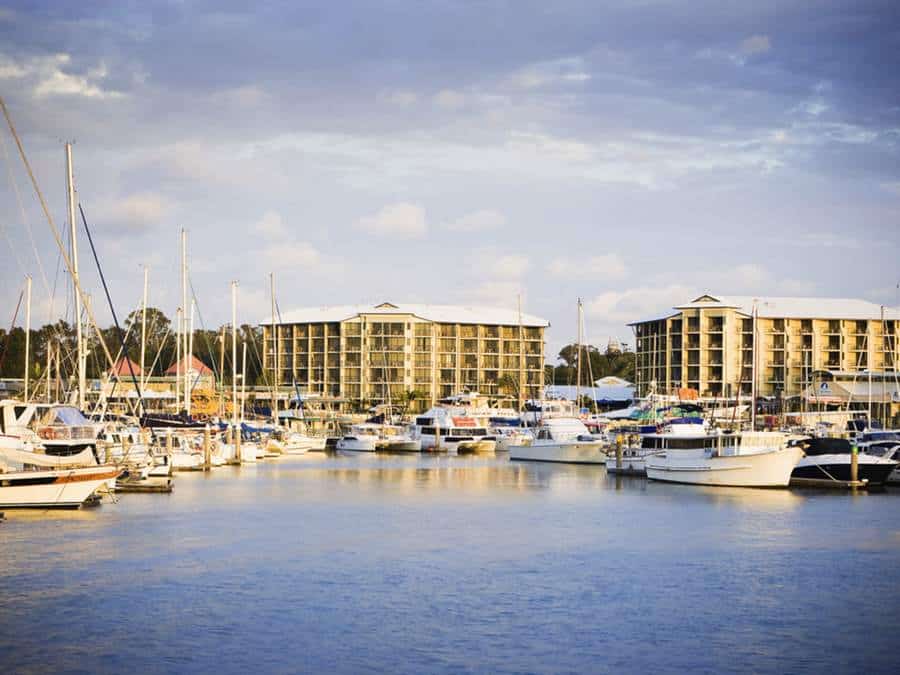 Room Types
The Mantra offers guests a choice from basic hotel rooms to self-contained apartments. These can come with 1, 2, or 3 bedroom apartments and sleep up to 7 people in the larger apartments.
The rooms feature king and single beds and some rooms even have spa baths inside of them! The apartments are self-contained meaning they feature kitchenettes and dining and living room spaces.
This variety of choices for guests is a huge perk.
While some of the rooms feature spa baths and kitchenette areas, the overall feel of the rooms is a bit generic. The decor isn't anything to write home about and does give off a "basic hotel" vibe.
Even though its decor doesn't stand up to other locations in the area, its facilities do and guests enjoy the variety of amenities available to them.
The cost of a night's stay in one of these rooms will vary based on the time of booking and availability. However, a general price for a night's stay can range between $130 to $273 (for a minimum of two persons, more people will increase the pricing) depending on the room that is being booked.
Obviously, the 3-bedroom apartments are on the higher end of that price point.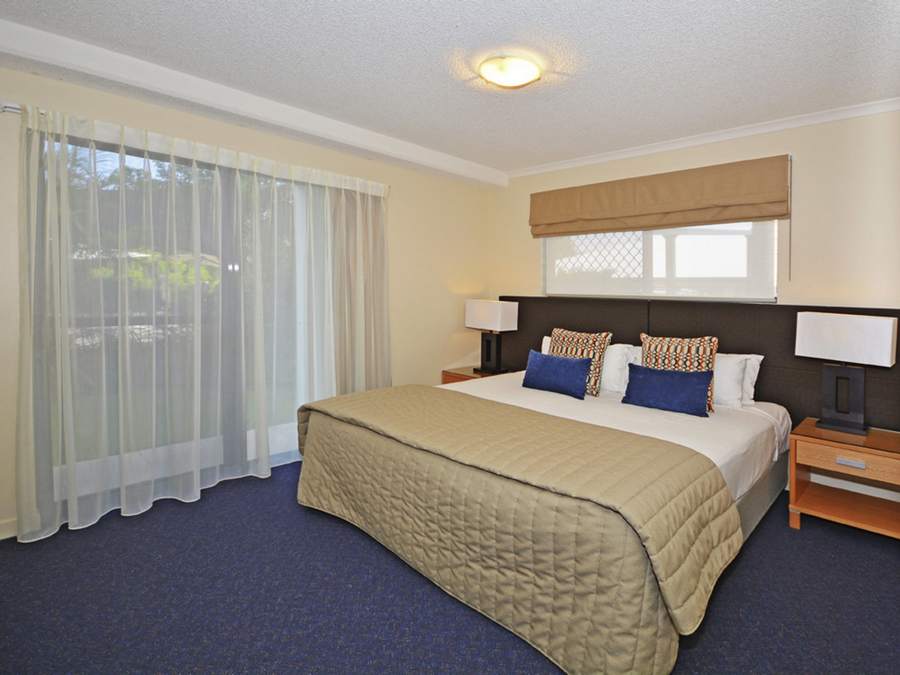 Surroundings And Location
The address and contact information for the Mantra Hervey Bay is as follows:
Buccaneer Dr
Urangan QLD 4655
Ph 07 4197 8222
The most popular place near this hotel is the Urangan Pier. This historical pier has a rich history in the area that once served as an export pier for timber, coal, and sugar.
Over the years, the pier has lost some of its original lengths and now sits about 868 metres long and primarily serves as a fishing pier. Guests who enjoy fishing will find the pier quite a treat! The pier is only a 5-minute drive north of the hotel!
Another great place to visit while at the hotel is the Hervey Bay Boat Club

. The boat club is also only a 5-minute drive away and is well known for its delicious food.
The boat club has a Brazilian restaurant that serves up traditional Brazilian bbq foods ranging from lamb to chicken to seafood to sausage. They even offer vegetarian bbq options.
There is also a cafe at the boat club that is known for its coffee! While the food is a huge perk at the boat club, it also sponsors prize raffles, various events, gaming rooms, a cinema, and a bar lounge.
It is simply a hub of excitement.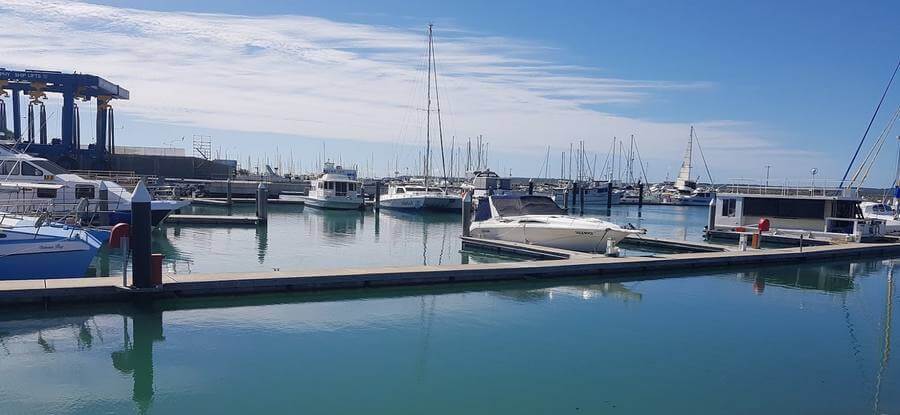 The boat club is located in the Urangan Harbour where there is a marina. The marina features over 170 berths for marine vessels and is known for its programmes that give guests the opportunity to head out on a charter boat.
These boats tour the waters during whale-watching season (something that Hervey Bay is famous for!), fishing charters, and other various marine-based tours. Moreover, the marina is right on Buccaneer Dr, so the hotel is super close!
There are other places to explore as well including Fraser Island, Lady Elliot Island, and local shops, restaurants, and shopping centres. There is quite an abundance of things to do within this area of Hervey Bay!
Facilities (Other Than The Popular Ones!)
Check-In And Check-Out Times
The check-in time at the Mantra Hervey Bay is 2 p.m. and check-out is 10 a.m.
Hervey Bay is such an iconic place to visit and its lodging options are just as interesting!
Resource Links To Products We Use And Recommend
More Recommendations For Accommodation
link to Discovery Parks Fraser Street Hervey Bay
On the Fraser Coast, Hervey Bay is an oasis of the best natural world the area has to offer. Just across the way from Fraser Island, you will also find beautiful botanical gardens, a stunning...
link to Caravan Parks Hervey Bay
One of the most iconic ways to experience Australia is by experiencing its beautiful natural surroundings. Because the country offers an abundance of stunning landscapes from coast to coast, caravan...