Small campervans can be extremely cosy and easier to manoeuvre on the road, but they don't always have all the things you may need. So, let's talk about some smaller-sized camper vans that still have a shower and a toilet available.
Here are five small campervans with a shower and toilet:
Akuna A2M-E
Jayco All Terrain Campervan
Avan Applause 500
Avida Escape Campervan
Trakka: Jaburi J2M
Let's break down these campervans a little further and help you find the right one for you. I'll go through all the details of which one so you can make an informed decision.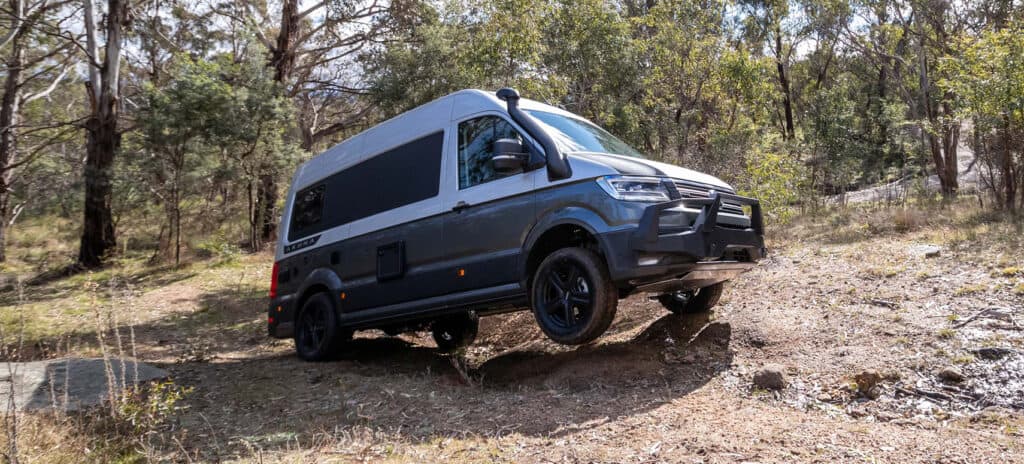 1. Akuna A2M-E
This campervan

is 6 metres (19.69 ft) long and is one of the most compact options for a campervan with a shower and toilet. But don't let the size fool you. There are plenty of key features found in this camper.
Trakka is a company that has been pushing for electric features in their campers. So with this camper, you have a 2000 W inverter for using any electronics you may need without limitations.
So, charge your laptop and bring your coffee machine along with you. 
This small campervan also features an electric kitchen that allows you to cook or heat food whenever needed. Your kitchen has a sink, a single burner, and storage for your utensils, pans, and food.
So, don't let the small size make you think that you can't cook a meal before heading to bed.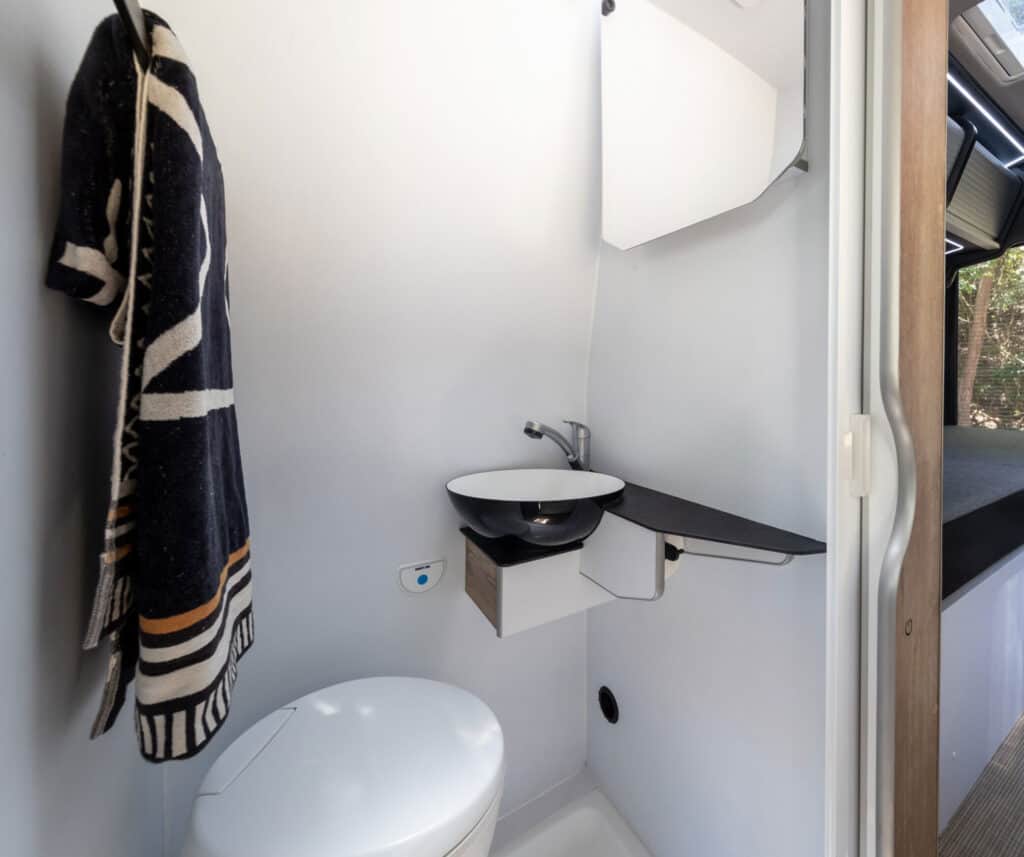 For sleeping, you have the option of two single beds, or you can combine these to create one larger bed as well. So, you can comfortably rest here or bring someone along for the trip and have your own beds in the back.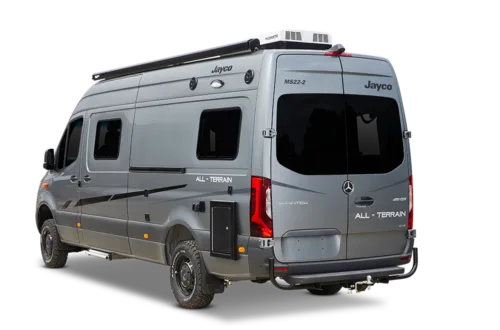 2. Jayco All Terrain Campervan
This is another great option for a small campervan

with everything you need. With a shower, toilet, bed, kitchen, and refrigerator, this campervan can make your trip that much more relaxing. The interior also has a working air conditioner to keep you cool on those hot summer days.
This camper also comes with a twenty-four-inch (61-cm) television and includes a DVD player as well. So, you can take some time to relax and unwind with your favourite movie once you get to your destination.
It also has its own WIFI available, ensuring that you can safely stay connected when on the road.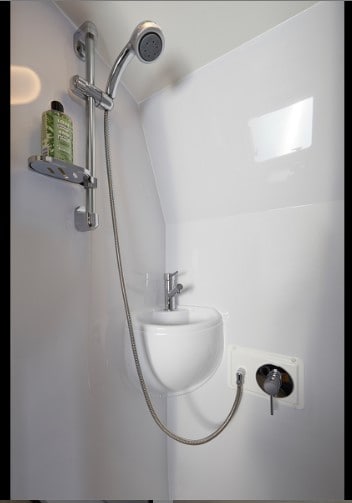 The kitchen comes with three burners allowing you to cook full meals anytime you want. It also has a fridge for safe food storage and a microwave for reheating leftovers. So, you can comfortably cook as much food as you would like knowing that storage and reheating are available.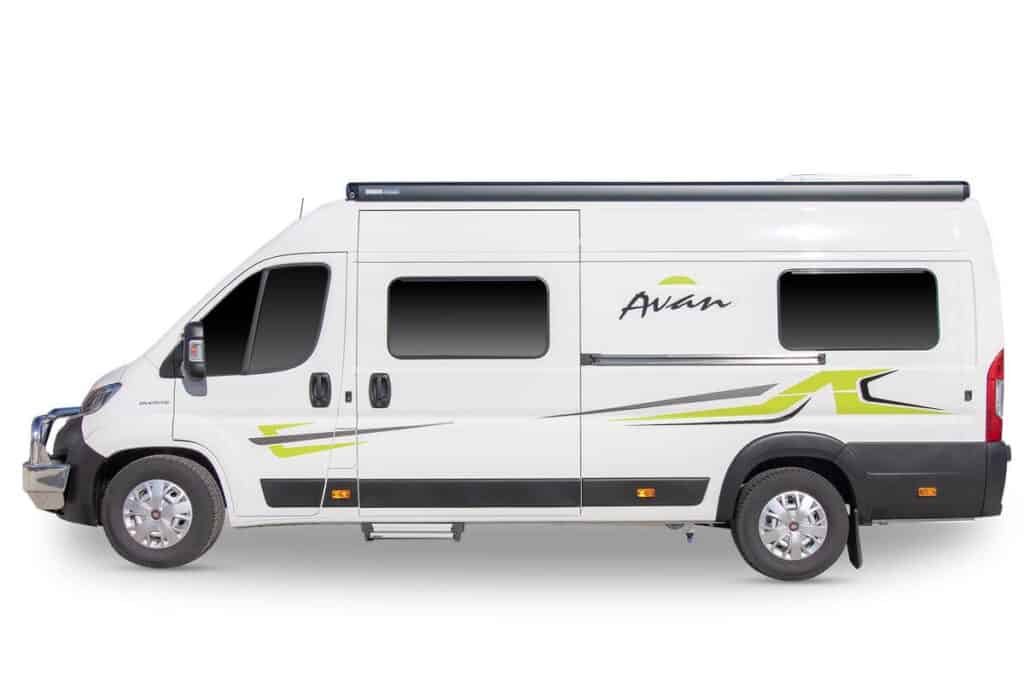 3. Avan Applause 500
This campervan

has a little bit of everything. The shower and toilet are just the beginning of the cool features. The bathroom also has a vanity for convenience, and the kitchen has a two-way refrigerator.
Also, in the kitchen, you'll find two burners making it easier to cook full meals on the road. 
This campervan also has a television and DVD player for entertainment. The campervan also has a ton of extra lighting to make your nights in the camper more relaxing and well-lit. For privacy, this campervan's windows have full blinds. So, not only will your camper be well-lit, but you can also maintain your privacy.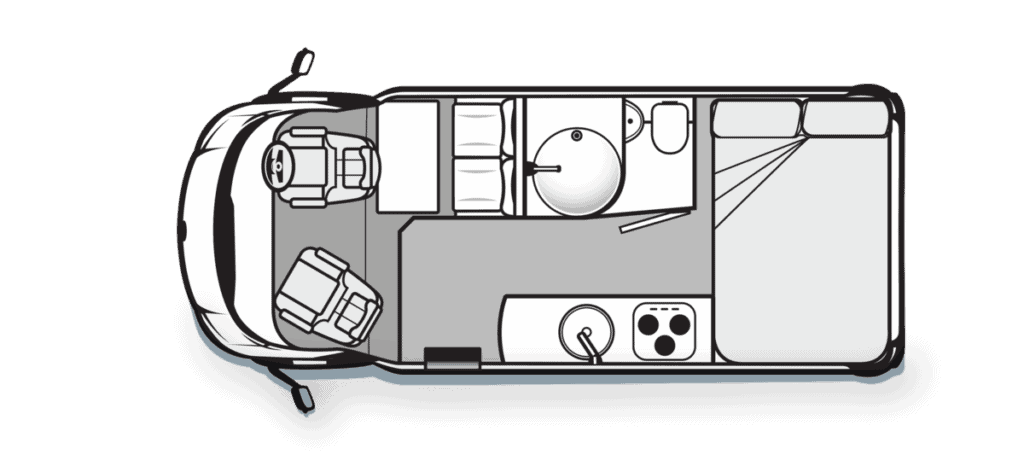 The insulated walls and roof of this campervan will help regulate the temperature inside the van, ensuring that you remain comfortable. If you need more storage space, the beds in the back of the campervan are on struts that allow you to fold them up and pull them out when you are ready to use them.
In fact, the gas-assisted bed struts make it very easy to control them.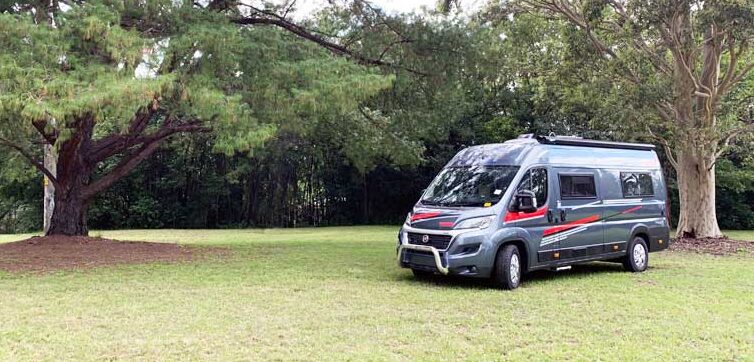 4. Avida Escape Campervan
Don't let the size of this campervan

fool you. It has everything you need and more. This small campervan utilises its space well enough to sleep four people. There are two single beds in the back of this campervan and another larger bed that you can bring down for sleeping with just the touch of a button.
So, the extra sleeping space is there if you need it and can go away if you don't. 
Of course, there is a shower and a toilet there for all your needs, but there is a lot more this campervan has to offer. There is a wardrobe available for sanitary clothing storage.
The wardrobe is essential if you prefer to hang your clothes rather than keep them folded in a bag. 
The kitchen is fully functional, with a sink and three burners for cooking. So, you can easily prepare meals once you reach your destination with plenty of room to cook comfortably.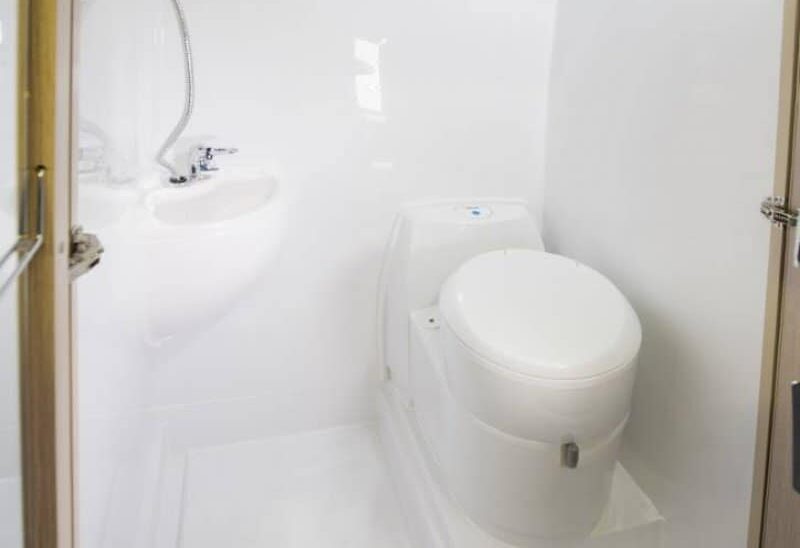 One of the best parts of this campervan is how customizable the outside is. You can choose from many different colours and decals to help personalise your campervan.
So, check out all the available colours and designs before choosing which one you want.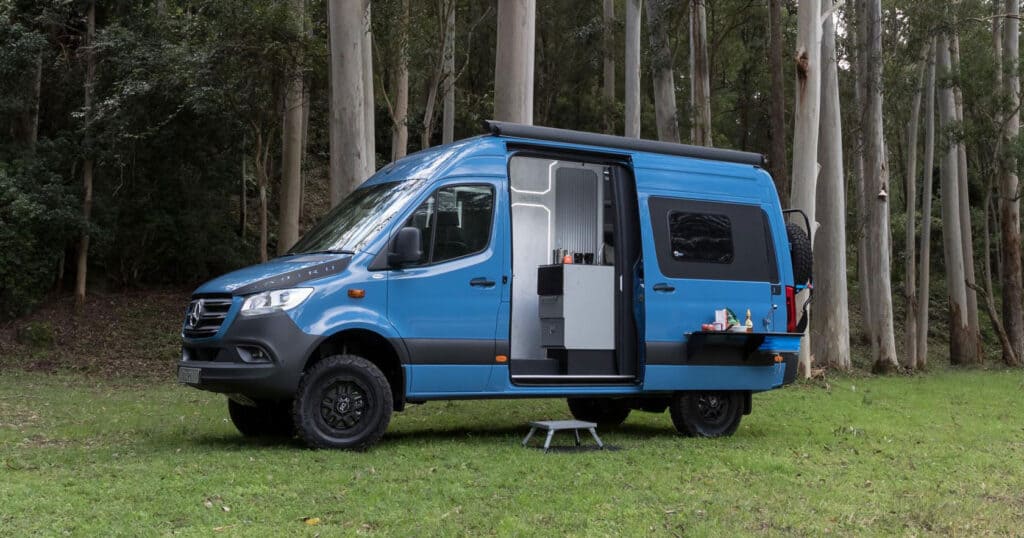 5. Trakka: Jabiru J2M
This is another model by Trakka

, and it certainly does not disappoint. This campervan comes with everything you need and is easy to manoeuvre on the road as well. You can buy this campervan in all-wheel drive options too.
So, feel free to take it just about anywhere you want to go, no matter the terrain. 
The kitchen comes with a sink and a large electric burner to allow you to cook your meals easily, even on the road. There is also a removable table that you can use for meals and then put away to give you more room to move around in the campervan.
This convenient space-saving feature allows you to make the most of a small space, giving you more flexibility on your trips.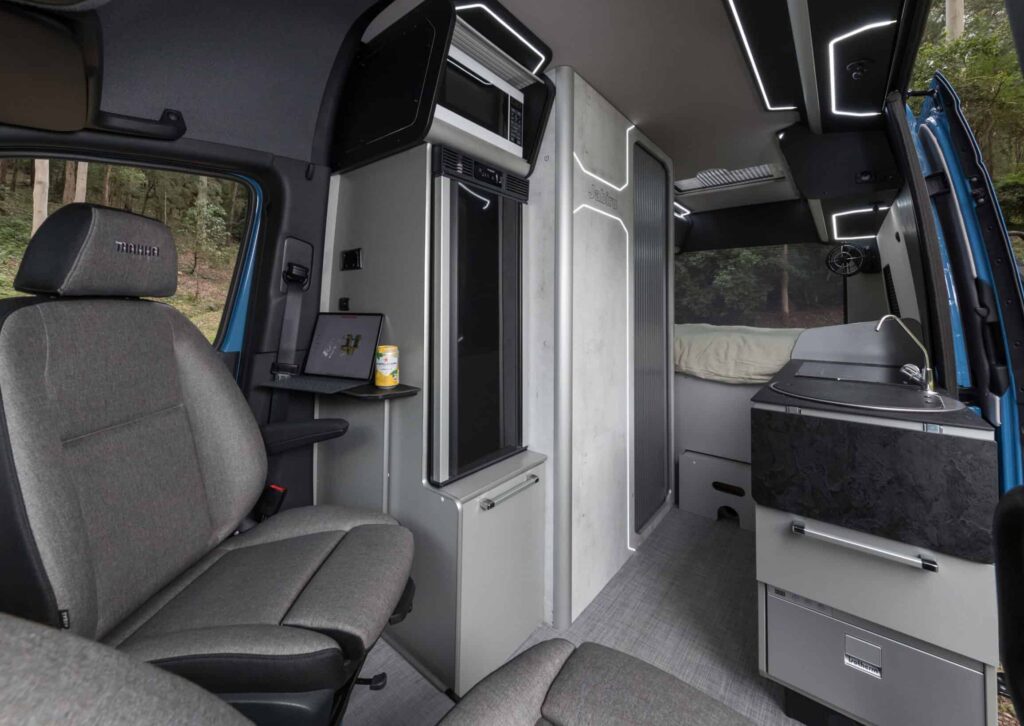 There is also a refrigerator and a microwave to ensure that you can store and reheat your food safely while travelling. The bed in the back of the campervan has a retractable step for easy access, but you can easily put it away to reduce overcrowding of the space, making the setup even more convenient.
Resource Links To Products We Use And Recommend
More Pages On Camping