Whale watching should be on everyone's bucket list. Watching whales in their natural habitat, interacting with each other, and jumping majestically out of the water can honestly be compared to nothing else. You might be aware that whales migrate along the east coast of Australia.
You can combine whale watching with a visit to the beautiful Fraser Island. We are going to tell you everything you need to know about whale watching on Fraser Island.
Fraser Island is a prime location for whale watching. Southern humpback whales migrate to Fraser Island to give birth to their young and stay while nursing them before heading back for the Antarctic summer. The Fraser Island whale watching season is from late July to early November.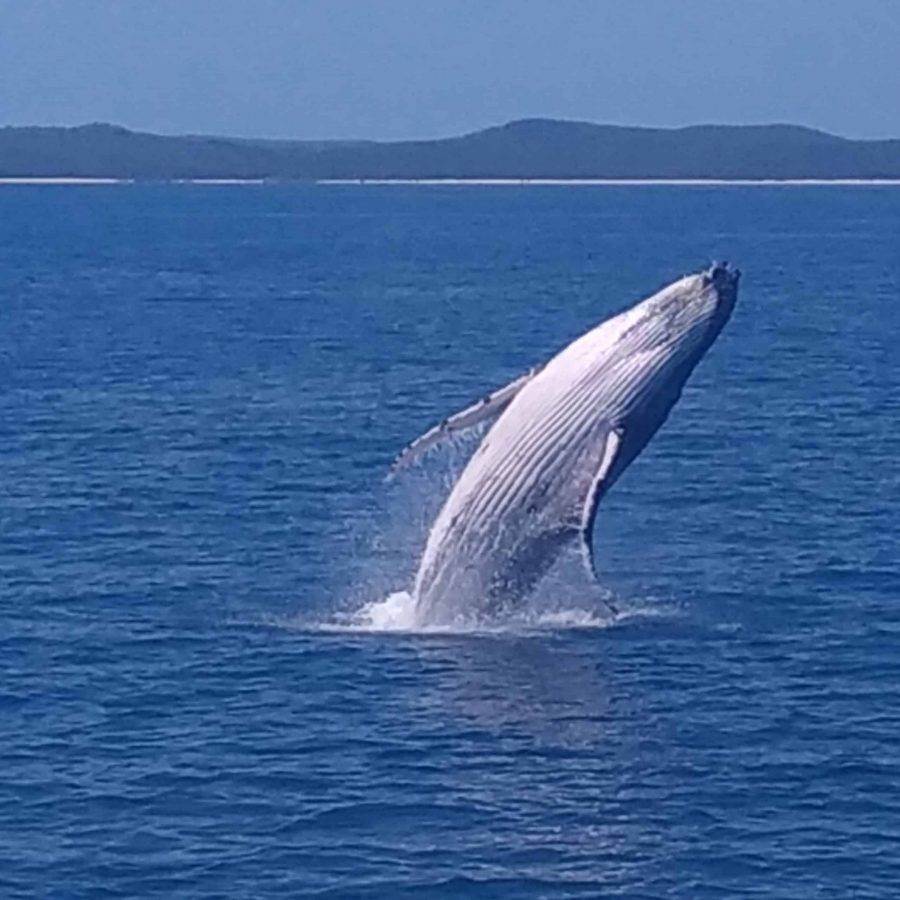 You will have a good chance of seeing whales on Fraser Island, but you will get a different experience during different times of the whale watching season, and there are definitely better places on Fraser Island than others for whale watching.
Let's take a look at the best ways of making sure you get the Fraser Island whale watching experience you've been dreaming of.
You can see whales from Fraser Island. They love to frolic in the waters of Platypus Bay, it's the best place to see whales from the land or boat. Yearly they head north on a 5,000 km trip along the east coast of Australia to breed and give birth to their young within the waters of Fraser Island.
Southern humpback whales spend most of the summer in Antarctica but when they're ready to breed, They actually have one of the longest migrations of any animal on the planet, which is lucky for you if you want a chance to see them in Australia.
The humpback whales arrive at Fraser Island pregnant and they give birth to their young there. They will then spend some time with their newborns before heading back to Antarctica for the summer. So you really do have a unique opportunity to watch these whales frolicking in the bays around Fraser Island and playing with their young.
Where Are The Best Spots For Whale Watching On Fraser Island?
There are a few points on Fraser Island that are perfect for whale watching:
These are areas where the whales will congregate so you get the best chance of spotting them, and of seeing them interact with each other.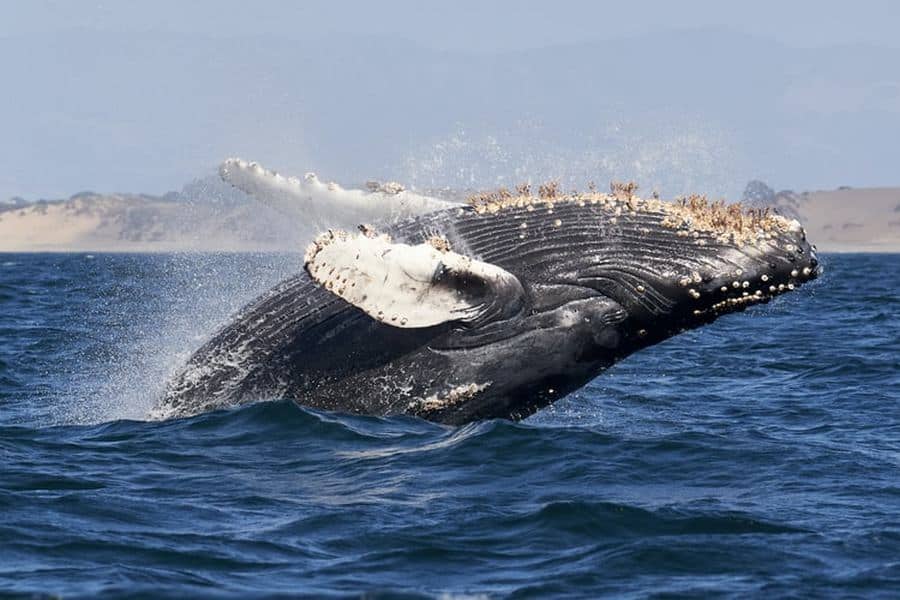 Best Time For Whale Watching On Fraser Island
You are no more likely to spot whales at any time of day than another. The whales will be active and visible from morning until night. With that being said, the time of day can impact how enjoyable your whale watching experience is.
If you are going to be watching the whales from a boat, it is generally better to go in the morning when the waters are calmer. This way, you can sit back and enjoy your whale watching experience without getting distracted by the boat rocking or, even worse, getting seasick.
If you are hoping to capture some amazing photos of the whales, then choosing the right time of day will be important for getting the right shot. If you are hoping to accentuate the blue of the waters, Alternatively, if you go out in the early morning you could get a beautiful shot of the whales with the colourful sunrise in the background, and at sunset, you can capture an atmospheric shot of the whales as the sun goes down.
Whale Watching Season Fraser Island
While whale watching can be one of the highlights of a visit to Fraser Island, it isn't available throughout the year. And this is because the whales aren't there a lot of the time. They spend their summers in Antarctica and only travel to Fraser Island to breed and nurse their young.
So if you want to see whales on your visit to Fraser Island, you will need to make sure that you book your visit during whale watching season.
Whale watching season on Fraser Island is from late July until early September. At the beginning of the season, you will see the whales and pregnant mothers, then later in the season, you will see whales and their newborns.
Both experiences are incredible, of course, but it is worth remembering that if you visit early in the season, the baby whales won't have been born yet.
It is usually best to not aim for the very start or very end of the whale-watching season. Whales don't abide by our calenders so they can sometimes arrive a little later than usual or head back to Antarctica a little earlier.
To get the best chance of seeing a whale at Fraser Island, you should book between August and October.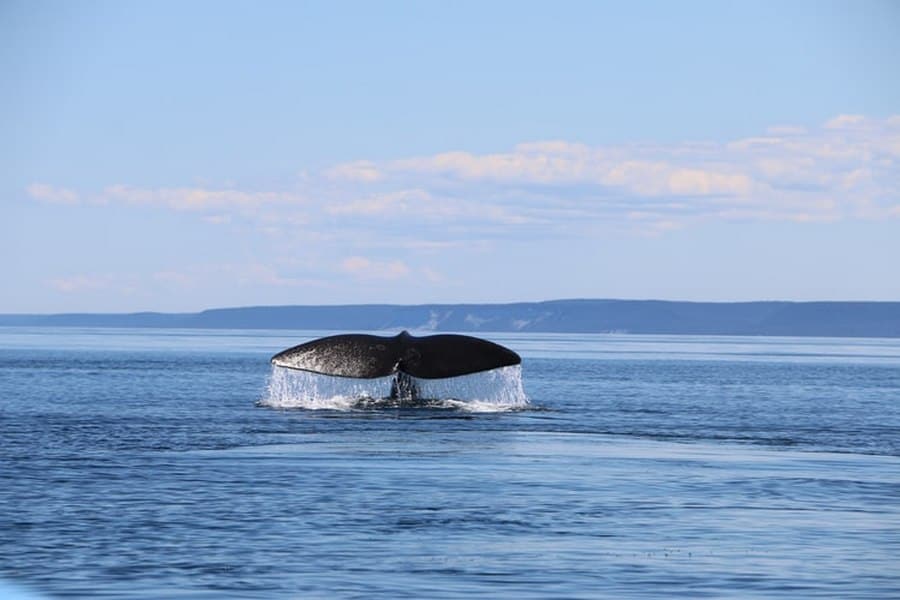 Whale Watching And Fraser Island Tours
If you want to centre your Fraser Island tour around whale-watching, there are a couple of different options for you.
1. Book A Tour And Stay On Fraser Island
You can book tours that give you a few nights on Fraser Island (usually at the Kingfisher Resort) with boat excursions out to Platypus Bay to see the whales. This really is the best of both worlds if you want to spend a bit of time taking in the natural beauty of Fraser Island while also having the chance to get really close to the whales.
They love to interact with the boats that go near them, so you're bound to see some fun activities. And you could even get the chance to get in and swim with them! Swimming with the whales is usually only done at the beginning of the whale watching season (before the babies are born) which is worth keeping in mind before you book.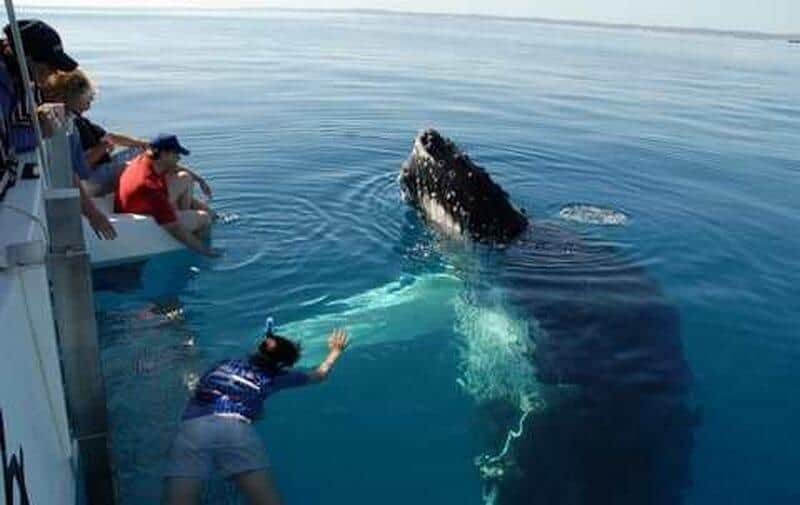 2. Book A Tour And Stay At Hervey Bay
Alternatively, if you're staying in the Hervey Bay area, you can book a tour out to see the whales and stop off at Fraser Island. You can usually get the chance to stay on the island for lunch and an excursion before heading back to the mainland.
3. Watch The Whales From The Shores Of Fraser Island
If you book a normal tour of Fraser Island during whale watching season, you can still get plenty of chances to see the whales without heading out on a boat. There are lots of spots on the shoreline that you can whale watch from to your heart's content.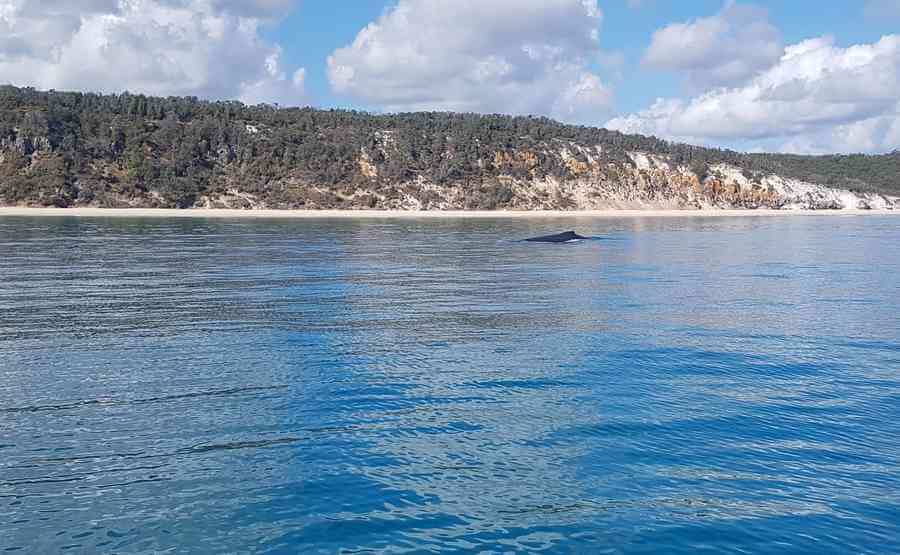 In Conclusion
Whale watching on Fraser Island is really popular. It is a really unique opportunity to see whales up close where they will be resting, playing, and nursing their young. There are lots of opportunities for whale watching either from the coast of the island or from boat excursions that take you right into the midst of them.
Either way, it is an unforgettable experience that will stay in your memories for the rest of your life.
Resource Links To Products We Use And Recommend
More Pages On Whales