Tin Can Bay is a lovely little seaside village around 90 minutes from Fraser Island. It links up with the Great Sandy Strait and is surrounded by national parks and areas of natural beauty. One of the main attractions of Tin Can Bay is the dolphins that swim in the area but if you want to take a dip into the waters yourself, you might be wondering if Tin Can Bay is suitable for swimming.
Tin Can Bay has an array of sandy beaches, nestled in quiet sheltered waters. While there are sharks in the surrounding waters near the creeks, there is a choice of safe shallows in the south that are perfect for family swimming. There is also a public pool that is open from September to May.
You can swim in Tin Can Bay, the southern side of Tin Can Bay is the preferred spot. Alternatively, you can swim at Kindy Beach. Beaches are not patrolled in the area. The south side beaches are shallower and the safest for swimming, but you won't find any suitability for surfing or bodyboarding.

So there are places where you can swim at Tin Can Bay if that's something that you want to add to your visit. Let's take a closer look at the swimming that is available in the area.
There are lots of reports of sharks that swim in the waters surrounding Tin Can Bay. They tend to congregate around the creeks and near Inskip Point so these areas aren't really safe to swim in. You might see some very rare reports of crocodiles being sighted in the area, but that also shouldn't be a concern if you stick to the beaches in the bay.
You really don't need to worry too much about your safety in the water at the beaches in Tin Can Bay. They have calm shallows that are perfect for swimming and, because of the geography of the bay, these waters are protected from the big waves of the ocean, leaving them quiet and safe.
These beaches are not patrolled, however, meaning that there are no lifeguards keeping watch. So if you are with children or non-swimmers, it is important that someone is keeping an eye on them. Even in calm waters, non or learner swimmers can get into trouble surprisingly quickly.
One benefit of swimming at Tin Can Bay is that it gives you a chance to get away from the madding crowds and spend some time in the water in peace. These aren't massive tourist beaches that will be packed full of surfers. They are beaches where you can relax, sunbathe, and have a swim at your own pace.
Places To Swim At Tin Can Bay
There are really two main choices for swimming at Tin Can Bay. If you want to swim in the sea, then you should head to the beaches near the south where there are lots of sheltered shallows that are suitable for swimming.
If, however, you would prefer to swim in a swimming pool then you can head to Tin Can Bay Swimming Pool

which is open from September to May.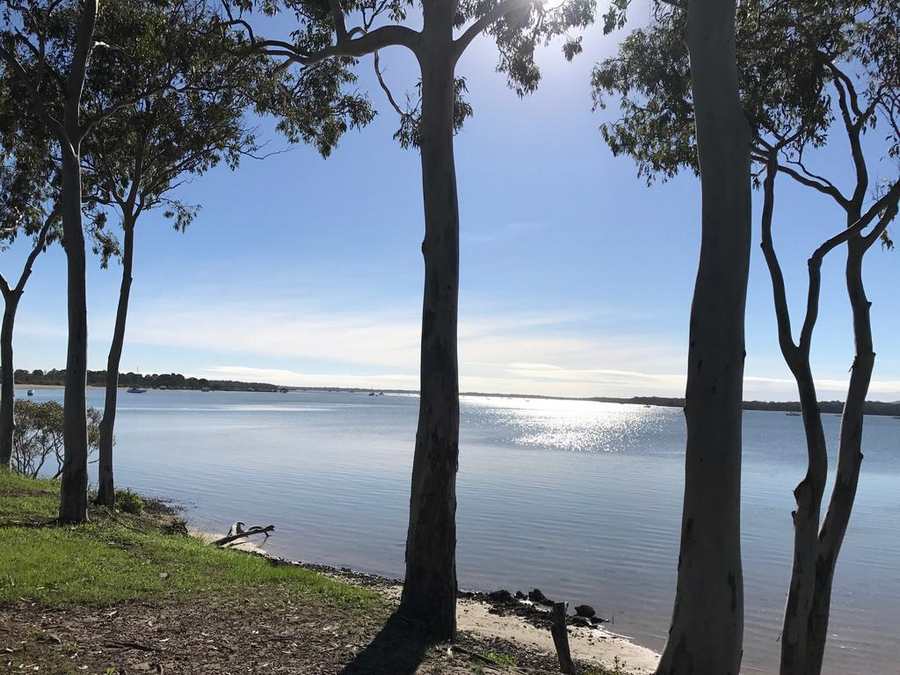 What Time Of Year Is Best To Swim At Tin Can Bay?
The best time of year for swimming in the sea at Tin Can Bay would be between May and October as this will be in the dry season for the area. The water will also be the perfect temperature for swimming at around 25 Celcius. It is also outside of stinger season, which runs between October and May.
If you want to swim at the Tin Can Pay Swimming Pool, then you will need to visit between September and May.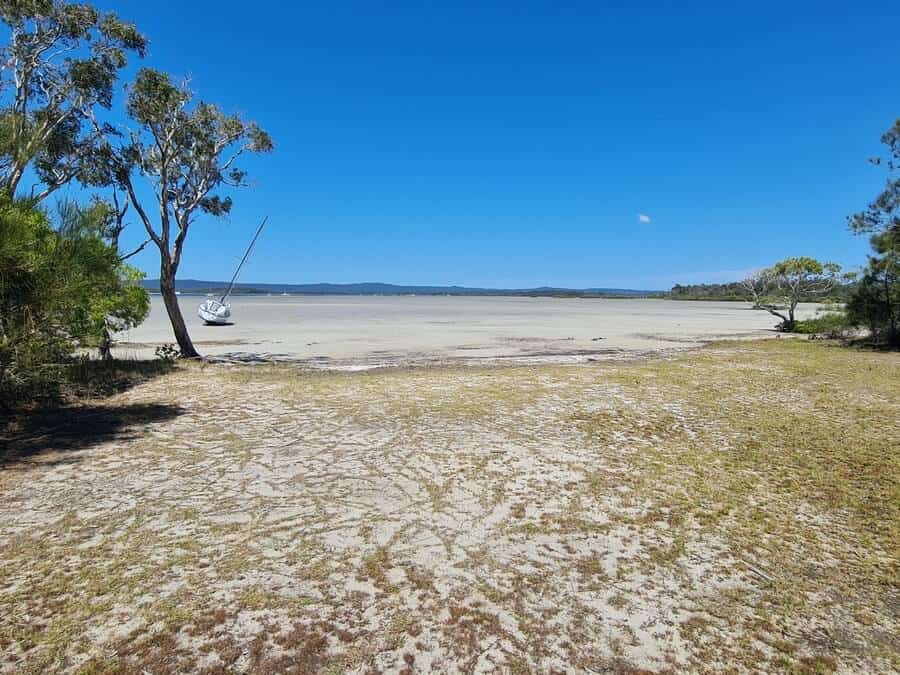 What Is The Best Beach For Swimming At Tin Can Bay?
If you're interested in fishing and boating, then the north part of Tin Can Bay is the place to go but if you're interested in swimming in the water, then you should instead head to the southern part.
There is a line of beaches south of Tin Can Bay that all have sheltered areas which are suitable for family swimming. One popular little beach in that area is Kindy Beach, so named because of the line of kindergarten children who used to venture out into the water while they were holding tight to a rope together.
In any case, all of the beaches in this area are sandy beaches with clear, calm waters. If you're looking for somewhere to relax and have a little swim, then you can't really go wrong at any of them. They are quiet and secluded areas that are perfect for a relaxing family day out at the beach.
Is There A Swimming Pool At Tin Can Bay?
If you don't fancy heading to the beach, but still want to do some swimming, the Tin Can Bay Swimming pool is perfect. It is an open-air 25-metre lap pool so you can get some serious swimming done if you want to. It also has a swim play area for the kids, making it perfect for a family swim day.
The season runs from the September school holidays through to May, so if you're visiting outside of the best time for swimming in the sea, you can always do some swimming at the pool instead.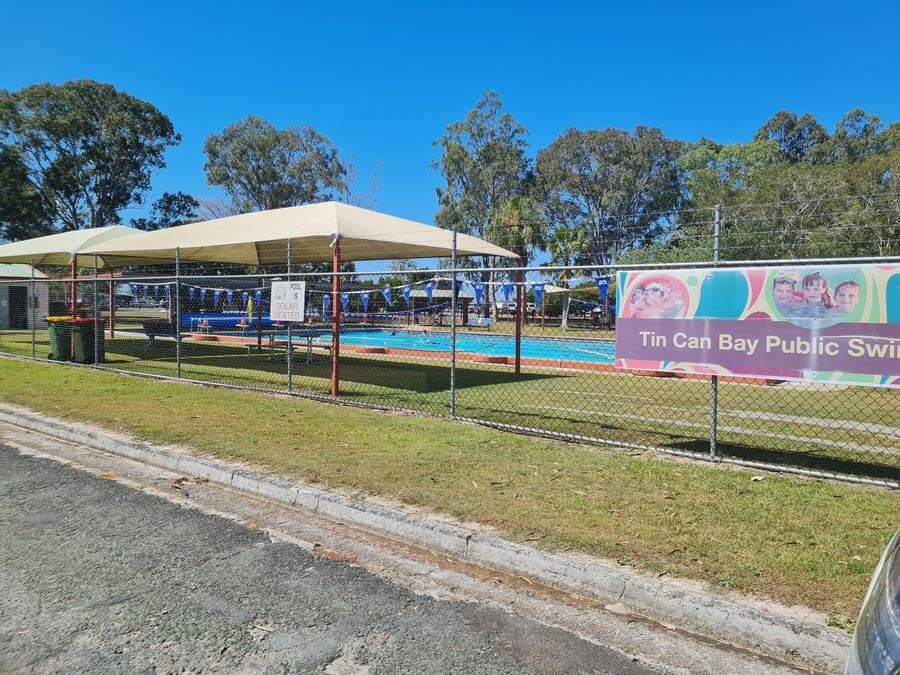 Tin Can Bay Swimming Pool is part of the Watch Around Water scheme

, which is a scheme aimed at improving and educating the public about safe swimming practices. They have clear guidelines in place about swimming at the pool depending on age and swimming ability, designed to keep everybody safe, so it is a good idea to review these before you visit so you know what you'll need to do.
The Bottom Line
Tin Can Bay is a lovely part of Queensland to visit. It is surrounded by natural beauty and wonder, so is a place where you can really get closer to nature and the wildlife of the area. Or even go fishing and feed the dolphins.
If you want to have a dip in the water on your visit, you can swim in one of the shallow water areas along the beaches at Tin Can Bay and you can also visit the Tin Can Bay Swimming Pool between September and May where there is a full 25-metre lap pool and children's swimming area.
Resource Links To Products We Use And Recommend
More Pages On Tin Can Bay