July to November annually are the favourable months to view the incredible humpback whales. These enormous sea creatures migrate to the waters of the Great Sandy Straits in between Hervey Bay and the world heritage listed, Fraser Island.
These chosen months are dictated by the beautiful mammals themselves due to the temperature of our water being the perfect conditions that they desire.
However, the great humpback whale has been known to arrive as early as one month prior to the official start of the annual whale watching season and to stay for a little longer than the end of the season in November.
It is advised to plan your whale watching experience around the stipulated months of July to November to absolutely ensure you attain an enjoyable chartered adventure and sight the many whale pods and their calves that the Hervey Bay waters welcome each year.
Due to the increase each year in people from all over the world wanting to sight these gigantic sea creatures it is always advised to play it safe and aim to book as soon as possible to secure yourself a guaranteed booking.
You can easily attain this by making your bookings online from anywhere in the world.
During the season, the boats run seven days a week with options comprising a dawn whale watch, half-day, three-quarter day and full-day tours. Some operators have children's activities and wheelchair access. The crew onboard will explain the behaviour of the humpback whales and give you information about their migration.
Cruises venture into the sheltered gentle waters of Platypus Bay, part of Hervey Bay, protected by Fraser Island. Groups of any size can be catered for and it is possible to design a trip to suit your requirements.
Whale Migration When Can You See Them In Hervey Bay
| | |
| --- | --- |
| Warrnambool VIC | May to September or September To Late November (return trip) |
| Bermagui VIC | September To Late November (return trip) |
| Sydney NSW | May To Late November |
| Byron Bay NSW | June To Late November |
| Hervey Bay QLD | 18th July – 31st October |
| Airlie Beach QLD | June to September |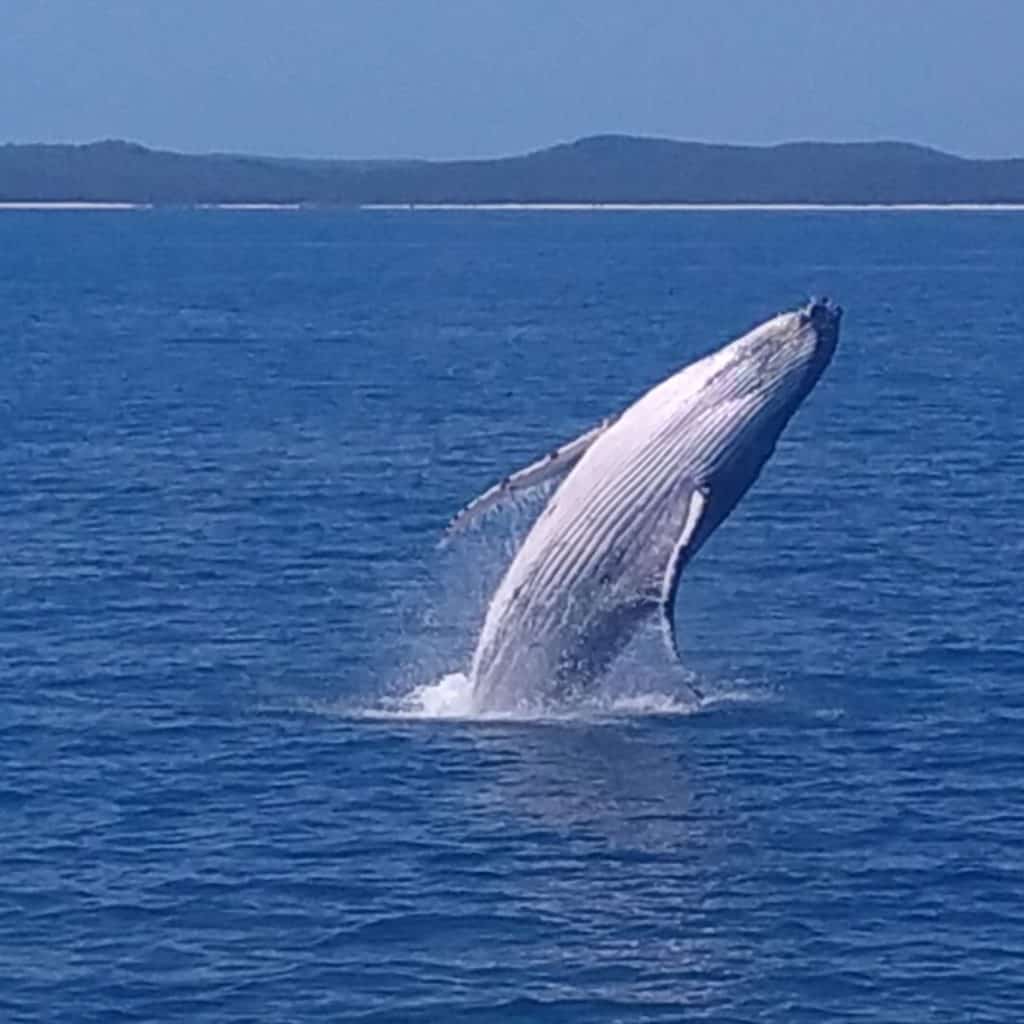 How Much To See Whale Watching In Hervey Bay?
Whale watching season offers you the ultimate experience to sight the humpbacks at some remarkable prices for the standard half-day, ¾ day and full-day tour packages. Prices start at $80 per person and go up to $300 per person for a full-day tour.
Book with one of the many whale watching charters available and see the whales in air-conditioned comfort, enjoy an array of freshly made food options, be entertained by knowledgeable skippers with years of guided tours experience and purchase the ultimate experience dream of swimming with the whales in the Great Sandy Straits waters.
Here is a list of around 8 of the best operators who offer whale watching tours, all vessels leaving from the Urangan Boat Harbour. Some vessels have sound systems to enable passengers to hear the whales sing, and offer educational videos on the journey to the Hervey Bay Marine Park.
List Of Tour Operators In Hervey Bay
Spirit of Hervey Bay | Whale Watching Hervey Bay

Phone: 1800 642 544
Website: spiritofherveybay.com
Address: Whale Bay Marina,
Buccaneer Dr, Urangan QLD 4655
Tasman Adventure
Phone: 1800 620 322
Website: tasmanventure.com.au
Address: Great Sandy Straits Marina,
Buccaneer Drive, Hervey Bay QLD 4655
Blue Dolphin Marine Tours
Phone: (07)4124 9600
Website: rezdy.com for bookings
Address: Great Sandy Straits Marina,
Buccaneer Dr, Hervey Bay QLD 4655
Whalesong Cruises Hervey Bay
Phone: (07)4125 6222
Website: whalesong.com.au
Address: Terminal Building, Shop 2,
Great Sandy Straits Marina, Urangan QLD 4655
Pacific Whale Foundation Australia
Phone: 1800 454 310
Website: pacificwhale.com.au
Address: Shop 1 Great Sandy Straits Marina,
Buccaneer Dr, Urangan QLD 4655
Freedom III Whale Watch and Charters
Phone: 1300 879 960
Website: rezdy.com for bookings
Address: 17 Buccaneer Dr, Urangan QLD 4655
Boat Club Adventure Tours
Phone: (07)4197 8766
Website: boatclubadventurecruises.com.au
Address: Hervey Bay Boat Club,
Buccaneer Dr, Urangan QLD 4655
Hervey Bay Eco Marine Tours
Phone: (07)4125 6888
Website: rezdy.com
Address: Great Sandy Straits Marina Terminal,
Shop 6/17 Buccaneer Dr, Urangan QLD 4655
All vessels have experienced crew who provide knowledgeable commentary which provides a greater interpretation of these gentle creatures.
As the years go by, the whales seem increasingly comfortable with the cruise vessels and often come so close you can almost reach out and touch them.
Of course, tour operators adhere strictly to Environmental Protection Agency guidelines, designed in consultation with the Hervey Bay operators, to protect the whales and keep them coming back to Hervey Bay year after year.
Other marine life which can be sighted during a day's whale watching include dolphins, turtles, and occasionally dugong.
Resource Links To Products We Use And Recommend
More Pages On Whales