Hervey Bay in Queensland, Australia attracts visitors year-round due to its calm beaches, humpback whales, fishing, and tropical island access, just to name a few things.
Those travelling to the area should have appropriate accommodation to ensure the entire experience is superb! Because of the abundance of things to see and do in Hervey Bay, hotels, motels, resorts, etc. Are just about everywhere.
Knowing what to choose can seem like a big task, however, when there's some insight into the options, the choice becomes a lot easier!
Water Views Of The Great Sandy Straits
One of the greatest things about lodging options is that there truly is something for everyone. For those who enjoy the great outdoors, there are caravan parks.
For those who want a more pampered and relaxing experience, there are resorts. The choice ultimately lies within what certain accommodation options have for its guests.
At the Breakfree location, they strive to provide a relaxing environment with scenery that is simply stunning.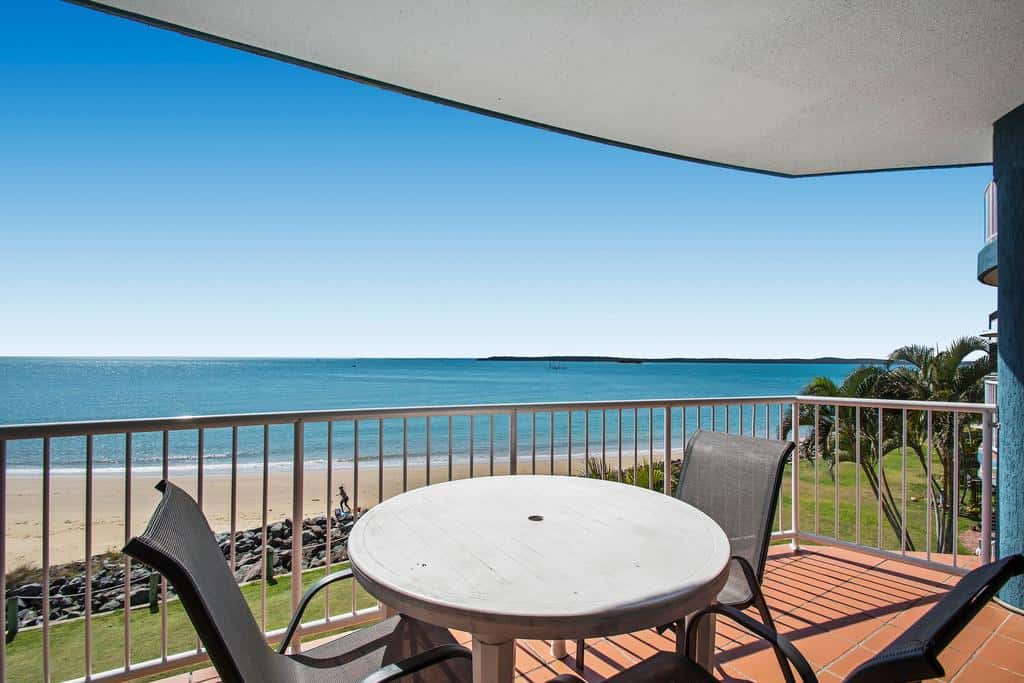 Description
The location of a hotel, resort, or motel should be ideal. This resort boasts of being one of the only direct waterfront resorts in the bay area.
With balconies that open up to the wide-open ocean, the views are some of the best in Hervey Bay.
It is also adjacent to a marina, so watching the boats head out into the waters is nice as well. With three stories of rooms, the building doesn't look too large, but it truly is spacious!
The location also has a few facilities that are popular among guests, so the views aren't the only attraction!
Popular Facilities
2 Swimming Pools – Having 2 swimming pools is a huge perk as it means no crowded swimming! There's plenty of space for everyone. One is a lagoon-style pool and the other is a 25m lap pool.
2 Full-sized Tennis Courts – Tennis is a great game for a friendly game with mates or a competitive match. Either way, access to two courts ensures anyone can get in on the game!
Games Room – Game rooms always are a great bonus as they are a way to relax and have a bit of fun at the same time!
Sauna – Saunas are a unique facility that not every resort offers. These heated rooms are the ultimate way to unwind and let all the stresses of the world melt away.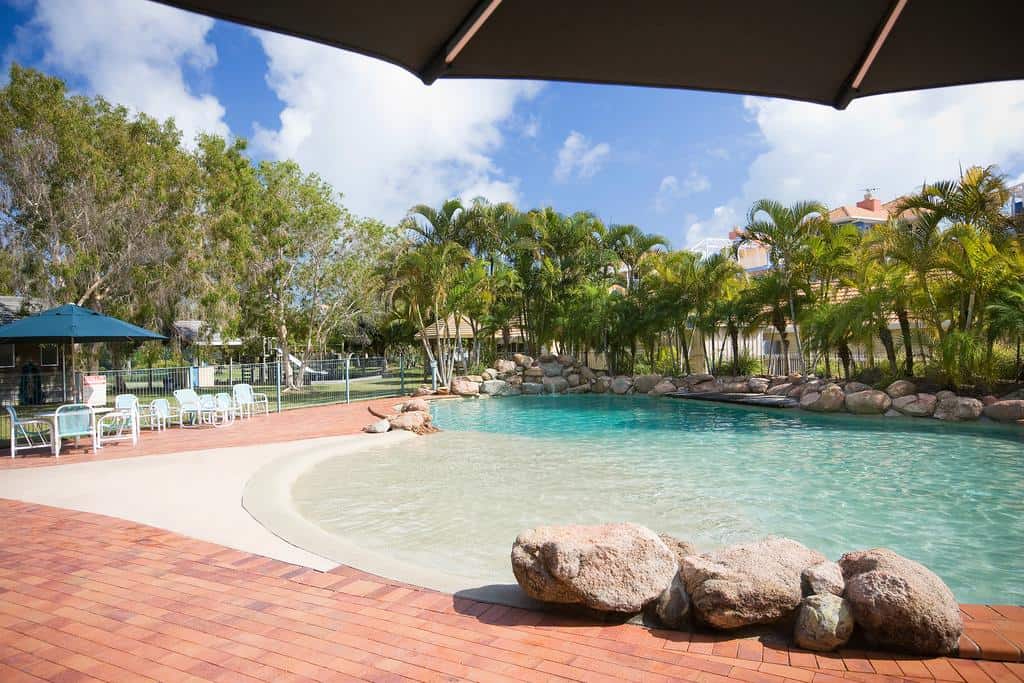 Ratings
Lodging and other forms of accommodation receive star ratings from a rating system that showcases their overall ability to provide a luxurious experience for their guests.
This rating is typically given on the quality of services rather than the quantity. It can be used as guidance to help in the decision of booking a particular location.
Breakfree Great Sandy Straits appears to have around a 3 or 3.5-star. This means that the location provides just enough facilities and comfort for its guests to be average or slightly above average.
Another type of rating to consider are guest reviews. Guest reviews should be taken with common sense in mind as not everyone's experience will be the same.
With that said, Google users have the location rated a 4.1 star out of 5 stars with around 145 reviews. The biggest attraction of the resort is its overall location and proximity to nature.
Room Types
The room types at Breakfree come in the option of 1, 2, or 3-bedroom apartments, studio apartments, or Penthouse apartments. The rooms are bright and modern looking with pops of blue colouring.
Moreover, all rooms have ocean or marina views which means everyone will get a spectacular view from their rooms!
These apartments are self-contained with laundry facilities, spas in the apartment (only some apartments), lounge room areas, kitchenettes, and small dining areas.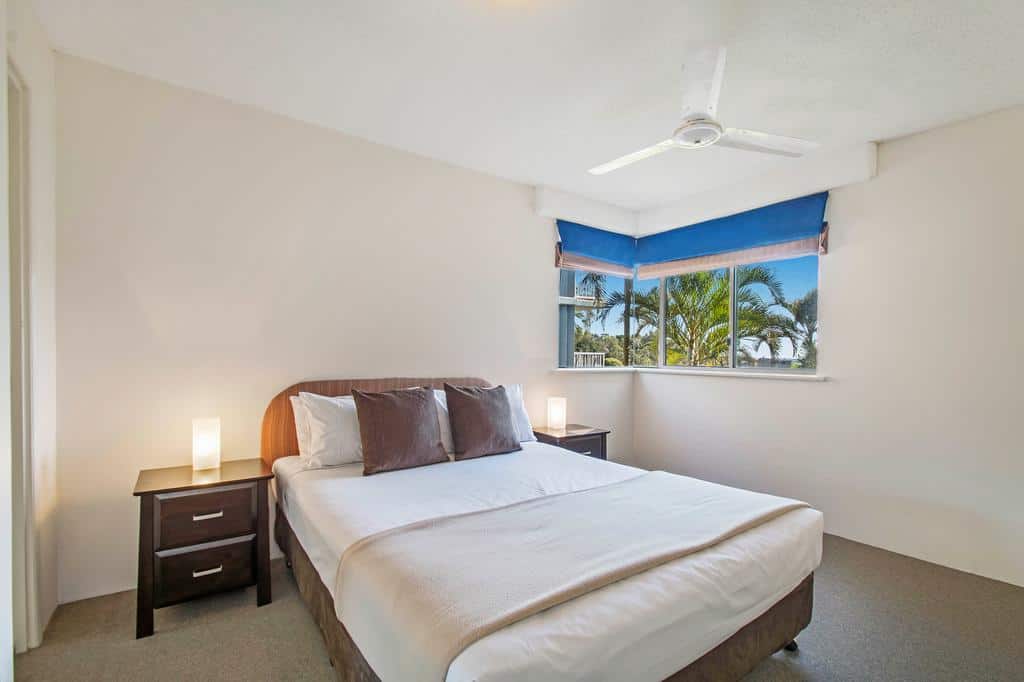 They can truly feel like a mini-holiday home!
The rates for one night's stay for each of the rooms are as follows:
2-Bedroom – $296 (or $302 for a ground-level 2-bedroom)
3-Bedroom Penthouse – $396 (comes with a parking spot)
These rates are based on a two-person stay. The prices are subject to change due to peak seasons and or other conditions.
Surroundings and Location
The address and contact information for Breakfree Great Sandy Straits in Hervey Bay is as follows:
17 Buccaneer Dr
Urangan, QLD 4655
Phone 07 4128 9999
This resort is super close to a lot of iconic things in Hervey Bay. Whale-watching in the winter season is a great option! As the whale-watching capital of the world, Hervey Bay is well-known for its humpbacks that flock to the waters around July.
The beach is only 50m away and the marina is close by too for those looking to set out on a fishing trip. The location is also only 5km from the Hervey Bay Airport.
The Reefworld Aquarium is also nearby and is a great trip for adults and children alike with sights of sharks, sea turtles, and various tropical fish!
Dining out is another way to explore the area as well. The resort is surrounded by local eateries with fresh seafood and local fare.
Shopping while staying at the resort is exciting as well with a wide range of shops to choose from. Whether it is a local shop or a nationally known brand, shopping can be a name-brand or support locals as well!
Facilities (Other than the popular ones!)
Check-In and Check-Out Times
Check-in is 2 pm and check-out is at 10 am.
For those looking for self-contained apartments that are close to all things that make Hervey Bay truly iconic, Breakfree Great Sandy Straits is the place to consider!
Resource Links To Products We Use And Recommend
More Recommendations For Accommodation
link to Discovery Parks Fraser Street Hervey Bay
On the Fraser Coast, Hervey Bay is an oasis of the best natural world the area has to offer. Just across the way from Fraser Island, you will also find beautiful botanical gardens, a stunning...
link to Caravan Parks Hervey Bay
Throughout the region of Hervey Bay, there are over 20 caravan parks to choose from. All these caravan parks are slightly different from one another. Some are bigger while others are smaller in size...