Reefworld Aquarium is located on the beach at Dayman Park, Cnr Kent & Pulgul St, Urangan, Hervey Bay 4655.
Located right on the beautiful foreshores of Hervey Bay you will find Reefworld Aquarium in Urangan.
This iconic tourist attraction established in 1979, has been operating for well over 30 years and has captivated and amazed locals and visitors from around the world with its unique displays of marine life.
Reefworld Aquarium is an all-natural aquarium, using only sand filtered sea water and natural sunlight. There are very few all-natural aquariums in the world, making Reefworld quite unique.
Reefworld Aquarium is a fabulous attraction that the whole family can enjoy visiting whilst on their next vacation. It is home to many different marine life including colourful tropical fish, sharks and large reef fish, along with tubeworms, crabs and many more.
You will delight in taking a stroll around and exploring the beauty that is displayed in the feature tanks where these ocean animals reside.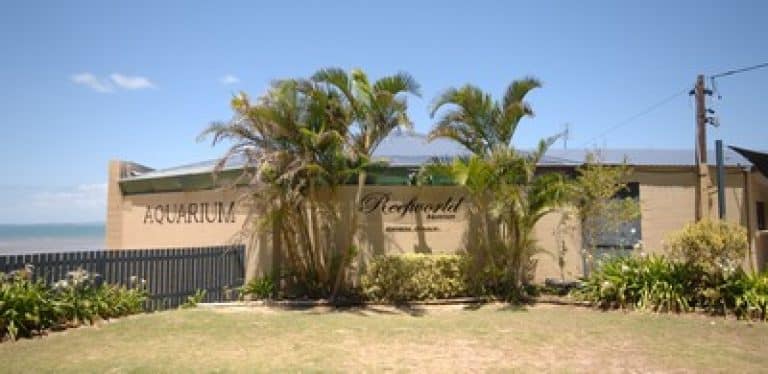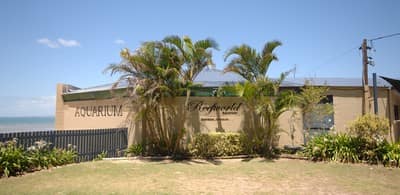 Adults and children of all ages can participate in feeding our marine life. The Green sea turtles, Sharks & large reef fish, are all fed daily. You can experience 1st hand what marine life feels like at our touch tank, throughout the day.
Make sure you bring your camera so you can capture the natural beauty of the living reef. Reefworld Aquarium also plays home to many sharks and if you are a bit of a daredevil why not take the plunge and have a swim with them.
The staff at Reefworld will be more than happy to arrange this for you. There is a wide range of memorabilia at Reefworld Aquarium that you may wish to purchase after you have enjoyed your day out admiring and taking part in everything there is to see and do here.
Showcasing Marine Life
| | |
| --- | --- |
| Sharks | Queensland Groupers |
| Green Sea Turtles | Colourful Marine Fish |
| Large Reef Fish | Crabs |
After you have finished marvelling at the wonders of the aquarium, why not pop next door to the Waterfront Restaurant where you can enjoy everything from a relaxing cappuccino to lunch for the entire family where the Chef will whip you up some of the tastiest offerings the Bay has.
You will experience exclusive waterfront dining with enviable views of World Heritage Listed Fraser Island, the famous Urangan Pier & Hervey Bay's calming waters.
You'll be amazed by the views from every table and will be surrounded by water at high tide! Ask the staff at Reefworld Aquarium about their Double Deal!!
Enjoy a visit to the Aquarium and Lunch at the Waterfront Restaurant, for a special discounted price!!
Large groups are welcome.
Location Features:
| | |
| --- | --- |
| Ample Parking | Air-Conditioned |
| Disabled Access | Ocean Views |
| Restaurant | |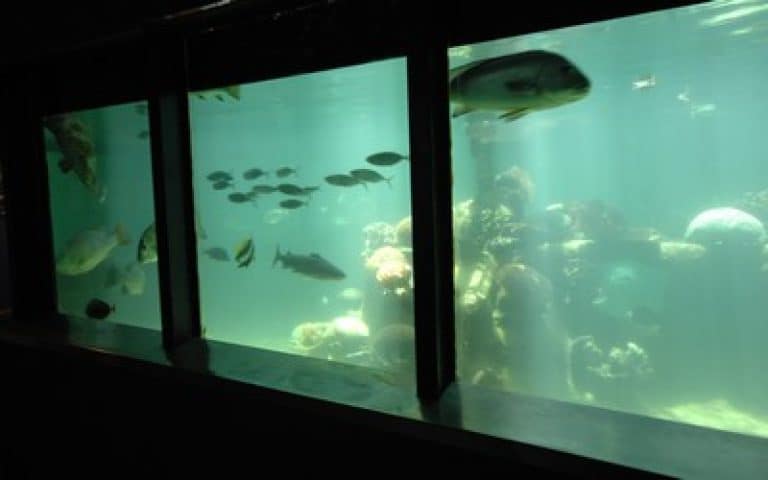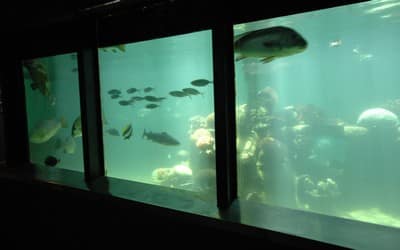 Opening Hours:9:30am to 4 pm 
7 days a week (excluding Christmas Day)
Address: Reefworld Aquarium
On the beach Dayman Park, Cnr Kent & Pulgul St, Urangan, Hervey Bay 4655.
Phone Enquires: Ph: (07) 41289828
Fax: (07) 4125 2531
Email: [email protected]
Resource Links To Products We Use And Recommend
More Pages On Things To Do
link to Jetties In Hervey Bay
These small jetties provide opportunities for various recreational activities, such as fishing, photography, and taking leisurely strolls to enjoy the bay's natural beauty. They are also great places...
link to Mini Golf Hervey Bay
Just opened on August the 25th 2023 in Hervey Bay is the new Golfing attraction offering 18 holes of fun for all ages! They offer the locals something new to do in Hervey Bay! Mini Golf Hervey Bay...