Rainbow Beach is a notorious place in Queensland, Australia. This small coastal town is known for its access to Fraser Island which is just to the north as well as its gorgeous beach.
Rainbow Beach is surrounded by 23km of sprawling beach shoreline that features towering sand dunes. These sand dunes are dubbed "rainbow" sand due to their exotic colouring combinations of red, orange, and yellow.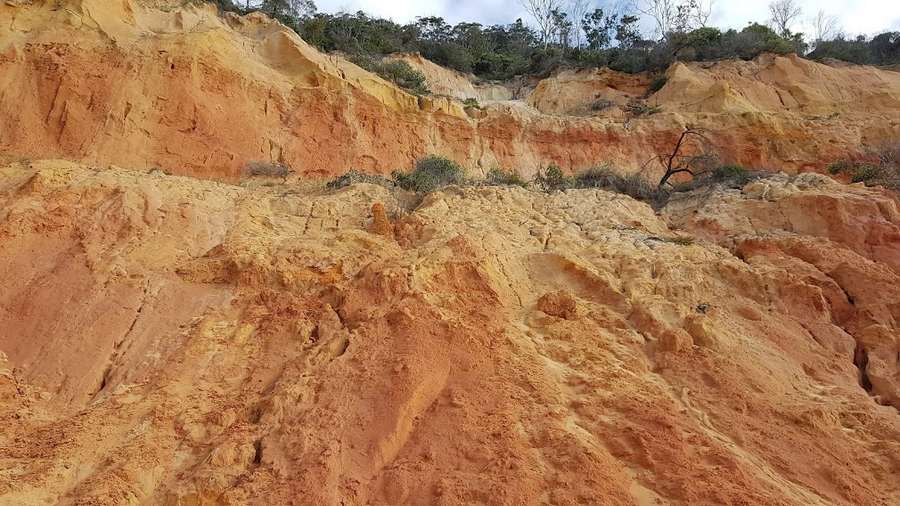 The sheer beauty of the sand dunes attracts visitors year-round to this sub-tropical seaside town. Rainbow Beach sits just south of Inskip Point and is bordered by water on two sides of its town limits.
The most eastern side is where the coloured sands are, within the most southern part of the beach. Even though there is a lot of beach coastline, access to it requires more than just a regular car.
Getting to the beach at Rainbow Beach requires a 4×4 or 4WD vehicle. This is due to the sandy surface which is not suitable for regular vehicles. The only places near Rainbow Beach where regular cars are permitted are at Inskip Point and near the Carlo Sandblow which is a little south of the town of Rainbow Beach.
The main entrance to the beach can be found off Clarkson Dr on Beach Access Road. All other entrances to the beach area are within campsite locations and off of Inskip Avenue at Inskip Point.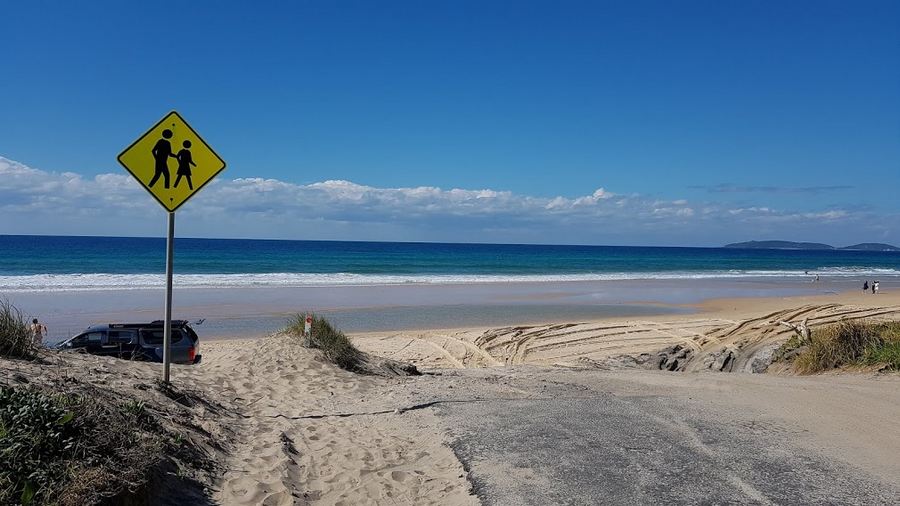 The multiple points of access are helpful so that one entrance to the beach isn't getting too crowded. Although, considering the size of Rainbow Beach it is understandable why there are so many access points for 4WD vehicles.
Sand is a material that is easily moved when pressure is applied to it. Because of this, only 4WD vehicles are permitted at Rainbow Beach.
Additionally, the tyre pressure should be dropped on these vehicles so that they can move through soft sand a lot easier.
This is especially important when entering the beach at first because the sand around the entrances is much softer than the sand found closer to the shoreline.
Can You Drive To Rainbow Beach?
Driving to Rainbow Beach is possible! Once again, it is best suited for 4WD vehicles on the beach itself. However, regular cars can be driven throughout the town, but once you reach the beach you must use a 4WD Vehicle.
At this point, having a 4×4 hire would be necessary. Driving to the beach access point from the town limits of Rainbow Beach is best done via the Clarkson Dr entrance. This is about a 4-minute drive from the heart of town.
The town of Rainbow Beach can be reached from major roadways that connect to Rainbow Beach Rd.
From Brisbane heading north this would include the Bruce Highway (for just under a 3-hour drive). If someone is coming from Tin Can Bay to the east of Rainbow Beach, this would through a few connecting roads between Tin Can Bay Rd and Rainbow Rd (and it's only about a 25-minute drive).
By travelling to the town of Rainbow Beach via one of the major roadways, access to its pristine beach is easiest via Clarkson Dr or one of the other points of access in Inskip.
Regardless, it is an easy town to drive to. Additionally, the beach has ample areas for visitors to drive on the beach provided they do so with their 4WD.
Do You Need A 4WD Permit For Rainbow Beach?
A lot of places around Australia require a vehicle access permit, or a 4WD permit, for people to travel and drive to certain places with a 4WD vehicle.
This includes Rainbow Beach! In doing so, people can ensure that they are following all mandated laws and prevent any hiccups in their adventure. Purchasing a 4WD permit isn't difficult and is typically done online.
Some areas of the country offer self-serve kiosks or over-the-counter options as certain businesses. This includes certain campgrounds or information centres and more.
This gives people plenty of opportunities to make sure that they have the required permit needed for driving their 4WD. It is important to note that all permits must be purchased prior to entering a 4WD area.
Failure to do so could result in fines.
Can You Drive On Rainbow Beach At High Tide?
Driving on any beach at high tide is never a good idea. High tides are when the ocean currents rise to higher levels and wash up further inward on the shorelines.
Driving at high tide is extremely risky as it could result in the vehicle being swept up by ocean water.
Beach driving is typically done right along the shoreline where the sand is firm and saturated with water. This is the best driving area as the vehicle can really navigate over these sands better than the softer sands found away from the shoreline.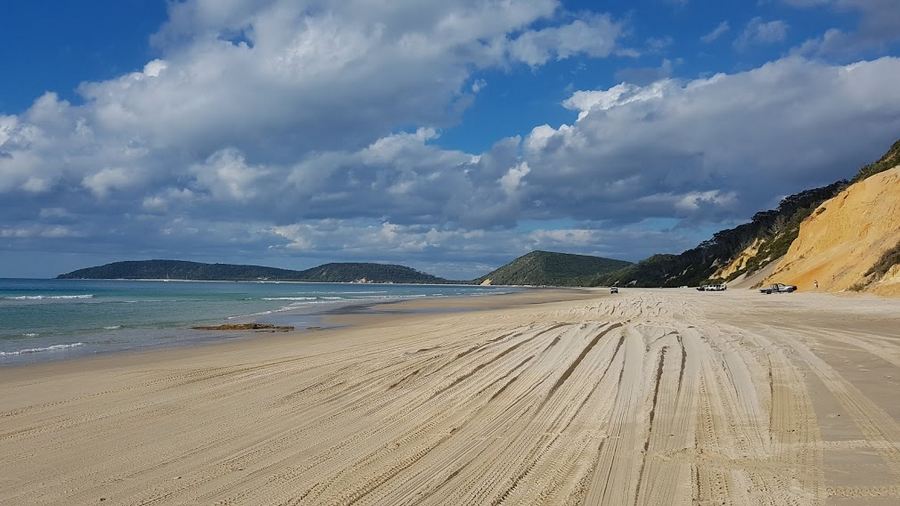 Due to the proximity of the vehicle to the shoreline, while driving, high tide driving simply is not recommended. Driving at low tide will always be the safest option anywhere but especially at Rainbow Beach.
While Rainbow Beach is considered relatively safe, the ocean itself is truly unpredictable.
Weather is changing all of the time. While high tide and low tide time frames can be generically estimated, it is always best to watch for high tides rolling in and pay attention to tide forecasts to prepare for the drive.
How Much Is A Permit At Rainbow Beach?
The permit fees for Rainbow Beach can be found on the Queensland government website. These fees are lumped under the Cooloola Recreation Area fees as this is a nearby point for the area.
Permit fees cover a range of time frames depending on someone's needs. This is a great option for people so that they can get the most out of the vehicle access permits.
In general, a permit for Rainbow Beach driving is around $30. Below is a closer look at the tiers of permit fees that could be suitable for some visitors.
Permit Fees For Cooloola Recreation Area (Rainbow Beach Included)
| | |
| --- | --- |
| 1-day permits – $13.40 (if obtained through the internet) | And $20.25 (if not obtained through the internet) |
| 1-week or less – $34.10 | 1-month or less – $53.65 |
| More than 1-month and up to 1 year – $270 | Book online or Buy Instore |
These price points really give people options when it comes to permits. Depending on how much driving someone is planning to do or the length of their stay in the area, a longer time period on their permit might be a better choice.
Rainbow Beach is a beautiful town to visit and its beach proves to be a unique experience for visitors. Whether someone is new to 4×4 driving or does it as a hobby, driving on Rainbow Beach is truly spectacular!
Resource Links To Products We Use And Recommend
More Pages On Other Areas