Dogs love the great outdoors. There is so much for them to see and interact with! However, dogs aren't always welcome in certain outdoor spaces.
This is particularly true of Australia where there are many national park areas as well as protected natural areas.
One of the most iconic places to visit in Queensland, Australia is the coastal town Rainbow Beach which is surrounded by a lengthy stretch of gorgeous shoreline.
With around 23km of pristine beach to explore, it begs to question if dogs are permitted at Rainbow Beach.
Dogs are permitted on the beach from Rainbow extending north back to the Inskip peninsula area. They are required to be on a leash, so pet owners need to ensure that they respect this rule. Additionally, it is important to not allow a dog to chase any wildlife or disturb the natural surroundings.
In most areas of the world, especially Australia, there are usually designated dog beaches or dog areas for pet owners to visit with their pups.
These areas are made available for pet owners to help their dogs get their important daily exercise and playtime. Rainbow Beach as a town is a smaller, rural town, however, its beach stretches quite a distance throughout the surrounding shoreline.
Even though Rainbow Beach's beach is an impressive 23km, not all areas are suitable for dogs. The beach stretches from Inskip down to Double Island Point.
Rainbow Beach is most famous for its beautifully coloured sand dunes. Dogs should never be allowed to ascend the sand dunes as they are fragile. Humans are also not permitted to scale the sand dunes. This is to help protect their structural integrity.
Dogs are also permitted in the Inskip Recreational Area

which is near the beach. This area is within Inskip and allows certain tent camping and has access to picnic tables, toilets, and prime fishing spots.
Once again, dogs are required to be on a leash

when they are within this day-use area.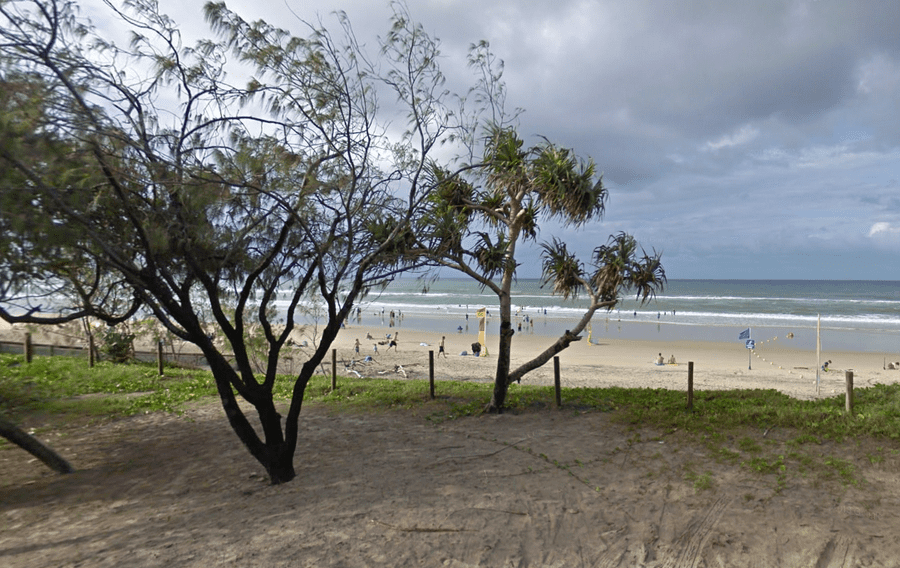 Off-Leash Dog Beach Rainbow Beach
There aren't any off-leash dog beach areas on Rainbow Beach. All dogs who are brought to the beach shorelines must be on a leash.
Additionally, like other outdoor spaces, pet owners must follow rules about cleaning up after their pups and making sure that their dogs are well behaved.
Even though there aren't any off-leash dog beach areas in Rainbow Beach, there are some off-leash areas in the Gympie Region of Queensland.
Rainbow Beach is considered part of the Gympie Region which encompasses a decent portion of the southeastern part of Queensland. For visitors to Rainbow Beach (or its residents), there are only two off-leash designated areas in the Gympie Region.
These areas include the Lake Alford Dog Park

and Archery Park

. Both parks are just under an hour's drive from Rainbow Beach to the south, southwest winding through the Toolara State Forest

.
Both locations feature a specific off-leash area for pups to run and play. While it is tempting to allow a dog to run freely, it isn't always a good idea in public places.
These two parks are well worth the drive for pet owners looking to let their pups stretch their legs. However, most will find that there isn't an issue with using the leash along the beach in Rainbow Beach.
Is Rainbow Beach Dog Friendly?
The small town of Rainbow Beach is considered a very close-knit community. They are dog-friendly so long as pet owners are respecting the town and beach areas where they take their pups.
Certain businesses that offer accommodation are dog-friendly in the town including the local holiday caravan park. There are some rules and exceptions though so it is always best to inquire about bringing a dog before just showing up with one.
When bringing a dog to the beach or the town of Rainbow Beach, there are some general (and mostly common sense) things to keep in mind. These things are important to remember so that a pup stays safe and so that everyone else stays safe as well!
Below are the things to keep in mind when taking a dog out in Rainbow Beach!
Important Reminders For Taking A Dog To Rainbow Beach (Or Most Anywhere!)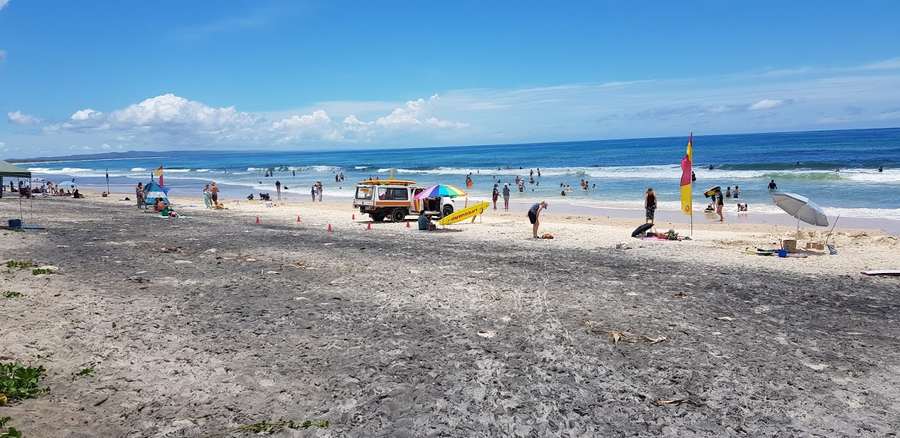 Always Use A Leash At The Beach
Using a leash might seem unfair to the dog in a beach environment. However, leashes play an important role when bringing a dog to the beach.
Their primary purpose is to help someone keep track of their dog as well as command the dog if needed.
Dog training often includes simple cues that a pet owner can provide through the leash to alert the dog of when to stop or slow down.
Moreover, having the dog on a leash at the beach (or within special accommodation) helps them stay near their owners rather than running off wildly.
Clean Up After Your Dog
Cleaning up after a dog isn't pleasant but it is a necessary part of owning one. Anytime that someone is public with their dog, it is common sense to pick up after them.
This is especially true for beach areas where droppings can be in sanded areas for unsuspecting people. The best way to approach this is to always have small rubbish bags available to pick up droppings.
There's always a rubbish bin nearby so it can be easily disposed of!
Be In Control Of Your Dog
Going to the beach with a dog is a truly fun experience for both the owner and the dog. The dog gets to enjoy new scents, sights, and places to explore. Even though it is a great experience, pet owners should always have control of their dogs.
This helps keep the dog safe and keep the dog nearby. It also helps preserve important parts of nature as well. For Rainbow Beach, its coloured sand dunes are a mystical sight for visitors and should be protected.
Humans nor dogs should be climbing the dunes. They are best admired from the shoreline.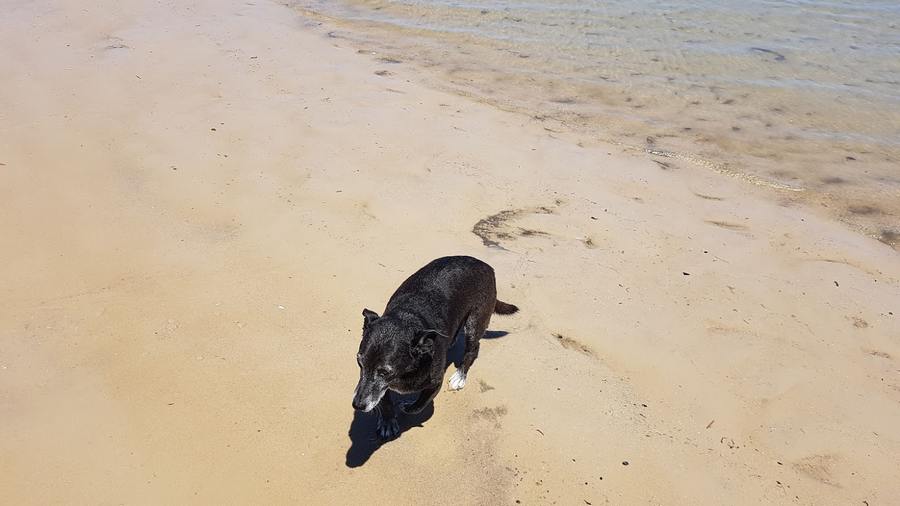 Take Care And Watch The Dog On The Beach
While most of Queensland's beaches are considered safe, Australia is truly unpredictable with its wildlife. Just as it's important to be alert and never go to the beach alone, taking a dog to the beach holds the same standards.
Pet owners should always be alert for potential dangers like stingers, strong currents or riptides, and other wildlife that might appear on the beach.
The best way to keep a dog safe is to stay alert and keep them from interacting with these potential dangers. If the water looks turbulent, the dogs shouldn't be allowed in the water.
Additionally, if there are stingers present, they should be kept out of the water.
In general, Rainbow Beach can be an excellent way to give pups exercise and allow them to enjoy the scents and sights of the gorgeous surroundings.
It is important to remember where the dogs are allowed to go and where they aren't. This not only helps keep Australia beautiful but it also keeps dogs and the people around them safe as well!
Resource Links To Products We Use And Recommend
More Pages On Other Areas