All throughout Australia, there are many remarkable places to visit for their beauty. One of the most popular places is Inskip Point.
This peninsula is located to the north of Inskip, a locality in Queensland, Australia which is in the Gympie region. It more specifically separates the Wide Bay and the Coral Sea.
This location makes for great views of the seaside and also offers up some beachfront fun! It is also the roadway into Australia's popular Fraser Island! Moreover, it is the location of the famous Rainbow Beach.
Rainbow Beach received its namesake for having beautifully coloured sands from minerals like rutile, zircon, monazite, and ilmenite.
Google Map Of Inskip Point
Brief History Of Inskip Point
Inskip Point has a rich history dating all the way back to the 1860s. This stark and beautiful peninsula area started as a light and signal station for the Maryborough port.
The was to be a lightkeeper at Inskip due to the dangers of the Wide Bay Bar area due to its shallow area and proximity to incoming tides. This causes a dangerous area for any boats coming into the bay.
The lightkeeper was to alert any ships or boats of this potential danger when it was particularly aggressive. Throughout the years, the area became more of a travel spot due to its beautiful beaches and access to Fraser Island.
What to Do At Inskip Point
Inskip Point is full of all sorts of cool things to do. Tourists and residents alike will not be short of exciting and adventurous things to choose from.
Coastal areas around Australia are very well known for their beautiful and stunning sights among the sea line, especially when it comes to sunsets and sunrises.
However, the beauty of the area is just the very beginning! Below are some of the greatest things to do while at Inskip Point! Or why not check our page on things to do in Rainbow beach.
Visit Wolf Rock Dive Centre at Rainbow Beach Qld
This unique experience gives guests the chance to scuba dive alongside the endangered species of the grey nurse sharks. While the grey nurse sharks are the main attraction, there are other species to see as well.
This includes leopard sharks and grouper fish which are found in the warmer months. The location also offers diving courses as a truly special learning experience.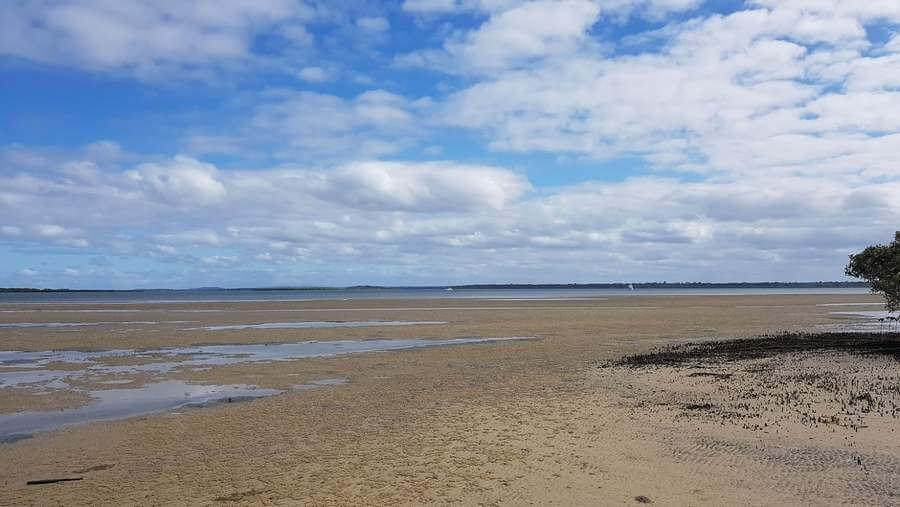 Visit The Inskip Point Recreation Area
This particular area is known for its fishing areas and crisp, clean beaches. It also is a popular spot for camping. Camping is popular at this location due to the wonderful beauty that nature has to offer.
This includes plant life like she-oaks and cypress pine. While camping is a great activity for anyone and their families, there are some restrictions and rules that must be followed for a truly enjoyable experience.
Inskip Point Camping Rules To Follow:
| | |
| --- | --- |
| Obtaining a permit for camping ground usage | Only using vehicles on designated access roads |
| No parking or driving is permitted on dunes with vegetation | Camping permits must be obtained prior to arrival. This can be done online. |
| The length of the stay must not exceed 30 days | Dogs are allowed, but only on a leash |
| Some campsites are only accessible by 4wd vehicles. | |
The three most popular camping sites at the Inskip Recreation Area are the S.S. Dorrigo

, the Natone M.V. Beagle

, and The Oaks. These locations are only recommended to be accessed through the use of 4×4.
Camping can also be taken up at the Rainbow Beach area near Inskip Point and this location offers many camping options.
Go On A 4×4 Vehicle Adventure At Rainbow Beach QLD
The Rainbow Beach area is well known for its 4×4 driving adventures. In fact, that is a large part of Australian culture and can be quite exhilarating.
To ensure that no one is excluded from this fun, the vehicles are all automatic.
When visiting this location, it is recommended to live this experience to truly get a taste of Australian culture!
Learn To Surf Or Just Surf In Inskip Point Queensland
The beach areas around Inskip Point are great for surfing. Whether the visitor is a well-seasoned wave rider or a complete novice, there are surfing opportunities to be had! In fact, along Rainbow Beach, there are surfing instructors.
This is quite a treat experience as surfing can be exceptionally fun

Take 4×4 Vehicles To Fraser Island Via Manta-Ray Barge
In order to take 4×4 vehicles to Fraser Island, it is required to catch the Manta-Ray Barge which runs from Inskip Point at Rainbow Beach.
It is required to show 4×4 permits before using the barge to transport any vehicles. While this is serious, it's just a matter of protocol and fun will be had!
Ride The Helicopters At Rainbow Beach QLD
While the scenery and seascape views are breathtaking, experiencing them from above the land is even more beautiful! This special event through Rainbow Beach Helicopters

gives visitors a sky view of the beaches and ocean.
Seeing Inskip Point from the sky is really gorgeous. It also provides a helicopter ride for those who haven't had the opportunity to do so!
Take Kayak Tour At Inskip Point Queensland
Kayaking is a popular activity at Rainbow Beach and Inskip Point. The tour allows the rental of a kayak and travels into the sea. Kayaking is an immersive experience as it's a one-person boat with a double-ended paddle.
It can be learned by beginners or taken on by pros and offers up an interesting view of the ocean during the kayaking experience.
General Information About Inskip Point
It is common for people to ask if there are campfires allowed at Inskip Point camping spots. The answer to this common inquiry is that campfires are allowed.
However, Australia is known for fire precautions and often can have fire restrictions. It is best to check for these restrictions before starting any campfires

. This is to ensure the safety of all guests and wildlife.
While driving permits are required

for 4×4 on certain areas and beaches, there is a part of Rainbow Beach that can have driving without the permit. This specific area is the area to Middle Rocks and Rainbow Beach Township.
This particular area is outside of the recreation area at Inskip Point. This gives freedom to those who want to ride without the hassle of a permit.
It is important to check out one of the many delicious spots to eat in Inskip Point. Some notable places include Brent's Burgers and Acrobaleno on the Beach.
When travelling, tasting the food that is locally available is a culinary delight! Even if it's a resident, they can treat themselves to trying a new place to eat.
No matter what activity is chosen, Inskip Point really gives visitors a taste of the best in Queensland, Australia!
Resource Links To Products We Use And Recommend
More Pages On Other Areas