Millions of tourists visit the Gold Coast annually to enjoy its amazing subtropical climate, pristine sandy beaches, and ideal surfing waters. Being Australia's tourist hub, it offers visitors plenty to do. Main attractions such as the Q1 observation deck, the beachfront, and the thrills of Australia's biggest and best theme parks, are all well-liked and popular family-friendly tourist attractions.
To engage in non-touristy activities in Gold Coast, travel on a beach cruiser from Burleigh Heads to Main Beach, visit the Surfers Paradise Esplanade, dine out at Miami Marketta, lounge on a private secluded beach or take a trek to Gold Coast Hinterland, home to many stunning waterfalls, rainforests, and wildlife.
By looking past the flashing lights of Surfers Paradise you can find countless non-touristy activities on the Gold Coast. So many, in fact, that we had to create a list of some of the best ones that we believe are simply too good to miss.
Producing your own pottery plates, outdoor spas with mountain views, and live music events are just the start. To discover the best non-touristy Gold Coast activities read on!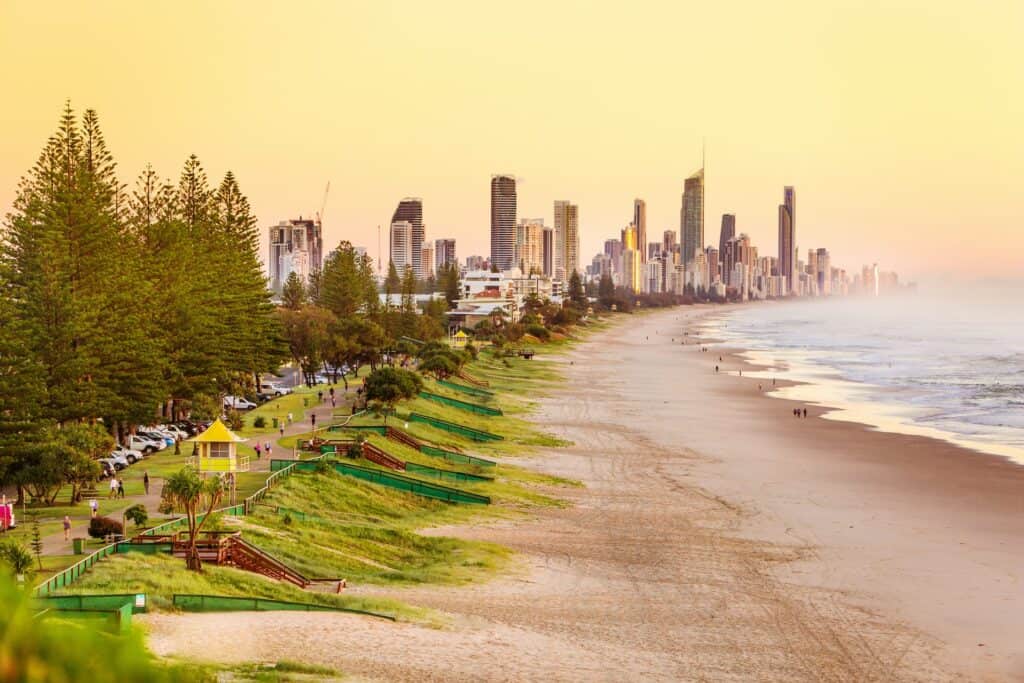 18 Non Touristy Things To Do In The Gold Coast
1. Experience Gold Coast's Dynamic Café Culture
A cup of coffee in the morning is always on the cards for local residents at the Gold Coast.
There are hundreds of cafés and restaurants that can be found along the coast, each one more unique than the last.
The explosion of coffee culture has resulted in new espresso bars, coffee roasteries, and cafes seemingly opening up every week.
Some of the local favourites include Wavybone, Seadog Burleigh, Espresso Moto, Barefoot Barista, and Blackboard Coffee.
Coffee along the Gold Coast beachfront is an experience; a very tasty one at that. The rich coffee culture here will make you one with the locals!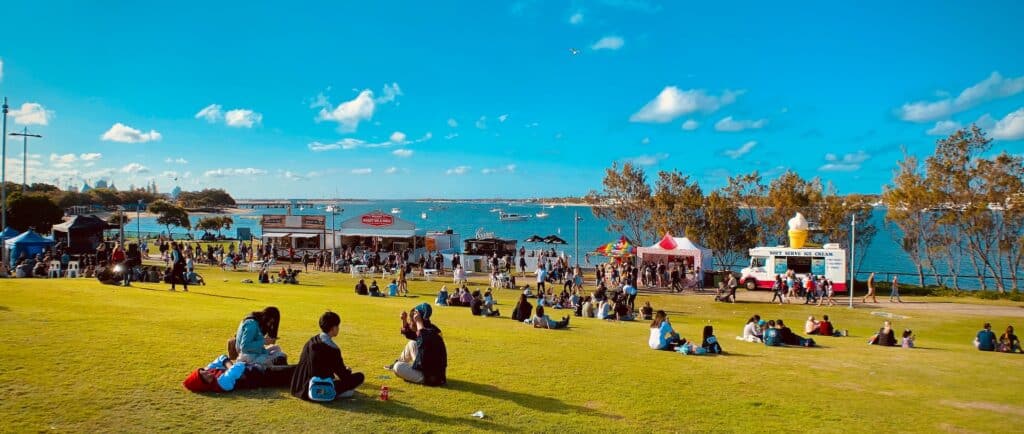 2. Food Trucks Offer The Best Food
On the Gold Coast, tourists generally flock to beachfront restaurants offering gourmet dining.
Michelin Star restaurants line the beachfront, but the really delicious local cuisine is served up by food trucks that patrol the city's neighbourhoods.
A lively colony of regional food trucks providing delectable foods from all over the world can be found at the infamous Miami Marketta.
As you take in the ambience and mix with locals who are mingling over live music and delicious food to suit all tastes, try one or two taster plates that take your fancy.
3. Exploring Gold Coast On A Bike!
To fully experience this magnificent stretch of pristine coastline rent a cycle and get access to over 2400 km of bikeways and cycling routes.
For casual cyclists, a ride from Burleigh Heads to Paradise Point would provide stunning views of the majestic waterways.
For cycling enthusiasts, this mode of transport is not only cheap but also offers access to plenty of places that aren't accessible by motor vehicles.
The Darren Smith Memorial Route, Currumbin Valley, and O'Reilly's Rainforest Retreat are all dedicated cycling routes that lead to spectacular locations and viewpoints that most tourists will never get to see.
4. Shopping For Local Produce & Goods
The best stuff can often be found in the most unlikely of places. The local markets here at the Gold Coast are a treasure trove of regional goods, souvenirs, and fresh produce.
On the Surfers Paradise esplanade, hundreds of market stalls are put up every Wednesday, Friday, and Sunday.
The markets have a festive atmosphere with live music and shows setting the mood for a leisurely evening of haggling and conversing with locals.
5. Luxury Shopping!
The Gold Coast is one of Australia's premier shopping destinations. Some of the greatest retail brands in the world have recently moved into Robina Town Center and Pacific Fair on the Gold Coast pulling in plenty of customers both local and overseas.
Both these commercial hotspots have just undergone major renovations and offer a luxurious and state-of-the-art shopping experience.
For couples and families that travel here, experiencing this shopping utopia is part and parcel of the Gold Coast experience.
6. Watch The Sunset From On Top Of Burleigh Hill
Even though Burleigh Hill is a popular tourist spot and the birthplace of modern surfing tournaments and competitions, to avoid the crowds, come here on a Sunday afternoon.
On Sundays, the place isn't as crowded. You can bring a picnic blanket and sit on the surfboard benches perched 79 meters above Burleigh Beach.
This peaceful spot is the perfect place to watch the sun go down as you listen to waves gently crashing against the sandy beaches below.
At night you can enjoy free performances by bongo drummers and fire spinners that come here to entertain the crowds partying on the beaches below.
7. Locate A Private Beach
Go to the beach if you're seeking free things to do on the Gold Coast. After all, some of Australia's top beaches can be found here.
Surfers Paradise and Broadbeach are popular tourist destinations, but if you want to avoid the crowds, you can always find a space exclusively for yourself.
There is about a 2 km stretch of natural reserve land along the coastline at 'The Spit' (near the northern end of the Gold Coast beach). You can always find a private area here to call your own.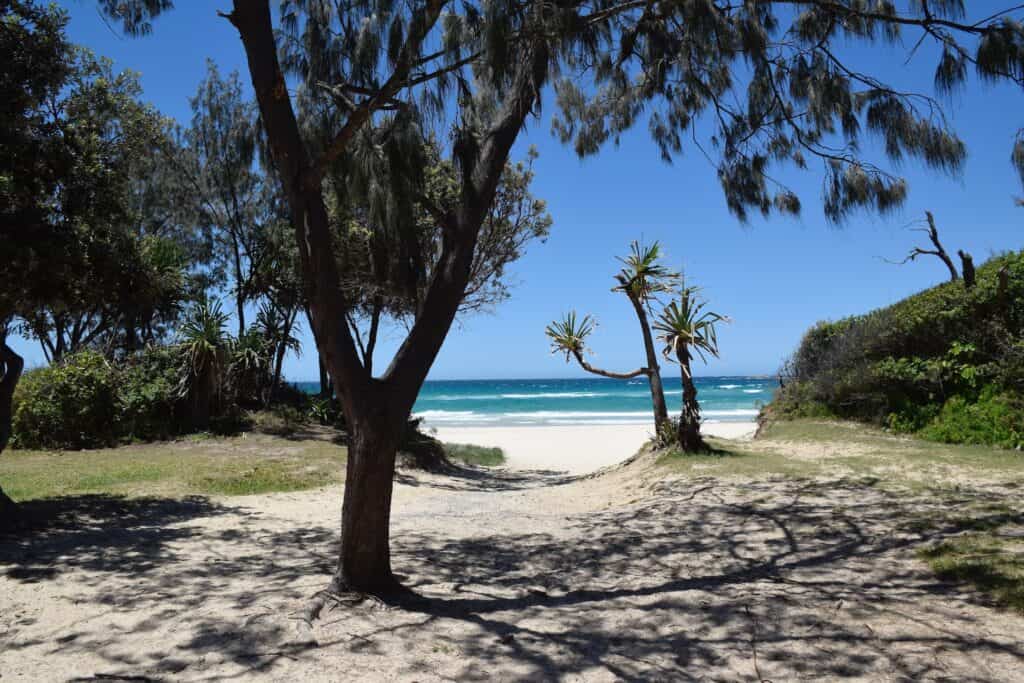 8. Visit South Stradbroke Island For A Day Or A Weekend
Another world of natural beauty is only a short ferry ride away from Main Beach. It is an excellent area to "get away" for a night or two because it has a tiny town and wonderful lodging alternatives, including camping.
Swim at the lovely, almost uninhabited beaches or explore the glow worm caves that straddle the coastline. You can even walk up paths where wildlife and marine life can be observed up close.
During the months of June to November, South Stradbroke Island is also an excellent viewpoint to catch sight of whales passing by.
9. Visit Clouds Safari To Glamp
There are some truly incredible lodging options on the Gold Coast, such as Beechmont, located a short distance into the Gold Coast hinterland.
Amazing swimming holes, waterfalls, and hiking paths may be found here, a stark contrast to the beach life everyone comes to expect when visiting the Gold Coast.
In this glamping experience, which includes a fire pit, champagne, accommodating hosts, and even an outdoor bathtub, you get to truly relax and connect with nature on a deeper level.
Now that is truly vacationing!
10. At The Burleigh Village Markets, Support The Local Farmers
Visit the Burleigh Village Markets to find some distinctive, locally manufactured goods. The first and third Sundays of the month from 8.30 am to 1 pm are when this outdoor market is open. It features a variety of locally produced foods, designer clothing, crafts, plants, and other items.
It's one of the top family activities on the Gold Coast and also includes a play area for kids and live music to keep you entertained and grooving while you sample the wares.
11. Visit The Kingscliff Sunflower Fields
The family-run Farm & Co. is a short drive (about 20 minutes) from the Gold Coast's southern boundary. You can stroll across the sunflower field there and even choose your own blossoms (at a cost). On-site dining options include fresh, locally sourced meals at a restaurant.
At this incredible Gold Coast farm, you can also shop for organic products.
12. Attend A Live Performance At Mo's Desert Club
Visit Mo's Desert Club if you're seeking non-touristy things to do on the Gold Coast. A collaborative collection of art, music, and vintage rock and roll vibes can be found inside this Americana-inspired venue.
They provide yoga lessons, a weekly roster of local performers, and plenty of other entertaining events. You can even rent out the area for private gatherings or rehearsals.
13. Attend A Painting And Drinking Workshop
Have you ever attempted to paint while consuming alcohol? It truly makes for an enjoyable evening out with company.
In the centre of Surfers Paradise, Brush & Barrel offers weekly painting workshops with a variety of graffiti-inspired themes.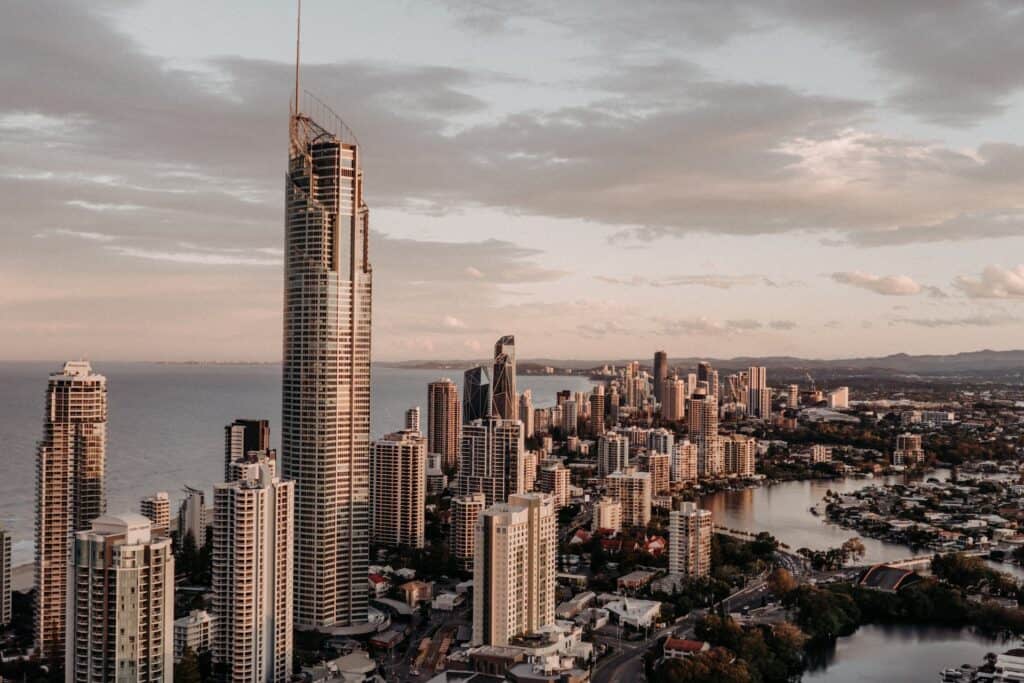 14. Admire The View From Q1's Summit
One of the greatest things to do in Gold Coast, Australia, is to ascend to the top of the Q1 observation deck. From this location, nearly 78 stories up, you can catch a bird's eye view of the entire coastline stretching out before you.
The observation deck of Q1 is among the most well-liked tourist destinations on the Gold Coast. However, they are ways to avoid the crowd while still getting the full experience.
However, there are two ways to experience the views from on top: The touristy way which is from a cozy lounge bar (The Skypoint Observation Deck), or the non-touristy way which involves a hike up to a wind-swept railing that leads to the actual rooftop or highest point of the summit.
Here, you can take a guided tour and stroll along the walking path to get a true sensation of just how high up you are while taking in the panoramic views all around you.
15. Come To The Craft Parlor And Take A Creative Class
Looking for activities to do on the Gold Coast that aren't touristy? Try one of the many craft classes offered in the city if you're feeling a bit creative.
This Miami institution is a local favourite where you can create ceramics, knit, weave, paint, and even find inspiration!
16. Take A Dip In One Of The Lovely Waterfalls
One of the finest cheap things to do on the Gold Coast is to explore the nearby waterfalls. The beach is only a short drive away from some truly breathtaking waterfalls.
A few of the waterfalls are accessible on your own, but for convenience, consider joining a guided tour.
17. Take A Hike In A Rainforest
Some of the most stunning and lush scenery may be seen in Lamington National Park

on the Gold Coast. Over 21 hectares of walking routes may be found there.
Gold Coast Hinterland, as it is called, is home to many stunning waterfalls, rainforests, wildlife, and even wineries that are well worth visiting.
18. Grab Some Drinks & Pub Food At Cambus Wallace
This bar in Nobby's Beach has a nautical theme. It is based on the true account of a shipwreck with the same name that happened in 1984 off the Gold Coast.
This Gold Coast establishment offers a wonderful selection of beverages and pub meals. The place also has a very sailor-like atmosphere with rock and roll music being played on a vinyl record player. Not something you will get to experience anywhere else on the Gold Coast!

Other Non-Touristy Things To Consider Doing
The Gold Coast is perhaps best known for its sparkling skyline, expansive stretches of white sand beaches, and perfect surfing conditions. However, the strip and the surf are just the tip of the iceberg; those living here know that Gold Coast has a lot more to offer.
Perhaps the best non-touristy activity on the Gold Coast is enjoying a leisurely stroll along the beach in perfect sunny weather. Similarly, you must take advantage of the wonderful weather while you are in town, and there is no better way to do it than with a beachside barbecue.
Frequently Asked Questions
What Is Gold Coast Most Famous For?
On Australia's east coast, the Gold Coast is a metropolitan area located south of Brisbane. It is renowned for its extensive network of inland canals and waterways, long sandy beaches, and surfing hotspots.
Theme parks like Dreamworld, SeaWorld, and Wet n' Wild are also located here making the Gold Coast the theme park capital of Australia. A little further inland, Lamington National Park's mountain peaks and valleys are home to endangered birds and wild rainforests.
Q) Is The Gold Coast Expensive To Visit?
The Gold Coast isn't the cheapest place to go on vacation, but it's also not unreasonably expensive.
The Gold Coast offers a range of lodging options at various pricing points, depending on where you stay. There is something for every style of traveller thanks to the wide variety of resorts and hotels available here. 
Q) Is It Safe To Bring Kids To The Gold Coast?
The Gold Coast, regarded as Australia's best family-friendly resort, is the ideal location to bring kids.
Both parents and children alike will enjoy the theme parks, beaches, and other attractions that the city has to offer. In fact, if you have kids this is probably the one place that is going to be more about them than you!
Final Thoughts
The only proper way to explore the Gold Coast is to partake in activities that only the locals and a handful of tourists get to experience.
We have created just such a list with plenty of activities that will allow you to experience the Gold Coast from a local's perspective. If crowds, tourists, and theme parks aren't your thing then the activities mentioned in this guide are definitely worth considering when planning a trip to one of Australia's most preferred vacation destinations.
Resource Links To Products We Use And Recommend
More Pages On Other Areas