Queensland, Australia is brimming with beaches along its eastern coastline. While many of these beaches are safe for swimming, not all of them. In fact, this is often the case with some beaches in Australia as the country has over 10,000 beaches. Some beaches are small strips of sand with turbulent waters while others are more suitable for a day swimming amongst the waves.
Because of the vast difference that some beaches in Australia can have, it is critical to know what beaches are the best for swimming. Inskip (or also known as "Inskip Point") is a northern area just above Rainbow Beach in Queensland. But is this area one that is safe to swim in?
Swimming at Inskip isn't recommended. While swimming can be possible in the southernmost part of Inskip, as it connects to the Rainbow Beach area, it still isn't advised. The waters at Inskip (and parts of Rainbow Beach) are known for having strong currents and rip tides.
Additionally, the longshore trough areas often have powerful currents that sweep people away. Because of these conditions, people should avoid attempting to swim here.
If visiting the southernmost part of the beach, near Rainbow Beach, swimming is possible although it can still be dangerous. This portion of the beach at Inskip has fewer strong currents and there are flags posted for the safest swimming spot.
However, playing it safe and enjoying the sand over the water here is the ideal way to enjoy the beach in Inskip.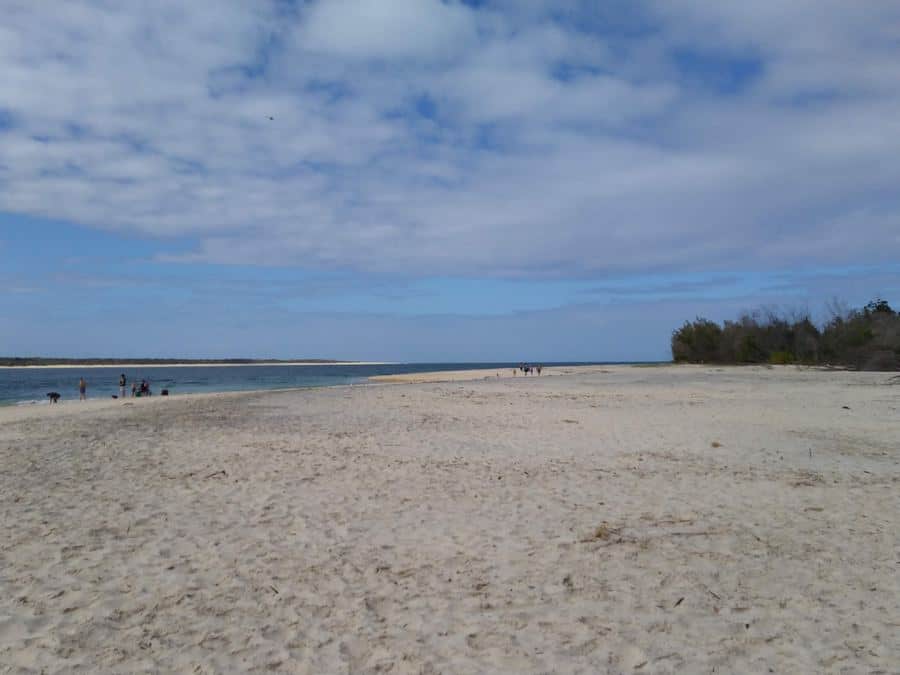 Is Inskip A Patrolled Swimming Beach?
The beach area in Inskip is not generally patrolled. The southernmost part of the beach is sometimes patrolled. Because Australia has a vast amount of beaches, it simply isn't possible to patrol them all. The patrolled beaches in Australia tend to be larger beaches that have safer waters in terms of currents or riptides.
Beaches like the one at Inskip aren't suitable to patrol due to their water conditions and overall location. This is because, ideally, no one should be swimming in those waters, to begin with.
If a beach isn't patrolled, like the one at Inskip (not including the southernmost portion), it is always a smart idea to practise beach safety. People should never enter the water if it appears too choppy or the weather is inclement. It is never a good idea to swim or go to the beach alone.
Visitors should never swim too far from the shoreline. Sticking near the shoreline ensures that someone can attempt to exit the water if things get too dangerous in the water. It makes for a quick exit.
None of this advice is made to scare visitors from visiting unpatrolled beaches. It is a simple reminder to stay safe and enjoy the sights and sounds of the beach area over the water itself.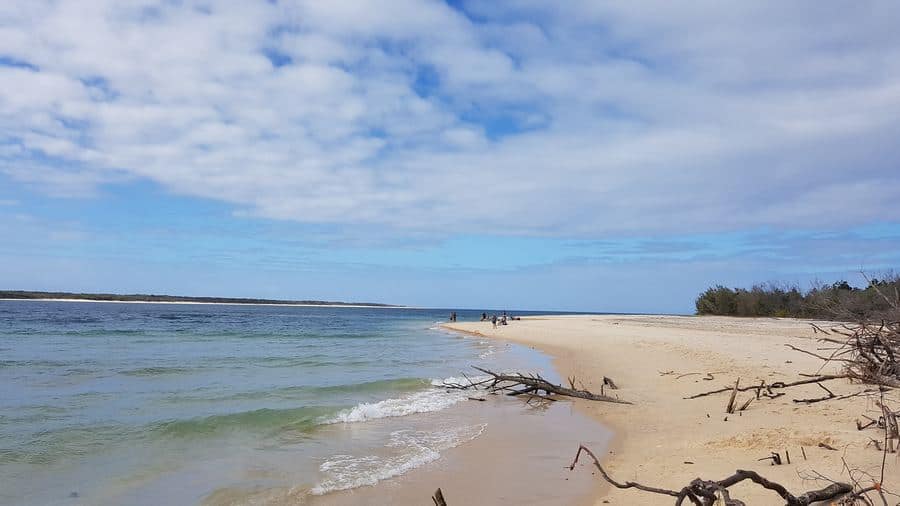 Safe Beaches For Swimming Near Inskip
Even though swimming at Inskip isn't suggested, that doesn't mean there aren't swimming spots nearby! Visitors to the Inskip area will find there are some safe beaches not too far off from Inskip that are great places to take a refreshing dip! Below are the beaches near Inskip that are considered safe to swim at!
Safe Beaches To Swim Near Inskip
North Spit On K'gari Fraser Island
The North Spit beach is near the northern end of the Wide Bay Harbour, specifically within the tidal shoal's area. This beach spans about 4.5km up to Hook Point which is the entrance Wide Bay region's channel. Swimming here is possibly on the two most eastern portions of the beach.
If the waves are low, swimming is ideal. The waves here can reach up to 1 metre which can create a dangerous situation as deeper channels can arise. Visitors should not enter the waters if the waves appear to be increasing in size.
Access to North Spit is typically by ferry as it is part of K'gari Island. It is on the southernmost part of the island, facing the Wide Bay Harbour area. It is sometimes still considered to be part of Inskip since Inskip is so close to K'gari Island. In fact, Inskip is one of the major gateways to the island as ferry services run to and from the island from the point.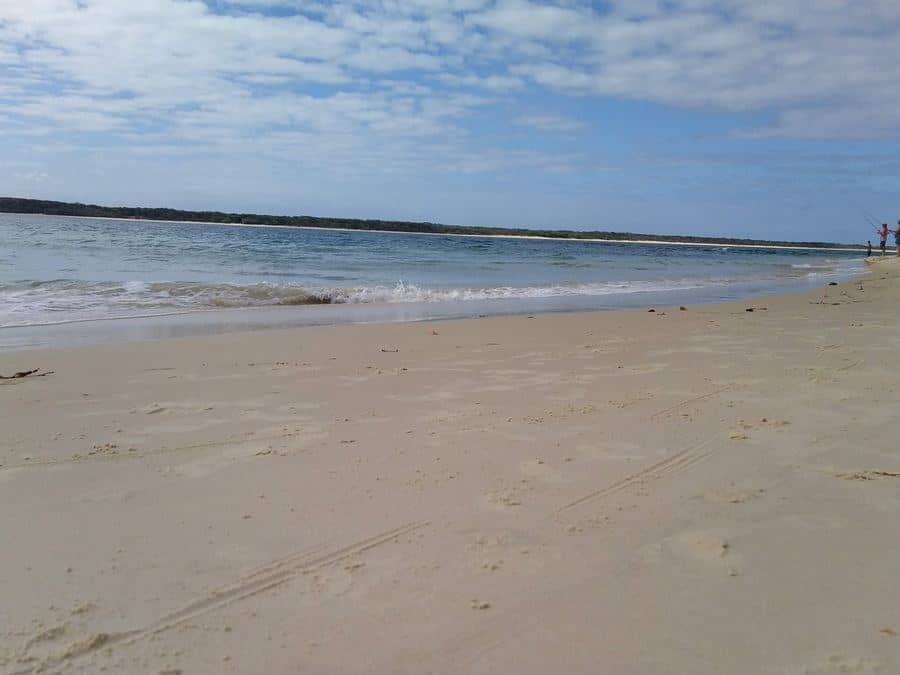 Hook Point At Inskip Point
Hook Point is located near North Spit and spans about 6.5km. It has a similar layout to North Spit where the easternmost parts of its beach are the safest to swim. Because Hook Point curves south from K'gari Island towards the inlet facing the mainland, it is often protected from strong waves or currents, although they are still possible.
Guests should take precautions regardless and stick to inshore swimming only. Because of its proximity to North Spit, access to Hook Point is best via ferry as it can be considered part of Inskip and K'gari Island.

Rainbow Beach Near Inskip Point
Like Inskip, Rainbow Beach doesn't have a lot of swimmable areas but there is a flagged off section of Rainbow Beach that visitors can swim in. As mentioned before though, strong waves can occur. Visitors shouldn't enter water that appears to be too dangerous.
These are the three immediate areas near Inskip to go swimming. For those wanting to travel a little further out of their way, White Cliffs Beach On Fraser Island near River Heads is only about an hour and forty-five-minute drive north of Inskip. While this might seem like a long drive, and it is, this beach is worth it.
It is relatively safe for swimming as long as guests steer clear of the sand flat areas which do experience stronger currents. For visitors to the Inskip area who are looking to explore Queensland, this beach is worth adding a road trip.
Overall, Inskip isn't ideal for swimming but there are some spots to safely enter the water. The area is still stunningly beautiful and worth visiting even if swimming isn't a top activity for the area. As long as guests follow basic beach safety tips and seek out the key spots to swim, swimming can absolutely be enjoyed at Inskip.
Resource Links To Products We Use And Recommend
More Pages On Other Areas