Fraser Island is not only the largest sand island in the world, but it is also home to the last purebred dingo population, amazing rainforests, gorgeous beaches, and is a breeding ground for humpback whales.
When you visit Fraser Island, you are never short of amazing sites to see, but that begs the question: how long can you stay on Fraser Island? There are no hard-and-fast rules about your stay length, but there are definitely some things you'll want to take into account when deciding on how long you're going to be staying.
There are restrictions for staying on Fraser Island. Staying at a resort, hotel, or holiday house your budget is the limiting factor. When camping on Fraser Island there's a limit to 30 days (29 nights) Queensland Guidelines. Visiting with a touring company the length is maxed at 3 days 2 nights.
The most common stay length on Fraser Island is for 3 days and 2 nights. There are single-day tours available, as well as 1, 2, and 3-night tours. Camping isn't as constrained with the number of nights as the organised tours, although camping permits for each night need to be purchased beforehand.
If that's made you even more confused than you were before, don't worry. We've got you! Let's take a closer look at how long you can (and should) stay on Fraser Island.
It all depends on what you want to get out of your visit, as well as what suits your personality and needs. The type of stay you can have on Fraser Island can range all the way from a luxury hotel to camping in the wilderness, so there really is something for everybody. And the type you choose will definitely influence how long you will want to stay.
How Long Are Organised Tours On Fraser Island
There are loads of Fraser Island tours available so it is pretty easy to find one that suits you.
Day tours – there are lots of these available, including tours that take you to the island itself as well as tours where you stay on the boat in the waters of the island
Resort tours – these are tours where you stay at a resort such as Kingfisher Bay. From the resort, you can head out on excursions to the sights that Fraser Island has to offer and then come back to the resort for the night. These are usually 2 or 3 night stays.
Tag-along tours – with these tours, you don't stay at a resort. Instead, you are camping but tagging along with a pre-determined itinerary. These are usually 2-night stays.
How Long Can You Stay At The Fraser Island Resorts
You don't have to join a tour to stay at one of the resorts on Fraser Island. You can book a stay yourself and the length of stay is really up to you, although it is worth remembering that staying at a hotel on Fraser Island can be quite expensive: $150 – $400 AUD per night. So a longer stay can end up costing a lot of money.
How Long Can I Camp On Fraser Island?
Probably the most popular way of staying on Fraser Island is camping. Not only is it much cheaper than staying in a hotel, with camping permits being at $6.75 AUD per night (less with discounts), but it also gives you the chance to really connect with the nature of the island.
You can camp for as long as 29 nights or 30 days on Fraser Island and the cost is pretty negligible, but it is worth remembering that travelling around the island can be quite a challenge and camping facilities can be pretty basic, so you may not want to stay past the point where you start to get uncomfortable. All Info for camping can be found on the Queensland Parks and Forests Website

.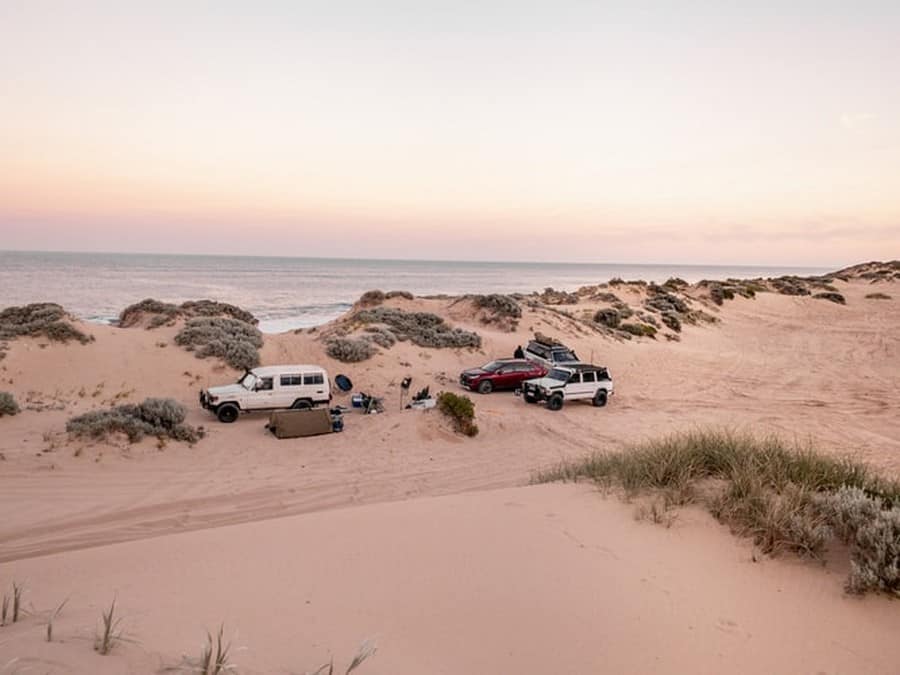 There is a reason why the most common Fraser Island tour is 3 days (2 nights), and that's because that gives you just about the right enough of time to see all the major sights that the island has to offer, including Eli Creek, the rainforest, Indian Head, Lake Wabby, and the Maheno Shipwreck.
But it can be a bit of a rush to get around to all the different places, and if you get into trouble driving your 4WD at any point you could end up missing some of the things you really want to see. So, giving yourself a bit of a buffer and staying for 4-5 days instead can make for a more relaxed stay.
How Long Does It Take To Do The Fraser Island Great Walk
If you enjoy hiking, then the Fraser Island Great Walk could be just for you. The total walk is 90km, although there are options to do shorter parts of the walk. For the Great Walk, you are going to have to stay on the island for quite a bit longer than the standard 2-night stay. It usually takes 6-8 days to complete the walk, and it passes by many of the island's best attractions.
If you are planning on camping while doing the Great Walk, there are lots of walker's camps dotted along the trail so you will be able to find somewhere to spend the night fairly easily. If you would prefer to put your feet up in comfort after a long day of walking, then you can stay at the Kingfisher Bay or Eurong Beach resorts. In fact, these resorts also offer guided 7-8 day Great Walk options so you can have it all planned out for you.
Do You Have To Stay On Fraser Island To Enjoy It?
You don't have to stay the night when you visit Fraser Island. There are lots of options to head over for the day from the mainland to look at whichever attraction takes your fancy. But if you would rather spend longer there, you can choose one of the many options for how to stay for however many nights you want.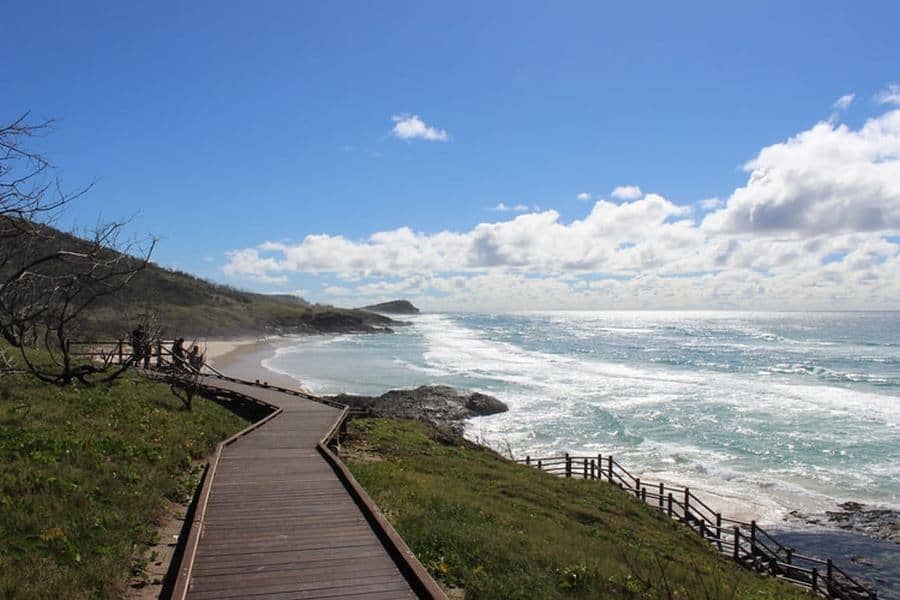 Can You Visit Fraser Island On Your Own?
There is nothing stopping you from visiting Fraser Island on your own. If you value connecting with nature and disconnecting from modern life, then spending time on Fraser Island alone with nature could be a once-in-a-lifetime experience.
With that being said, if you are going to be camping on the island, taking precautions is definitely sensible. Telling someone you trust your itinerary, having set check-in times, and making sure that you have safety equipment with you can all help you to stay safe if you are travelling around Fraser Island by yourself.
The Bottom Line
There is such a lot of flexibility with how long you can stay on Fraser Island. Whether you're looking for a rough-and-tumble backpacking stay or you want to bask in some luxury at one of the island's resorts, you can choose the length of stay which fits in with what you're planning to do and your budget.
Most people opt for a 3-night stay, although there are 1 and 2 night stays available, as well as day tours. And some people prefer to stay for 4-5 days to make sure they can fit everything in. If you want to do the Fraser Island Great Walk, you will need to stay for 6-8 days.
Resource Links To Products We Use And Recommend
More Pages On Fraser Island
link to Can You Drive At Night On Fraser Island?
Fraser Island, located off the coast of Queensland, Australia, is a popular tourist destination and a UNESCO World Heritage Site. The island, which spans more than 120 kilometres in length and 24...
link to Are There Toilets On Fraser Island?
Fraser Island, which is a popular tourist destination in Australia. The island has a number of campsites and other facilities where visitors can use toilet facilities. There are on average around 22...