Our personal Review of Kingfisher Bay Resort dated 18/12/2019.
Kingfisher Bay Resort is the perfect place to stay when visiting Fraser Island. The resort has won numerous awards over the years and prides itself on being eco-friendly.
Located only a short distance from the jetty, where you get dropped off from the barge, You can take the resorts shuttle bus or walk the short distance (we walked 2 kids and me), along the paved paths and take in the beautiful natural sights, trees and green fauna.
The resort itself has direct access to the beach, and it's close to the shopping village. There is a small park for the kids to climb and play in the undercover area. Along with tennis courts and many walking trails to spend time looking at the rain forests around the island.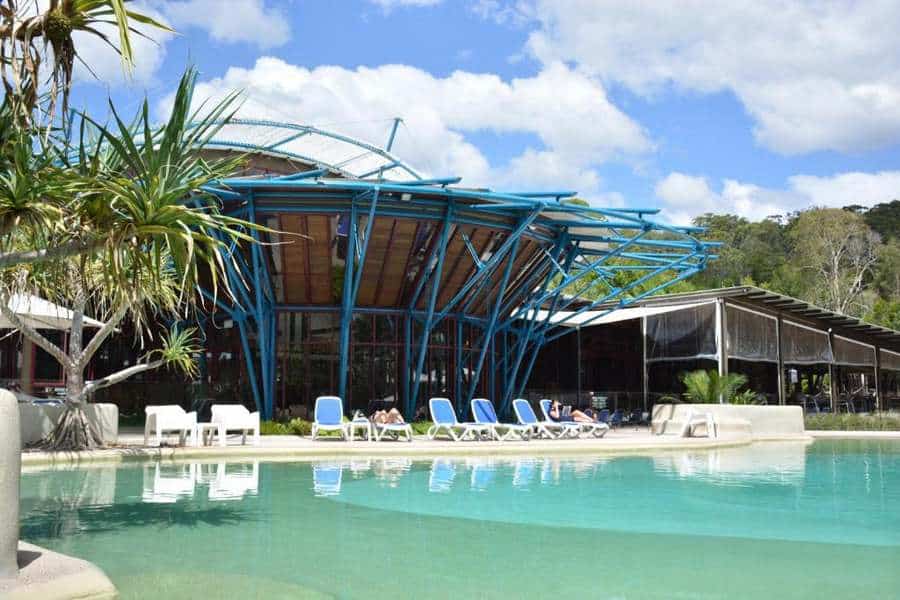 Standard Resort Hotel Room
There is a nice variety of rooms to stay in, and depending on your budget there is something to suit everyone.
The rooms all offer a quiet nights rest and a peaceful backdrop of nature, It becomes very easy to wake up to in the morning, in fact, you may never want to leave (some people live on the Island permanently).
The room that we stayed in was located on the 2nd story, (Standard Resort Hotel Room) with the building facing the water, and offering you a beautiful morning sun view from your balcony, the sunrise gently creeps into your room ever so quietly waking you up ready for another day exploring Fraser Island.
The room was nice and clean, well laid out with everything we needed for our small stay over. The balcony is a great place to sit and relax enjoying a quiet drink and watching that magical sunset.
The beds we stayed in were well made, clean and very good to sleep in lots of pillows, and extra blankets (we didn't need these it was summertime) 31 degrees Celsius at the time of our stay.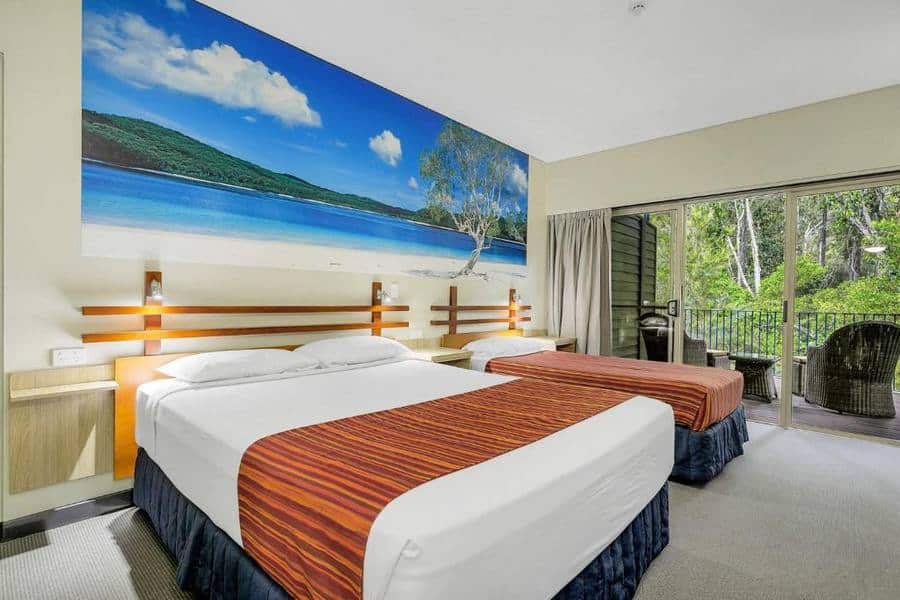 All Rooms Included:
Refrigerator
TV
Free WIFI,(speed limited) you can upgrade to faster internet at an added cost.
Shower over bath
Balcony/courtyard
All rooms offer Aircon
USB charging points and HDMI port
Tea and coffee making facilities
Hair Dryer
Small office desk for those working away
Direct-dial telephone
Iron
Room Info
Housekeeping is done daily in the hotel rooms, If you choose not to, you can place your Conservation Credit Tag on the outside of your door. You will then receive a credit off your room stay. Your main luggage gets dropped off at your room to save you from carrying it, this was very helpful!.
If you are leaving early please make sure you have luggage tags added to your bags. If you need a porter to help with your bags contact the front desk and they will assist you. Check-in time is at 2.00 pm daily, and Check out time is 10.00 am, If you need a later check out time please call the front desk, Fees may apply for this.
The Laid Back Resort
The resort itself has many pools (4 in fact) to lay back in, Take in the sun and have a break while the kids swim in the pool. You can enjoy a cold drink and a bite to eat from Sand and Wood or The Sunset Bar. The pools around the Island open at 6.00 am daily and stay open till 10.00 pm at night, which gives you plenty of time for swimming, relaxing, or sunbaking if you so choose to.
Breakfast time at the resort was a great experience, with plenty of food to choose from, with enough choices for even the picky little ones. Since we had booked the "pay for 2 days, stay for the 3rd free" promotion, the breakfast was part of the deal.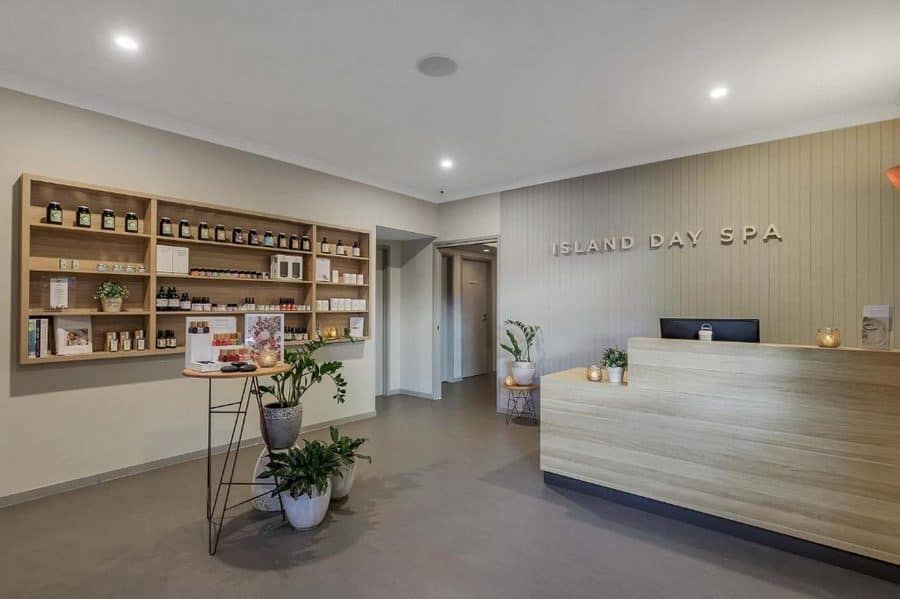 This is a full buffet breakfast and you can choose to eat as little or as much as you like! With plenty of fresh juices, water, and tea or coffee as part of the deal. The staff are all helpful and all seem ready to serve you if needed.
Breakfast starts at 6.30 am and runs until 10:00 am. Have a look at the menu here for Lunch and Dinner.
The local Shopping Village has everything you might need on your stay from hot food, Pies, and Sausage rolls to Sandwiches. Also a wide variety of cold and frozen foods and even alcohol.
With just a 2 minute walk from the resort front landing, you will find the 4×4 hire and fuel station to fill up before heading up to the beach tracks. If you want to try out the relaxing day spa, you can book a spa or massage, The massage session times range from 50 minutes up to 110 minutes, with price ranges accommodating all visitors.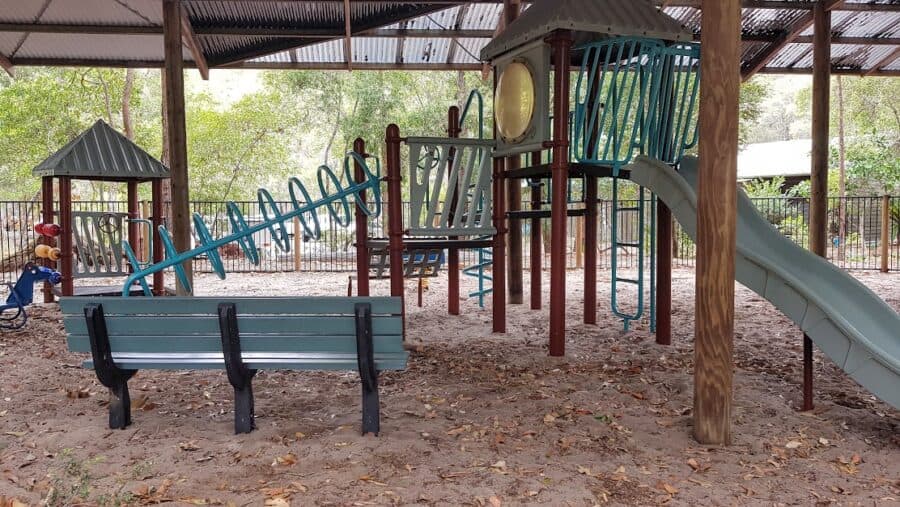 What is there to do around the Resort?
The resort is child-friendly, and they have a number of activities to keep the kids busy while you relax. They can go on one of the Junior Eco Ranger tours and learn about Fraser Island and the local environment. If they are up for a bit of water fun why not try out the stand-up paddleboards or kayaking.
They even have a Segway tour that takes you up the beach!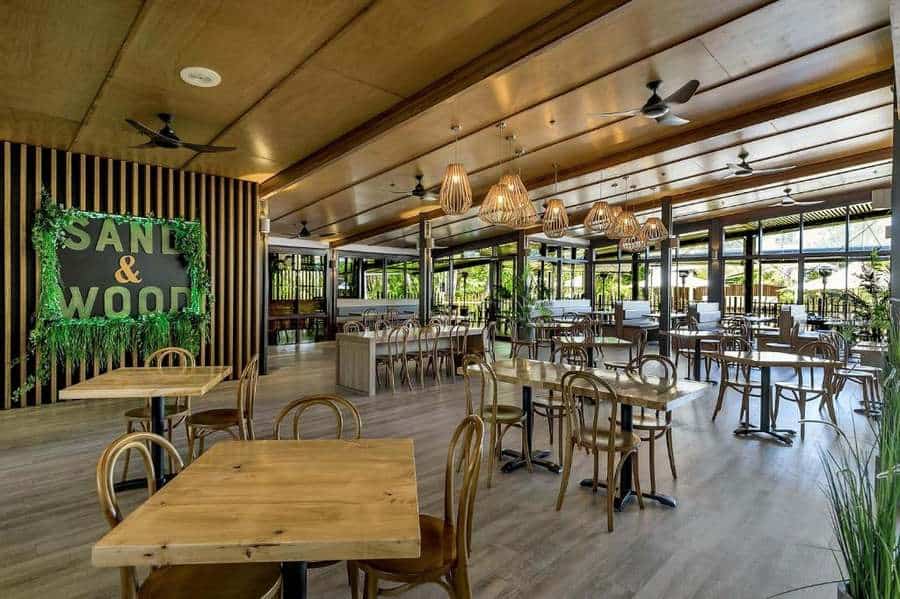 Why not read on for our other fun things to do around the resort.
Hire one of the stand-up paddleboards
Take a full-day tour of the Beauty Spots
Paddle through the mangroves in a canoe
Try fishing off the resort jetty
Check out the tennis courts for a game of tennis
Segway beach tour in style
Test out your archery skills
Take a walk to the ruins of McKenzie's Jetty
Try the Bush Tucker Talk and Taste
Set out a planned hike to Lake McKenzie and Back
Visit the Sand Bar and play pool
Enjoy the sunset off the western beach
Have a swim in one of the 4 pools
Have a drink or to with cocktail happy hour
Book a Ranger-guided eco talk
Or just slow down and relax and do as little or as much as you like, It's your holiday away at the resort do as you feel!
Fancy a guided tour of Fraser Island? you can book this at the Resort, and it is the best way to really get a look at the Island. The guides have unparalleled knowledge, and they are happy to share it with you.
Walks and Talks:
Ranger Guided Walks
Full-day Guided 4WD Tours
Beauty Spots Tour
Lakes of Fraser Tour
Whale Watching Tour (From Aug to Nov)
You will need to book these at the hotel desk
Tips:
Take some sunscreen and insect repellent (pretty sure we felt some sandflies), The rooms have very handy USB charging points in the wall for phone or device charging, You will also find an HDMI port if you take your laptop you can stream a video to keep the kids quiet.
WIFI was rather slow and would not work on some of our devices, Phone service was still fair in the rooms using the Telstra mobile network. They also offer a complimentary drop off service back to your accommodation or agreed to drop off point in Hervey Bay.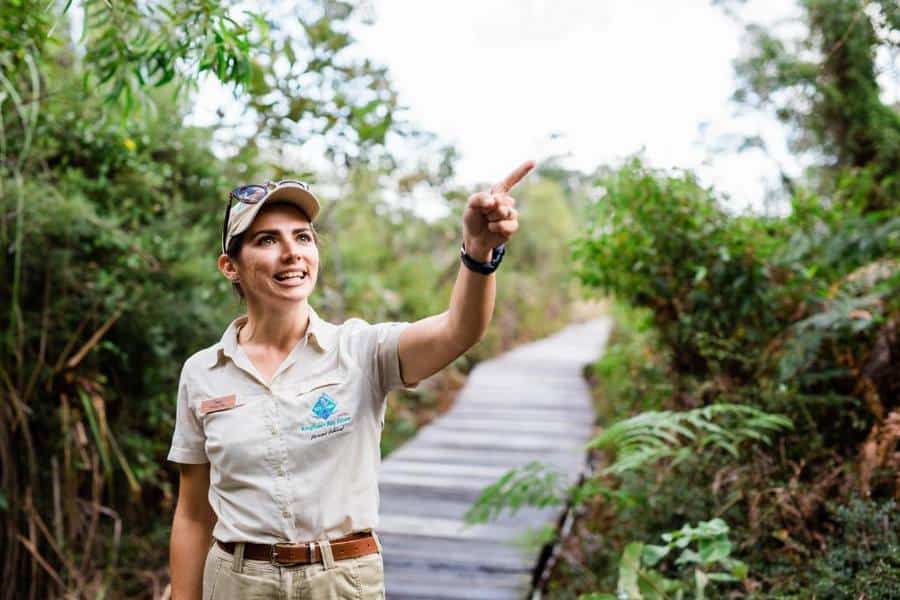 Exclusions:
*All ranger-guided tours are at an added cost unless booked with your room. *Buffet breakfast is added cost unless booked with your room.
You know the kids will love it, and they'll remember it for a long time to come. Kingfisher Bay Resort is the ultimate place to stay when visiting Fraser Island.

If you're looking for more Fraser Island Accommodation Please try here.
Resource Links To Products We Use And Recommend
More Pages On Fraser Island
link to Can You Drive At Night On Fraser Island?
Fraser Island, located off the coast of Queensland, Australia, is a popular tourist destination and a UNESCO World Heritage Site. The island, which spans more than 120 kilometres in length and 24...
link to Are There Toilets On Fraser Island?
Fraser Island, which is a popular tourist destination in Australia. The island has a number of campsites and other facilities where visitors can use toilet facilities. There are on average around 22...