Tinnanbar is a small seaside village on the Fraser Coast, 190 km from Brisbane. It is located north of Tin Can Bay and south of Maryborough. Tinnanbar is on the shoreline of the Great Sandy Strait.
Although Tinnanbar is only 11.625 square kilometres in size, there is a lot you can do there and in the surrounding areas and towns.
This secluded village with azure water and a pristine white sandy beach is perfect for swimming, sailing and watching the birds, dugongs, dolphins and sea turtles.
Weather and Climate Of Tinnanbar
Tinnanbar's weather is almost perfect year-round. During the winter months (June through August) the average high is around 22 degrees Celsius and the average low is around 18 degrees Celsius.
The humidity is a lot lower this time of the year and there isn't much rainfall.
During the summer months (December to February) the average high is 29 degrees Celsius, while at night the average low is around 22 degrees Celsius.
During the summer months, you can expect to see more rainfall than at any other time of the year. During the autumn season (March to May) the average temperature is 23 degrees Celsius both day and night.
In the Spring months(September through November) the temperature is between 27 and 29 degrees Celsius with little rainfall.
Getting To Tinnanbar
Tinnanbar Road is the only main road access to Maryborough Cooloola Road. This road leads to the forest and camping areas, as well as other attractions around Tinnanbar and surrounding areas.
You can reach Tinnanbar by bus, train, car or plane. The closest major airport is Brisbane International Airport. You can fly into Brisbane and hire a car or caravan to travel to Tinnanbar.
From Brisbane to Tinnanbar the drive is about 3 hrs via Bruce Hwy, Tin Can Bay Road, Maryborough Cooloola Road and Tinnanbar Road.
The closest local airport is Maryborough Airport, followed by Fraser Coast Airport in Hervey Bay, and Gympie airport. Maryborough Airport is located 51.4 km away with a travel time of 46 minutes via Maryborough Cooloola Road.
Fraser Coast Airport/Hervey Bay Airport is located 86.1 km away with a travel time of 1 hour and 11 minutes via State Route 57. Gympie Airport is located 86.5 km away with a travel time of 1 hour and 10 minutes via Tin Can Bay Road and Maryborough Cooloola Road.
Travelling by train? Queensland Rail operates regular services from Brisbane, Rockhampton, and Cairns to Maryborough. Coach transfers to Hervey Bay connect to Bundaberg.
If you are travelling by bus, you can ride the Greyhound or Premier bus lines. Northbound the bus comes from Brisbane and southbound the bus comes from Cairns and runs through Maryborough, Hervey Bay, and Childers.
From the Sunshine Coast to the Gold Coast via Rainbow Beach, Greyhound offers daily bus services.
Tinnanbar Google Map
Distance From Other Cities/Towns To Tinnanbar
From Sydney, the distance is about 1160 km and the travel time is around 13 hrs on Pacific Hwy and M1.
From Melbourne, the distance is about 1852 km and the travel time is just over 20 hrs on Newell Hwy.
From Bundaberg, the fast route is taking Goodwood Rd and Bruce Hwy. This drive will take about 1 hr and 47 min driving 147 km. If you take Bruce Hwy, the travel time is almost 3 hrs and you will be travelling about 212 km.
From Fraser Island, the distance is about 145 km and the travel time is 3 hours and 49 minutes via Northern Road.
Rainbow Beach is located 68.1 km away and the travel time is 52 minutes.
Tin Can Bay is located 47.2 km away and the travel time is 39 minutes.
Maryborough is located 50.9 km away and the travel time is 46 minutes via the shortest route travelling on Maryborough Cooloola Road.
Poona is located 26.6 km away and the travel time is about 26 minutes accessing Maryborough Cooloola Road and Tinnanbar Road.
Things To Do At Tinnanbar
The most popular activities in Tinnanbar are for those who are the outdoorsy type. Camping, fishing, and boating are the main activities that you will find around the Tinnanbar area.
For this reason, you need to make sure that you check with Fisheries Queensland and Queensland Boating and Fishing Patrol for necessary permits and fishing and boating safety laws.
List of things to Do
Boating and Fishing
Bird Watching
Swimming
Walking trails
Sit in the parks and relax
Walk the foreshore, it has amazing rocky cliffs and uprooted trees to climb and explore around.
Take in the views of Fraser Island from right across the water.
Kids can play in the park.
Have a BBQ
Collect Shells on the beach
Tinnanbar Beach Front
If you ever get the chance to visit Tinnanbar please make sure you take a camera and get some photos, the beach here has some of the most amazing views. It's also a great place for the kids to swim as the water is not very deep.
You can bring a boat if you wish or try fishing from the beach edge, as many of the locals and visitors to Tinnanbar do daily its a very peaceful relaxing beach, that makes you want to stay all day and watch the views of Fraser Island close by.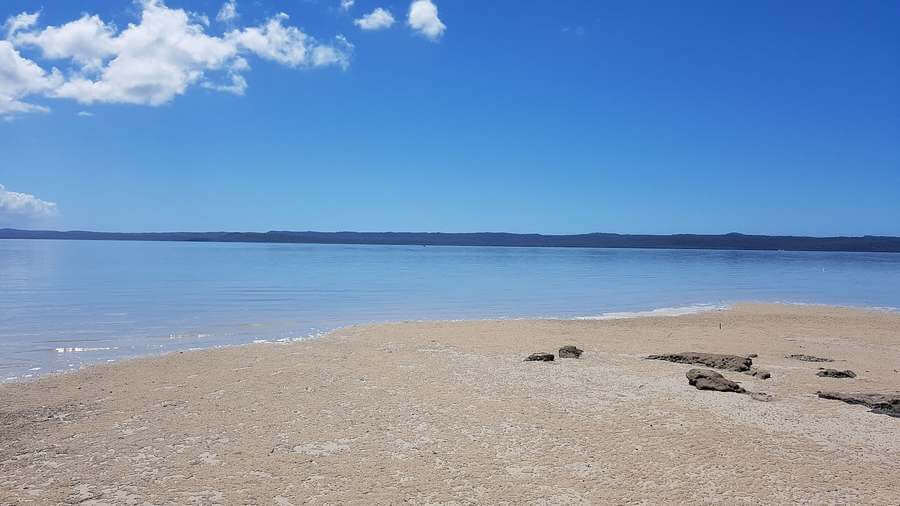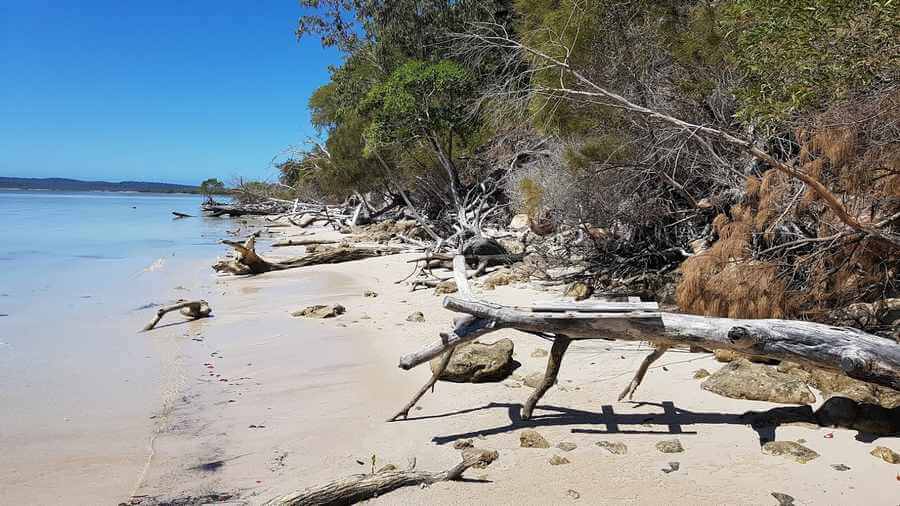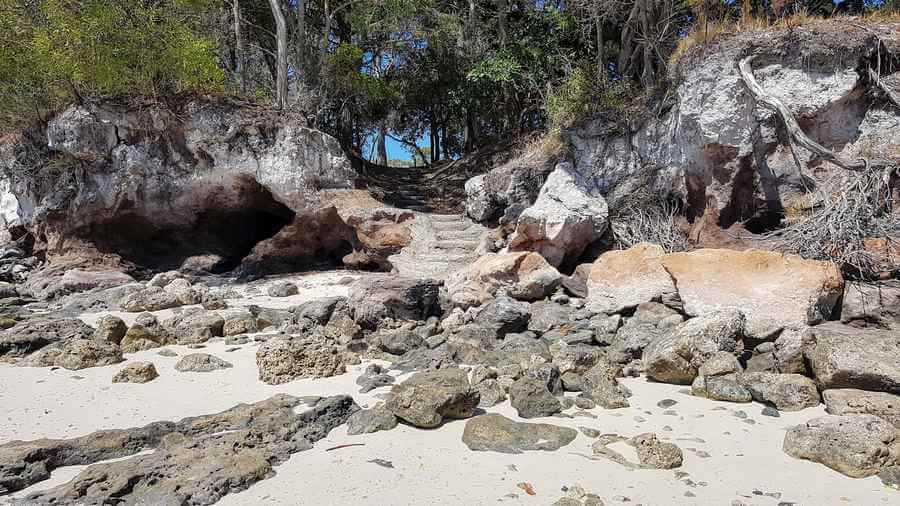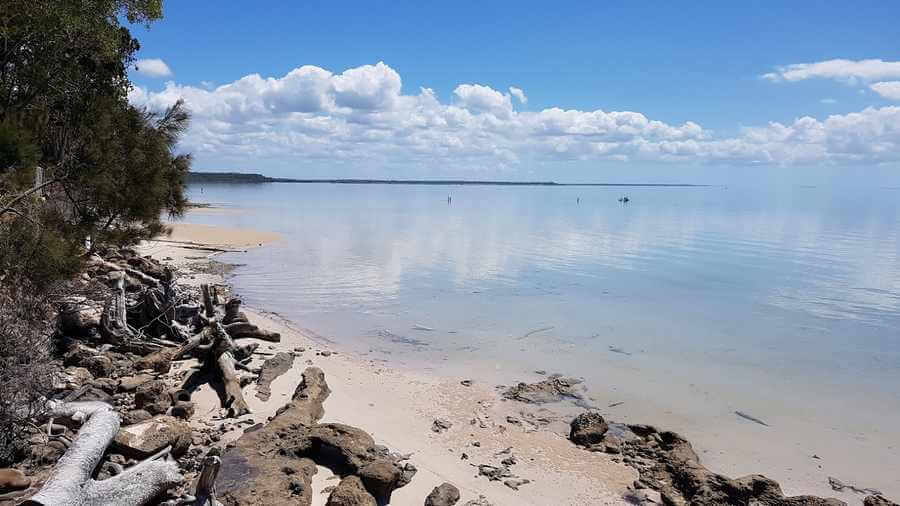 Tinnanbar Campgrounds Caravan Parks
If you are planning on travelling with a caravan or hiring one for your Tinnanbar holiday, Unfortunately, there are not many areas where you can camp with your caravan in Tinnanbar.
You can travel just a short drive down the road to Poona located just 26.6 km away, and stay at the caravan park and go swimming, fishing or birdwatching.
In most of the camping areas surrounding Tinnanbar, caravans and camping are allowed.
Distance To Campgrounds And Caravan Parks Near Tinnanbar
Tuan State Forest

has two camping areas, Log Dump

and Hedley's camping areas. It is located off the Tinnanbar Road turn-off 35.8 km away with a travel time of 32-38 minutes.
The Log Dump camping area is the only area that has a toilet. During late winter and spring, along Tinnanbar Road you will find a wonderful display of wildflowers.
Tinnanbar Retreat is located off of Orchid Ave of few km from Hedleys camping area. This is more for a daytime activity where you can BBQ, let the kids roam or play on the swings and enjoy the beach.
Great Sandy National Park is located 47.3 km away with a travel time of 38 minutes via Maryborough Cooloola Road.
Rainbow Beach Holiday Park

(Click for the latest pricing on booking.com) is located 71.3 km away with a travel time of 56 mins via Maryborough Cooloola Road and Rainbow Beach Road.
Inskip Point recreation area is located 81.2 km away with a travel time of 1 hour and 6 minutes via Rainbow Beach Road and Maryborough Cooloola Road.
Tinnanbar Accommodation
There are many hotel accommodations around the Tinnanbar area. Most hotels are located less than 40 km from Tinnanbar in the Rainbow Beach, Tin Can Bay, and surrounding areas.
You can also find a limited amount of holiday houses, listed on some of the holiday rental websites like stayz.com.au due to they change a lot we can not give you a link to this accommodation.
Eating out in Tinnanbar?
Keep in mind that since Tinnanbar is a secluded area, to find places to eat or convenience stores you will have to travel to one of the nearby towns. If you are looking to have food delivered, or somewhere that offers takeaway there are no services like this in the Tinnanbar area.
Here are some suggestions that are under 40 km from Tinnanbar:
Fresh Woodfire Pizza and Pasta
Toast Espresso Bar
Tin Can Pizza
Temptations by the Water
The Snack Shack
Cooloola Coast Seafood
Tinnanbar Birdwatching
This is a popular activity that people enjoy when visiting Tinnanbar. Located about 40 minutes away is an internationally supported wetland that is home to 38 species of shorebirds and 18 species of migratory birds. During the low tides, you can watch as the birds search the sandbanks for food.
During high tides, you will find these birds looking for roosting and nesting areas through salt marsh wetlands and the beds of seagrass. Around this area, you will also find turtles and dugongs sharing the environment with the birds.
Fishing at Tinnanbar
Fishing is a favourite pastime of many people that visit the Tinnanbar area. There are many areas around this region where you can either enjoy fishing from a boat or kayak along mangrove creeks or fishing from the shore.
There are many species of fish in the water for you to catch, the most commonly caught fish are whiting, bream, flathead, and mangrove jack.
Distance From Boat Ramps In The Area
Located at the end of Boat Ramp Drive in Tinnanbar, you will find a 2-lane boat ramp.
Other boat ramps surrounding Tinnanbar, include:
Big Tuan boat ramp is located 27.9 km away with a travelling time of 31 min
Maaroom boat ramp is located 35.5 km away off of Granville Rd. with a travelling time of 32 min
Poona boat ramp is located 25.6 km away off of Owen Cox Street with a travelling time of 25 minutes.
Boonooroo boat ramp is located 34.5 km away with a travelling time of 30 minutes.
If you plan on going camping in the area, there are a few things to keep in mind:
Most of the campsites in the area do not have toilet facilities or drinking water. So you would need to bring your own toilet, and drinking water supply.
You also need to make sure that you bring your own firewood. Collecting firewood in the State Forests is strictly prohibited.
Bring heavy, tightly sealed containers for your food and rubbish. Make sure that the containers are rat-proof, giant white-tailed rats are prevalent in the camping areas. These rats can chew through vehicle wires and are attracted to food and warm and dark places.
Check with the specific campground that you plan to visit, to confirm whether or not a permit is needed for camping
When setting up your camping area, if it is near the water makes sure that it is 50 metres from the edge of the water.
Tips When Going In The Water, Fishing Or Boating:
Remember that there have been sightings of crocodiles and marine stingers in the waters of the Fraser Coast. Read warning signs before going in the water.
Before going out on the boat, check tide and weather forecasts
Carry some form of a satellite communication device. Do not depend on having mobile phone coverage.
Carry a first aid kit and other emergency apparatus, such as flares.
Don't take more than you need
Always make sure that you have information on bag and size limits, seasonal closures and restrictions on species. This information can be obtained from the Department of Agriculture and fisheries
Follow any fishing closures
You need to make sure that you are using legal tackle, and avoid using stainless steel hooks
If you are collecting live bait, keep what you will use and immediately return any excess in the area it was collected from.
What To Take/Additional Travelling Tips
When travelling to Tinnanbar, whether you are travelling from another country or another region within Australia, you should keep in mind the following tips :
When packing for your trip, stick to lightweight clothing. The climate as previously stated is generally warm. However, remember to bring a jacket since the weather tends to be cooler at night.
Make sure you pack clothing according to your planned activities during your trip. This would include, jeans, sneakers, swimmers as well as hats and sunscreen.
Remember to practise beach and swimming safety when going into the water. Read all warning signs and pay attention to designated swimming areas.
Keep in mind that stinger season is during the warmer months, so you want to make sure that you have proper clothing. This includes a stinger suit or wetsuit.
Protect yourself from the sun with sunscreen, a brimmed hat and a collared shirt with sleeves, and try to avoid the sun between 10 am and 2 pm. It is said that this is when the sun's rays are the strongest.
If you are driving to Tinnanbar, make sure to have your vehicle serviced if you do not plan to hire a car. Keep a spare tyre in the car and make sure to check it before the trip.
You should also think about bringing an emergency road kit in case of any mishaps. Before leaving be sure to check road conditions, weather and travelling route for any road closures.
Tinnanbar Famliy Holidays
Holidays are supposed to be about spending time with friends, family and loved ones, you don't want to think about the what if's all the time. If you prepare ahead of time, you can spend your holiday in Tinnanbar enjoying what the area has to offer.
As you can see, Tinnanbar has so much to offer and is waiting for your visit. So what are you waiting for? Stop procrastinating and start planning your next holiday to Tinnanbar!
Resource Links To Products We Use And Recommend
More Pages On Other Areas