Hotels, resorts, etc. all come in various styles to suit the needs of different people. Some are more comfortable than others. Some offer more facilities than others.
But what it really boils down to is the quality of the various facilities that are being offered! Australia is possibly one of the most adventurous countries in the whole world.
When travelling to Australia, or even throughout Australia, it is important to find appropriate lodging. This is particularly true in Hervey Bay which is in Queensland, Australia.
This bay area is known for its pristine beaches and famous landmarks but it is also known for having an abundance of accommodation options. It is important to know a bit more about these lodging options before making any commitments to booking!
Stay At The Grand Mercure Allegra Hervey Bay
The Grand Mercure is an elegant way to stay in the Hervey Bay area. This hotel is located by Shelly Beach in the Torquay area.
Because of its location, the rooms here offer an incredible view of the open sea all while providing exquisite comfort. The hotel is best suited for business or leisure stays, making it accessible to almost anyone!
The building itself is grand and tall with a bright white exterior and windows outlined in stark black. The building shape is unique and is angular with awnings on the top floors. It certainly gives a great first impression simply from its exterior!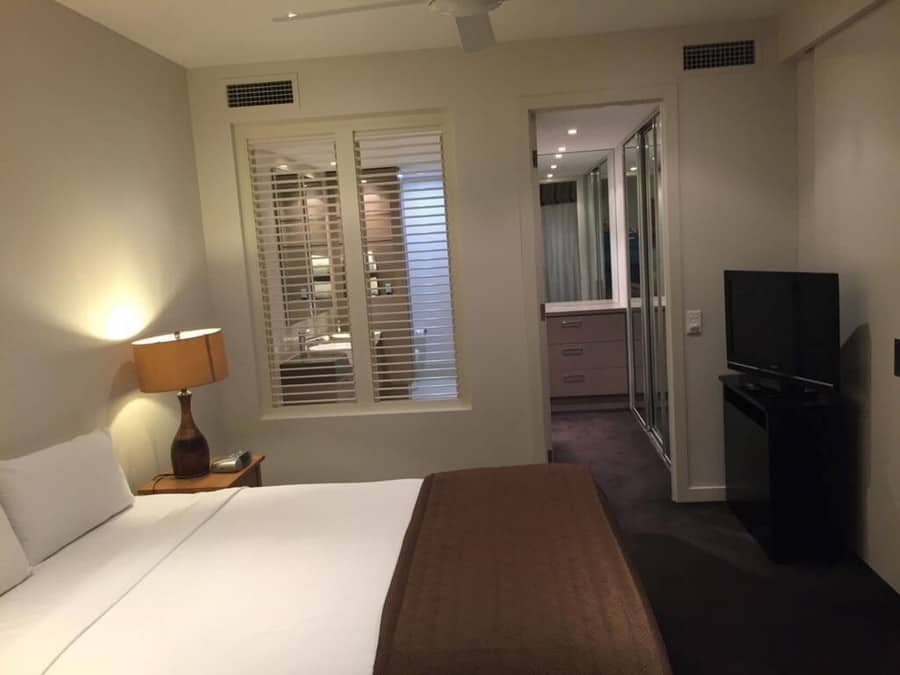 Popular Facilities
Secure undercover parking – Secure parking is important and this luxury hotel has a secure undercover parking lot for its guests!
Large heated swimming pool – The lagoon-style pool is heated and quite enjoyable no matter what time of year someone is staying at the hotel!
Gym and sauna – Not a lot of hotels have gyms or saunas and this location offers both of these facilities! Sometimes, working out is part of someone's daily routine, so having access to a gym is really helpful!
Ratings
Star ratings are given to hotels and other forms of lodging to give potential guests insight into the quality of the services provided. The stars are from 1 to 5, with 5 stars being the best.
Most locations will fall somewhere between 3 to 4.5 stars. The Grand Mercure proudly has a 5-star rating! Obtaining and keeping a 5-star rating isn't easy.
This rating reflects the location's ability to provide luxurious and comfortable facilities for its guests. Once again, it also represents its ability to provide quality services or facilities for its guests.
Guests staying at this hotel are sure to find themselves feeling cozy and welcome!
Another great insight into a location's overall atmosphere includes its guest reviews. While guest reviews should be taken with some common sense in mind, they are still valuable pieces of information about a location.
On Google, The Grand Mercure has rated 4.1 stars out of almost 90 reviews. Most people compliment the location's gym and overall location near the beach.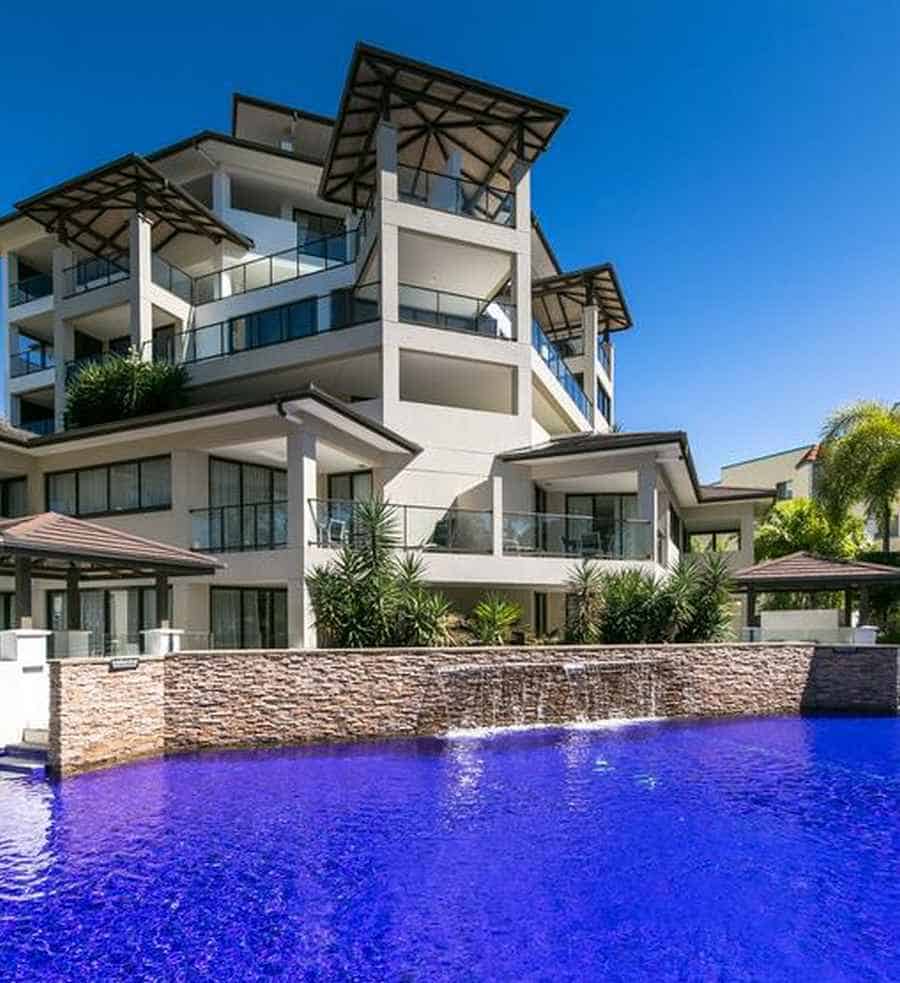 Room Types
The Grand Mercure has 49 apartment-style rooms that bring absolute comfort to its guests. The rooms are available in 1 or 2-bedroom choices with the 1-bedroom featuring a queen bed while the 2-bedroom has a queen and two singles.
These apartments have garden views, which face the tropical gardens on the premises. The apartments are self-contained with kitchen facilities, bathrooms, and living room spaces. Moreover, these rooms even have mini-bars in them!
The cost for a night's stay at these luxury-style apartments will differ depending on the time of booking and availability.
However, the general price point for a night's stay starts at about $142 per night. All up-to-date pricing should be obtained from the hotel or on their website for the most accurate representation of pricing.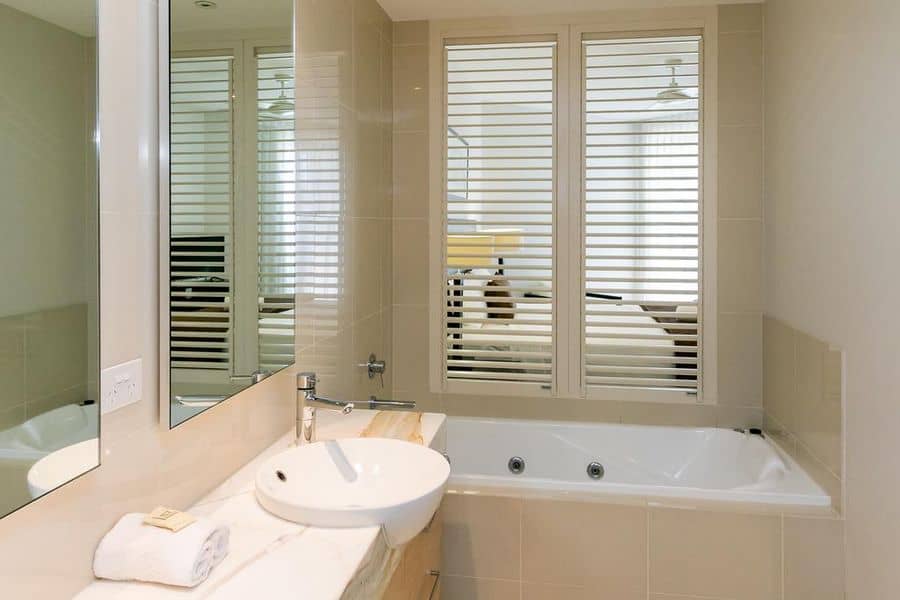 Surroundings And Location
The exact location and contact information for the Grand Mercure Allegra Hervey Bay is as follows:
468 Esplanade, 70 Cypress St
Torquay, QLD 4655
Ph 07 4194 7200
The beach is super close to this hotel. Shelly Beach and Torquay Beach are within close proximity. Those looking to swim, fish, enjoy watersports, etc will find themselves within a short distance of the sandy beachfront areas.
The beaches in Hervey Bay are known for their pristine waters and soft sands.
Other nearby attractions to the hotel include the Urangan Pier and the Hervey Bay Botanical Gardens. The Urangan Pier is a historical pier built in the 1900s.
The pier was originally used for exporting goods like timber, however, the pier is now a popular fishing spot. It is also a popular spot for looking out into the open ocean to view the sunsets and see various marine life like turtles, etc.

The Hervey Bay Botanical Gardens is a lush area full of various flora and plants as well as birds and other small wildlife. The area is also known for its small pond and orchid house.
The gardens also feature fun Christmas light displays around the Christmas season! It is simply a beautiful place to visit all year round!
Other attractions also include exploring Fraser Island which is just off the mainland coastline. This massive island is full of rainforest areas, sand dunes, historical sites, perched lakes and so much more! Guests can get there by ferry rides and oftentimes hotels will offer special booking promotions.
Facilities (Other Than The Popular Ones!)
Business centre for meetings
Check-In And Check-Out Times
The check-in time for the Grand Mercure Allegra Hervey Bay is 2 p.m. and check-out is 10 a.m.
For those looking for modern, chic apartment-style accommodation, the Grand Mercure is a perfect choice. With crisp, clean, and bright rooms as well as access to a gym there is simply a lot to love about this location!
Resource Links To Products We Use And Recommend
More Recommendations For Accommodation
link to Discovery Parks Fraser Street Hervey Bay
On the Fraser Coast, Hervey Bay is an oasis of the best natural world the area has to offer. Just across the way from Fraser Island, you will also find beautiful botanical gardens, a stunning...
link to Caravan Parks Hervey Bay
Throughout the region of Hervey Bay, there are over 20 caravan parks to choose from. All these caravan parks are slightly different from one another. Some are bigger while others are smaller in size...