Hervey Bays Botanic Gardens is a great place for a leisurely stroll, or to see the bush tucker of the Fraser Coast region. Find a peaceful spot to sit back and enjoy a book, or enjoy a bit of pilates or yoga. The botanic gardens feature five key spots that are most attractive to those who visit, which include: Please click here to view the map

The Gardens are located at:
62-105 Elizabeth St, Urangan QLD 4655, give them a call for any extra information (07) 4125 9700
Google Map Of Hervey Bay Botanic Gardens
Warun Bush Tucker Garden
Tranquillity Garden
Japanese Bridge Garden
Woodlands and Wetlands Area
Orchid House
You also won't want to miss out on viewing the Bush Chapel that is out in the open for any special occasion. Another new addition to the Botanic Gardens is the orchid house which does not disappoint.
Here you can find a variety of orchids to add to your collection, with more than 15,000 varieties to view, the bonus is some are available for purchase.
The Great Sandy Strait Botanic Gardens is situated on 26 hectares, and it was started by two retired people who wanted a project to work on. It turned out to be a great success amongst many of the locals and visitors to the Fraser Coast.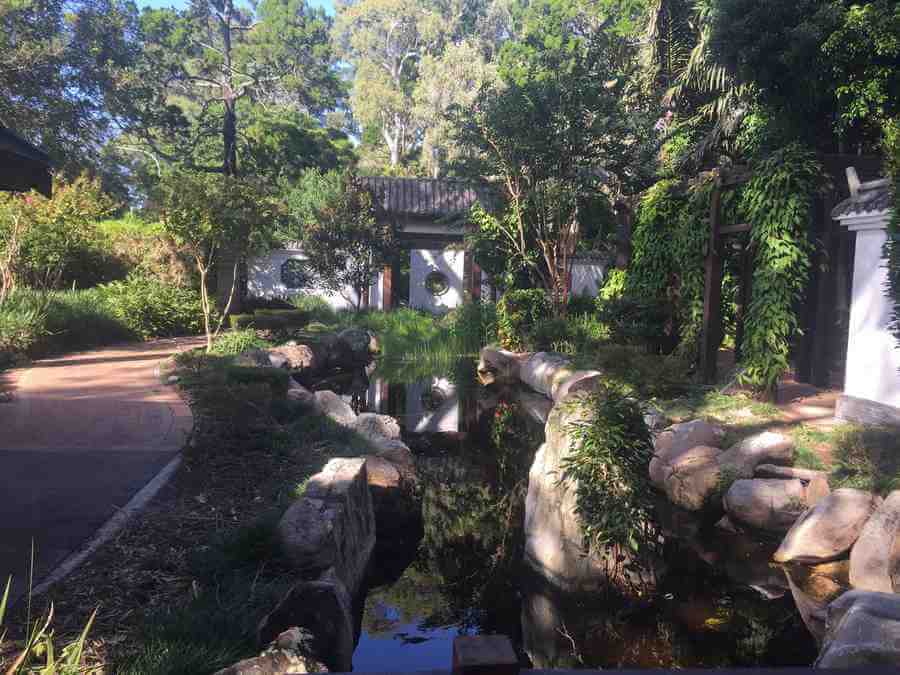 What To Bring When Visiting The Botanic Gardens
Things you should bring when visiting the gardens, it is recommended that you wear closed-toe shoes while walking through the wetlands and bush. Please note that some visitors may need to bring bug repellent as this area is known for bugs.
It's a great place to have a family picnic as there are plenty of facilities to do so. If your wanting to have a sausage sizzle don't worry there are several BBQ facilities available with an undercover area for cooking and seating, but please be sure to clean up after yourselves.
Why not bring along some binoculars to get a closer view of the birds that inhabit the area. Or if you are coming with a group of children or even a retirement group, a favourite of the community is to hide painted rocks around the gardens for others to find or pick one up for yourself if you find one.
Many say that the botanic gardens are a must-see, taking roughly around two hours to stroll through the whole grounds. With no fee required for entry its, a must-do, it's a great place to feed the ducks and turtles that live in and around the pond.
Botanic Gardens Wild Life
Some Species of Animals and Bird Life you may See are:
| | |
| --- | --- |
| Bees | Native Australian Bees |
| | Sugar Bag Bees |
| | |
| Turtles | Krefft's Shortnecked Turtle |
| | |
| Frogs | Bufo Marinus (Cane Toad) |
| | Striped burrowing Frog |
| | Short Footed Frog |
| | New Holland Frog |
| | Green Tree Frog |
| | Red Eyed Tree Frog |
| | Eastern Dwarf Tree Frog |
| | Dainty Tree Frog |
| | Flood Plain Frog |
| | Broad Palmed Frog |
| | Rocket Frog |
| | Whirring tree Frog |
| | Roth's Tree Frog |
| | |
| Wildlife | Ringtail Possums |
| | Micro Bats |
| | Akidnas |
| | Fruit Bats |
| | |
| Bird Species | Purple Swamphen |
| | Australian Bush Turkey |
| | Australian Magpie |
| | Grey Butcherbird |
| | Crested Pigeon |
| | Little Wattlebird |
| | Spotted Dove |
| | Lewin's Honeyeater |
| | Dusky Moorhen |
| | Torresian Crow |
| | Willie Wagtail |
| | Eastern Whipbird |
| | Noisy Miner |
| | Rainbow Lorikeet |
| | Fairy Wren |
| | Laughing Kookaburra |
| | Pied Butcherbird |
| | Pacific Black Duck |
| | |
| Butterlies | Large Grass Yellow |
| | Blue Tiger |
| | Lesser Wanderer |
| | Lemon Migrant |
| | Orange Lacewing |
| | Common Crow |
| | Gypsy Moth |
| | Hawks Moth |
| | Red Lacewing |
The gardens are open daily from 6 am to 8 pm, so plenty of time for a morning or evening jog/walk. With off-street parking and on-street parking available, there are two entrances to the park off of Elizabeth St, but only one with parking facilities.
There is a front office open on Tuesdays and Thursdays where you can volunteer to help plant out new fauna into the gardens, making a great opportunity to ask questions about your own home garden.
Before you take a stroll through the park be sure to visit one of the cafes located on either Elizabeth street or on the Esplanade, as there are no cafes located in the garden areas.
Weddings And Events At The Botanical Gardens
No Amplified music to be used without prior approval.
No pegs or Poles to be driven into ground, you may use sand bags or water cans to secure marquees or tents.
No seating is provided
Must give 4 weeks notice prior to event or wedding
Bin hire is available otherwise must remove your own waste while in use of facility.
Area to be maintained and cleaned by event holder/ applicant.
Parking is limited and must only park in Botanic Garden assigned parking areas.
Must be 18+ years old to book event.
Must Provide a Plan layout of projected use of facility.
All permits/licenses must be obtained by applicant, unless using a food truck or catering business therefore they must provide permit/license.
Alcohol License must be obtained to be used on grounds, only cans are permitted.
Tree Conservation is to be observed, so no pinning or hanging of signage or banners on trees, or leaning objects on trees.
No electrical equipment to be used across walkways or hindering walking areas. Short term power supply can be provided.
| | | |
| --- | --- | --- |
| Wedding | 100 People | Booking Cost $100 |
| Commercial Event | Any Number | Booking Cost $1000 |
| Non Commercial | Under 100 People | Booking Cost $140 |
| Non Commercial | Over 100 People | Booking Cost $420 |
Click here to view PDF File Regulations

Botanic Gardens Photos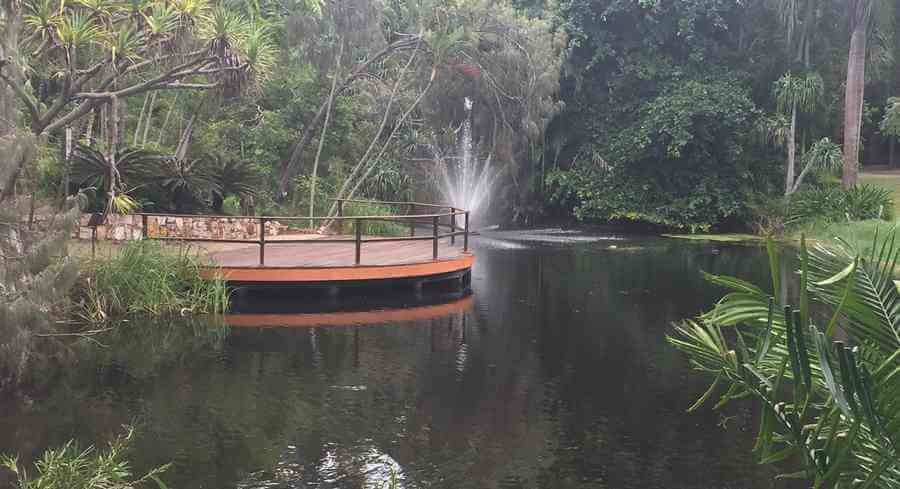 If your looking for a place that has great photo opportunities than the botanic gardens is a perfect place for it. With several different themed areas around the park, it will not disappoint.
With options like the Chinese garden, to the surrounds of the orchid house, or try by the pond with the beautiful bridged area. If you want to go with a peaceful outlook than check out the tranquillity garden, or for a more rugged experience travel through the bush of the gardens.
No matter where you choose your guaranteed the perfect shot.
More Pages On Hervey Bay
What Is Hervey Bay Known For?

Queensland is the second-largest state in Australia. It is brimming with various cities and coastal towns for visitors to explore. One of the most well-known areas of the state is

Hervey Bay Bats

One of the most fascinating things about Australia is its various wildlife. From coast to coast, the country has an abundance of wildlife like crocs, kangaroos, dingoes, and much more.

Fast Food Outlets Hervey Bay

Hervey Bay has many restaurants and fast food outlets, whether your taste delights are towards the fresh, local seafood, or Mexican flavours! Dining in beautiful Hervey Bay is an experience
Resource Links To Products We Use And Recommend
Recent Posts
link to When Was Fraser Island World Heritage Listed?
Australia has many beautiful places from coast to coast, however, one of the most remarkable places in the country is Fraser Island. Fraser Island is the world's largest sand island that is situated...
link to Are There Crocodiles In Maryborough?
Australia is full of many different iconic species of wildlife. From the ocean to the mainland, Australia is well-known for its diverse animals. While there is no shortage of interesting wildlife...