Australia is known for its distinct wildlife and remarkable natural scenery. However, one of the biggest things that the country is known for is fishing. All over the country, there are ample opportunities to cast a line and catch some interesting marine life. Queensland, Australia is perhaps one of the best locations in the country to fish.
All over the state, Queensland has some of the most iconic fishing spots. While it can be hard to just choose one to consider for a day of fishing, it is good to know the various spots where you could get lucky. One of the best spots to go fishing in Queensland is considered to be Inskip Point. But what makes Inskip Point a desirable fishing location?
Fishing at Inskip Point will easily be one of the best fishing trips you will ever take! Inskip Point has ample opportunities for people to fish and is easily one of Queensland's most sought-after fishing locations.
Inskip Point area is considered ideal for beach fishing because the point has deep holes and gutters that collect fish that are washed closer to shore with the ocean currents. Additionally, Inskip Point has a deep tidal channel that is north of the area's surf lifesaving club where fish are found.
While the channels, gutters, and holes are all fantastic places to fish, they aren't the only reason that fishing at Inskip Point is so iconic. The beach itself is a decent stretch of sand so there is plenty of room for people to spread out and enjoy the perks of beach fishing. Inskip Point is specifically located north of Rainbow Beach.
The point itself is 2km (almost 1.5 miles!) long which is quite impressive for a point area that adjoins to the main beach like Rainbow Beach.
Beach fishing is popular, but boat fishing is also possible at Inskip Point. This is perfect for people who want to spend the day on the waters between the mainland and K'gari Island. Not only is the area is suitable for a leisurely fishing trip but it can be quite enjoyable for more serious fishermen as well.
Below are the fish that can be caught at Inskip Point!
Fish That Can Be Caught At Inskip Point
| | |
| --- | --- |
| Bream | |
| Flathead | |
| Tailor | |
| Dart | |
| Whiting | |
| Mackerel | |
These aren't the only species of fish found at Inskip Point but they are the most popular species. Overall, the fishing experience at Inskip is a positive one that is fun and exciting for fishermen of any skill level!
Best Bait For Fishing At Inskip Point
Bait obviously plays an important role in fishing. It is what literally attracts the fish to your line! Knowing what bait can reel in the best fish is always helpful. Below are the best options for catching the species of fish listed above!
Use Fresh Pieces Of Mackerel To Catch Mackerel Or Flathead
It may seem weird to use the same species of fish to catch that said fish, but it has proven to do well for mackerel. Fresh fish is always a game-changer in the fishing world because fresh means that it is more likely to attract the fish. Who doesn't enjoy fresh cuts of fish!? Strips of mackerel are also known to attract flatheads as well.
Fishing For Mackerel And Tailor Use Fresh Pieces Of Squid
Squid is always a favourite among fishermen. Fresh pieces of squid can draw in mackerel or tailor, however, this bait certainly isn't limited to just those species.
Going After Dart, Mackerel, Or Flathead Try Fresh Prawrn (Shrimp)
Prawn, or shrimp, is yet another great fresh bait to use when fishing. Darts, mackerel, and flathead like this bait the most. Additionally, shrimps or prawns are very easy to put on a hook due to their shape and meaty texture.
Dart Seem To Like Yabbies
Yabbies are a crustacean that resembles a lobster. However, they are more closely related to crayfish. Darts are commonly attracted to this type of bait, although it never hurts to try yabbies for catching other species of fish.
Fresh Pieces Of Pilchard When Going After Tailor
Much like pieces of fresh mackerel, fresh pieces of pilchard can be used to draw in fish. Fresh bait is always the best choice as it will ensure that the fish smell the bait and become eager to devour the bait.
Live Beach Worms For Whiting
Whitings are known to enjoy live worms. Beach worms are a blind worm that uses its sense of smell to find food in the sand. They are called "Australian beach worms

" due to their size and where they are found. However, their size is what makes them perfect for use as bait some grow up to 2meters in size. They can attach to a hook perfectly.
Bream May Also Like Fishmeal Bait
Bream aren't too picky about what bait they may take, but fishmeal has been known to draw them in. Not all fish like fishmeal like the bream species. Fishmeal is basically dried ground-up fish that is compacted into a sizeable chunk and used as baiting fish.
Try Out Using Chicken Or Sweetcorn For Bream
Using human food to catch fish may seem a bit out of the ordinary. However, there has been success in catching fish by using human food as bait. Bream tend to like boiled chicken or sweetcorn. It definitely isn't like traditional bait but it is worth a try!
These are commonly used baits to catch the fish that can be found at Inskip Point. There are other baits to consider but these ones tend to be the most successful. Fresher bait will almost always attract fish to your line.
In addition to fresh bait, you can also use things like rigs or bobbers that provide colour or movement to help draw fish to your line. The bottom line, always strive to use the freshest bait possible for the best results!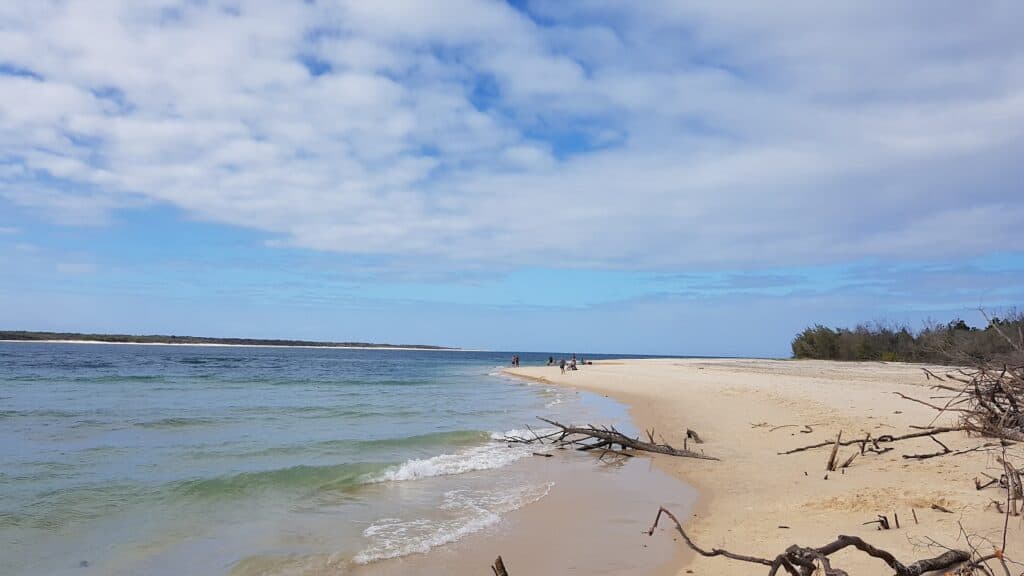 Best Time Of Year For Fishing At Inskip Point?
Fishing at Inskip Point can be enjoyed any time of the year. However, to really pinpoint the best time of year to fish in the area, it really depends on what you are trying to catch in some cases.
September is an excellent time to spot a tailor as this species frequents the coast around that time. July through December is also considered a decent time to fish in the area.
Inskip Point proves to be one of Queensland best fishing spots. It is a treasure in Queensland to enjoy fishing here. The view is spectacular and there is plenty to catch in this region of the state!
Resource Links To Products We Use And Recommend
More Pages On Other Areas