Leaving from Brisbane, head up 300km north to Hervey Bay QLD, Once you get there you can only access the Island by a high clearance 4×4 so please use a Fraser Island Map.
It pays to have the best map of Fraser Island before you head over to the Island as you never know when you might need it!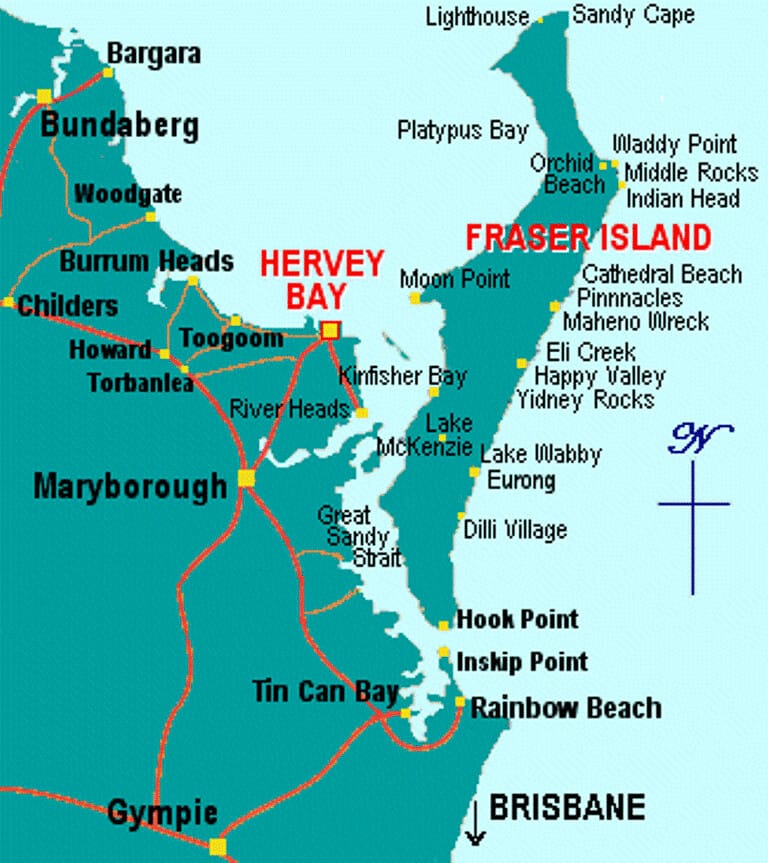 Hema Map of Fraser
This is the best map of Fraser Island for Camping and 4WD tours. click here to go to Hema Now

You will find the best map for Fraser Island is from Hema we found ours click here for the current price

.
Fraser Island is around 123 kilometres in length and covers a massive area of 166,038 ha, With this great amount of land to cover you will need to set aside a good amount of time to take in its landscape.
In addition to its European history which includes the colonial lore of Eliza Fraser, the 1935 stranding of the Maheno, and the Island logging industry that served to rebuild the London Docks after World War II and line the Suez Canal, Fraser Island contains many remnants and landmarks of its Aboriginal inhabitants.
Sights like the numerous midden humps, the coloured sands of the Dreamtime, and the Stonetool Sandblow provide insight into the original Australian culture and lifestyle. Some of the best lakes for swimming in Australia are found on Fraser Island.
What Areas Of Fraser Island Should You Visit With A Map?
Of course, there is no time to visit all the lakes, but do try to see at least one of the lakes while you are on the Island. Lake McKenzie with its crystal clear waters is by far the most popular window lake.
Basin Lake is just a brisk walk out of Central Station, and everyone loves viewing the turtles at this perched lake.
A trip to Fraser Island just wouldn't be complete without a tumble down the encroaching sand dune at Lake Wabby, the only barrage lake in the region.
Ask around, One and two-day tours can be arranged through the hostel of your choice or booking Agency, but most adventurous travellers always return wishing they had taken more time to explore the island.
World Heritage Listed Fraser Island is the world's largest sand island full of untouched beauty. It was listed as the largest recognized sand Island in 1992 with remarkable natural sand blows, headlands, and amazing freshwater streams.
With stretching beaches that go for longer than the eye can see, the coloured sands seem to form into small cliffs of coloured beauty.
Ever-changing dunes, streams and dense forests clearly show that the island is an unmatched example of the best kept geological processes on the earth today.
Over the vast years, the landscape has formed into one of the best places to camp and fish in the world, with its unmatched landscapes and clear freshwater lakes.
Choose The Correct Type Of Map For Fraser Island
There are many types of maps and travel maps have many different uses for each and every traveller. So before you head out on a trip to Fraser Island and need to find a way to a destination make sure you have the most suited map for the area you are going to travel to.
Let's start with road maps these are most commonly used to find your way along the highways and interstate roads, next there is what is known as topographical maps these are what most campers will use to find their campsite and holiday accommodation, Last on the list is for the sightseers they will use these for finding landmarks and famous locations.
While maps can be bought just about anywhere, you will find them in local service stations or at the post office and some motels.
Check The Orientation Of Your Map
It pays to take out your map and open it up fully so you can make sure you're looking at it from the right perspective. Every map will have a compass rose in the corner showing you what directions are on your make and the markers.
You should notice that the very top of your map should always correspond to the north.
Why is this point important? Well, it's known as the neutral orientation and it's what is used for a reference to the other directions. The north is the main help is for all travellers to gain their bearings
What Is A Map Legend Or Map Key?
The map legend or sometimes it is called a Map key is used so that you can make sense of the map. Each map will have a compass rose and a legend key plus sometimes maps also have charts, their job is to explain the scientific layout and important symbol usage.
Taking the time to read over the legend will help you take in how your map displays the information that you will need to find your destination.

Look for common symbols of roads, towns and local cities.
Here you'll find symbols representing roadways, town and city limits. Most of the landmarks are colour-coded, places like mountains, rainforests, and large lakes of water are all set out in the legend.
If used correctly they educate you on how to interpret the surroundings and follow the map fully to your location.
Fraser Map Walking Trails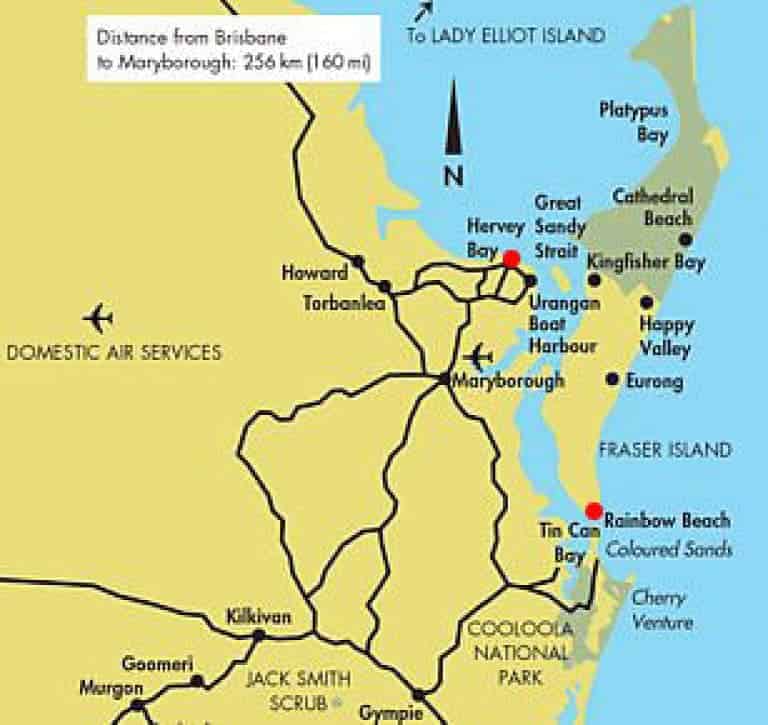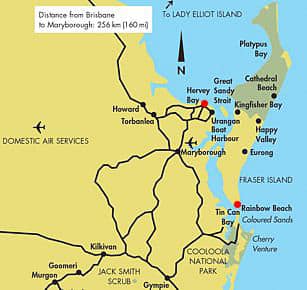 You may also try these other maps, The first one is the detailed park map, the other shows the walking trails, plus a conditions report map.
Great Walk Map, Of Fraser Island Australia
Why not do the Fraser Island Great Walk? with a walking distance of around 90km, you will start and finish at a different point, to where you started from this is a one-way walk.
Time suggested: allow up to eight days of walking time, with some resting time.
Grade: Grade 4 walking track
Journey type: Walk
Fall asleep at the end of each day, looking up at the stars, and wake each morning with the rise of the sun and fresh sea smell in the air for another day of adventure.
Fraser Island Access Maps
Access is only possible by vehicular barges, aircraft, passenger launches, commercial tours or private boats and travelling on the island is restricted to 4WD vehicles only.
Day tours are available on the island in air-conditioned 4WD buses, taking in the highlights of the rainforest, freshwater lakes and streams, sand blows, coloured sands, the Maheno shipwreck and Seventy-five Mile Beach.
Transport yourself to another world, as Fraser Island is the experience of a lifetime.
For more Fraser Island Accommodation please visit our Fraser Island Accommodation page or if you're camping, try our camping page.
Resource Links To Products We Use And Recommend
More Pages On Fraser Island
link to Can You Drive At Night On Fraser Island?
Fraser Island, located off the coast of Queensland, Australia, is a popular tourist destination and a UNESCO World Heritage Site. The island, which spans more than 120 kilometres in length and 24...
link to Are There Toilets On Fraser Island?
Fraser Island, which is a popular tourist destination in Australia. The island has a number of campsites and other facilities where visitors can use toilet facilities. There are on average around 22...