Fraser Island is one of the most iconic places to visit in Queensland, Australia. This massive island, which is somewhere around 1,655 kilometres squared, has a lot to explore.
From perched lakes, historical sights, camping locations, and so much more there are many places to set out on an adventure.
However, what makes this beautiful island so unique is that it is full of sand. In fact, it is the largest sand island in the entire world!
Due to the sand on the island, travelling around it can be a little challenging. (the rainforest there even grows out of the sand!).
Because Fraser Island is full of sand, driving on the island is only possible by 4WD. 4WD vehicles are able to handle the rough terrain that sand creates. Sand is flexible which means that a 2WD vehicle cant properly navigate through the sands as a 4WD can. Only 4WD vehicles are allowed on Fraser.
But What Exactly Does 4WD Mean Over A 2WD Vehicle?
2WD vehicles have engines that only operate two of the wheels which allow the other two to simply spin. Alternatively, a 4WD vehicle has two axels which allow all four wheels to operate.
Because of this, 4WD vehicles are easier to get out of terrain that is as malleable as sand is. Moreover, it allows someone to drive more efficiently through various terrains.
But the sand isn't the only issue on the island. Below are other reasons why 4WD vehicles are better suited for the island.
Other Conditions On Fraser Island That Require 4WD
Potholes (yes, these can occur in sandy spots too!)
Deep washouts in the sand (specifically near the shorelines)
High and low tides (specifically near the shoreline, especially on 75 Mile Beach where most beach 4×4 driving is done)
These conditions can be trouble
The only place where 2WD vehicles are permitted is at Kingfisher Bay Resort where there are some paved roads.
However, considering that the only way to bring vehicles to the island is by ferry or barge, it could make more sense to just bring a 4WD vehicle. There are a few options for transportation around the island to consider.
The first is to bring your own 4×4 vehicle. This does require permits, etc so this might not be an option for everyone.
The second option is to consider hiring a 4WD which is a great option for licensed drivers who want to experience what the thrill is behind 4×4 driving.
The third option is to consider booking a tour where 4WD busses take guests around the island to all the major points of interest.
No matter what you might choose, there's certainly an adventure to be had on Fraser Island!
Fraser Island 4WD Trip
Fraser Island is well-known for its perched lakes, lush rainforest, beautiful sands, headland areas and so much more.
The best way to truly experience all that the island has to offer is by taking a 4WD trip to the island.
The best way to determine what type of 4WD trip is best for you is important to understand all of the options!
Getting To Fraser With A 4WD
As expressed, the only access to the island is by ferry or barge. All 4WD vehicles (and visitors!) are transported to the island by these vessels.
There are 3 points of access from the mainland to Fraser Island. These include River Heads (Hervey Bay) to Kingfisher Bay and to Wanggoolba Creek and Rainbow Beach to Hook Point.
All of these locations depart at various times every day from morning to evening. Moreover, the Rainbow Beach location runs every 30 minutes which makes it a great departure point.

Bringing Your Own 4×4 Vehicle To Fraser Island
While it is possible to bring your own 4×4, it is important to remember that not all 4WD vehicles are suitable for driving on Fraser Island.
The terrain of the island is all sand. In some areas, this sand can get pretty thick and the undercarriage of a vehicle needs to be an appropriate height to have clearance.
If there isn't enough clearance under a 4×4 there is a big chance that you will become bogged down in the sand.
This is why considering a trip with hire or a tour could be a better choice.
Getting bogged down in the sand can also be costly as it could result in repairs to your vehicle. While there are insurance options to consider, it still might not be worth the trouble.
In addition, towing charges off the island could be costly as well. This isn't even considering the wait time for a tow to cross over from the mainland!
Types of 4WD Trips To Fraser Island
Once deciding if bringing your own vehicle is feasible and you've made it to the island, what are the different types of 4WD Trips to have on Fraser Island?
The trips listed below are based on whether or not you have decided to hire a 4×4.
If you have decided to bring your own 4×4, then exploring the island is totally up to you! If hiring the 4×4 is more your speed, check out the various trips to consider!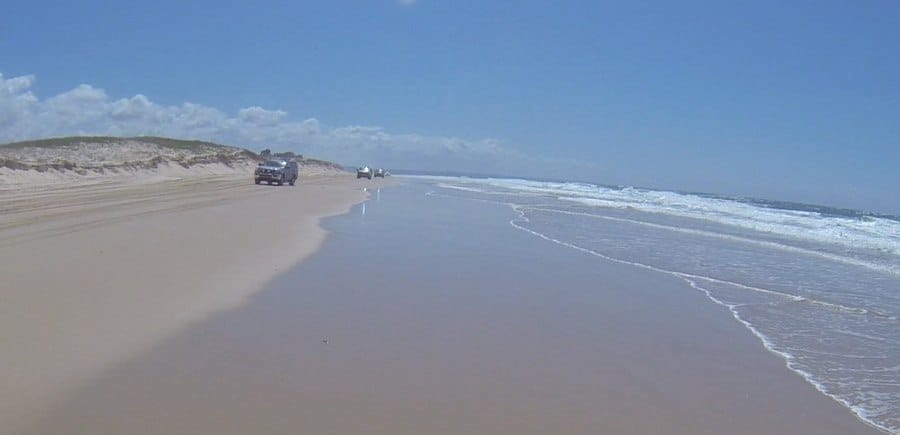 Tag-Along Tours On Fraser Island
This type of 4WD trip is exactly as it sounds, a tag-along. A group of tourists controlling their own 4×4 vehicles provided by the tour follow a lead vehicle throughout the duration of the trip.
While guests must stay within their groups, there is still a huge thrill from this type of tour as you are still operating your own 4×4.
There is a certain excitement that comes with driving one of these, especially on Fraser Island.
There is the famous 75 Mile Beach where guests can learn to drive 4x4s as well as enjoy the sanded highway that stretches up the coast.
These tours are operated by different companies, but Dingo's is a popular 2-day adventure

where guests can have lunch, sleep in tents, and visit iconic locations like Lake McKenzie, Indian Head, the Maheno Shipwreck, Eli Creek and so much more.
They also provide guests with the fuel needed for the trip, permits needed for the vehicles and camping, return ferry transfers, and luggage storage.
These types of tours are perfect for guests who want to experience what it is like to drive and ride in a 4WD on sanded terrain!
Depending on what tour company is used will determine the pricing, however, Dingo's specifically starts at $400 per person. Considering all the inclusions (especially the permits!) this is a great price point!
Guided 4WD Tours Of Fraser Island
This type of 4WD trip is for guests who want to be toted around the island to all the key points of interest without the fuss of driving the vehicle.
Typically, these are conducted on big buses that are 4WD.
There is still the excitement of feeling the vehicle bounce through the sand dunes but guests can have confidence in knowing that trained drivers are operating them!
Moreover, these trips ensure that guests don't miss a single second of the big attractions on the island. Travelling via your own 4×4 could mean that some spots are missed!
Another huge perk to the busses is that they are air-conditioned. Many of the tag-along tour vehicles are not.
This simple comfort can be refreshing in the hot sun! Moreover, these buses are higher than traditional 4×4's giving visitors a truly exceptional view!
One of the more popular bus tours to Fraser Island is the Fraser Explorer Tour. This particular tour has a variety of options for guests including day tours, 2-day tours, and even private tours!
Depending on the experience you want to have, the prices do vary. They could be anywhere from $239 to $399 per person.
Much like the tag-along tours, these prices include food, access to all the important sights, and camping materials for the day tours (if needed).
These trips are a great way to experience Fraser Island to its fullest. While the island is large, these tours help guests get the best out of their trip!
There are other companies out there that provide tag-along or guided tours but these ones are two of the most known companies.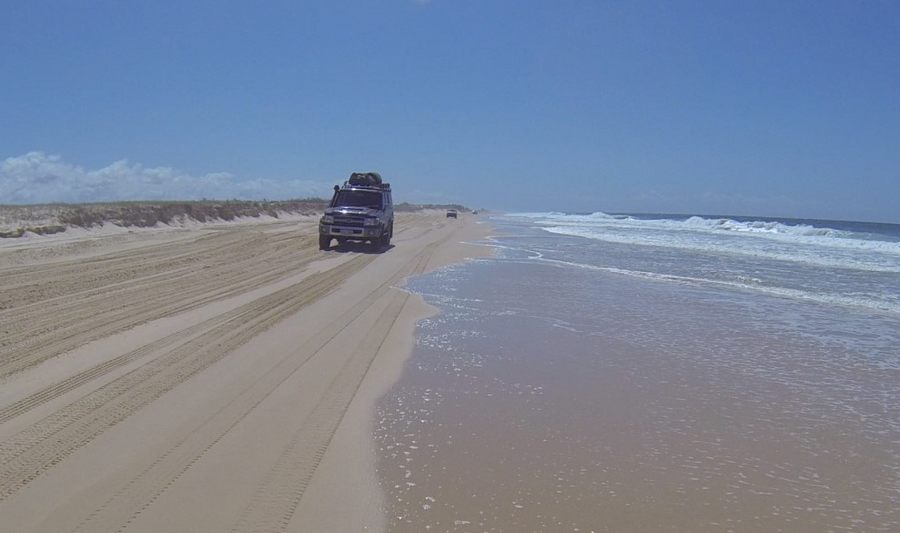 Do I Need A Permit To Drive On Fraser Island?
If you are considering bringing your own 4×4, you will need to obtain a permit. All permits MUST

be obtained prior to heading to the island.
This can be done online on the QPWS website

(The Queensland National Park website), over the counter at certain booking locations on the mainland, or by phone at the phone number: 13 QGOV (13 74 68).
There are different fees for the island depending on the areas where a vehicle might be going. Below are the rates for Fraser Island, as per the Queensland government website!
Vehicle Access Fees
Fraser Island Recreation area – $53.65 for one month or less and $270 for up to a year.
Fraser Island and Cooloola Recreation area – $86.15 for one month or less and $432.30 for up to a year.
These prices are subject to change. All permits must be displayed on the front left corner of the 4×4 at all times.
Whether it is by your own 4×4 or a specifically guided 4×4 trip adventure, there is so much to enjoy at Fraser Island.
This world heritage listing is brimming with idyllic landscapes just waiting to be explored!
Resource Links To Products We Use And Recommend
More Pages On Fraser Island
link to Can You Drive At Night On Fraser Island?
Fraser Island, located off the coast of Queensland, Australia, is a popular tourist destination and a UNESCO World Heritage Site. The island, which spans more than 120 kilometres in length and 24...
link to Are There Toilets On Fraser Island?
Fraser Island, which is a popular tourist destination in Australia. The island has a number of campsites and other facilities where visitors can use toilet facilities. There are on average around 22...