When you come to the Fraser Coast region of Queensland, you come for excitement and the wonder of nature. The Great Sandy National Park truly is the jewel in the crown of the entire area, and it spans some of the most important and must-see sights there are. Let's take a look at exactly why you should book your trip to the Great Sandy National Park and have yourself an adventure.
The Great Sandy National Park

is located in Fraser Coast Region, Queensland. It is split into two sections. The first is the Cooloola Recreation Area which is on the mainland. The second is Fraser Island. The national park has been open since 1971 and is popular for bushwalking, fishing, and sailing.
Visiting the Great Sandy National Park means getting the chance to be completely immersed in the purely natural beauty that the area has to offer. What makes the place unique is that there is such variety in the environment. One day you could be walking through a rainforest, the next climbing up sand dunes.
You could also encounter heath plains, creeks, swamps, mangrove forests, everglades, eucalyptus forests, and gorgeous freshwater lakes.
The first section is the one that is located on the mainland: the Cooloola Recreation Area. This part of the national park spans 18,400 hectares. The second, and larger section, encompasses most of Fraser Island and is 56,000 hectares

.
If you want to fully explore Great Sandy National Park, you will need to come prepared. Fraser Island will require 4WD but much of the Cooloola Recreation Area is explorable on foot. There are spots to camp everywhere, and camping out in the national park is truly the best way of fully making the most of the experience.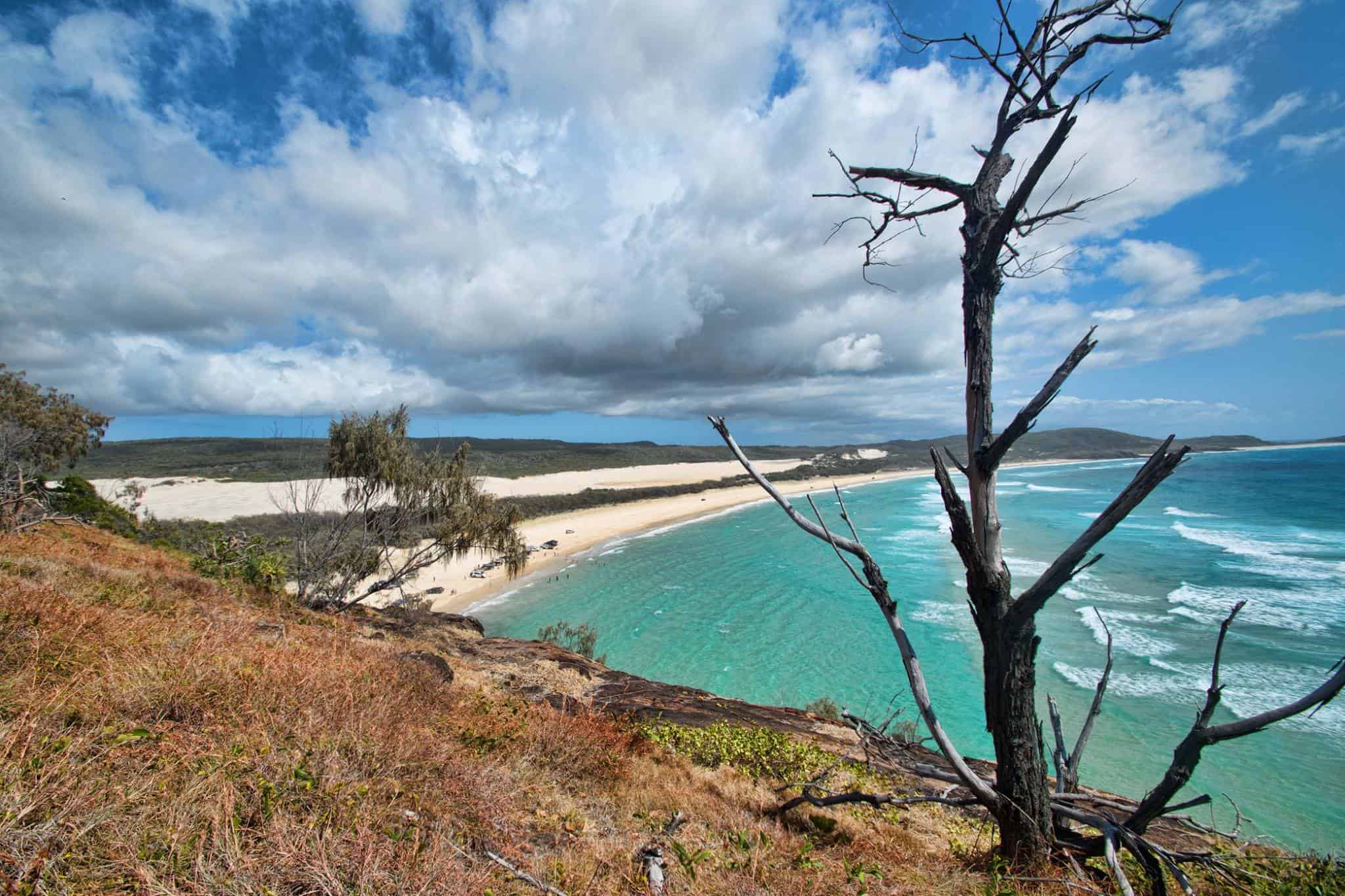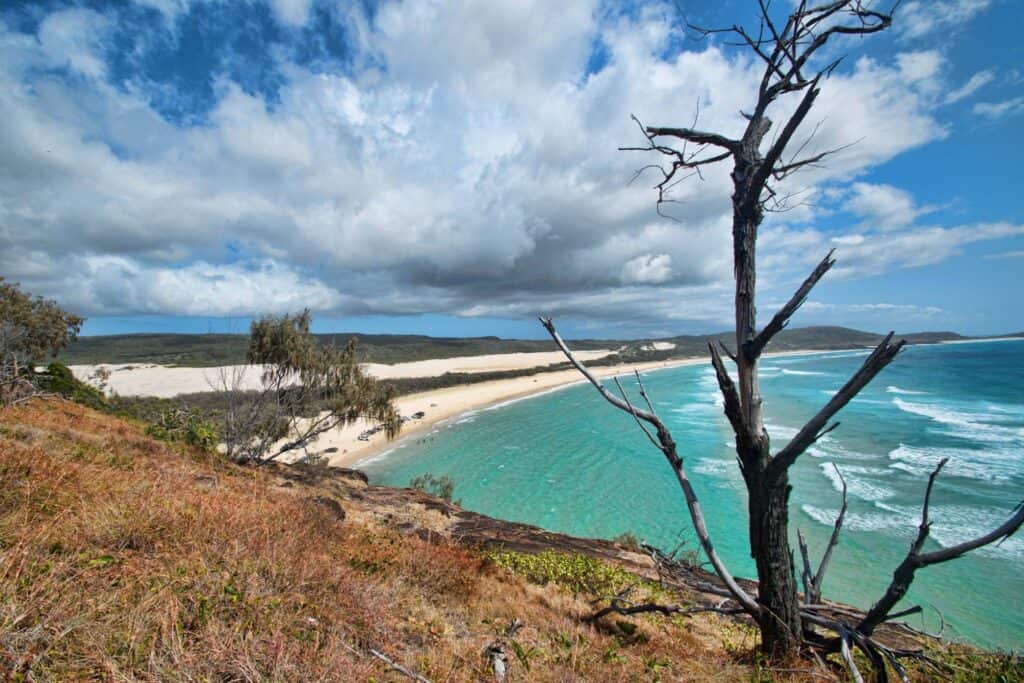 What Is There To See at the Great Sandy National Park?
There is an incredible amount to see at the Great Sandy National Park. It can become quite confusing trying to understand what is within the whole of the Great Sandy National Park. It encompasses several big forests and walking treks within the area.
If you can, you should aim to spend as long as possible exploring the area so that you can get the full experience and take in as many sights as possible. This is because it would take several days to see the whole of the Great Sandy National Park. You would need a 4WD for some parts as well as a few ferry trips, as K'Gari Fraser Island is a part of the national park.
Below is a list of only a few areas and walks that you can enjoy while exploring the whole of the Great Sandy National Park. We would recommend you take a week at least to explore all there is to see. As many of the areas take a few hours of travel and simply can't enjoy it all in one day.
Areas that you should check out would be Noosa Area, K'Gari Fraser Island, and Rainbow Beach. If you take a few days at each of these locations you should be able to see most of the accessible areas that make up the Great Sandy National Park.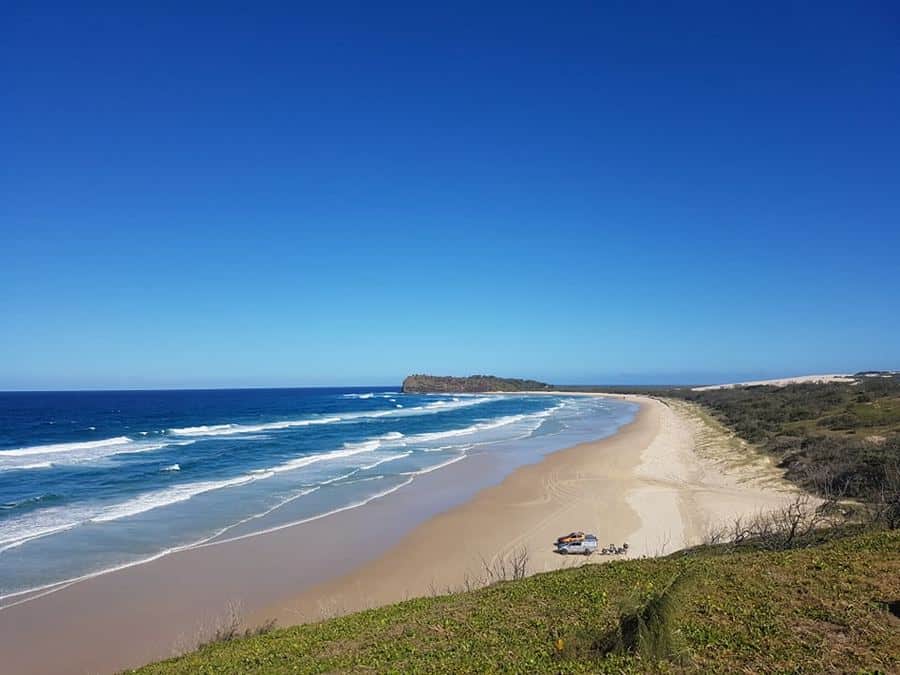 Cooloola Great Walk
At the Cooloola Recreation Area, you can join the Cooloola Great Walk. This is a five-day bushwalk that takes you along the coast from Noosa to Rainbow Beach. There are four walker's only campsites along the way for you to rest your head. On the walk, you will see rainforest, coastal woodland, and heath plains.
Cooloola Sand Patch
This section of the Cooloola Great Walk is a 12km hike that will take you to the top of the Cooloola Sand Patch, and provide you with some truly awe-inspiring views. This is a great spot to check out a vista of sand that stretches as far as the eye can see.
Carlo Sand Blow
The Carlo Sand Blow is a stunning moonscape of sand dunes that are 500,000 years old. From here, you will be able to see Double Island Point, Inskip Peninsula, and even Fraser Island. The Sand Blow is also a popular spot and great fun to be had by the whole family. It is a very small incline to get to the sand blow and a great spot to go sand surfing and enjoy the spectacular views.
This spot is definitely a family favourite in our household whenever we go to Rainbow Beach. So bring your boogie board along for a bit of sand surfing on the dunes or let the photographer in you come out for some spectacular shots. It's also a great vantage point to spot some whales during whale watching season.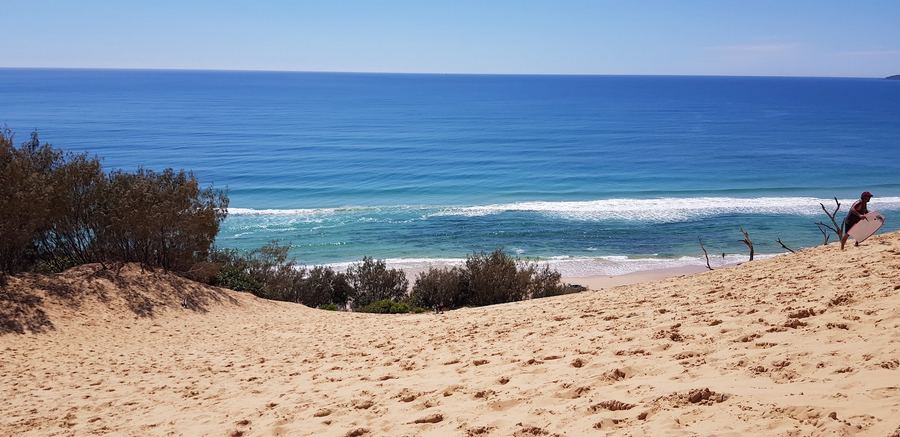 Noosa River
There are lots of things to do at Noosa River, including fishing, boating, paddle boarding, fishing, and even swimming. There are many fishing opportunities to be had in the Noosa River and kayaking is a dream.
Rainbow Beach
Rainbow Beach has a reputation as something of an adventure beach, and with good reason. Here, you can kayak with dolphins, fish, boat, surf, paddleboard, horse ride, and much more. Rainbow Beach is most popularly known for its rainbow-coloured sands that can be seen amongst the cliffs. It's also a popular tourist destination for 4WD enthusiasts.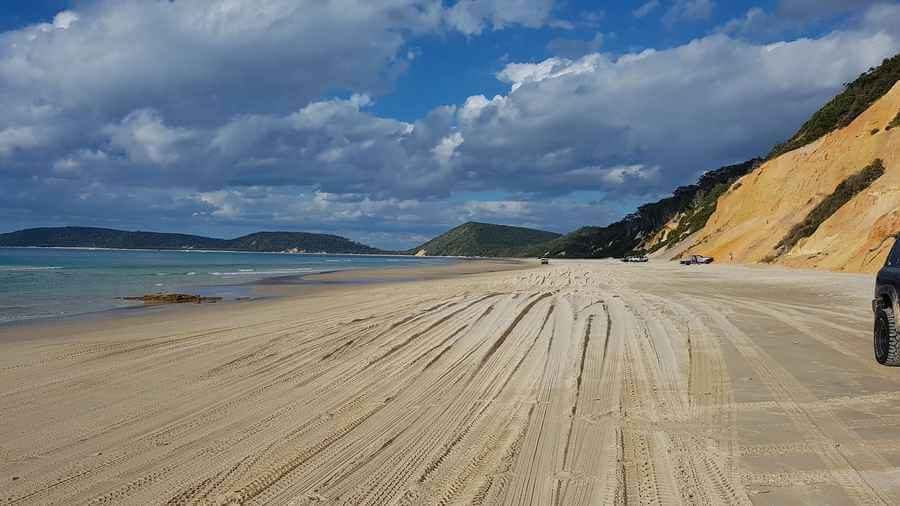 K'Gari Fraser Island
Fraser Island is a World Heritage Site and the only place where you will find a rainforest growing out of the sand. K'gari in itself is a wondrous place to go and with so many popular highlights it's no wonder why it's the #1 Island to see in Queensland.
Between the Rainforest to the Champagne Pools to floating down Eli Creek, or if you prefer fishing and 4WD'ing then this is truly the place for you. The Tailor season running from July to September really gets anglers reeling to join in the catch.
Fraser Island Great Walk
The Fraser Island Great walk takes 6-8 days to complete and is 90km long. There are plenty of campsites along the way to stay the night. Make sure to get your camping permit beforehand and make yourself aware of the campsite rules, as they are strict and can change from site to site on Fraser Island.
Along the way, there are several must-see spots that you should really take the time to enjoy. These include: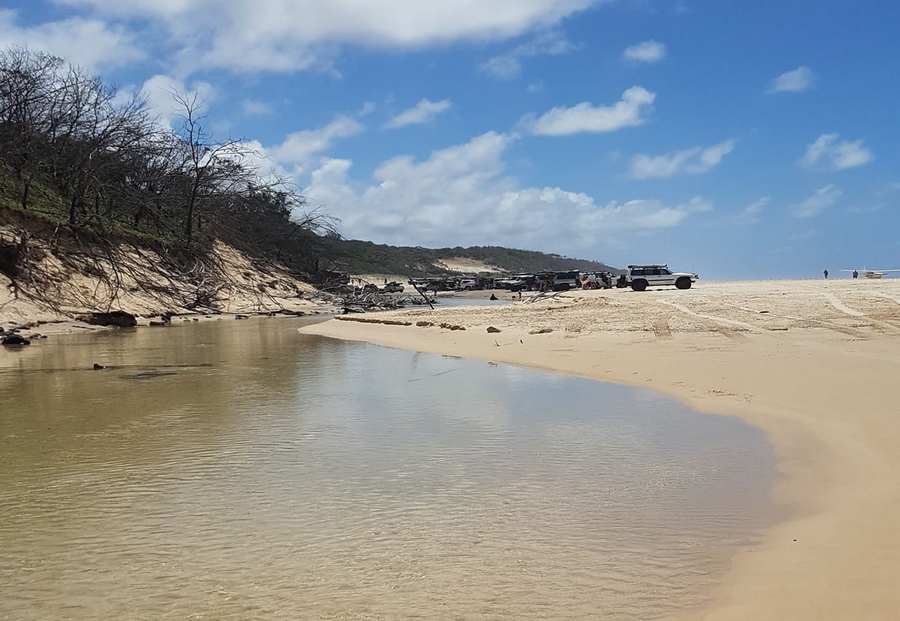 Whale Watching
Between the months of August and October, humpback whales migrate into the waters surrounding Fraser Island. So if you visit during this period, there is a good chance that you will be able to spot these majestic creatures.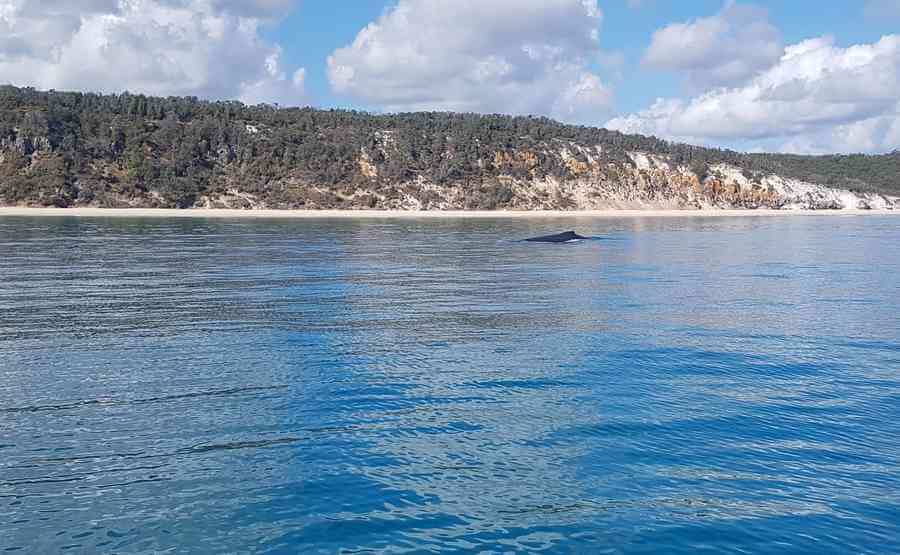 What State Is Great Sandy National Park?
The Great Sandy National Park is located in the state of Queensland, which is on the easternmost side of Australia. Sitting below Queensland is New South Wales and these two states, for the most part, take up the whole of the Eastern side of Australia. Victoria only takes up a small portion at the southernmost end.
Queensland also boasts the Great Barrier Reef, the Daintree Rainforest, and the popular surfing beaches of the Sunshine Coast and the Gold Coast. Queensland is one of the most popular states for Australians and International travellers to visit due to its vast amount of sites to see.
K'gari Fraser Island is also the most popular island to visit in Australia which is encompassed by the Great Sandy National Park.
Are Dogs Allowed In Great Sandy National Park?
If you want to bring your dog along with you on your visit to the Great Sandy National Park, you will need to do your research first and you won't be able to take them to every part of the park. The Noosa North Shore dog-friendly area is located in the southern section of Cooloola's Teewah Beach.
Other than this area at Teewah Beach, dogs (and other domestic animals) are not allowed in the Cooloola Recreation Area.
You will not be allowed to take your dog with you to Fraser Island at all. No dogs (or other domestic animals) are allowed to set foot on Fraser Island.
A dogs scent and barking can also disrupt and scare the local wildlife and even attract predators to the area. So these rules are in place both for the safety of you and your dog but also to preserve and protect the environment of the national park and its resident wildlife.
Below is a map of areas where dogs are and are not allowed in the Great Sandy National Park. Alternatively, you can find the direct link to the map here

.
The Bottom Line
It is entirely possible that you won't be able to see all of the amazing things on offer at the Great Sandy National Park in one visit unless you are able to make it an extended one. There is just so much to explore and absorb at both the Cooloola Recreation Area section and the Fraser Island section.
Like many people, you may find that this stunning national park becomes one of your go-to places to visit when you want to get away from it all and spend some time really connecting with everything that nature has to offer.
Resource Links To Products We Use And Recommend
More Pages On Other Areas