Rainbow Beach which is situated on the glorious Queensland coastline is a popular destination for tourists and locals to indulge in a wide range of activities.
One such activity that is extremely popular here is horse riding. Whether you have plenty of experience or are completely new to horse riding, there will be something for you here.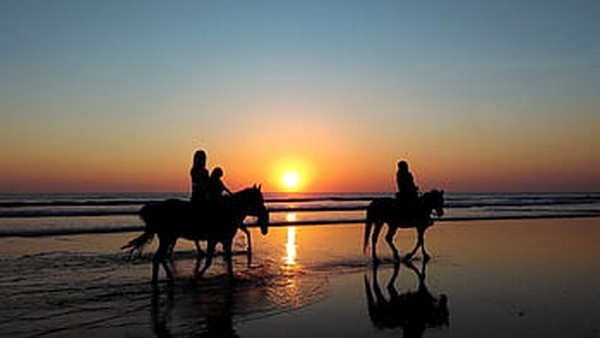 Riding a horse on the beach in Rainbow Beach can be exhilarating. There's a variety of different horse riding experiences available depending on your preference and level of experience. Some opportunities that await are moonlight horse riding, swimming horse riding, beach rides and country rides.
In this article, we want to share with you some of the very best horse riding experiences that are available to you as well as giving some general information on the topic

.
Tips For Horse Riding At Rainbow Beach
Before we start looking at the horse riding experiences that are available here, we want to talk about some tips and advice surrounding horse riding at Rainbow Beach in order to give you the most enjoyable and safest time possible.
Most horse riding companies will have horses that are used to working with beginners but it is always worth checking beforehand to ensure that both you and the animal are going to be safe and happy.
Your horse riding tour guide will be extremely experienced in the field and so will have a vast knowledge, do not be afraid to ask questions as this will ensure the safest experience possible.
Most companies will have a weight and age limit and so you should check before booking in order to make sure that you and your family can ride.
It is also worth noting that different horse riding tours will be offered to different experience levels and so you should always make sure that you are booking one that is suitable for your level.
If you are a beginner, there is no need to think that you won't be able to take part as there are a whole host of beginner options available.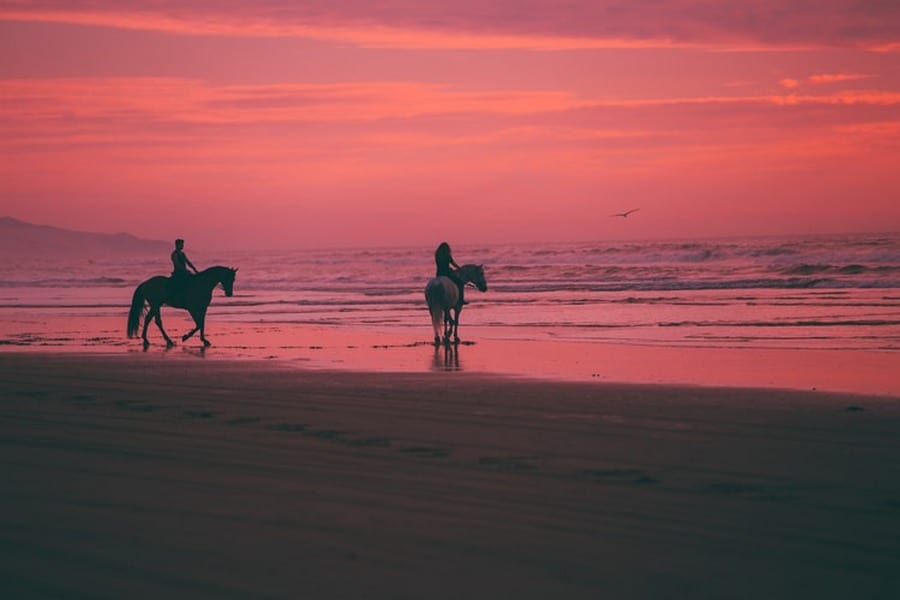 The Best Horse Riding Tours At Rainbow Beach
We have put together a list of some of the very best horse riding experiences in the area, along with how much you can expect to pay and how long you get on the horse.
The Beach Swimming Horse Ride
This is a slightly more pricey option

than many at $500 per person but what an experience to be able to ride through the waves on horseback. This one is only offered to more experienced riders and is a bareback ride.
This is a completely unique way to enjoy the clear waters of Rainbow Beach and is something that can be enjoyed by riders over the age of 10. This experience lasts for 90 minutes and you are asked to arrive half an hour before your allotted time.
The Full Moon Beach Horse Ride
If you are more of a night owl then this stunning moonlight ride, held every month on the evening of the full moon will certainly appeal. Riders are looking at paying $250

for this two and a half hour, stunning horse ride.
There are plenty of opportunities to take photos and capture the memory of this incredible experience.
As the moonlight reflects off the crystal blue waters, you can relax and enjoy the ride.
Since this ride is only held once a month, the operator suggests booking well in advance to secure your place.
The Rainbow Beach Horse Ride
For one and a half hours, you can enjoy the beautiful scenery at Rainbow Beach on horseback. With prices starting at around $180

, you will have the chance to explore the area no matter what your riding experience level.
All the equipment that you will need is provided so all you need to do is to turn up on the day. These rides take place in both the morning and the afternoon, giving you flexibility of when you want to take part.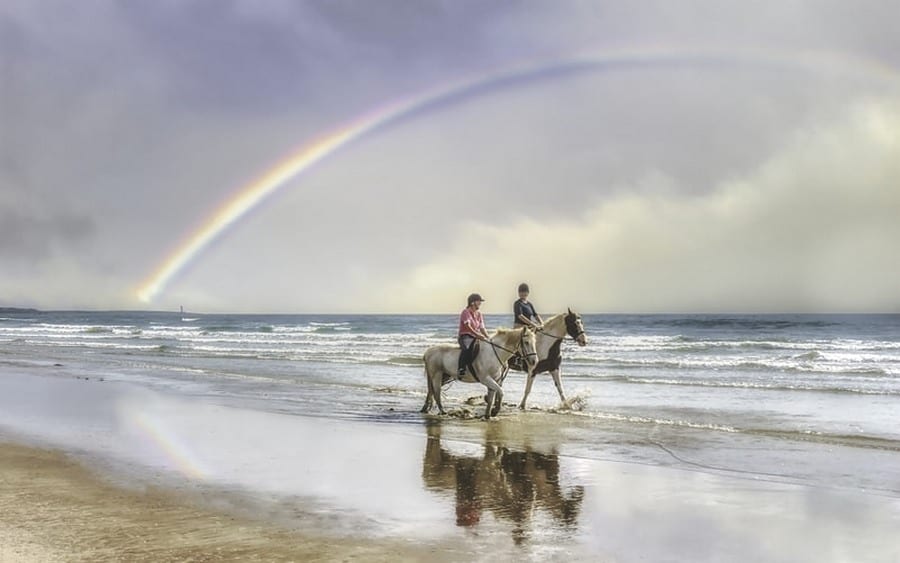 Try Out The Personalised Horse Rides
If you have a special occasion that you think a horse ride would be perfect for then there is an option for this too.
Whether it is a birthday, engagement or any other type of celebration, you can arrange a beautiful horse riding experience along this amazing beach.
The price and duration

of this one will depend and you should get a quote in order to find out this information.
The Country Day Ride In The Bush Land
Moving away from the beach, but still based in the Rainbow Beach area, riders can experience the neighbouring bushland whilst still enjoying a ride on horseback.
This horse riding experience includes lunch at a local tea room and gives you the chance to get up close and personal with the local wildlife including koalas and kangaroos.
The reviews of this ride have been excellent and it is said that some of the views and scenery you will take in are breathtaking.
Should you wish to take part in this day-long excursion, which in actual fact lasts around six to seven hours, you can expect to pay $300 per person

.
Rainbow Beach is a truly stunning location and there are many ways in which you can enjoy the amazing scenery that this place has to offer.
But none are quite as much of an experience as on horseback.
Horse riding is an incredibly popular activity at Rainbow beach, and there are a huge amount of horse riding opportunities available.
It does not matter whether you have been riding for years or if you are a complete beginner, at Rainbow beach, there are a huge wealth of options for every level of rider.
Take in the ocean views with a moonlight ride or perhaps opt for a dip in the sea whilst on your horse.
However you decide to take part in a Rainbow Beach horse ride, one thing is for sure and that is that it will be an experience that stays with you for life.
Why not take a look at the other things to do at Rainbow Beach.
Resource Links To Products We Use And Recommend
More Pages On Rainbow Beach