Do you have a campervan already, or are you looking for campervan conversion companies near you? There are quite a handful of van conversion companies in Australia. And you might be wondering how much it will cost to convert your van into a comfortable camper van.
It will cost you between 5,000-15,000 USD to convert a van into a modern campervan with home-like comfort. That's about 20,000 AUD on the higher side. The cost varies much depending on the features you want to be included in the campervan; luxury fixtures and modifications will cost more.
I will explain what goes into converting a van, from what you should consider to how you plan everything inside. You'll enjoy the benefits of a custom campervan you have a say in what goes in and what goes out.
What To Include In Your Converted Van
What you include essentially costs money, but there are essentials you shouldn't miss to have in a campervan. The total cost will depend on these items and how cheaply you buy them. If you have the skill and the time, you can DIY to save the cost of someone else doing it for you.
A small van might be ideal for occasional weekend and holiday getaways, but if you're looking for the van life Australians crave, you better look for a bigger one. Anyway, whether it's a 20-year-old Mitsubishi Delica or a Mercedes-Benz Sprinter van, you can still convert whatever you have into a modern campervan.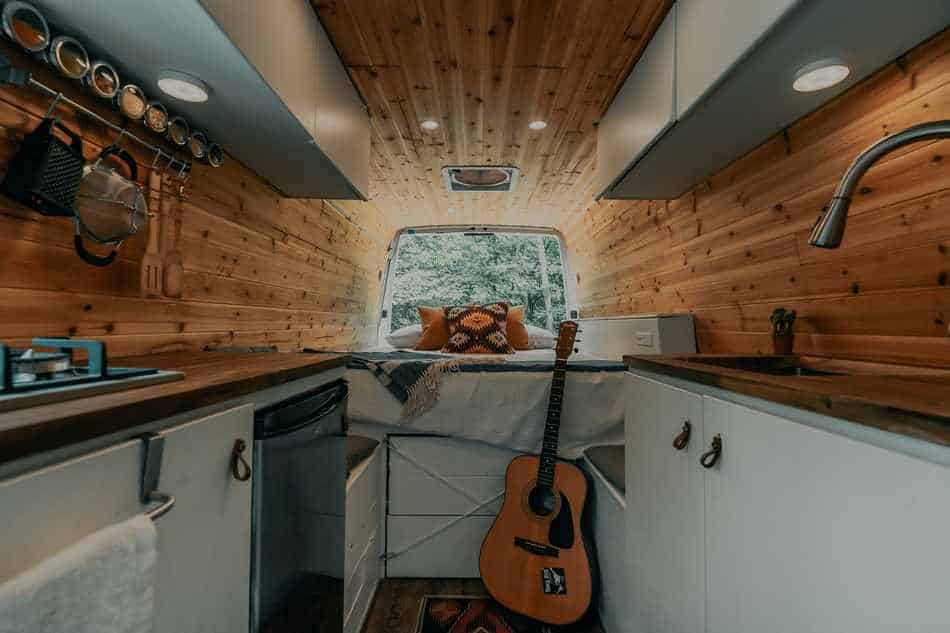 Here are a few essentials you might need in your campervan:
A comfortable bed: Most of the time you spend in a campervan is while sleeping. What you spend on a campervan bed mattress will largely depend on how much luxury you're after. However, you can find decent mattresses for a good price – for example, this Elegear Double Camping Sleeping Pad from online stores in Australia comfortably fits two people and has the added benefit of ultimate durability.
A superior cooker and plenty of worktop space: Plenty of worktop space lets you prepare meals effortlessly. Campervan stoves cost from as little as $30 for simple portable models to as much as $600 for advanced ones. This Gas ONE Portable Stove from online stores in Australia is super high-powered and can quickly heat whatever you're cooking.
A toilet and an indoor shower: Although public restrooms are plentiful in Australia, and a bathroom may seem like a luxury, I wouldn't discourage you from having one. It'll make your life on the road or a fishing trip easier. Wouldn't you rather have a private bathroom at home? It has more to do with privacy and comfort. A decent RV toilet costs from $100-$400, a shower enclosure from $55 AUD, and a shower head from $20-$50.
A battery to power your van: A solar-powered unit would suit camping in Australia's hot climate. Australia receives approximately 58 million PJ of solar radiation annually. You can try a portable campervan generator if you can't access a solar power kit. An off-grid solar set-up typically costs between $2,200 and $5,800 AUD, while a decent campervan generator costs from about $300 to as high as $1500 in on online stores.
Running water: You're going to need a constant water supply in your van. You need drinking water to beat Australia's high temperatures that range between 11 – 23 °C (51.8 – 73.4 °F). You also need water to wash the dishes, prepare meals and shower. You can opt for portable water tanks if you're not going to be camping for long or if you plan to camp where you can access municipal water supply.
A wall or ceiling fan: I'd recommend you try your best to have either a wall or ceiling fan to tackle the highs of Australian heat. If you're on a tight budget, you can skip this, but keep it in mind for future modifications. Depending on your budget, you're likely to spend $100-$200 on a campervan ceiling or wall fan.
Decoration: You can make your cabinets white, while the ceiling, floor, and seats can have wooden tones. You can try white laminated plywood for the cabinets to make cleaning easier. White cabinets will make the small space feel and look bigger. The cost of decorating your campervan will largely depend on what you want to bring in, and the extent of the decoration.
Speaking of water, you should go for a more elaborate fixed water holding tank to make your van professional and more comfortable for longer camping. You can try a 40L Weisshorn Outdoor Camping Water Tank from online stores in Australia

.
It's compact and easy to move around and it's durable enough to last you. This one is small so it might not be right for a large van, but for short day trips, it should suffice.
Watch this YouTube video detailing how to connect a water supply to your campervan:
What To Consider When Choosing A Van
Vans' prices vary significantly from $3,000 to $100,000, depending on the make and model, and whether you're buying a used van or a new one. The price will also vary depending on other features like engine capabilities.
Everything you crave in a campervan will have to go in the available space. You also need space to stand and walk around comfortably.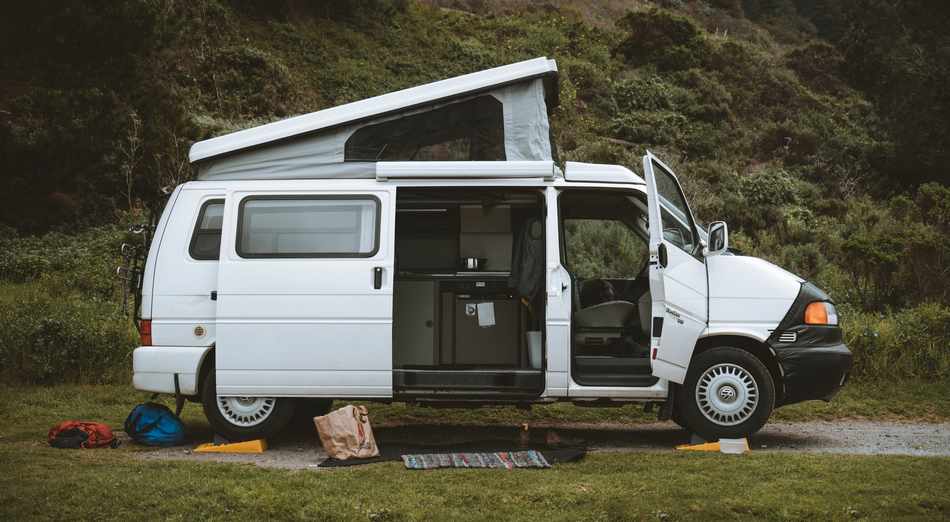 Standing Height
Standing height is convenient to have but not a must. Standing comfortably in the van isn't so important if you plan to take short fishing trips and camping. However, if you plan on long trips in your van and you're planning to sleep inside it, you'll need enough space to stand comfortably.
Internal Width
1.7 m (23 ft) would be sufficient to put a sizable bed across the van east-west. Push it at the back to leave enough space at the front for the seating area, kitchen, and bathroom. If your van is narrower, a north-south bed arrangement will do the trick, but that would impact the layout somehow.
Towing Capacity
If you plan to go out on a fishing trip, you'll need to take your boat. Therefore, the van you choose should have enough capacity to tow your boat. Make sure you check the manufacturer's guidelines to see how much your van can safely tow without damaging it.
All-Wheel Drive Van
The thrill of fishing trips and camping comes from the wild off-road experience and venturing to remote locations. That calls for a 4WD van, which is costlier than a 2WD one. But that's the price you pay if you don't want to get stuck on dirt roads.
Register And Re-Title Your Converted Van To An RV
You can check with local Australian Authorities if you must re-title your van to an RV. You will likely need to register

any vehicle that you convert to an RV. You'll need to re-title a converted van if it was previously registered so that you can obtain the correct permits.
If you're registering your converted van for the first time, you will be required to undergo an inspection of the van by the relevant authorities. The annual

costs start at around 90 AUD and can go up to over 700 AUD if your converted van is big.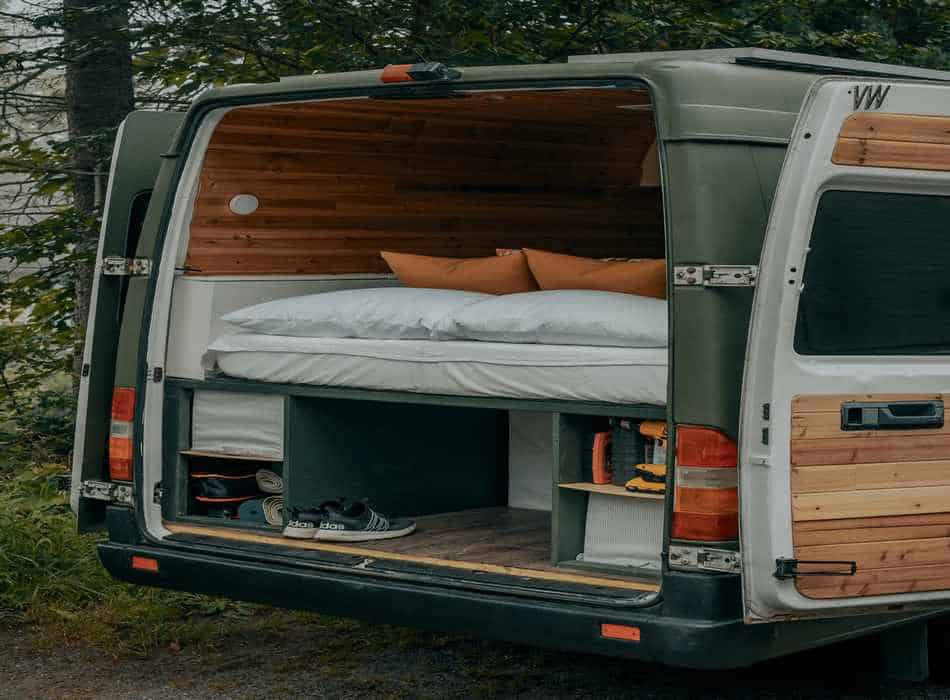 It can even extend over 1,000 AUD if your van conversion is very large, so make sure you check what you'll be required to pay.
If you fail to register, you'll have to pay a pretty hefty fine – so make sure you do your homework and get that inspection done!
Final Thoughts
Australia is a haven for camping and road trips. The country has over 800,000 registered RVs

, with over 1.5 million tourists taking to the road each year. A van conversion here will cost up to 20,000 AUD, depending on your preferences and whether you'll be living in relative luxury or you're on a budget.
Resource Links To Products We Use And Recommend
More Pages On Camping