The history behind beautiful Fraser Island is one well worth sharing. Long before the many resorts and tourists descended upon this world heritage listed land, it belonged to the 'Butchulla' people. There would be several groups that belonged within the 'Butchulla' people.
Living vastly spread from popular Fraser Island, right up to Tin Can Bay/Rainbow Beach and Bauple Mountain. The 'Butchulla' people would originally name the Island, 'K'Gari' – a fitting name they gave this tranquil place that means 'paradise'.
Most of today's history suggests that "K'Gari", as it was originally named, was occupied by the 'Butchulla' people for five thousand years, and some even say that it was much longer at around twenty thousand years.
It was Captain Cook

who discovered the island in 1770 and he would meet these locals and name them the 'Indians' and give the much-enjoyed spot 'Indian Head', its long-lasting title.
Later, many years from Cook's landing on the island, Matthew Flinders would stumble upon this amazing place and then be well accepted by the 'Butchulla' people.
Years would go by and colonialized Europeans would also discover this particular piece of heaven and lacked respect for the aboriginal people who treated this land with the dignity it so deserved.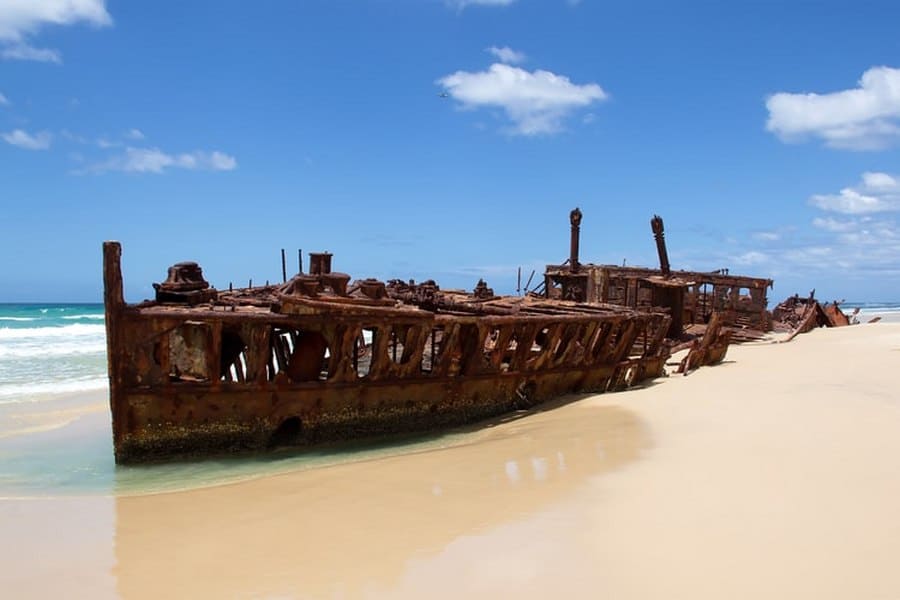 The People of Fraser Island
The aboriginal people and the European's would have many conflicts over traditional tribal boundaries and the 'Butchulla' people's love for this amazing island.
Over time, changes would begin to happen and logging would take place in the mid-1800s, much to the dislike of the traditional owners of the land.
This would change the way in which they had grown to live on the island as trees were logged and taken back to the mainlands and the natural habitat that they had grown use to, was now shifting and they had to take on new ways of survival on their land.
Slightly before the logging would commence, another landmark moment in history would take place to such a magnitude, that this island would be re-named, yet again.
Captain James Fraser would sail his great ship and become ship-wrecked near this island in the 1830s, his wife becoming the captive of the aboriginal people.
There were eighteen other people on board this ship and they would launch two boats and set sail for the nearest island – 'K'Gari'.
From here, they would become captured by the natives on the island and put to work. It has long been understood that Captain Fraser died from starvation, or perhaps he was put to death. However, his wife, Eliza, would be rescued by a man named John Graham, an escaped convict.
She would later return to her homeland of England and continue her life. In the times that were, Eliza Fraser grew great attention for her capture and release and this is how Fraser Island became officially named.
Fraser Island History, Logging on Fraser
Fraser Island would continue on through the times being logged and much later, being thought out as a tourist destination for people from right across the world to come to and enjoy all there was on offer to see and do.
Resorts at Eurong and Kingfisher Bay were designed and built, taking into consideration the land surrounding the area that was vital to protect so that the wildlife that inhabits the island could maintain their lifestyles.
Tracks were built that lead tourists via forty seated bus vehicles around the magical landscape that they discovered was well worth introducing people to and flights could begin to be enjoyed over this great land.
What History Attractions Are Still On Fraser?
As years went on, Fraser Island became a top tourist destination bringing people from all around the world to visit and step onto this historic sand. Dingoes were a popular attraction and tourists marvelled in the idea of sighting one from a distance.
The popular bird species, the "Kingfisher", of which Kingfisher Bay is well known for being named after, became a sought out bird for lovers of bird watching and photography.
Whale watching, which brings in lots of tourists to the area between June and November every year in the Great Sandy Straits waters, is another attraction that Fraser Island boasts as some of these mammals can be seen from parts of this majestic island, please check here for more things to do on Fraser Island.
Dolphins are a regular sighting over near the waters of the island along with the unusual sea creatures, the dugong, which have maintained lifestyles in the waters for a very long time.
About Fraser Island
Fraser Island Australia provides visitors to world Heritage Fraser Island with four-wheel drive hire, tours, and accommodation packaged holidays, visit Fraser Island from various locations including Rainbow Beach, Noosa, Sunshine Coast.
Or maybe you already have your own 4×4 and just need accommodation, this is also available, there is a verity of ways to visit Fraser Island, from guided day tours, overnight camping tours and self-drive getaways.
So why not experience the largest sand island in the world for yourself!
Fraser Island's (K'Gari) appropriately means paradise. Rich Aboriginal heritage and colourful European history are integral to the Island.
Fraser Island is located just off the coast from Hervey Bay and spans over 120 kilometres long and over 30 kilometres across at its widest point, World Heritage Fraser Island, the perfect eco holiday destination.
Walking is perhaps one of the best ways to experience the awesome sights and sounds that Fraser Island has to offer. A walking guide is available from the tourism office where you purchase your four-wheel drive permit.
Resource Links To Products We Use And Recommend
More Pages On Fraser Island
link to Can You Drive At Night On Fraser Island?
Fraser Island, located off the coast of Queensland, Australia, is a popular tourist destination and a UNESCO World Heritage Site. The island, which spans more than 120 kilometres in length and 24...
link to Are There Toilets On Fraser Island?
Fraser Island, which is a popular tourist destination in Australia. The island has a number of campsites and other facilities where visitors can use toilet facilities. There are on average around 22...