The main attraction that draws visitors from right across Australia and the world to the area of Rainbow Beach is without a doubt, the breathtaking foreshores.
23 kilometres of curved beach to explore by foot or by 4×4.
Looking out upon the stunning open waters that await you, the ocean allows for excellent swimming, surfing, boating, sailing, skiing, snorkelling and of course, fishing! You will also find some kayaking and dolphin tours of the beach

.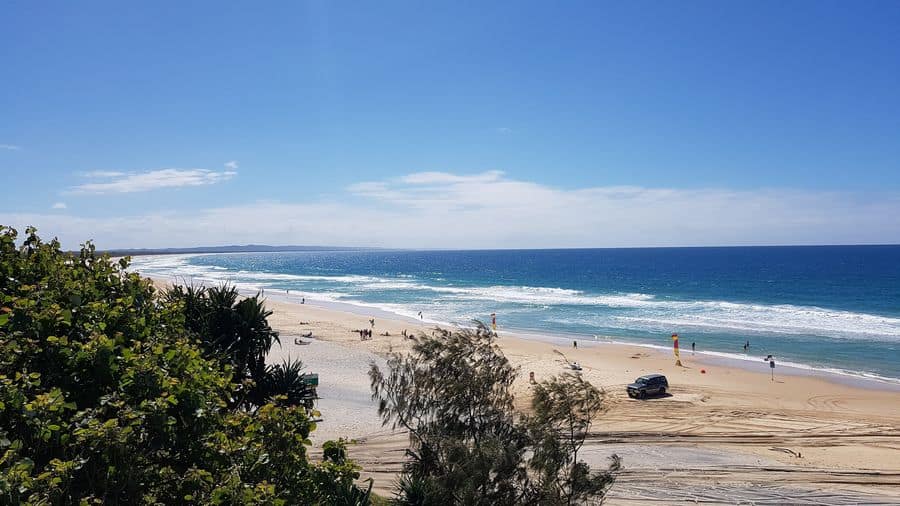 Even though this particular destination has a curved style bay like the beach, it still draws lots of tourists who love to stay here just for the surf conditions

.
Waves are a daily part of your experience when visiting glorious Rainbow Beach. You can find out where is Rainbow Beach? here.
Bring your surfboard and enjoy surfing these amazing waters that reside right next to world heritage listed Fraser Island. If you're new to surfing why not try out the local tours they teach you how to surf

.
Swimmers are well protected with the local surf lifesavers on patrol and advising you to always swim between the flags to protect you from any unwanted rips in the waters.
Boating enthusiasts will absolutely love visiting the open waters of Rainbow Beach. Perfect for a day out fishing or a quick trip over to Fraser Island which is a short 10 minutes away.


More Things To Do In Rainbow Beach Go Fishing!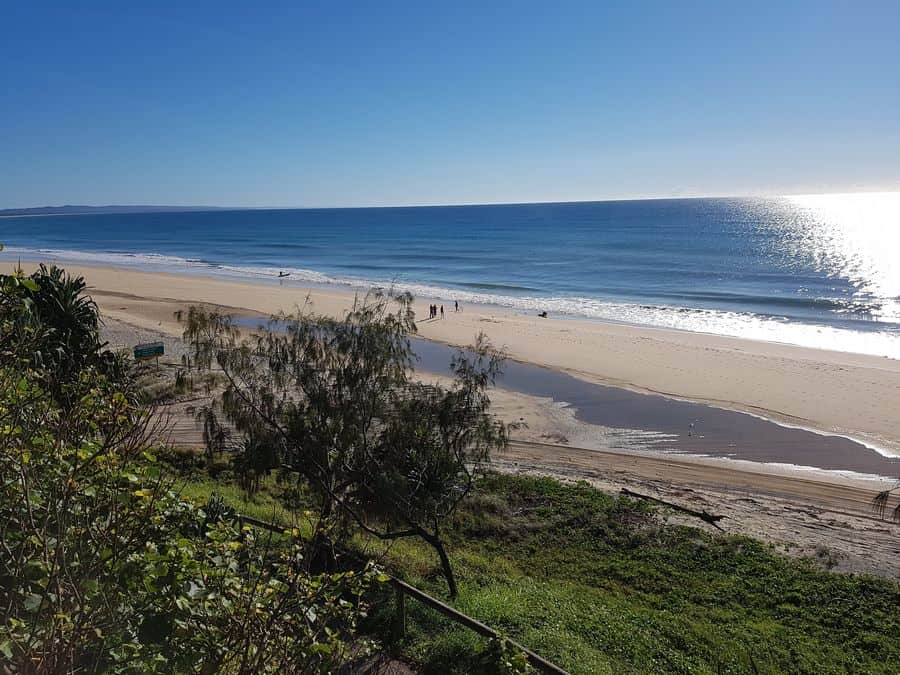 Some of the species of fish that you can expect to find in the waters of Rainbow Beach are, Snapper

and Sweet lip

– which make for terrific eating whether you pan-fry or cook in the oven whole.
Red Emperor, Parrot and Pearl Perch are caught quite regularly, along with Amberjack and Mackerel fish.
There are many good types of fish well worth fishing for in the area that make for delicious eating afterwards.
Don't worry if you aren't a boat owner or you have actually never fished prior, you can book a chartered tour where experienced fisherman will take you out and show you around their vessel, where to catch the very best fish and what types are in season, along with showing you all around the area.
These chartered tours on offer can book out rather quickly, so be sure to look them up and make your reservation in advance.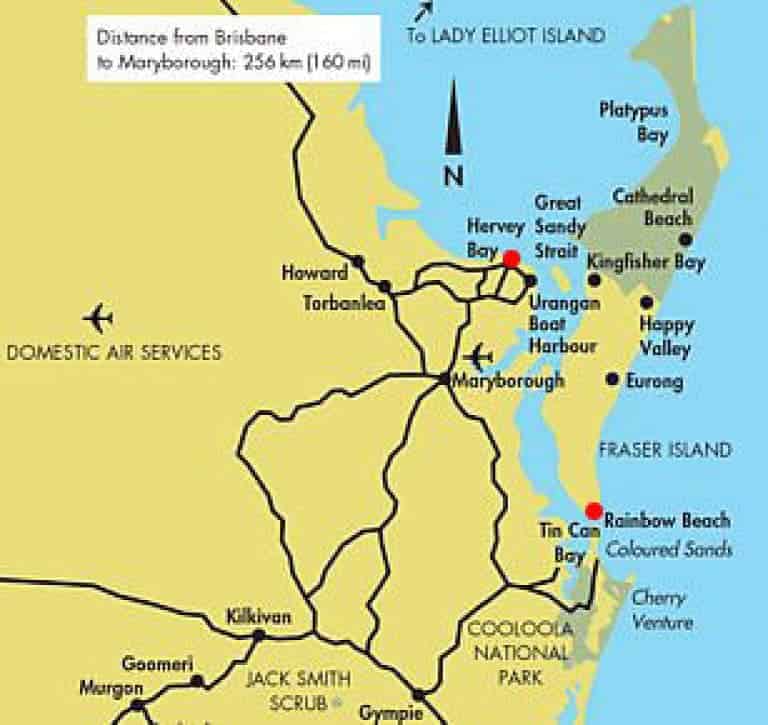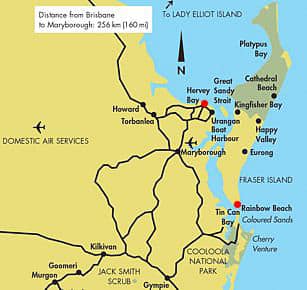 Fraser Island Tours From Rainbow Beach
World heritage listed, Fraser Island is so close to the beautiful Rainbow Beach that you will literally feel as if you could walk there!
Being the closest land destination to magical Fraser Island makes this place very popular with the tourists and backpackers as you get two places right at your fingertips to explore in one stay. The best 3-day tours are found here

.
Ferry's transfer to and from the area on a ten-minute journey over to Fraser Island across the waters.
Imagine stepping off Rainbow Beach and ten minutes later stepping onto the world-famous island itself! Click here for tours and booking prices

.
Once you are on Fraser, you can expect to enjoy everything that you have already heard about.
The wildlife you can expect to encounter, as well as be wanting to take many photos of as keepsakes are the very popular dingo that has long inhabited the island and become a trademark of Fraser.
These beautiful creatures may appear just like dogs, but you must always remember to keep your distance and observe from afar.
These animals are wild, and use to roaming their own environment for food and water and the public are warned against feeding them in any way. Another popular sighting that visitors enjoy photographing is the Kingfisher bird.
These beautiful birds live on Fraser Island and are pretty sighting when seen. Their colourful feathers make them stand out and photographers love capturing these creatures in their own habitat.
If you are looking at staying on Fraser for an overnight or longer stay, there is plenty of ways in which to lay your head at night time.
You can choose to stay in the outdoors and utilise the camping areas available or you may wish to book in with one of the resorts the Island plays home to.
There are also ranger-guided tours on offer when staying at the resorts and this is where you can take a tour across the island and gain vast knowledge on all facts regarding Fraser.
Whale Watching Rainbow Beach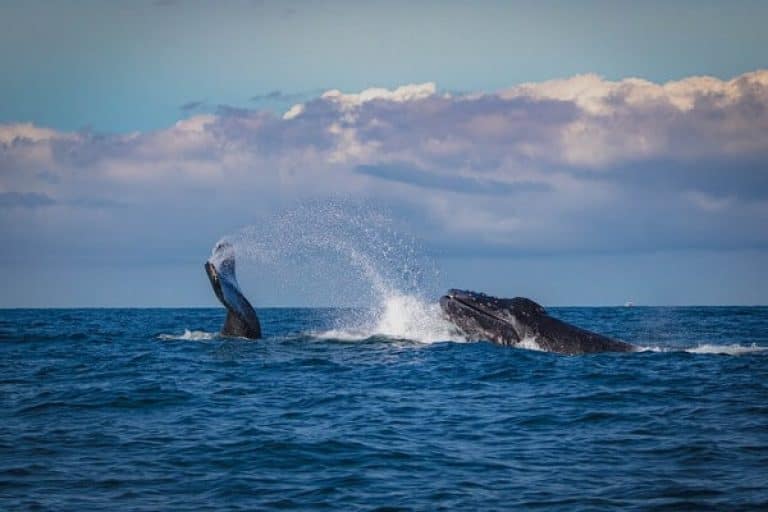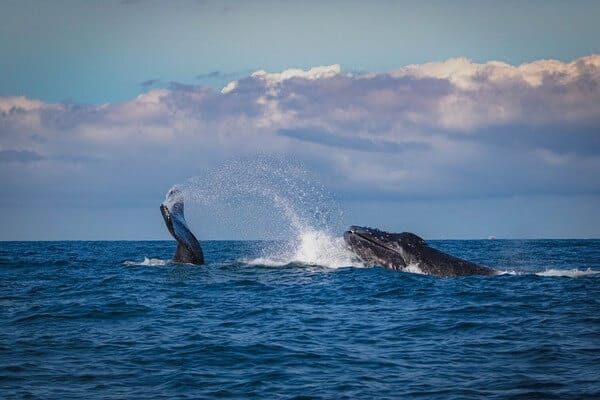 Another very popular reason why visitor's from all across the globe come to Rainbow Beach is due to the whales that migrate into the area between May and October.
These stunning sea creatures venture right up to Queensland to the warmer climates to relax and breed. This has always captivated the people and this is where "whale watching" took on a whole new meaning.
People from right across the world discovered these enormous creatures and wanted to see them for themselves in person.
Businesses with vessels that were equipped to take groups of people out upon the waters became in high demand and the whale watching business was in full bloom.
Every year this becomes more and more popular with people of all ages flocking to these whale-watching destinations so they can catch a glimpse of these beautiful animals and if you are very fortunate, you may even get up close enough to touch these creatures.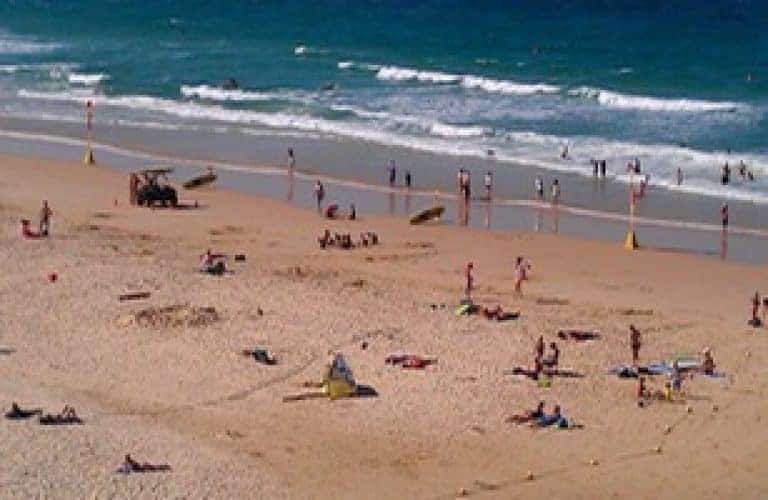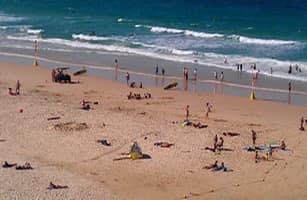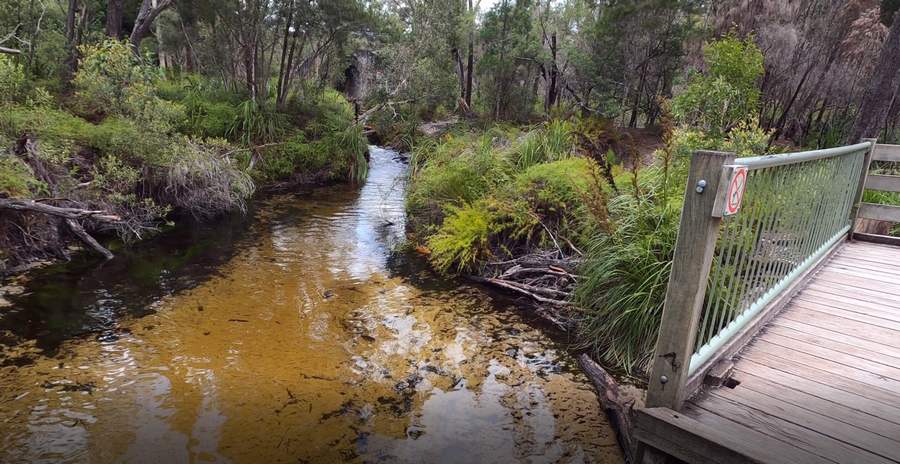 Visit Seary's Creek
Seary's Creek is a well-known creek located on the way into Rainbow Beach. Part of the Great National Sandy Park that includes somewhat of 56,000 hectares of bushland and that includes Fraser Island.
This beautiful and freshwater creek is known for its slightly golden orange colour, clear flowing waters, and sandy shorelines. Go for a swim or relax near the small waterfall! There are some small fish and a eel that is known to live in the waters too.
Annual Fishing Competition At Rainbow Beach
Rainbow Beach has long held the annual Mitsubishi Motors fishing competition. People of all ages can enter and visitor's travel far and wide to take part in what Queensland considers, one of the best competitions in fishing.
Not only can anyone enter, but there is a whopping $100,000 in prizes up for grabs during the eight days of fishing throughout the competition. Entry conditions are available online.
Rainbow Beach Pubs, Parks And BBQ's
Feeling peckish or hungry? There are some great places available to go to and enjoy a simple snack or a big belly feed when you are in Rainbow Beach.
Beautiful local fish served up in a delicacy of meals for you to try, or perhaps you prefer your fish served with good old fashioned chips and salad!
The choice is yours and the choices are endless! Sit amongst the locals who visit the famous pub that overlooks the beaches of Rainbow and learn a bit about the heritage of the area and what makes living in a place like this so special.
Recreational parks are nearby if you have kids who want to run and play and there is plenty of area's for adults to sit and watch.
BBQ facilities are near the foreshore for those campers who are staying in the nearby caravan park and wish to enjoy the outdoors cooking style.
Or perhaps you have just visited the area for the day and wish to stop by at the local supermarket and grab some items to enjoy over the local BBQ area's around Rainbow.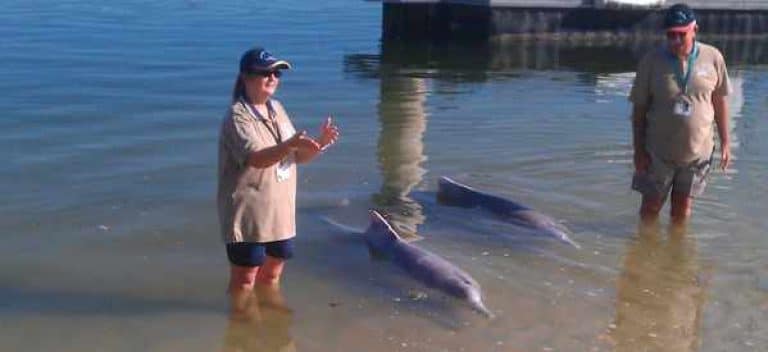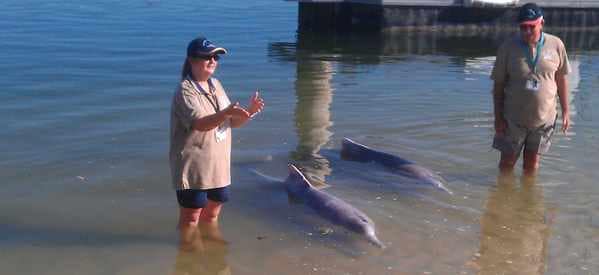 Dolphin Feeding Near Rainbow Beach
Heard of Tin Can Bay? This budding place is a short boat trip or drive from Rainbow Beach and well worth the visit if you are in the area.
Tin Can Bay has grown vastly over the many years with many people moving to the area to live and work.
It is still regarded as a seaside village by the locals and you get that very "homely feel" when you are talking with them about how proud they are to reside in such a beautiful and peaceful place.
Something the whole family can enjoy when visiting Tin Can Bay is feeding the stunning dolphins.
Not many places in the world give you an opportunity such as this and you really want to take the whole family along to enjoy these wonderful moments together, Why not check out the other things to do at Tin Can Bay.
Every day, early in the mornings, down near the calm foreshores at Tin Can Bay, professional dolphin handlers are on standby at the same time for the appearance of two or three dolphins that come into the shores for feeding.
Here, you too can be a part of the action and get the chance to hand-feed these majestic animals.
Kids absolutely love lining up quietly to have their chance at meeting these glorious creatures of our waters. And, it is fair to say the dolphins love it too!
They are friendly, playful, peaceful and always manage to take a terrific photo! So, bring your camera's and your smiles to Tin Can Bay today and take a look online at how you too can be part of the fun.


See The Colours Of The Beach From Carlow Sand Blow
If there is one absolute 'must-see' when you are in Rainbow Beach, it has to be the Carlos Sand Blow.
These enormous cliff-like features have become an interesting feature of the area and their colours and transformations have visitor's admiring them as well as taking hundreds of photographs daily.
You can access these dunes via a short bush-style walk to the cliffs.
Once you are upon these dunes, it is easy to see why this could possibly be the most spectacular place in the world at that very moment you see it all for yourself. 360-degree views of the landscape
Breathtaking views of Fraser and Rainbow. Views so perfect that you cannot help but capture it all on your camera whilst standing there.
This tranquil, peaceful spot that nature has transformed for your enjoyment is truly one of the loveliest places you will stand in the entire world.
Take your family and your photographs. It is very well worth it all.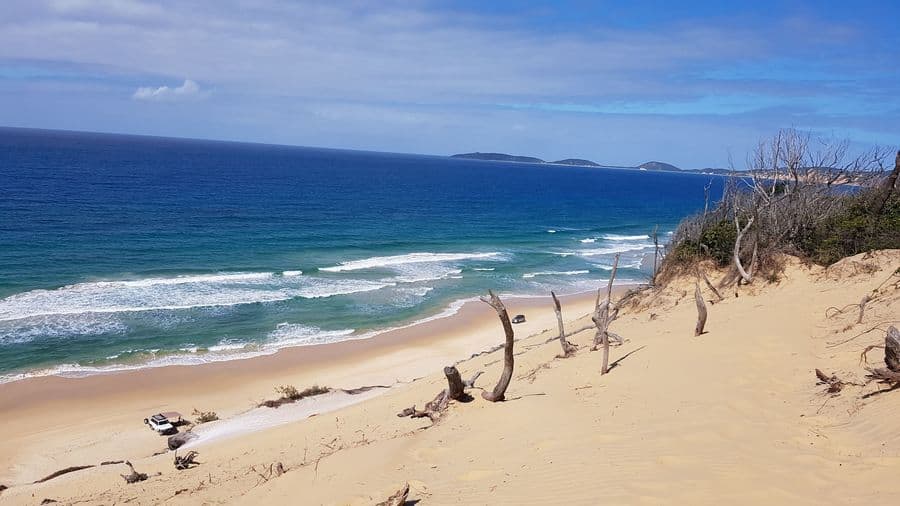 However, if there is one absolute 'must' do attraction that is the entire reason why people of all ages and from all across the world, love coming to Rainbow Beach, it is this:
Rainbow Beach is visually beautiful. It is a place quite simply like no other. It takes you away from the hustle and bustle of the busy city life. It creates peace within your soul.
There is only the amount of noise you wish to allow in. You can do as much or as little as you wish. It is a place where the whole family, of all ages, can enjoy being together.
There are scenic spots that are heaven's way of reminding you why you are alive and why you have visited this majestic area.
The beach, when seen for the very first time, will really take your breath away. It is not any beach.
It is stunning from left to right. You can smell the sea air, hear the waves crashing upon the white sands and see the lush green landscape rustling nearby.
People, for many, many years have enjoyed camping and 4×4 along these magnificent shores. Possibly making it the best reason to come to Rainbow Beach. Waking up, whether in your tent or 4×4- and opening your eyes and senses to such beauty.
"The blue waves meet the white sands meet the green landscape".
Tours to Rainbow Beach can be found here click for pricing.

Resource Links To Products We Use And Recommend
More Pages On Other Areas
link to How Long Is The Mary River?
The Mary River is located in the Fraser Coast Region about 30 kilometres south of Hervey Bay, in the town of Maryborough. The Mary River flows around the circumference of the town and leads the way...
link to Are There Crocodiles In Maryborough?
Australia is full of many different iconic species of wildlife. From the ocean to the mainland, Australia is well-known for its diverse animals. While there is no shortage of interesting wildlife...