Australia is one of the most interesting places to visit in the world. This is particularly true for the Queensland region, specifically in the Hervey Bay area.
Hervey Bay is known for its humpback whales, pristine beaches, tropical islands, and so much more. They are also known for having an abundance of lodging and accommodation for its visitors!
When planning a holiday, knowing a bit more about the options for lodging is really important.
Apartments In Hervey Bay
Located right on the Esplanade, a 17km stretch located between the ocean and the local towns of Hervey Bay, these chic apartments are close to a lot of things!
This location features full self-contained apartments that give guests the freedom to enjoy a little home-away-from-home. With modern, sleek decor and plenty of space, the apartments are simply incredible!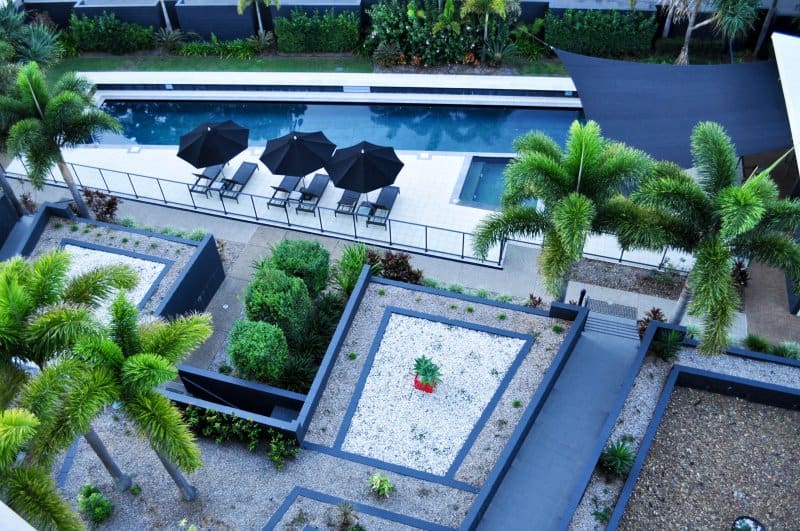 Popular Facilities
Hot spa apartments – The biggest perk to this location are its hot spa apartments. These apartments feature a private spa right outside of the apartments that make them truly an exclusive pick!
25-metre pool with hot spa and a children's wading pool – Most hotels have pools, however, not all of them have lap pools! This impressive 25-metre pool is perfect for guests who enjoy doing simple swim laps. There is also a children's wading pool which is also not common among other hotel locations.
Private storage cages – In the basement, this hotel offers its guests private storage cages. Guests can take confidence in knowing their belongings are well protected as all storage areas and parking areas are secured.
Sauna and gym access – Saunas are a great way to relax and simply let all of life's worries melt away! Hotels that have these are always popular! There is also gym access, which isn't too common in hotels as well. Some people enjoy a good workout and having gym access is a necessity!
Resort garden – This hotel resort features a truly magnificent garden that is the perfect location for weddings! The Bay Apartments have special wedding services including bride and groom accommodation, guest accommodation, and access to the lush garden for ceremonies and more!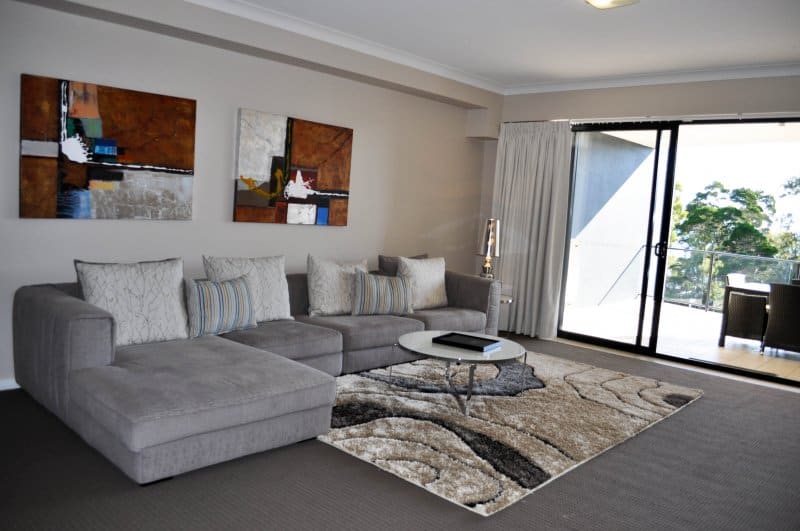 Ratings
Almost all hotels, resorts, etc. get a star rating that is based on a scale of 1 to 5 stars. These ratings serve as a way to showcase a location's ability to really provide their guests with premium and quality services.
It should be stated that the quantity of services is not put into play here, rather the overall quality of the services. The 1 to 5-star scale has 5 stars being the best and 1 star being quite subpar.
These apartments are quite nice and are rated as a 5-star hotel! Considering the private spas, storage areas, etc. it is no wonder that it is rated so high!
Room Types
The rooms at The Bay are simply exquisite with stylish decor and plenty of space. They come in the option of 1, 2, or 3-bedroom apartments. These apartments are truly a paradise away from home that will make guests feel like they have a holiday home!
Some apartments have private courtyards and spas while others have balconies overlooking the landscape throughout the area. The hot spa choice is available in any of the three apartment choices, even on floors that have balconies.
They even feature outdoor dining areas. Some of the apartments also feature 2 bathrooms!
The apartments can vary in choice from queen or king beds as well. All the rooms feature full-kitchens and living room space with televisions.
The price point for these elegant apartments vary based on time of booking, the type of apartment, and availability. However, an example of the pricing is about $290.
This seems like a steep price, however, with such modern rooms, amenities that really bring guests incredible comfort, guests are getting their money's worth!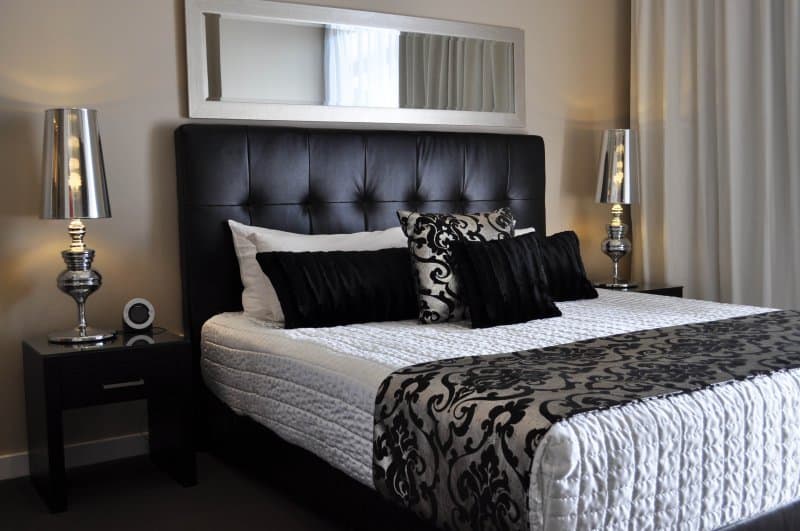 Surroundings And Location
The address and contact information for The Bay Apartments is as follows:
371 Esplanade
Torquay, QLD 4655
Ph 07 4194 1118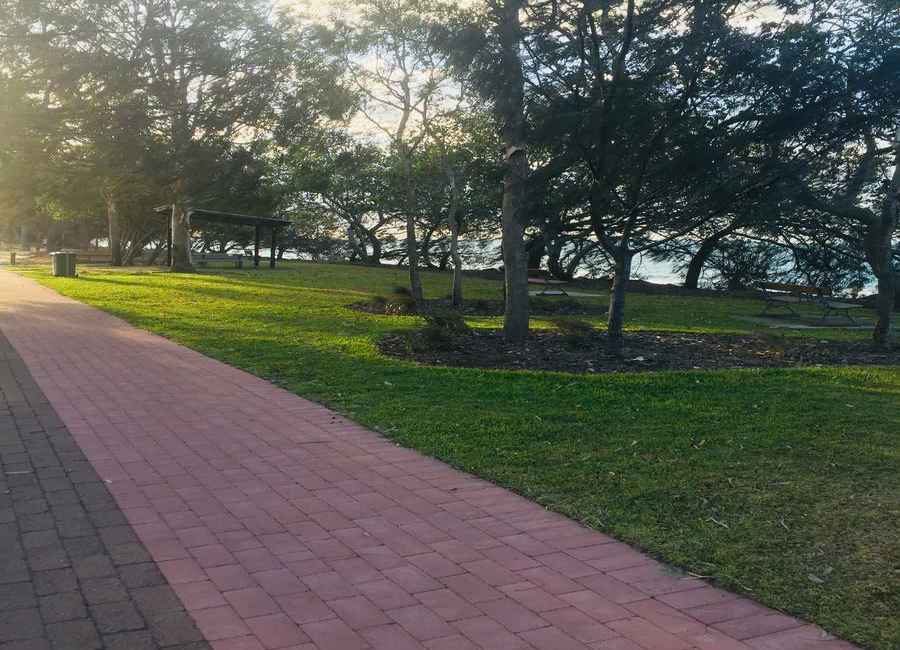 The Esplanade is always the biggest attraction for these apartments since it sits right along the waterfront. Guests can enjoy early morning or late evening walks along the path and even watch the sunset over the waters.
It winds throughout the bay area from Urangan to Point Vernon and is an idyllic way to enjoy seeing the ocean and local towns at the same time.
The beach is also just a short distance away! Torquay Beach is a popular choice among guests. With beautiful waters and sand, the beach is perfect for enjoying the weather, swimming, or fishing.
Other fun beach activities include watersports, boating etc. While the beach is an obvious place for guests to head, there are other nearby attractions to consider as well!
Some of these include the Hervey Bay Botanical Gardens and the Urangan Pier. Both of those attractions are only about 4km away from The Bay Apartments.
The botantical gardens are a fantastic way for those who enjoy nature to really emerge themselves in absolutely stunning garden displays.
The gardens also feature fun Christmas light displays at the holidays! While the gardens themselves are a huge hit, so is the pond and orchid house. The botanical garden is an experience of flora and fauna that are simply breath-taking!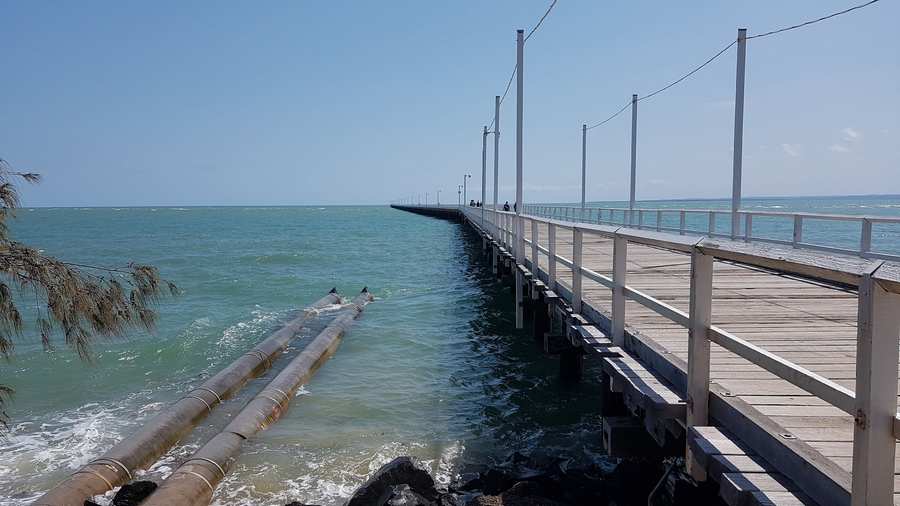 The Urangan Pier is a popular fishing pier. It is about 868 metres in length and juts out into the open waters which makes for some magnificent sights of the evening sky and various marine life.
The pier is a historical landmark and was originally much longer although throughout the years it has been scaled down.
Guests at The Bay can also enjoy various eateries nearby as well. Some of the notable ones near this accommodation include Enzo's On The Beach, Aquavue Cafe, and Indian Gate On The Bay.
These restaurants offer up some delicious tastes of local foods, fresh seafood, and so much more. Other restaurants include internationally known places like McDonald's and Domino's Pizza.
Facilities (Other Than The Popular Ones!)
Outdoor bbq with outdoor fridge
Check-In and Check-Out Times
The check-in time for The Bay Apartments is 2 p.m and the check-out time is 10 a.m.
The Bay prides itself on being a 5-star resort location where guests can feel comfortable and welcome. For visitors to Hervey Bay looking for a truly exclusive accommodation place to stay, The Bay is an excellent choice!
Resource Links To Products We Use And Recommend
More Recommendations For Accommodation
link to Discovery Parks Fraser Street Hervey Bay
On the Fraser Coast, Hervey Bay is an oasis of the best natural world the area has to offer. Just across the way from Fraser Island, you will also find beautiful botanical gardens, a stunning...
link to Caravan Parks Hervey Bay
One of the most iconic ways to experience Australia is by experiencing its beautiful natural surroundings. Because the country offers an abundance of stunning landscapes from coast to coast, caravan...