Hervey Bay has a cluster of stunning coastal suburbs lining the Eastern coast of Australia in Queensland. These coastal cities vary in size and are pinnacles of gorgeous sights to see and things to do. More specifically, Torquay is a beautiful choice to visit!
This coastal gem is associated with another coastal suburb of Hervey Bay, Scarness. They are next to each other, only about 3-minutes or 1.6km. Even though Torquay is a smaller suburb, there are some things to check out in this area as well as nearby!
Things To Do In Torquay
Don't let the small size of this coastal area be fooling! There is plenty to do in this suburb as well in the surrounding areas as it is not far from some popular spots in Hervey Bay! Below are some of the greatest things to check out while in Torquay!
1. Head To Torquay Beach Queensland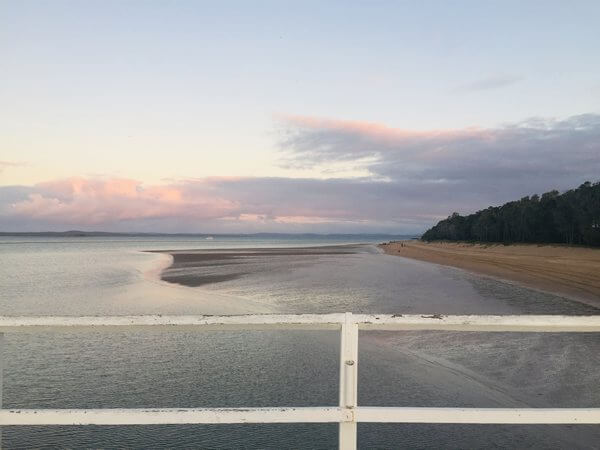 Australia is world-renowned for its beaches! Any visit to a coastal town must include a stop at the beach! Torquay Beach is a beach lover paradise measuring out 800-metres long! This beautiful stretch of beach is well known for being a great swimming spot, swimming location and fishing place.
It is lined with the Hervey Bay Esplanade, the famous 16km stretch of waterfront walkways along the Eastern coast. The Esplanade portion near Torquay Beach is known for its boardwalks and playgrounds.
However, another breathtaking aspect of this portion of the Esplanade is the Torquay Jetty (or pier), a boardwalk that stretches into the Bay waters.
This scenic spot is perfect for watching sunsets or sunrises and is most known for its fishing. Fishing is recommended here because no matter what the tides are like, the fish will be biting!
This beach also has some notable spots all its own as well. This includes a stunningly gorgeous view of the reef, accessible from the Nielson Park entrance to the beach.
Guests are encouraged to grab a set of snorkelling gear and take a dive to see the vivid and amazing reefs! Gone Diving Hervey Bay in Torquay offers guests diving tours to showcase all the remarkable sea life and reefs that can be seen!
Torquay Beach is also known for its quiet and stinger-free waters. This makes this particular beach great for watersport activities like jet skiing, sailing or even kayaking.
Any watersport is suitable, so being a little adventurous while having a day in the sand is highly advisable! Aquavue Cafe Watersports, or Fraserjet, offers the rental of any watersport equipment someone might need, from paddleboats to skis, the options are practically limitless.
2. Use The Exercise Equipment Along The Foreshore
Holidays are relaxing for most people, but there are some who cannot go without their daily exercise routines. There is plenty of time to explore and exercise!
The foreshore area of this coastal town is known for its cycling and walking trails. There is also exercise equipment spaced along this area for easy access to any kind of exercise routine! Morning or evening, hitting the trails is always a great time for those who enjoy exercising.
3. Visit Nielsens Park At Torquay
Local parks generally have nice playgrounds for kids to run around in and benches for parents to soak in the environment around them! Torquay has a few parks scattered about the area and checking them out should be on any visitors' list, especially those with children!
Some of the greatest parks to check out around Torquay are Nielsens Park and Duggan Conversation Park. Nielsen's Park is right by Torquay Beach and offers up some great family fun at this location. The Duggan Conversation Park is near the Hervey Bay Sports Club.
4. Visit The Wetside Waterpark
This waterpark is only a 4-minute drive from the Esplanade in Torquay and is a popular spot for families. With splash pads, waterslides, and the wave for kids and adults to practice their surfing skills. This waterpark becomes very popular during the summer months.
Waterparks are a great alternative to beaches as they are free of any marine life and there isn't a mess of sand!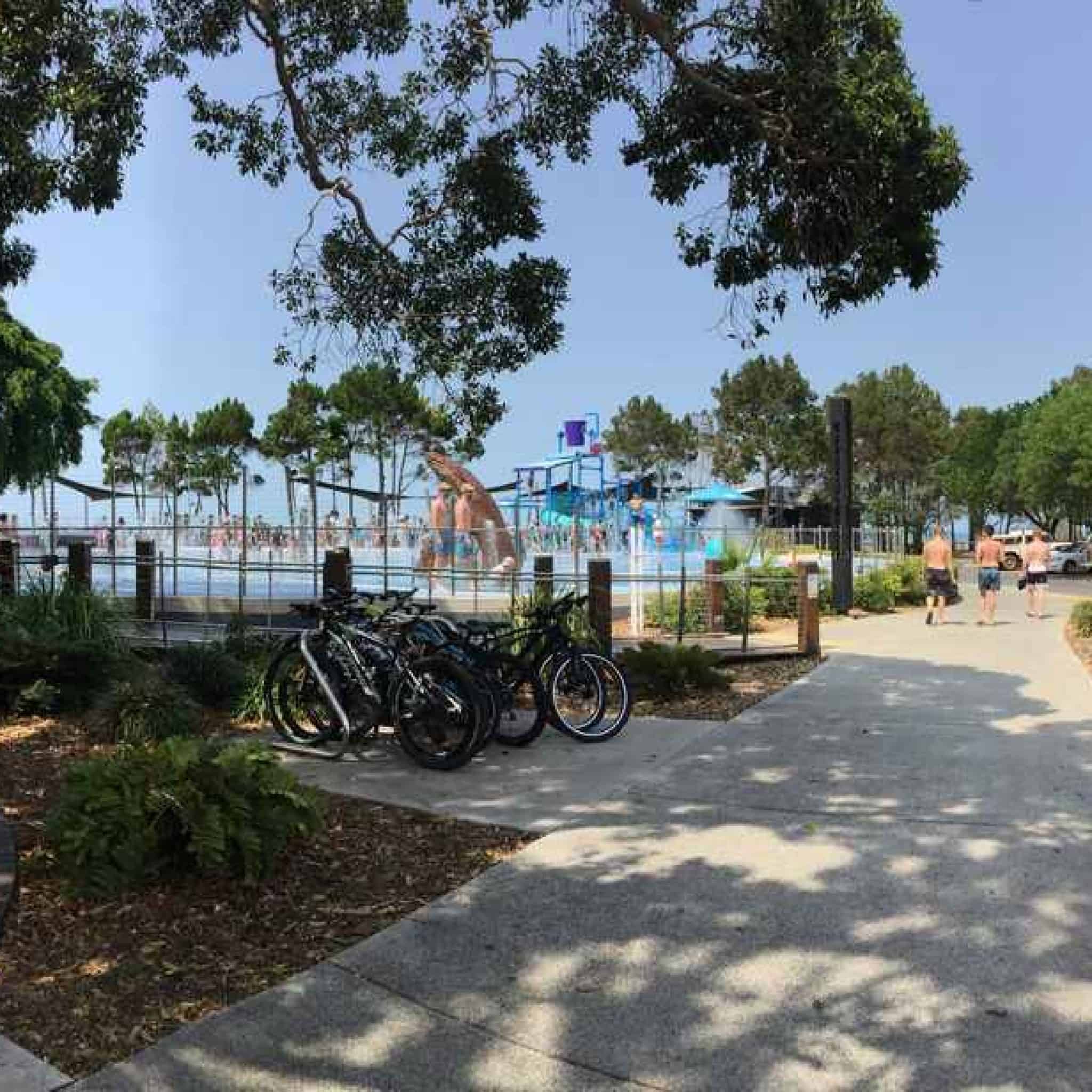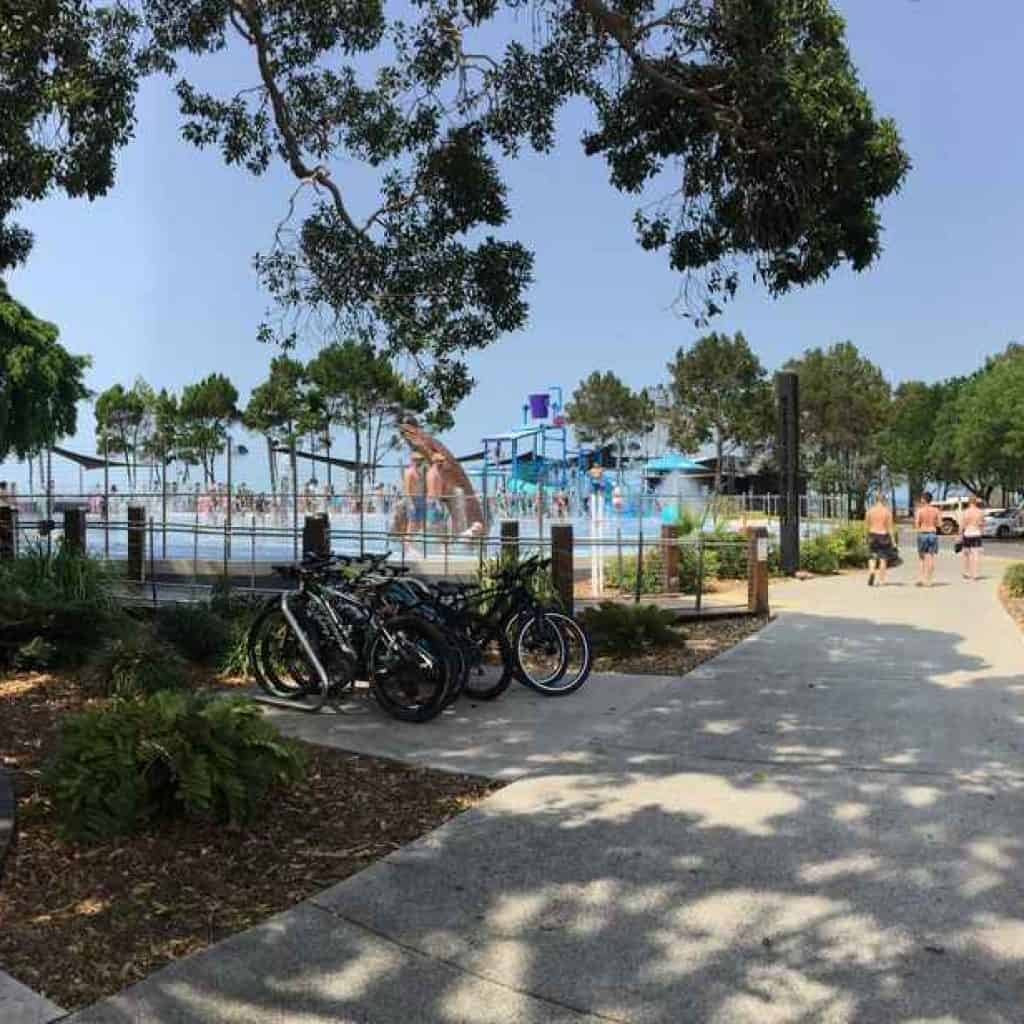 5. Stay At The Shelly Beach Torquay Caravan Park
Shelly Beach is a part of Torquay that is its own beach access. This area warrants the same activities as the rest of the beach, but it is near the Shelly Beach Caravan Park, a small area for ensuite camping lodging.
The beach is also near the Shelly Bay Resort, which offers guests comfortable apartments to stay in. Access to the beachfront is just steps away from this location. It is also known for its half tennis court!
6. Visit The Urangan Pier Queensland (close by)
This historical pier is only about 7 to 9 minutes away (depending on the route that is driven!) to the East of Torquay in Hervey Bay. For those who don't mind a little bit of exercise, the pier can also be reached via the Esplanade by walking which would take approximately 45 minutes.
The pier has been a big part of the community since its construction around 1917. While a portion of the pier was lost, there is still about 868 metres of it left, as by demand of the community.
This is a prime location for whale watching, one of the biggest events in Hervey Bay. Humpback whales stop along Hervey Bay waters during their migration and tourists and residents alike can see these magnificent creatures as they lounge about and swim in the bay.
This spot is also known for its fishing competitions as fishing off the pier is a common pastime and serious hobby to some!
Google Map Of Torquay
Accommodation In Torquay
There are quite a few options for accommodation throughout this coastal gem! This includes a variety of types as well like caravan parks and traditional like hotels as well. Below are some of the best options for catching some sleep after a day of exploring!
Riveria Resort
This striking resort is near the beach so waking up early and hitting the sand is easy! The resort features 1, 2, and 3 bedroom apartments that have living areas, dining areas and kitchens along with the bedrooms.
These slices of paradise will become a home away from home for guests. The resort also has 1.5 acres of landscaped tropical gardens for optimal surroundings. They are known for its heated pool and spa and sauna areas. Every apartment has its own covered parking spot as well.
They also give guests a 10% discount on tour packages when booking a room and a tour. Click here for current prices on booking.com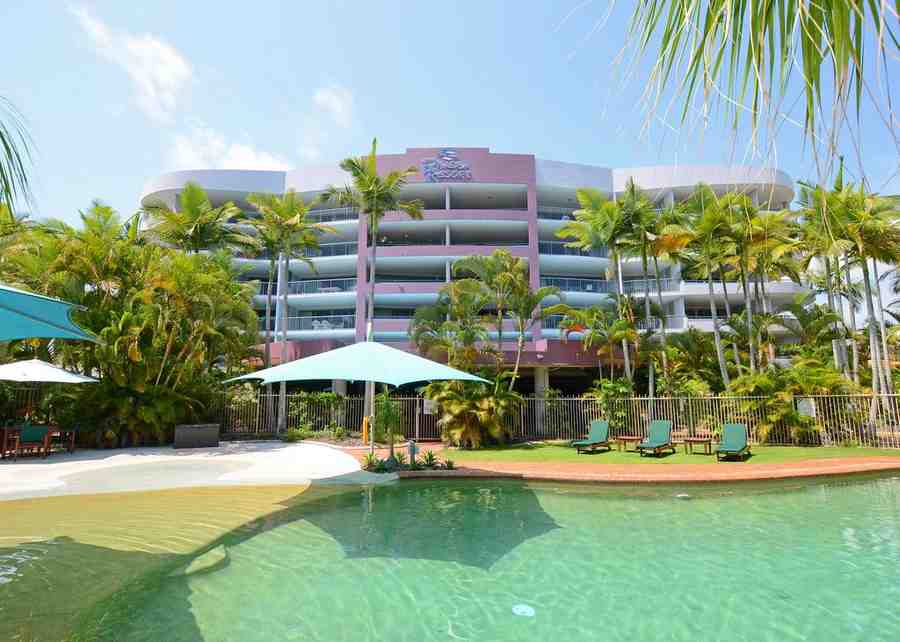 Discovery Parks Torquay
Discovery Parks is a grand choice for a little taste of camping while in Torquay. This location features villas, cabins, and ensuite spots for caravan parking as well.
The area is a jammed pack full of amenities for its guests including an activity room, bbq facilities, laundry service, playground, and a camp kitchen, just to name a few. The park is also pet-friendly, so guests should feel free to bring their dogs along!
The variety of lodging options in one spot really gives any guest the ability to choose what fits their needs. Click here for current prices on booking.com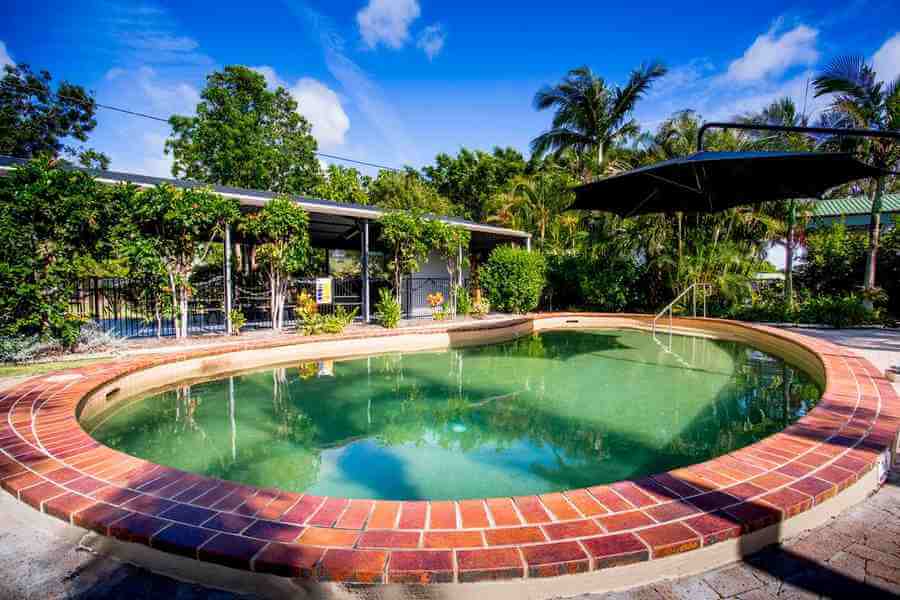 Torquay Terrace Bed and Breakfast
This elegant and stylish bed and breakfast always go above and beyond for its customers. They personally will book tours for their guests to discover all of Hervey Bay and the surrounding areas.
This wonderful service gives guests more time to relax and less time worrying about schedules etc. Their rooms are comfortable havens with modern-looking decor and different sizes to meet any needs.
This includes smaller rooms or more private choices with exclusive balconies. This charming location is a beaut choice for couples looking to get away on holiday together. Click here for current prices on booking.com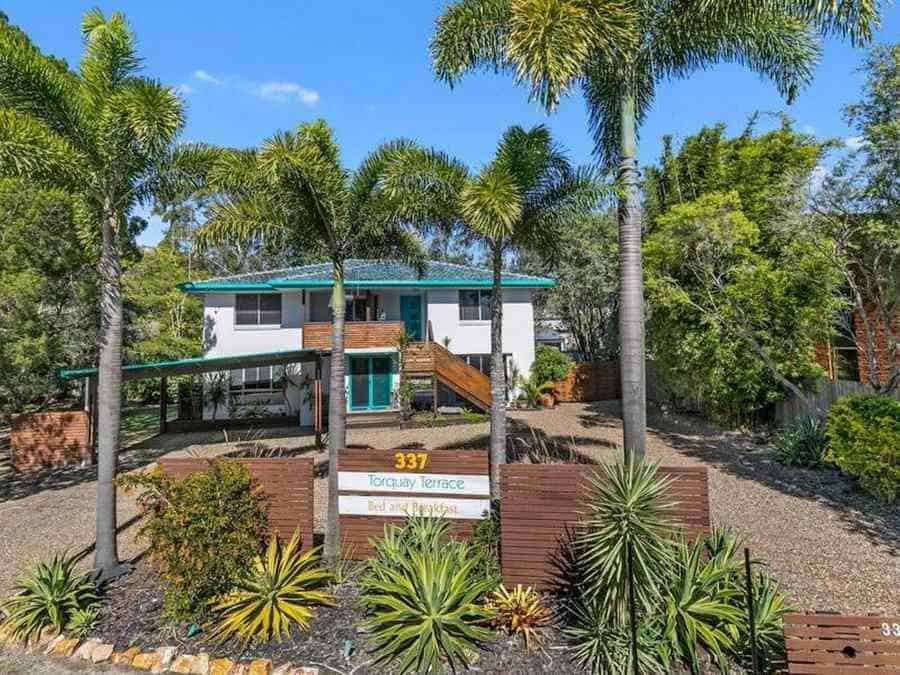 Hervey Bay Colonial Lodge
These modern motel apartments pride themselves on providing guests with low-cost lodging while providing self-contained apartments. This means everything that the guests may need is nearby.
They offer bbq facilities for cooking right on the premises as well as a pool. The rooms are stylish and perfectly sized for small groups. Click here for current prices on booking.com

Shopping In Torquay
No holiday is complete without a stop at a local shopping centre or business! Torquay has some shopping options for its visitors and below are some of the top choices!
Bay Plaza Near Torquay
This shopping centre is one of the most popular spots to shop as it features a plaza with a few choices of shops to visit. One of the biggest places in the plaza is the Woolworths food market. This is the perfect place to get fresh foods for cooking.
Other shops in the plaza are BWS, Friendlies Pharmacy, The Reject Shop department store, and Nextra Bay Plaza to name a few. There are also eateries in the plaza for a snack while guests are shopping!
Go Natural Foods Near Torquay
This health-conscious food shop presents shoppers with organic food options. They have recipes listed on their website for inspirational cooking, and some of the foods they have for sale include pantry items like trail mixes, health bars, peanut butter, etc.
They also have a selection of health and beauty products, all focused on being organic. This is helpful for guests to Torquay who may have dietary needs or specifications.
The Cheesecake Shop Hervey Bay
This jewel of a shop is a delicious stop while on holiday! They pride themselves on baking their cakes in-store, meaning every slice is delectably fresh.
There are a variety of cakes they offer including baked cheesecakes, mud cakes, tortes, pastries, party cakes, and mini cakes. They also do custom cakes for birthdays, weddings, etc, making them an ideal stop for a special occasion!
Restaurants In Torquay
There is an abundance of great places to eat in this coastal town. Below are some of the top restaurants to check out!
Eat At Dan And Steph's
The menu at this delectable eatery has so much to choose from! There are things like mushroom gnocchi, salmon, curry dishes, chicken, and pork choices to just name a small sampling. Visit this popular spot for a taste of Australia's best!
Aegean Waters French Restaurant
Just because guests are in Australia, doesn't mean they can't have a few otherworldly flavours! The Aegean Waters restaurant dishes up some extravagant French dishes. Some of the delicious options include mussels, seafood crepes, calamari, duck, lobster, and steaks.
These elegant menu items really give a fancy taste of cuisine in this coastal town.
With everything to see and do in Torquay, it is an easy decision to come to this bay area paradise!
Resource Links To Products We Use And Recommend
More Pages On Hervey Bay
link to Sunset Cruise In The Great Sandy Marine Park
The Sunset Cruise Great Sandy Marine Park has a lot to offer, from stunning scenery to a range of wildlife and marine life. Here are some of the things you can expect to experience on a sunset cruise...
link to Is Hervey Bay Full Of Old People?
Hervey Bay is a popular retirement destination and has a higher proportion of older residents than some other cities in Australia. However, it is important to note that Hervey Bay is a diverse...